If there's one brand that really and truly gets what a mom wants (what a mom needs), it's Mabel's Labels. From their genius washable sticker labels to their perfect camp supplies, they just get it.
As if we needed further evidence that this is the brand that should be on every mom's radar, Mabel's Labels just debuted a genius new product that every mama should have handy come August: the Custom Clothing Stamp. Sure, the brand's original stickers are great, but they can sometimes lose their stick and fall off. I've also heard of little ones with super sensitive skin finding the stickers a little bit scratchy. That's what makes the clothing stamp so money. It easily and seamlessly identifies your child's clothes. And like all Mabel's Labels products, the stamps are totally customizable!
I know you're probably thinking, "Won't the stamp just wash off in the machine?" Well the answer is, no! The ink provided with the stamp is laundry safe so not only will it not bleed onto your other clothes, but the stamp will remain visible through approximately 50 washes.
Each Custom Clothing Stamp kits comes complete with one personalized black ink stamp for 100 applications, one roll of white iron-on tape for darker clothing and 1 ruler. We're telling you now: you need this for back to school season!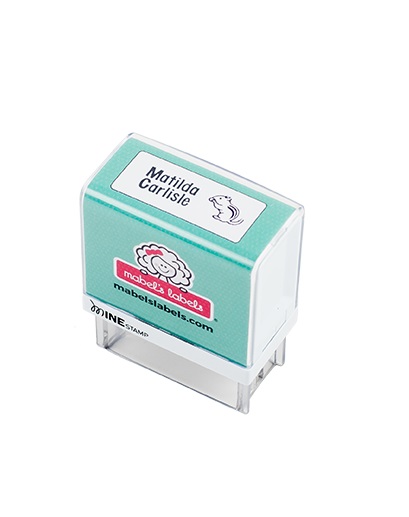 GET YOUR CUSTOM CLOTHING STAMP NOW
SheFinds receives commissions for purchases made through the links in this post.