Label lovers who rejoiced over the recent designer sportswear trend, have another reason to celebrate: thanks to the folks at Chanel, Marc Jacobs, and more, there is no hobby, odd job, or sports activity that these super high end brands don't have you covered for. Whether you're up for a game of bocce or just need a cooler for the beach, these odd designer items have you covered.
1. Marc Jacob's Tape Measure:
The fine print on this Marc by Marc Jacobs Croc of Q Tape Measurer ($40.60) reads, "Standard Supple. Type: Workwear." I am fairly certain there is nothing "standard" about a faux-croc embossed tape measure, and I don't think it qualifies as "workwear" either.
2. Hermés Drawer Liners
If you want closet drawers stacked with Hermés – but don't have $20,000 to spend on clothes – just go for these Hermés Vetiver scented paper drawer liners ($45).
3. Chanel Sporting Goods
Chanel's sports line includes everything from surf boards to fishing rods and footballs (really). So if you're somehow an extremely sporty person who also lives for labels, this is your holy grail.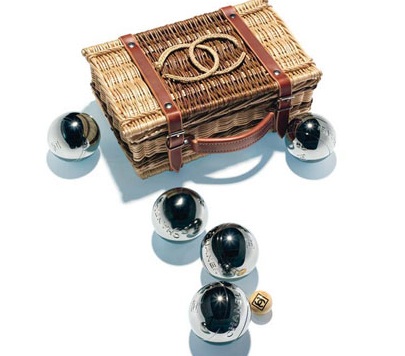 Our favorite is this Chanel Bocce Ball Set ($3,000, check site for store locater).
4. Marc Jacobs Cooler Bag
If you've ever said to yourself, "I wish I had a designer bag to hold my cold beers at the beach," then Marc Jacobs read your mind. This Marc by Marc Jacobs Lil Lower Cooler bag ($16.00) keeps you and your freezer items cool.
5. Hermés Ash Tray
For the smokers of the world, this Hermés Porcelain Ashtray ($620) is a fancy place to stick those cigarette buts. If you like the fancy white porcelain dish, but find the design to be – well, un-PC – it comes in 5 other less offensive designs.
6. Louis Vuitton Snow Globe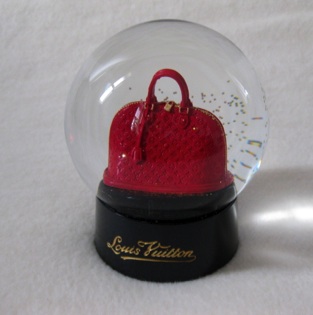 If you'd rather not than buy a fake Louis Vuitton bag, but don't have the dough for a real one, go for this Louis Vuitton Red Alma Snow Globe ($595) instead. It's also a great holiday gift for the label lover in your life, especially if he or she is a closet collector.
7. Fendi Bicycle
At Fendi, riding a bike is just another opportunity to look glamorous. This decadent Abaci Andante Donna bike ($9,500) comes with a removable Fendi trunk, fur saddlebags, and leather accessories (key, bike chain cover, leather GPS navigation holder). For the frugal, a more scaled-down $5,900 version of the bike is also available.
8. Hermés Bridge Cards
So what if the Birkin no longer has a waiting list? It still has a 5 digit price tag. Satiate your need for anything Hermes with these Hermés Bridge Cards ($80)–they'll keep you busy while you wait for your 401K to mature.
Save more money with our calendar of online sample sales. Shop our guides to the best skinny jeans and the best white jeans. Subscribe to our newsletter for exclusive fashion updates.