Among the cardinal rules of fashion, one of the most important is to always dress your age–and this doesn't necessarily mean shunning mini-skirts once you hit 30. On the contrary, in this case it's about not adding to your digits by dressing too old.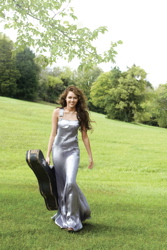 Case in point: the cover of the latest Harper's Bazaar touts the "best looks for your age." Ironically, Miley Cyrus, the just-turned-17 songstress gracing the front page, who says in the interview, "My job is to be a role model, and that's what I want to do, but my job isn't to be a parent," looks about 10 years older, above. See Precious's star, Gabby Sidibe, in the same issue of the magazine, though, in the dress that works for everyone's shape. The sweeping satin Ralph Lauren gown is stunning, but too drab and shapeless for a teenager. We much prefer her in the playful Dior tulip dress, below, that has a splash of color and youthful bounce:
Miley's not the only offender; Katie Holmes (31), Jessica Biel (26), Gina Gershon (46) , Julia Roberts (40), and have also committed this sartorial crime with matronly sweaters and dowdy coats and dresses.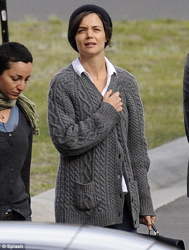 How to avoid this pitfall?
Update your wardrobe and beauty routine at least once a year. Ditch any frumpy duds lurking in your closet; remember that fashionable choices can be simultaneously chic and comfortable, as Cameron Diaz demonstrates so effortlessly. When in doubt, take inspiration from these venerable style icons of 2009 who aren't afraid to experiment with new trends, but who can equally fall back to trusted classics when the time is right.
Embrace your body shape, but respect the hemline. If you have worked hard for a great body, reward yourself by wearing figure flattering clothes to show off your best features, whether they be toned arms, shapely legs, or a taught tummy. Know when a floor-sweeping gown is required and when it's better to flash some skin. In no instance is a sack a replacement for a fitted dress.
Don't fall into the disposable fashion habit. As you age, style is less about trendsetting and more about enhancing your best features. Moreover, you can afford to buy fashion that is built to last the test of time and trends. We make it easy to find quality styles and brands at the best prices. Never miss a beat when you sign up to our newsletter that keeps you ahead of the latest sales and deals.
Still need inspiration for dressing age appropriate? Check out many more star highs in our guide to Celebrity Fashion.