Ulta is one of our favorite beauty retailers to shop at because they literally have EVERYTHING. Not only does Ulta offer their own brand of skincare, makeup, and haircare, but they also feature hundreds of popular brands like Almay, Origins, Urban Decay, First Aid Beauty, and Philosophy, just to name a few. Like many other beauty retailers, Ulta has a rewards program where you can gain points for almost all purchases made. You can use these points for discounts and exclusive deals and sales. We're celebrating because Ulta just announced a major change to their rewards program! The brand has added a "Diamond" tier to their membership levels, meaning that there are even MORE amazing deals available to shoppers!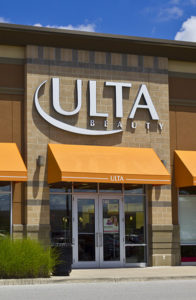 Originally, Ulta's reward program, known as "Ultamate Rewards" consisted of just two membership levels, "Member" and "Platinum." Now, there's a brand new level, the "Diamond" tier, proving more "points and perks"  for those of you that just can't stop spending at Ulta stores! One of the major advantages of the Diamond membership is that you get 1.5 points per dollar spent–that's 25% faster than the Platinum tier and 50% faster than the regular, member tier. Diamond members also receive a free birthday gift, twice the points during your birthday month, a $10 birthday coupon, free shipping on orders over $25, and an annual $25 beauty services reward card. Sounds good, right? So what's the catch? Well, you have to spend $1,200 per calendar year in order to be a Diamond tier member. That's doable, right? Just think of all the MAC lipsticks, Urban Decay eyeshadow palettes, NYX lipglosses, and Mario Badescu moisturizers you could buy!
For avid Ulta shoppers and makeup junkies, money spent at the retailer can begin to rack up in no time. But, if you're not a big spender at Ulta and just buy a few products here and there, don't worry! Ulta's Member and Platinum levels are still in place. Either way, Ulta fans seem to be enjoying the perks of the new Ultamate Rewards program.
Thank the heavens for Ulta sales, rewards and points. Bought some Professional Fancy Pants shampoo/conditioner which is normally $35 a bottle ($70 total, HA. GOOOODBYE) but got both of them for $30 total. CAN I GET A HALLELUJAH?

— TeKayla Sunrise (@KaylaYounkin) January 29, 2018
Ulta rewards >>>>>>> Sephora rewards pic.twitter.com/h3S6g3rn9E

— andrew (@andrewjkellogg) January 27, 2018
My biggest accomplishment you ask? Accumulating over 1000 Ulta ultimate rewards points without using them.

— Julia Wolf (@juliareneewolf) January 26, 2018
What do you think of the new Diamond tier in the Ultamate Rewards Program? Is it worth it? Let us know in the comments below! Start racking up your reward points now! Check out these amazing products that are all under $11 at Ulta and more at SheFinds.com!
[Photos: Ulta]