Even though the first day of spring is next week, the weather is still pretty chilly outside. We did just have snow yesterday, after all. Now we know boots are probably the last thing you think of buying in March, it's honestly one of the best times to shop for Nordstrom UGG Boots.
Shopping at the end of the season is actually a really smart move in terms of saving money. When a season is on its way out, retailers will often discount their merchandise to clear it out and make room for next season's hottest trends. Hello, sales. If you didn't already know about that little shopping hack–you're welcome.
Keeping that little piece of shopping advice in mind, if you're looking to buy a new pair of UGG boots, right now is a pretty good time. It's not like the shoes go bad or anything, you can just purchase them now and store them away until next year. At the beginning of next winter, you'll take out these brand new UGG boots you forgot that you bought the year prior and be thrilled. It will be like a little present to yourself–how fun!
It's no secret that Nordstrom is our go-to retailer for finding name-brand pieces. No matter what you're looking for, Nordstrom's got it–we guarantee it. Their selection and quality are incomparable. Want a Chanel handbag, go to Nordstrom. What about a Topshop dress for next week's GNO–Nordstrom.
So, when we're looking to score some new UGG boots or UGG slippers, we recommend checking Nordstrom. Whether you prefer shorties or tall boots, they've got them all!
To see some of our favorite Nordstrom UGG boots, available online right now, scroll down. Go!
UGG® 'Cory' Short Boot ($149.95)
About the product: This abbreviated version of a minimalist UGG boot is designed for sophisticated style and cozy comfort, with a plush, moisture-wicking lining made from genuine shearling and UGGpure™ wool, a textile crafted to feel and wear like genuine shearling.
Promising review: "Their Uggs. Comfy. Warm. Cute. Overall a great winter shoe. I've owned at least one pair of their boots since 2011. I think everyone should invest in some if you haven't already."

UGG® 'Michelle' Boot ($174.95)
About the product: A streamlined mid-calf boot delivers classic UGG style and cozy comfort with a plush lining made from genuine shearling and UGGpure™ wool, a moisture-wicking textile crafted to feel and wear like genuine shearling.
Promising review: "These are a nicer looking option to the classic chunky Uggs, while still being casual. They definitely are not as roomy as the classic Uggs, but I bought the same size and they still fit – it's just a different fit, more like a regular boot than a slipper. They are cozy and I am happy with my purchase!"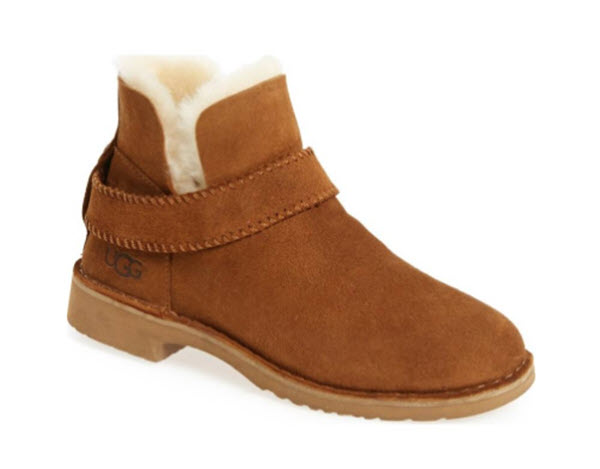 UGG® McKay Water Resistant Bootie ($149.95)
About the product: A water-resistant bootie in velvety sheepskin features a roomy round toe and a whipstitched ankle strap.
Promising review: "My first pair of official Uggs! Really like these because they aren't bulky and the ankle is exposed. Comfy, stylish boot. I'm a true ten and they fit perfectly. I don't wear socks and if I did I would wear something really thin."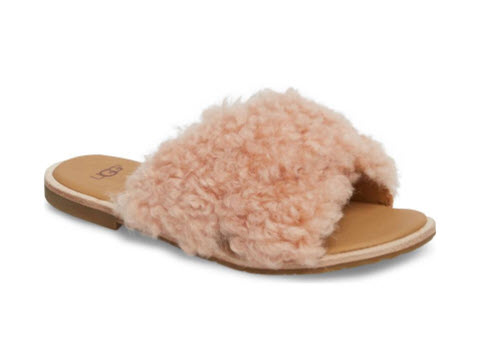 UGG® Joni Genuine Shearling Slide Sandal ($129.95)
About the product: Soft genuine shearling curls across the toe strap of a decadent slide sandal cushioned with a memory-foam insole.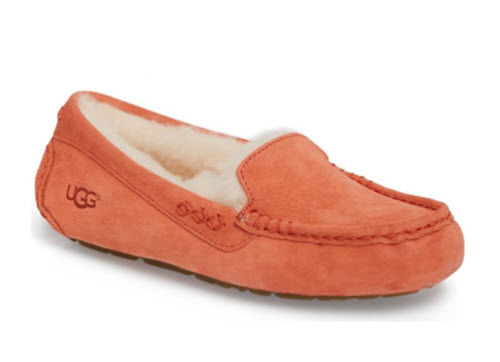 UGG® Ansley Water Resistant Slipper ($99.95)
About the product: A soft, comfortable and remarkably durable moccasin slipper from UGG® is made from water-resistant suede so you can wear it on errands as well as around the house or around campus. The soft, cozy lining is made from genuine shearling or plush UGGpure™, a textile made entirely from wool but crafted to feel and wear like genuine shearling. The sturdy EVA sole on this slipper ensures their durability and makes them ideal for indoor/outdoor wear.
Promising review: "Been trying to find a good slipper that was quality and attractive. Fell upon these babies and jumped on them. They're really cozy and warm and very comfortable!"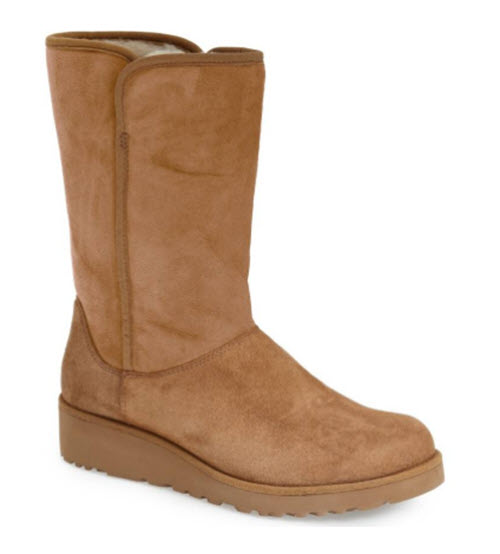 UGG® Amie – Classic Slim™ Water Resistant Short Boot ($174.95)
About the product: Water-resistant suede upgrades a classic short boot, updated with a sleeker profile that streamlines the heritage style. Cozy genuine shearling lining and an UGGpure™ footbed help to keep you warm when winter weather strikes. UGGpure is a textile made entirely from wool but shaped to feel and wear like genuine shearling.
Promising review: "These boots are made with the same great quality that all of Uggs boots are made of! I choose these for the color and style. This is the slim boot with a little wedge that provides great arch support! I consider these mid-height and hit me at my calves. It's a true grey color, which is what I wanted!"
Be sure to check out this chic blazer from Nordstrom that only LOOKS super expensive and this Nordstrom $27 shift dress that everyone seems to love on SHEfinds.
SheFinds receives commissions for purchases made through the links in this post.