Thigh high boots–sometimes called over-the-knee–have been experiencing a bit of a resurgence over the last few years. But truth be told, if you're not a supermodel they can seem pretty impossible to pull off. Luckily, we have the one and only Olivia Palermo to show us exactly how it's done.
Olivia recently wore the tried and true Stuart Weitzman 50/50 Thigh High Boots ($598) and her styling is impeccable. Because the boots are so tall, showing just the right amount of leg is key. A flat heel is also your least stripper-ish option and the rest of your look should be pretty conservative (hence Olivia's long coat). Feel like you're ready to tackle the thigh high look? Score Olivia's classic boots below.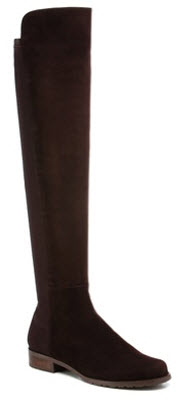 Stuart Weitzman 50/50 Thigh High Boots ($598)
Don't miss out on more great style such as Reese Witherspoon's quilted jacket, Stacy Keibler's jumpsuit, Sarah Jessica Parker's striped sweater, Jessica Alba's high-rise jeans and Taylor Swift's trench coat.
[Photo: Splash News]