It's Finally Cold Enough That Olivia Palermo's Fur Sweater Makes Perfect Sense
Under any normal circumstances, a faux fur sweatshirt would sound completely and utterly absurd. But just imagine it's an icy 30 degrees outside and Olivia Palermo's Club Monaco Kenzie Faux Sweatshirt ($120) isn't sounding like such a bad idea. The faux fur front is the epitome of warmth, but believe it or not this decorative sweatshirt is also nice enough to wear to work with skirts and funky enough to wear on your weekend jaunts to brunch. We're in for a long, cold winter, so snatch yours up below ASAP.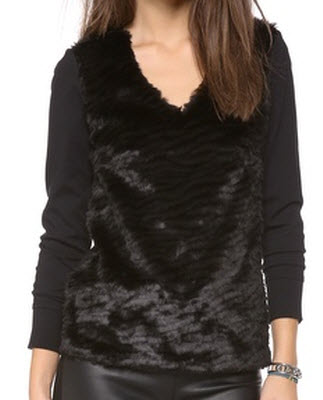 Club Monaco Kenzie Faux Sweatshirt ($120)
Don't miss out on more fab looks such as Kourtney Kardashian's plaid shirt, Lady Gaga's bracelet, Reese Witherspoon's jeans, Candice Swanepoel's dress and Kerry Washington's Vince Camuto dress.
[Photo: Splash News]