I recently came across magnetic lashes on my Facebook feed, and while I'm not usually a sucker for gimmicky beauty products (okay, so maybe I am…), the idea of glue-free faux lashes was enticing. I hate lash glue and am generally really intimidated by faux lashes–even though I definitely need to wear them. My lashes are flat (can a girl get some volume, please?) and blonde, so you can barely see them. The thought of easily snapping on a set of magnetic lashes at any time, any place, without any glue, was enough for me to hunt down a pair to try for myself.
Here is my full review (including an incredible trick I discovered) for getting magnetic eyelashes to connect at exactly the right place on your lash line and look flawless:
#1 Rule: Order the right brand of magnetic lashes. 
First things first, make sure you order the right pair of magnetic eyelashes. The best magnetic lashes are available from One Two Cosmetics for $69 for the Original Lash set. I'm sure there will be plenty of knock-offs to come, but we all know that not all beauty products are created equally (duh!), and after doing some research, I discovered the One Two lashes are best.
#2 Rule: Order the right set for you.
The next thing you need to do is determine which set to get–there's Original, Bold, and Accent. I got the Original lashes, but I feel like I could have gone with the Bold Lash because I needed a little more volume. Manny MUA said something similar in his Youtube review. I use faux lashes for special events like weddings, and for that, you want a noticeable effect. Manny MUA ended up doubling up on the Original set to get a bolder effect–but that's a little tricky. So, if you know you want a bold lash look, just order the Bold set from the jump.
The magnetic lashes come in a sturdy case with two sets of lashes inside–four tops and four bottoms. I like that you get a free backup pair, and the lashes are reusable so you get more than one wear out of each pair. The bottom lashes have a red dot on the magnetic strip so you know which set goes where, and the case has designated cubby holes for "Top Right/Top Left/Bottom Right/Bottom Left" so you can store them in the right place after wear.
#3 Rule: Don't follow the instructions–use this technique instead. 
The instructions that come with the lashes say to place the top magnetic lash on top and without blinking, bring the bottom lash up underneath until they connect. No, no no! I found this technique to be *very* difficult. First of all, it's impossible to place the first lash, find the second one in the case, and bring it up to your eye–without blinking a single time. That's insane! Additionally, the top lash did NOT stay in place. What ended up happening was the top lash slid down my lashes when I looked down to pick up the bottom lash, and when they snapped together they were a good centimeter away from the root. That is NOT a good look.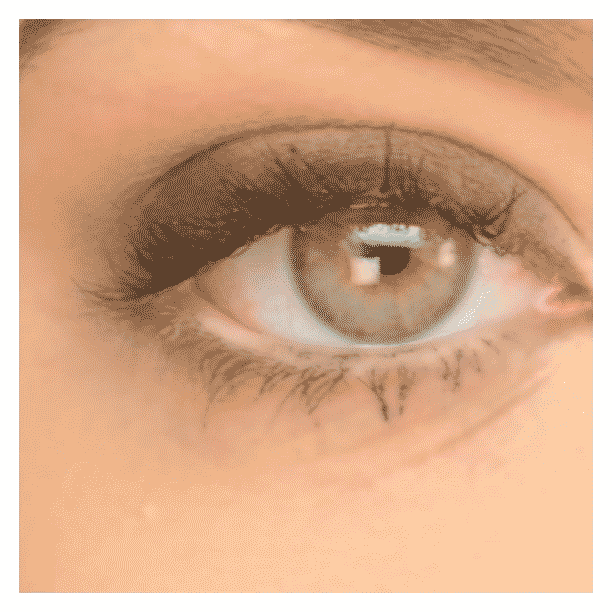 (Courtesy of One Two Lash) 
Luckily, a rep from the brand was able to share her personal tip for applying the lashes which is EXACTLY how I got them to work perfectly (and like, a beginner could do it–it's so much easier than the other way). Her trick was to place the bottom lash piece (the one with the red dot) underneath the eyelash and close your eye, then to set the top one above your lash, where they click into place.
So without further ado, here's a step by step guide for applying magnetic eyelashes flawlessly, for beginners like me.
Step 1: Open your eye and place the bottom lash (red dot) underneath the top lash.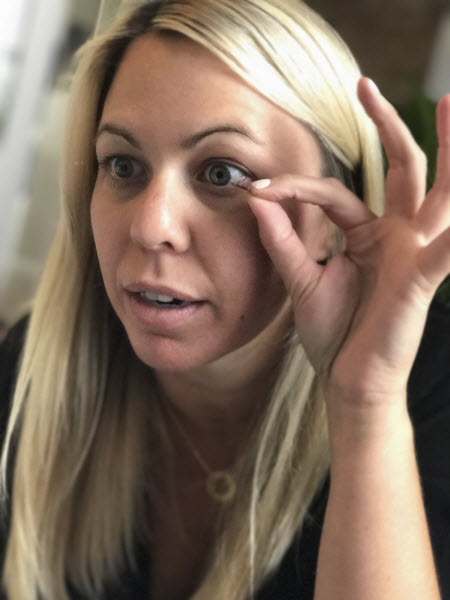 Step 2: Push the bottom lash into place, as close to the lash line as possible, and close your eye shut.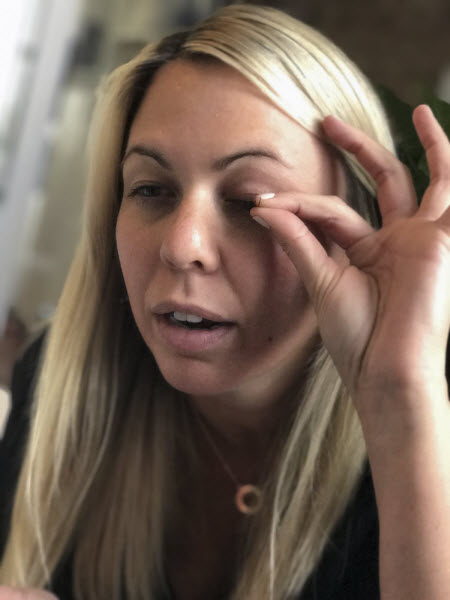 Step 3: Place the upper lash on top of your natural lash, and it will connect to the bottom lash magnetic in place. Voila!
Here's why it works: Closing your eye keeps the bottom lash perfectly in place, and you can reach down and grab the top lash (or, better yet, keep in your non-dominant hand the whole time). When they snap into place, they're exactly where they need to be, AKA right at your waterline/lash root/upper lash line (whatever you want to call it). It's literally magnetic lashes for dummies, I swear.
So, there you have it, people of the internet, the answer to your most burning question: what is THE RIGHT WAY to apply magnetic lashes.
Check out the best false lashes for beginners, and if you're looking to go the more natural route, the secret to growing out your own gorgeous eyelashes on SHEfinds.