Punk-meets-glam has always been Gwen Stefani's aesthetic, from her days leading No Doubt as the seminal rocker girl of the '90s, to her current role as creative director of L.A.M.B. Now, she's bringing her design sensibility to a jewelry line for nOir.
nOir Jewelry designer Leeora Catalan, who recently teamed up with L.A.M.B. to produce a line of necklaces, rings, and bracelets, says she and the Stefani are of "the same tribe," meaning, we can only hope, that nOir and L.A.M.B.'s collabo will bring us more of the out-there, statement-making accessories we've come to expect from our favorite red-lipped singer. The goods:
Based on the images that have been released thus far, it looks like the designers' collaboration has produced just that: A huge bib necklace encrusted in red stones is the "crown jewel" of the line, and the standout spikes and tribal influences are scattered throughout the collection. Our favorite? The spiky collar necklace, sure to toughen up even the frilliest frock.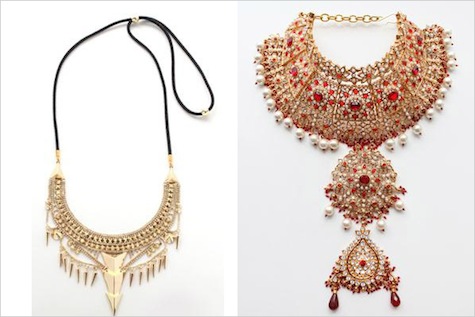 L.A.M.B. for nOir is slated for release at the end of February, and will be sold at select department stores and on nOirjewelry.com.
Shop our guides to the best necklaces, earrings, and tribal jewelry.