With two days left before the Bryant Park finale, the remaining three designers rushed to finish their collections (once at Bryant Park, Tim pretty much had to force everyone down the runway).
On the judging panel was the usual trio: Heidi, Michael Kors and Nina, plus an additional guest in Suzy Menkes, the world-renowned fashion critic for the International Herald Tribune.
Althea presented her 13-piece collection first, and wowed the judges with her knitwear and sportswear. Suzy, et al raved that her designs were wearable, and they praised Althea as being the designer most in touch with what women are wearing on the street.
Carol Hannah stuck to her sensibilities and created  pretty dresses. Judges praised her color palette and meticulous construction, as well as her precise use of structural draping. A particular fave was the first piece (above), a sexy mini with flattering details.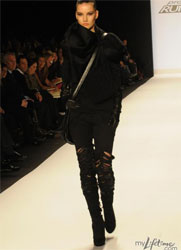 By far the most detail-oriented of the shows, Irina's collection was created  around a theme of shielding the independent, New York woman. While there was an awful lot of black (judges criticized the collection's lack of color), the hats and bags she made to go with pieces helped create the edgy cohesiveness that landed her the big prize.
Irina's sleek design aesthetic gave her clothes a feminine bent with a hard edge. This Preen Line Laced Funnel Coat is an investment, but its laced sleeves and belted silhouette bring together a good mix of chic femininity and edgy detail. If you're a fan of the distressed leggings she used throughout her collection, these David Lerner Half-Ripped Leggings have just the right amount of sass without looking too punk.
For more of Irina's tough chic, we recommend checking out our guides to leggings, over the knee boots, and leather jackets.