Cattiness was ramping up in episode 5 of Project Runway. Within minutes, designers (specifically Nicolas, the primary trash talker each episode) were ragging on Althea's win last week, and judging who should be sent home next. But kvetching was interrupted by a field trip to the Los Angeles Times, where Heidi hinted that "all questions would be answered in black and white." Next challenge: fashion is news; use pages from different newspaper sections as fabric to create the next look.
Tim pointed out that paper clothing has a history, and designers should continue on the tradition. Johnny's red origami dress design looked like "wrinkled up paper with pig's blood all over it," according to Nicolas. And he wasn't far off. During his first walk-through, Tim said it looked "woeful, a craft project gone awry…like a bunch of kindergartners designed it. " So Johnny started over, claiming a made-up a story about steam ruining the first dress, and not because Tim hated it. Too bad his second dress was sloppy.
The runway show was a practice in careful walking. Solo again, Heidi was joined by guest judges Tommy Hilfiger, Marie Claire EIC Zoe Glassner, and Eva Longoria Parker. Even though she had immunity, Althea's design was praised for its pattern, detail, and as Eva commented, how it accentuated the bum.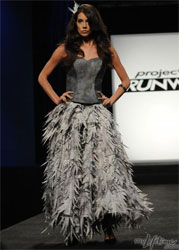 Although Christopher's full "feathered" skirt and hard bustier top was a show stopper, Irina's trench coat with crinkled shawl collar was a huge hit among judges. Eva said she was blown away. Tommy described it as an amalgamation of Coco Chanel, YSL and Givenchy, and a new alternative to fur…even though you could see the scotch tape on the back. She took the top nod, though, while Johnny's excuses were too much, and he had to take his crossword puzzles elsewhere.
Good thing fall is upon us, and trench coats are making their annual reappearance. The Gryphon Military Timeless Trench Coat ($795) is a classic style, with a removeable faux-fur collar, and gold-trimmed, ribbed cuffs. A less expensive option, VIA's  Button-up Wool Trench Coat ($168) has a big collar, back buttons up the back, and comes in a great tweed.
For more trenches, take a look at our top picks, and check out more fall outerwear with blazers and leather jackets.