Valentine's Day is just around the corner, and what better way to treat yourself or your significant other (wink wink!) than with some sexy lingerie sets? Beyond Valentine's Day, shopping for lingerie is an affirming experience that makes you feel confident, sexy, and proud of your body. In fact, ThoughtCatalog even says lingerie can be a source of empowerment for women. "One growing trend that all women should start to follow is the simple coordination of their lingerie. Accordingly, a matching pair of bra and panties has been proven to actually have an impact on a woman's self-esteem." writes journalist Veronica Granja-Sierra. "When the time and effort is taken to adorn your body in beautiful lingerie, it affirms your self-worth and boosts self-confidence. It ignites feminine creativity and when you think about it, it helps in taking yourself seriously, because let's be real, do you even take yourself serious when you're lounging in PJ's all day?"
But not only that, lingerie is just downright beautiful! Whether it be lace, satin, floral, or silk, lingerie pieces are always beautifully and intimately designed with the female form in mind. And, this includes plus-size, curvy, and full-figured women, who too often get told by mainstream society that their bodies aren't "good enough." Well, these sexy lingerie pieces say otherwise! Here are the sexiest plus-size lingerie sets you NEED this Valentine's  Day and beyond!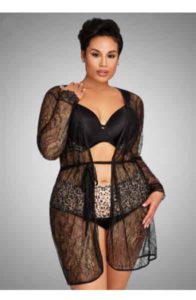 This lacy belted robe is an intimate essential, perfect for getting ready for a night out or for going to bed. It has a beautiful, floral lace print and has long sleeves. The robe comes in three different colors, red, black (pictured), and white, and is available in sizes L/XL and 2X/3X. And, it's on sale so get it while the price is right!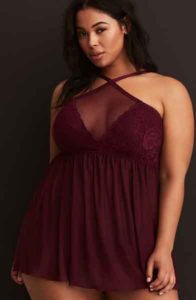 Torrid Mixed Lace & Mesh High Neck Babydoll ($36.67, originally $48.90)
Babydolls are a classic lingerie set. This babydoll is semi-sheer, has soft ruffles at the bottom, and a halter neckline all in a beautiful wine color. Sizes are available in Torrid sizes 00 through 6. And, it's on sale!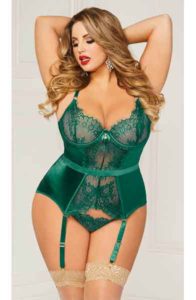 Yandy Plus Size Green Desires Bustier Set ($31.95)
This emerald green bustier set features satin, velvet, and lace for a sexy, mix-match of textures. The straps are adjustable and the back has a corset hook design. Sizes are available in 1X/2X and 3X/4X.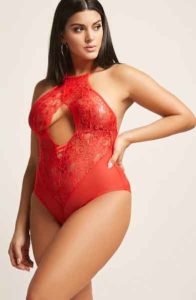 Forever 21 Plus Size Sheer Floral Lace Cutout Halter Teddy ($28.00)
We all know Forever 21 has a plus size collection, but did you know they have plus-size lingerie? It doesn't get any sexier than this Forever 21 halter teddy! This sheer, floral lace teddy has a halter top design that's cut out in the back. Colors are available in red and black.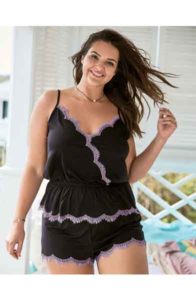 Adore Me Kala Plus ($49.95)
The Kala Plus set by Adore Me is perfect for feeling sexy when going to bed. It includes shorts and a camisole that features pink lace trimming. Adore Me is an intimates subscription retailer, so you can get this set for just $14.95 when you sign up!
Looking for ways to pair your lingerie and intimates with everyday casual wear? Check out these party outfit ideas with lingerie at SheFinds.com!
[Photo: @alexandraemma123]