After Kylie Jenner revealed that she uses Nivea Men's Post Shave Balm as both a makeup primer and after shaving ("Use it instead of a moisturizer if you have oily skin," she said on Snapchat), an interesting question was raised: do women need to use aftershave?
The term "aftershave" is really used more in men's skincare–most aftershave products are marketed to men, and women don't refer to their daily moisturizer as "aftershave," even though that's exactly how they use it. Kylie's Snapchat got me thinking… Is there an ingredient in men's aftershave that we're missing? Is this something that we should "borrow from the boys"?
READ MORE: How To Shave Your Legs Less Often
To get to the bottom of it, I spoke with the pros at The Art of Shaving. As we know, aftershave contains an antiseptic that prevents infection act as an astringent to reduce irritation. "The skin on women's legs is typically drier than on a man's face (because there are fewer oil-producing glands)," Genevieve Bochanty, The Art of Shaving's National Associate Director of Education and Capabilities, explained. So men's aftershave is probably too drying for your legs (plus, you don't need the benefits of some active ingredients, like the menthol that's in there to numb skin).
READ MORE: How To Prevent Goosebumps Right After You Shave Your Legs
Plus, she noted, you're probably already doing what you should be–which is using moisturizer on your skin daily (or at least after every shave) to rehydrate and soothe it. "In our experience, many women are actually already using a moisturizing lotion as part of their daily body regime to treat their dry legs," Genevieve said. She couldn't underscore the importance of this step enough (are you listening, girls who never wear lotion?). "When you shave, you're also removing that top layer of dead skin. So, you want to make sure to properly hydrate and protect the new skin. It is important to moisturize (your legs) after shaving to help keep your skin hydrated, smooth, and supple. That step should not be skipped."
READ MORE: How To Shave The Trickiest Spot On Your Body: Your Knees
She also couldn't reiterate enough that it really depends on your skin type and personal preferences. "There are a multitude of products that women can use for post-shave care, ranging from oils to lotions. It's really about what works for her."
And what should you look for when choosing your after shave product? "It is important to choose a moisturizing lotion with ingredients that are known to hydrate the skin well (such as glycerine). Ingredients with known anti-irritation properties (such as panthenol, allantoin) will further help to soothe the skin after the shave. Women who have sensitive skin may benefit from a lotion that has lower fragrance levels or that is even fragrance-free."
READ MORE: How To Make Your Underarm Shave Last Longer
And what's our favorite product? It's this After-Shave Balm from The Art of Shaving–it works so well and makes our legs SO smooth. Try it: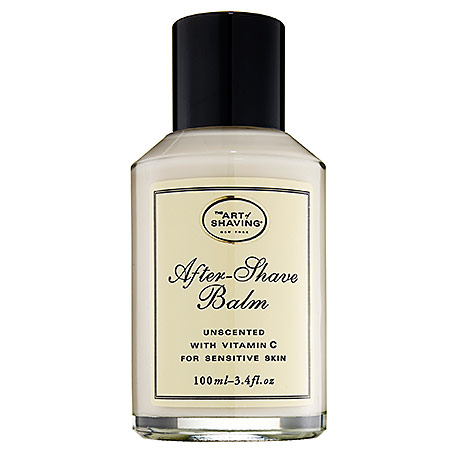 The Art of Shaving After-Shave Balm Unscented ($40)
[Photo: Could I Have That]