You know when you learn a word you'd never heard before, and once you discern the meaning, you start to see it everywhere? Well that's precisely what happened to me with these neon satchels.
It all started when I was walking through the fashion district last month and I saw a girl in perfectly tailored trousers, effortless oxfords, and a monogrammed neon yellow satchel. I became so obsessed that I even (full disclosure ahead) pulled a wannabe Scott Schuman and snapped a cell phone picture of her! Later that weekend, I spotted the same satchel on another New York fashionista, and then finally, while flipping through this month's Harper's Bazaar, it jumped out at me (it is neon, after all): the satchels are made by the Cambridge Satchel Company, and range from only $156 – $187 (!!!!!). Needless to say, I ordered one immediately as an early birthday present for myself.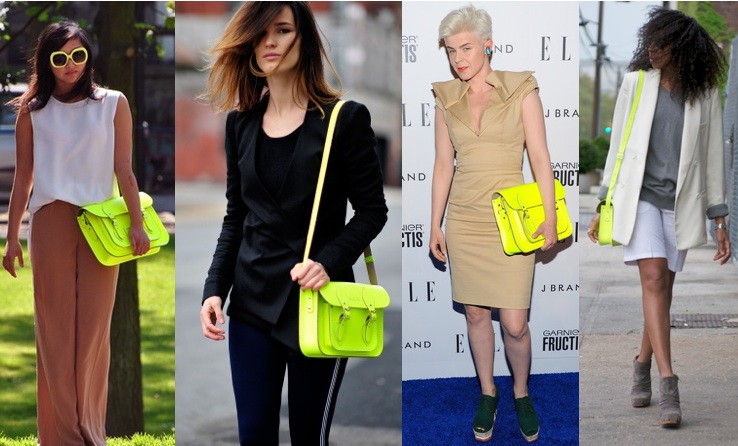 Various neon satchel street style shots (plus Robyn, second from right!)
Be sure to look at our shopping guides to ladylike structured handbags, chain strap bags, and bright bags.