Why spend money on a foundation, a facial highlighter, and oil blotting sheets when you can have them all in one? We'd like to introduce you to Hissyfit® Buffing Powder.
This all-in-one formula, made from green tea, aloe, and jojoba, absorbs oil while leaving your face feeling and looking refreshed.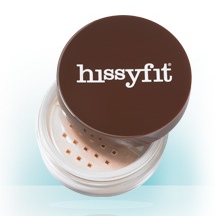 Available in 8 different shades to match every skin tone, it also helps makeup stay put and looking new all day. Say goodbye to concealer creases and smudged eyeshadow. It even adds a splash of color, allowing you to look awake and ready – even if you're not.
Let's not forget, Reggie Wells, celebrity makeup artist, is Hissyfit's creative director. Awesome.
So what are you waiting for? Try Hissyfit Buffing Powder and let your skin breathe beautifully.