Rain Boots Stylish Enough To Wear To Work In The Summer
According to the Farmer's Almanac, this is not the first rain shower of the summer--it's going to be raining a LOT. Which means if you haven't already been swayed by the rain boot gods to buy a pair, this is your chance. Already got a pair? We've got lightweight trench coats and umbrellas, too--and it's all on sale. Aren't you glad you waited? (more…)

Can You Tell Which Pink Wedges Cost $125 More Than The Others?
Keep yourself guessing with all of our Taste Tests. Join our e-mail list for exclusive updates.
Beat Crappy Weather With Kourtney Kardashian's Exact Cape By The Kardashian Sisters Themselves
Whether you love or hate the Kardashians, one thing's for sure: While some of Kim's ensembles are a little tarty, Kourtney Kardashian's been seen setting trends both in L.A. and New York. (Remember her blouses I was lusting over a few months ago?) Now, not only does she rock this cape, that's part of the Kardashian line, like nobody's business, but it's also ON SALE. Get the K-Dash by Kardashian Cape with Pull Through Belt ($95.16, down from $124) now--it also comes in khaki. With draped sleeves and double breasted buttons, this cape puts last year's trench coat to shame. See more of your favorite celebrity styles and sign up for our e-mail list for exclusive updates.
If V-Necks & Sparkles Work For Rachel McAdams At Cannes, They'll Work For Us Too
We must admit, whether we want to or not, Rachel McAdams never has a bad outfit day. She could be at a movie premiere or award show and no matter what, she always looks put together. So when we saw her deep v-neck sparkling chest at the Cannes Film Festival, we couldn't help but hunt the internet for the same thing. And success---check out this Azzaro dress from the same Spring/Summer 2011 collection as Rachel's: We found this Azzaro Justine Embellished Mesh & Silk Dress ($3,735) that will probably empty your pockets, but will be in style for years to come and works for all 4 seasons. And with the mesh covering your cleavage, it's acceptable to wear to more than just movie premieres. Shop more celebrity style and stay up to date with us on Twitter.
Week In Review: Gap's New Bidding System, Temple St. Clair's Exclusive Earrings, More
Must Reads: Gap is now allowing customers to pick their own price for clothing with a bidding system called "Gap My Price." Princess Beatrice's hat from the royal wedding is up for grabs on eBay - starting at $10,000. Ladies get your wallets ready, Temple St. Clair is releasing 10 new special edition earrings for a 25th anniversary collection. Vena Cava for Uniqlo has hit stores and we're smitten. Collaboration Alert: Giles Deacon for Nine West (and tons of amazing new shoes). Celebrity Style: It's that time again: the Cannes Film Festival has begun so we reflected back on a few best dressed celebrities. We're not that sure how religious Vanessa Hudgens is, but we do know she loves her cross jewelry. Grab Halle Berry's exact same maxi dress for under $100. Kate Middleton's L.K. Bennett wedges have been imported to the US...and have their own waitlist. White summer dresses - like Uma's and Gisele's - are your new summer essential. Sales and Deals: Keep your iPad protected with one of these awesome cases that are on sale. Assets by Spanx have just launched a brand new swimwear line, starting at $50. Save up to 60% on the perfect dress for all of those weddings on your agenda. Whoever thought anoraks were cool? They are, and they're 45% off. Taste Test: Can you find which white camisole costs $56 more than the other? Can you spot which gold chain link bracelet costs $2,479 less the the other? Can you tell which zebra ballet flats cost $140 more than the others? Beauty: Check out Oprah's makeover extravaganza featuring Tory Burch and which products they recommend. Join our e-mail list for exclusive fashion updates and follow our Twitter and always be in the know.
Meet Your New Summer Wardrobe Addition: The White Dress – Just Like Gisele & Uma
As the weather gets warmer, we know the season of white dresses is among us. And there's nothing like the way we feel in a well-fitted white dress - one that doesn't show off our underwear or make us look fat. So follow in the footsteps of Gisele Bundchen and Uma Thurman and invest in one of these quality white dresses, a summer essential. (more…)
Cannes Film Festival Begins Today, Time To Reflect On Last Year's Best Dressed
Granted we are stuck in the United States, but halfway across the world the 2011 Cannes Film Festival begins today, featuring celebrities like Rachel Bilson and Diane Kruger. But don't worry, we'll be Twitter stalking so you always know what's going on. And forget about the films - we can see them in theaters later - we're all about who's attending, who everyone is wearing, and of course, how good they looks. (more…)

Can You Tell Which White Camisole Costs $56 Less Than The Other?
Keep yourself guessing with all of our Taste Tests. Find great sales with our calendar of online sample sales. Subscribe to SHEFindsMail for exclusive updates.
Obsessed With Halle Berry's Aqua Maxi Dress? Buy The Exact Same One For Under $100
When it comes to maxi dresses, late spring is the perfect time to wear them. And like Halle Berry shows us, prints are so last season. The tribal print trend is super in style right now and we're loving this Aqua Twist Front Printed Maxi Dress ($88). It looks great with flip flops for a casual look, a la Halle, or even more dressed up with some neutral wedges. Shop more of the best celebrity looks. Join our e-mail list for exclusive updates.
Thank You Stuart Weitzman, Now We Can Have The Exact Same Sandals As Reese Witherspoon
When it comes to the comfy, casual look, nobody masters it better than Reese Witherspoon. With her boyfriend cardigan loosely thrown over an ivory summer dress, Reese gets it right and pulls the ensemble together with these Stuart Weitzman Mcchain Sandals ($225). The gold embellishments are kept to a minimum and they're the perfect cross between the gladiator sandal and a flip flop. What more could you want? Copy more your favorite celebrity looks. Join our e-mail list for exclusive updates.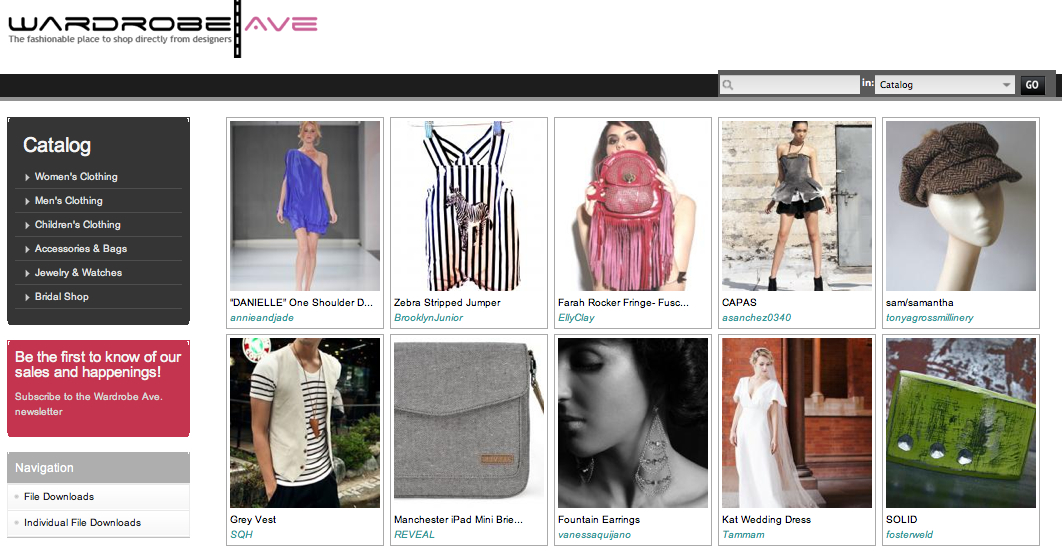 Introducing Wardrobe Avenue, A Cool New Site That Showcases Indie Designers
Don't wait for the next Project Runway to discover an unknown designer. For those of you who spend your time scouring sites like Etsy to find some unique and original finds, you've got to check out Wardrobe Ave, the place for independent clothing & accessory designers to come together and list their products. Everything is one-of-a-kind, too, sowe can pretty much guarantee your friends will all be asking, "Where'd you get that?" (more…)
Week In Review: Jil Sander's Chinese Takeout Bag, Spring Pierre Hardy For Gap Shoes, More
Must Reads: Corset one-piece bathing suits are the new Spanx swimsuits - be sure to get yours now. Gap released their newest line of Pierre Hardy shoes. Think colorblock and just the right amount of formal. Who ever though Chinese takeout bags would become the new 'It' bag? Jil Sander did. If you're celebrating cinco de mayo this weekend, jump on the Mexican embroidery bandwagon. Lady Gaga's newest music video is out, copy her cat-claw nails yourself. Celebrity Style: We're loving Kim & Bethenny's oversized hats and how they block the sun, perfect for the Kentucky Derby this weekend. Forget the tights, try a black jumpsuit instead like Anne Hathaway or Jessica Stroup. Jennifer Aniston and Beyonce let their chests literally peek out of their dresses. An easy, breezy trapeeze top is the ideal top for spring - just ask Ashley Tisdale or Gwen Stefani. Sales and Deals: Happy Friday - enjoy some of the best sales featuring Winter Kate at Nordstrom. Whether you keep it or give it to Mom for Mother's Day, this Tory Burch Free Gift is a great reason to shop. Grab some of spring's essentials for up to 70% off at Shopbop. Shop at APART's Mother's Day sale and make sure your mother stops brorrowing your clothes. (more…)
Hold Your Horses (And Your Oversized Hats): What To Wear To The Kentucky Derby
Whether you're a gambler, a spectator, or completely uninterested, that's still no reason to not celebrate this year's Kentucky Derby this weekend. Between housemaid dresses, feminine wedges, and of course - oversized hats - we finally have an excuse to rock this country girl look like Kim Kardashian, Bethenny Frankel and Jaime Pressly. And not only are these bigger-than-your-head hats part of the Derby dress code, they'll protect your face from harmful UV rays this summer. How perfect. (more…)
Stop Building Up Your Debt & Save Some Dough With Our New Sample Sale Page
We love designer fashions like Gucci, Prada, Diane Von Furstenberg, Tory Burch and more (who doesn't?). And now we can save up to 90% off the retail price thanks to select sample sale sites like Hautelook, Gilt Groupe and more. You can also save on spa & beauty treatments, vacations, shows, and more with group coupons and other select vacation sale sites. So stop hounding Google, and find everything you need to live a luxe life at half the price, right here on our very own Online Sample Sale Page. Check out more sales and deals and subscribe to our newsletter.
Can You Find Which Black Pumps Cost $277 Less Than The Others?
Press your luck with all of our Taste Tests. Check out our calendar of online sample sales. Subscribe to SHEFinds for exclusive updates.
Anne Hathaway & Kim Kardashian Trade Their Tights In For Chic Jumpsuits
Since we refuse to wear tights anymore, but it's still a little too cold to go bare-legged, we need to figure out other options. Enter the jumpsuit. With fabrics such as silk and fine jersey, these baggy yet fitted jumpsuits make you look polished (and slimmer). Just as Anne Hathaway or Kim Kardashian, since we already know Jessica Stroup is super skinny. Throw on a pair of heels and you're ready to go. (more…)
Can You Find Which Denim Shorts Costs $322 More Than The Others?
Test your fashion IQ with all of our Taste Tests. Subscribe to SHEFindsMail for exclusive fashion updates.
Hide Your Lovehandles Without Looking Like A Shapeless Blob, A La Reese Witherspoon & Diane Kruger
Not all of us have been hitting the gym regularly in preparation for spring and summer. But that's no reason to hide your body under some shapeless garbage-bag-type frock. Now with these pretty one shoulder draped dresses, we can prove that we're still in style, even if we can't seem to lose those extra 5 lbs. (more…)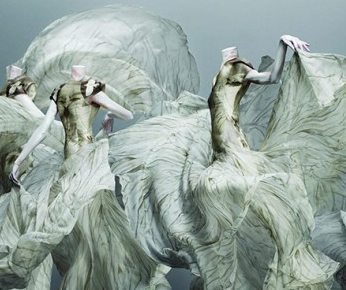 May. Love, SHEFinds.
Get yourself ready for summer with this month's happenings. May 4th: Calling all fashionistas - the Alexander McQueen exhibit today opens at the Metropolitan Museum of Art in New York City. May 7th: The Kentucky Derby begins so make sure you have your fanciest hat to accompany your favorite summer dress. May 8th: Don't forget to wish Mom a happy Mother's day and check out MOMFinds to find out which gifts she actually wants. May 10: You voted on the dresses, now the time has finally come for the officially Derek Lam for eBay debut. May 12: Vena Cava's next collaboration with Uniqlo launches today for a line of nautical basics at $29.99 a piece. (more…)
Prepster Blake Lively Teaches Us That Boat Shoes Aren't Just For Sea Captains
It's anchors away for this Gossip Girl come spring. Instead of the usual ballet flat, we have officially been encouraged to slip into a pair of boat shoes (or top-siders, to each her own). And Blake shows us exactly how to pull them off so we don't look like we've borrowed our dad's shoes. With tons of cool brands like Tory Burch and Steve Madden making their own boat shoes, we're definitely aboard this trend. (more…)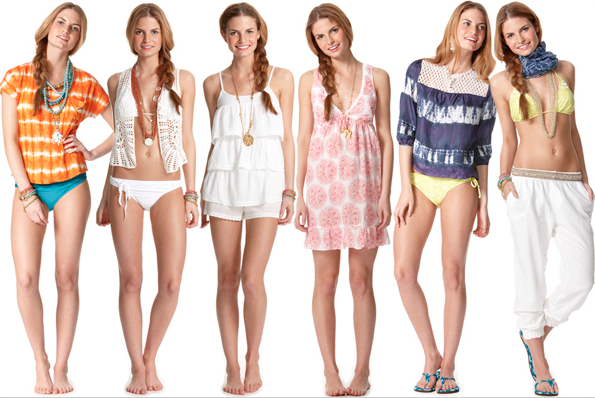 Bring On The Tie Dye! Calypso St. Barth For Target Has Launched
We told you months ago how excited we were for Calypso St.Barth for Target and now it's finally here, just in time for spring and summer. Between paisely printed tunics and17 pages of other beachy items, all for under $80, we can't help but shop this celebrity-obsessed brand. With 3 different collections (Reef, Shore, & Sea) containing clothing, jewelry, and home decor, we have a feeling this collaboration will sell out fast. (more…)
Week In Review: Kate Hudson's Jewelry Line, Your Handy Guide To The Royal Wedding, More
Must Reads: Just in case you haven't been awake for the past few months, stay up to date on the Royal Wedding with our handy guide. Feeling a bit heavier than usual? Shop at a lower priced store, their sizes run much bigger. Hello, size 0. If you need help finding a gift for Mother's Day, just consult us - we have everything you need. Or check out Oprah's new obsession with her 20 Years Younger skincare pledge. Go from the pool club to the night club - just put a skirt on over this schnazzy swimsuit. Jewelry Collaboration Alert: Kate Hudson teams up with Chrome Hearts for some boho jewels. Celebrity Style: See how you can copy the looks from Miranda Kerr, Rachel Bilson and more at this year's Tribeca Film Festival. If you're loving Victoria Beckham's Royal Wedding ensemble, get it for yourself here. We uncovered the truth as to why men love Jessica Alba. And how Alessandra Ambrosio stays cool when it's hot out. Selma Blair was seen hiding her (very large) baby bump in this draped dress - we're using it to hide our love handles. Or for those of you toned ladies, try Whitney Port's knotted top. Sales and Deals: Dear French Connection, thanks for 70% off spring dresses sale. Save 35% on your favorite basics from Gap, Old Navy, AND Banana Republic. See what Bloomingdale's is offering with their invite-only sale. (more…)
Forget The Movies, We're Too Busy Watching The Celebrity Style At The Tribeca Film Festival
Although it might not be fashion week, celebrities like Rachel Bilson, Chloe Sevigny, Miranda Kerr and more still step out in style in New York City for the 2011 Tribeca Film Festival. And with the decently warm weather, we're loving these new spring and summer styles. So whether you have a movie premiere or just a casual cocktail hour, you can definitely steal a few fashion ideas from these stars. (more…)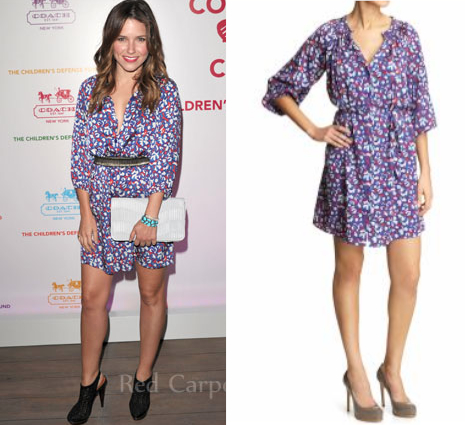 Jealous Of Sophia Bush's Tucker Dress? Get It For Yourself Now.
Who said anything about floral looking matronly? Thanks to Sophia Bush and her Tucker Classic Mini Dress ($325), we can now own (and wear) stylish floral patterned dresses. Solids and pastels and polka dots are just trends of the past, and we couldn't be happier. So what are you waiting for? The sun is only around for a few more months. (more…)
It's Going To Rain A Lot This Summer: Time For You To Grab Some New Rain Boots
April showers might bring May flowers, but according to the weather reports throughout summer, the only thing they're bringing are more rain storms. So don't ruin your new spring wedges--invest in a pair of quality rain boots like Hunter rain boots or these Loeffler Randall rain booties. If you don't know which ones are right for you, consult our Rain Boot Buying Guide - you can thank us later. Need help shopping online? Take a look at all of our buying guides & don't forget to sign up for our newsletter.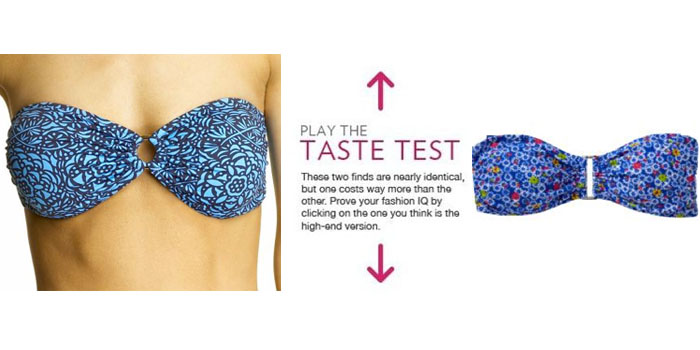 Can You Spot Which Printed Bandeau Bikini Top Costs $87.50 Less Than The Other?
Keep yourself guessing with all of our Taste Tests and stay up to date with our e-newsletter.
Get Acquainted With The Dress That Hides All Sins (And Apparently, Babies, Too)
Even after Selma has her baby, she'll be able to use the dress to carry it. Believe it or not, these two pictures were snapped on the exact same day. No, Selma Blair did not have her baby in between. At almost 5-6 months pregnant, Selma is ready to burst, but thanks to her overlay drape dress, we'd never have any idea. So if you're not pregnant, but just indulged in a few too many burgers at that last BBQ, this dress is perfect for you. (more…)
The Top 3 Jeans You'll Want This Spring (& How To Wear Them)
The weather is finally [almost] nice enough to stop tucking our skinny jeans into boots. Now that spring has arrived and your closet has been cleaned out to make room for new things, it's time to stock up on jeans. This spring we're looking at new shoes, tops, and of course - jeans. So check out how to pull together a quick yet stylish outfit for anywhere. (more…)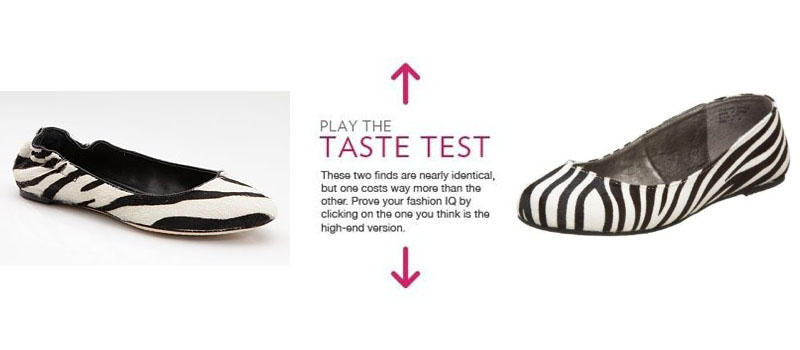 Can You Find Which Zebra Flats Cost $140 More Than The Others?
Test your fashion IQ with more of our favorite Taste Tests. Sign up for our fashion e-newsletter.
Alessandra Ambrosio's Rebecca Taylor Dress: AKA How Not To Look Like A Hot Mess This Summer
Since we couldn't make it to Coachella (we're bummed too), we decided just to creep and find out who was the best dressed. And obviously, Alessandra Ambrosio ranked on our list. In her Rebecca Taylor Sunflower Cami Dress ($325), she battled the warm weather without looking like a hot mess - not that she ever does. So whether you're going to an outdoor music festival or maybe just a picnic, be sure to invest in one of these must-have sundresses. (more…)
Week In Review: Johnny Weir's LBDs, Pamela Love's Topshop Jewelry Collection, More
Must Reads: Figure skater Johnny Weir is ready to launch his own line of Lady Gaga-approved black dresses. Get a sneak peek of Pamela Love's Topshop jewelry collection - in stores May 26th. Or try one of these 6 trends that will change your life. H&M's Hasbeen Sweedish shoe collection we mentioned earlier has finally arrived (!) And give back to charity with Tory Burch and Gucci. Calling all chic prepsters: Catherine Malandrino and Lacoste got together for an exclusive sportswear line. Celebrity Style: You heard it here first - scalloped shorts are in. Just ask Sienna Miller or Kate Bosworth. Couldn't make it to Coachella? That's no excuse for checking out the top celebrity Coachella trends. Lately, we've been digging these timeless trench coats and silk scarves, inspired by Faye Dunaway. Kourtney Kardashian knows the true meaning of 2 for the price of 1 with her Bleulab Reversible Jeggings. If you're in the market for a new bra, try Britney Spears' favorite ultra strappy version. (more…)
Dr. Martens Finally Designed Some Clothes To Go With Those Iconic Boots
Dr Martens has collaborated with Hello Kitty and showed off on Gossip Girl. And now? Even bigger news. Dr. Martens is distributing their very first clothing line starting Monday. Featuring chambray shirts in a variety of colors and prints as well as leggings, we can finally rock our Dr. Martens without worrying about matching the infamous combat boots. How much longer until Monday? (more…)
Pick Up Spring's Brightest Wedges Before Kim Kardashian Walks Away With All Of Them
Since the weather is almost warm enough to show off our toes, we're preparing by making sure we have the right wedges. Gone are the days of basic black and tan wedges. Now wedges and espadrilles come in a variety of bright colors just like Kim Kardashian's and Leighton Meester's. So before they walk themselves off the shelves, invest in a quality pair to take you right into summer. (more…)
Can You Spot Which White Ankle Zip Pants Cost $490.50 More Than The Others?
Keep yourself guessing with all of our Taste Tests. Join SHEFindsMail for exclusive fashion updates.
Scalloped Shorts: They'll Justify That Painful Leg Wax
Instead of baring all in teeny-tiny short shorts this summer, look chic in a pair of scalloped shorts (yes, they're back). These shorts, which almost look like a skirt, are a total must have. You can even wear them with tights like Sienna Miller for right now. So flatter your thighs and slip into a pair of these dressy shorts. (more…)
Faye Dunaway's Timeless Pieces For Spring (Who Needs Clyde, Anyway?)
We all know one of the biggest trends for spring is the re-birth of the 1970s. We're not suggesting Studio 54 re-opens, but we are obsessed with flare jeans and wedges right now. What better way to celebrate this groovy trend (and the anniversary of Coachella) than by rocking these "threads"? We couldn't agree more. (more…)
Can You Tell Which Rosegold Watch Costs $36.20 Less Than The Other?
Keep yourself guessing with all of our Taste Tests. Check out our calendar of online sample sales. Join our e-mail list for exclusive updates.
Reversible Jeggings: Even Kourtney Kardashian Can't Resist This
Kourtney Kardashian knows that skinny jeggings can be a girls best friend. But instead of shelling out the big ones for a designer pair, she invests in Bleulab's Reversible Detour Jeggings ($207). These double-denim reversible jeggings can actually be worn inside out and look like a brand new pair. Nobody will ever need to know that they're the exact same pair of jeans. Just please, don't go commando. (Somebody had to say it.) (more…)
Week In Review: Jenna Lyons + The Pink Toenail Debacle, Matthew Williamson For Macy's & More
Sales & Deals: Score free shipping and 20% off Bobbi Brown with the friends and family sale. Get your favorite basics from ASOS at under $20. Black strappy sandals are 40% at Steve Madden - time to stock up. Piperlime's big spring sale has begun. Ready, set, go (!) Must-Reads: J.Crew exec Jenna Lyons is under fire for painting her sons toenails hot pink. Matthew Williamson for Macy*s is here, shop it now while it lasts. Can't make it to the beach? Get a first look at Calypso St. Barth for Target now. Jennifer Lopez is crowned as People Magazine's "Most Beautiful Cover Girl," but we had some other women in mind. Angelina Jolie's jewelry line for charity is finally on display, but you need an invitation to see it. (more…)
Now You See Me, Now You Don't: Nude Dresses Are The New Little Black Dress
Remember when nude heels were all the rage because you could wear them with any dress? Well, reverse that trend and you now have nude dresses, able to be worn with any kind of shoe. We're obsessing over the super-simple idea and pairing it with any handbag and shoes that we want. So stop looking at your once worn royal blue stilettos because with nude dresses, you can wear anything. (more…)
Knee Length Dresses – The Newest Addition To Hollywood
Gone are the days when we were all about showing tons of leg in mini skirts and dresses. The rumor is true, the more you have covered the classier you look, which is why we're super pleased that knee-length dresses have been sneaking into the closets of celebrities. So ladies, cover up and prepare to turn heads. (more…)
We Give The Green Light To This Brightly Colored Skirt Trend
Say no to black this upcoming season with the newest trend of bright colored skirts. It doesn't matter if they're solid like Taylor's or printed like Sienna and Mischa's, as long as there is noticeable color, we're down. We love how easy bright skirts make any basic top come to life and with a pair of dressy sandals or wedges - you're ready to go. (more…)
Can You Find Which Gold Link Bracelet Costs $2,479 Less Than The Other?
Keep yourself guessing with all of our Taste Tests. Shop our guides to the best bracelets. Join our e-mail list for exclusive updates.
Designers On Crack: Sneakers + Sandals = Well, We Don't Know Either
There is some pretty freaky footwear out there as you already know, but these sneakers take it up a notch. You've seen the heeled Nikes already, but these bad boys are just in time for Spring. Introducing the sneaker-flop (we think it's called) - part sneaker, part flip-flop. Or if these aren't quite your look (we understand), maybe one of these others will suit you. (more…)
Batwing Tops, And How To Wear Them If You're Not Rihanna
First we loved our cocoon cardigans, then we were all about the boxy t-shirt (do you see a trend here?) - now we're dying to get our hands on the latest batwing tops. Obviously we're into anything that hides our unwanted curves, yet still provides us with a feminine figure and of course, a sense of style. AKA nothing like Rihanna's drowning arms. (more…)
Week In Review: Alice + Olivia Makes Shoes For Shopbop, Jane Birkin Donates Her Hermes Bag For Japan Relief, More
[youtube]http://www.youtube.com/watch?v=pNyfzlbMGiA[/youtube] Must Reads: Calling all shoe hoarders, Alice + Olivia for Shopbop's shoe collection has been released. Get a sneak peek at Net-A-Porter's newest collaboration with Issa for lace dresses and more. Miu Miu goes virtual with their newest introduction of an e-commerce site. Oh, thank heavens. In case you were worried about cleavage wrinkles (yes, they exist), try on this bra for some prevention. Donate to Japan and receive Jane Birkin's Hermes bag - sounds like a win-win situation to us. Celebrity Style: Sienna Miller has been rocking her tailored harem pants lately and we can't wait to get our hands on a pair. Take a lot at Zappos' newest product - inspired by Reese Witherspoon's newest movie. Celebrities have been toting their iPads around and we found some stylish designer cases for your electronics too. Ladies, rejoice. It's time we can wear white whenever we can, a la Gabrielle Union. Think Astrology is tacky? Think again with this Kim Kardashian t-shirt. Sales and Deals: Get Nicole Richie's House of Harlow 1960 Watches and Jewelry for 50% off. Kate Middleton's Aquatalia booties are on sale - grab them now before they sell out. Ready, set, go (!) with Shopbop's 70% off sale. Spring's essential printed silk mini dresses start at $31, only at Bloomingdale's. (more…)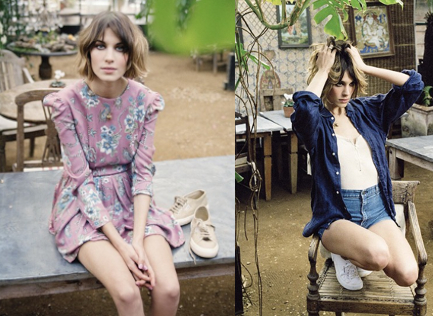 Superga Sneakers: The Latest Thing Alexa Chung Has That We Want
When Alexa Chung did her first Alexa Chung for Madewell line, complete with funny doodles on t-shirts, we were into it, but we didn't realize how long Alexa's fashion star would last. She brought back the clogs, made jean shorts non-trashy, and proved to us that button down shirts were no longer meant for the office. We stalk her Twitter and quite frankly, just love everything she puts on. Lately, she's shared her favorite Madewell picks, which, btw, sold out almost immediately. Now that she's the face of Superga sneakers, we find ourselves wanting a pair. (more…)
Hide Your Inner Nerd With These Chic Designer Cases For Your iPad, iPhone, Blackberry & More
We love switching our accessories with the seasons, especially our handbags and even wallets. But now with the new iPhone and iPad and other geeky items, it's time to give those an update too. So why not invest in some new accessories for your electronic companions? You don't want them to feel left out. Besides, with all of the bright colors and eye-catching designs, your cell phone will beg for a new cover. (more…)
Gabrielle Union Defies That Stodgy Old Myth That You Can't Wear White Until Memorial Day
While looking pasty in black and other dark colors was cool in December...not so much anymore. Who in their right mind wants to wait until the end of May to wear white? It's a non-issue in our minds. We have to flaunt our spring break tans somehow.  See how Gabrielle Union styled her little white dress. (more…)
Is A Timeless Burberry Trench Coat Worth Your Full Tax Return (And Then Some)?
Spring is here and the annoying weather changes are enough to drive everyone mad. And since winter coats are too warm and rain parkas are, well, too ugly, it's time to invest in a classic spring trend: the trench coat. Now we're not just talking about any old trench coat. We are dying for the timeless iconic Burberry Twill Trench Coat ($995). Yes we know it's a splurge, but after crunching some numbers, it could be cheaper than your morning latte. (more…)