Dying to bust out your new backless LBD for date night? All systems are go, until you remember one crucial detail—your underwear situation. Wearing a normal bra would show the back strap, and you obviously don't want that deter from the sexiness of your dress. But going bra-less runs the risk of a having signifiant nip slip in public, and you're too classy for that. The only remaining solution? Backless sticky bras (boo). I think we would all rather have a wedgie than spend a night out wearing and constantly adjusting an uncomfy sticky bra. If you loathe sticky bras as much as the rest of us, there's a new variation that to support your bust that actually gives "the girls" a little boost—sticky bras with string.
As weird as it sounds, this up and coming lingerie trend has been endorsed by the likes of Amber Rose and various fashion bloggers, and you've probably scrolled past a million ads for them on your Instagram feed. Known as the Perfect Sculpt Bra or the Lift Magic Bra, this style is essentially two adhesive pieces that cover your boobs with an adjustable string interlaced between them. Pull the string, and you instantly get a breast lift.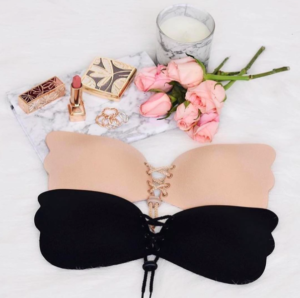 [Photo: Instagram]
So, are sticky bras with a string attached actually worth the hype? Here's everything you need to know:
They work like a push-up bra. The drawstring connecting the two adhesive pieces is designed to squeeze your boobs together and lift them up, so you get a sticky and a push-up bra all in one. However, Buzzfeed editors tested this product and discovered that you actually have to mess around with your boobs a little and position them a certain way for the bra to work effectively.
You can easily find them online. Several websites are specifically dedicated to selling variations of this popular bra, so you can get them from Perfect Sculpt Bras, The Perfect Sculpt, Hello Molly, and even Walmart. Finding one in your size definitely won't be an issue.
They're pretty affordable. Regular push-up bras at Victoria's Secret can run upwards of $50. Sticky bras with string usually cost about half as much, averaging around $20 or less. At that price, you might as well stock up in both black and nude!
Your bust size matters. Just because Amber Rose flaunted one of these doesn't mean they're perfect for all bust sizes. The Buzzfeed testers found that this bra works best on medium-sized boobs, and actually didn't have much of an effect on women with A-cups. For women with smaller busts, you might want to sit this trend out. If you have a D-cup, though, it can lift your boobs slightly, but doesn't offer much support. However, Amazon reviewers of all bust sizes raved about the effectiveness of this product, and one woman even wore the sticky bra on her wedding day.
They seem just as risky as regular sticky bras. A regular sticky bra falls flat (literally—they're prone to falling off) after long, sweaty nights of dancing with your friends. And, based on Buzzfeed reviews, the sticky boob with string seems to have the same issue. One big-busted tester reported that the adhesive felt super sticky, which is promising, but she says it still seemed like it could fall off at any moment.
[Photo: The Perfect Sculpt]