Say What You Want About Anne Hathaway, But Her Lips Blouse Is Pretty Darn Cool
People tend to have strong opinions about Anne Hathaway, but whether you like her or not there's no denying she looked stunning when she arrived on the set of GMA wearing this Equipment DADDY x Garance Dore Shirt ($198). Anne paired it with feisty red pumps and a pleated leather skirt, but it would also look pretty killer with classic blue jeans. Love the look? Click below to get Anne's exact shirt.   Equipment DADDY x Garance Dore Shirt ($198) For more must-have celebrity style, check out Kendall Jenner's gold sneakers, Reese Witherspoon' denim skirt and Katie Holmes' Old Navy overalls. [Photo: Splash News]
Anne Hathaway's Chambray Dress Has "Comfortable Weekend Uniform" Written All Over It
How funny is Anne Hathaway jamming incognito on the streets of NYC? Despite the hat and shades, the paps spotted her and we're sure glad they did because who would want to miss out on the cute denim dress she's wearing? It's actually by Splendid, maker of all things crazy soft and comfortable, so don't even try to resist adding it to your wardrobe. Not only is it the perfect piece to throw on for brunch with the girls or a quick trip to the supermarket, but it's on sale! There are only two sizes left, though, so act fast! Splendid Indigo Shirting Dress ($131.60, down from $188) Be sure to check out Blake Lively's pretty spring bag, Jessica Alba's wide leg pants and Lily Aldrige's overalls. [Photo: Splash News]
VIDEO: Watch Anne Hathaway Lip Sync To 'Wrecking Ball'
Spike's new TV show, Celebrity Lip Sync Battle, is a gift to the Internet. Each week, two famous A-listers go head-t0-head in, you guessed it, a lip sync battle. Tonight's episode features Andy Sachs vs. Emily Anne Hathaway vs. Emily Blunt. In typical Hathaway fashion, Anne really, really commits to her "role" during her rendition of Miley Cyrus' "Wrecking Ball." You might have seen a preview of her performance earlier this week, but the full video is now finally here:  [youtube]https://www.youtube.com/watch?v=YMAeQO_2K7s[/youtube] Don't forget to check out: cute kids dancing videos, Julianne Hough's new hair color and Dove's latest empowering ad [Photo: Splash News]
Get Nina Dobrev's Adorable Animal Ear Beanie In Every Color–It's Only $24!
Looking cute during the cold holiday season just got easier thanks to actress Nina Dobrev. She looked extra adorable in her Urban Outfitters Animal Ears Cable-Knit Beanie ($24) in a pic she posted on Insta with fellow actress Jessica Szohr during their Friendsgiving celebration. The best part about this celeb find? The price! This cute hat is only $24 so get one in all four colors below. Urban Outfitters Animal Ears Cable-Knit Beanie ($24) Don't forget to check out Jessica Alba's grey jeans, Taylor Swift's burgundy boots, and Lauren Conrad's booties. [Photo: Instagram]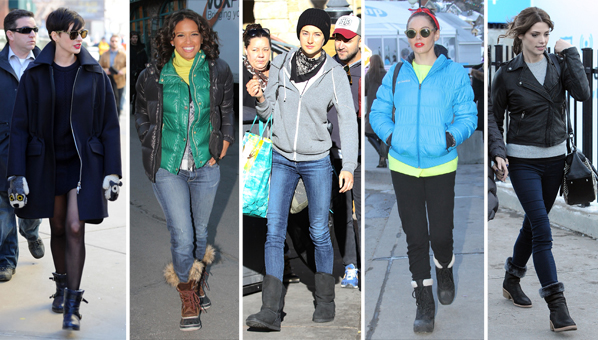 10 Non-Fug Cold-Weather Boots We Stole From Stylish Celebs At Sundance
Want to look cute when it's cold without your feet freezing in heels? Look no further. We've been stalking all the best-dressed stars at the Sundance Film Festival in Utah and the shoes they've been sporting to keep warm are actually not so bad.  So far, it looks like Sorels are still a winning choice (just like last year) and UGGs are still (shockingly) pretty popular. So as we gear up for one of the most frigid weeks yet, we'd say it's about time you invested in a new pair of cute, cold-weather boots. We've still got two solid more months of winter left, so you'll definitely get good use out of them. Click through the slideshow to see the boots your fave celeb wore in Park City, then snag a lookalike pair ASAP. Don't miss Miranda Kerr's amazing wool hat, the jacket every celeb owns and the new Nike FuelBand. [Photo Credit: Splash News]
Is Anne Hathway Pregnant?
The internet is currently buzzing with news that Anne Hathaway is pregnant. It all started when her brother let it slip that the star was expecting during a comedy routine last week in Brooklyn. Anne's rep, however, is vehemently denying the baby news saying Anne is definitely not pregnant. Anne has been married for just over a year, after tying the knot with Adam Shulman in September 2012 in Big Sur, California. If she is in fact pregnant, this will be the couple's first child. What do you think: is Anne Hathaway pregnant? Share your thoughts in the comments. Be sure to check out Oprah's favorite things, Kate Bosworth's white coat and find out the woman behind Kate Middleton's clothes.
Whoa! Anne Hathaway Bleached Her Hair Blonde For The 2013 #MetGala
Anne Hathaway wore Valentino to the 2013 Met Gala, but that's not all that surprising because everyone knows Anne and Valentino are totally BFF. What is surprising, however, is Anne's hair! Anne's been going through some thangs with her hair ever since she chopped it for Les Mis, but perhaps inspired by the party's punk theme, she ditched her raven tresses and went blonde! Thoughts? Do you love or hate Anne's new 'do? We kinda love it. Also, nice photobomb Jerry Seinfeld! [Photos: Splash News; Twitter]
UPDATE: Anne Hathaway Is Wearing A Pink Prada Dress–Not Valentino!
UPDATE: Anne opted for a pink silk Prada gown on the red carpet before the Oscars, despite earlier reports to the contrary (below). Is she wearing multiple looks tonight? Stay glued to SHEfinds for the latest news on any wardrobe changes that might involve that pink Valentino gown later tonight. 6:30 pm: E! just reported that Anne Hathaway is wearing a a pink tulle nude illusion Valentino Couture gown for tonight's 2013 Academy Awards. She took our advice! Just the other day we were saying how much we'd love to see Anne wear some color on tonight's Academy Awards red carpet, and that she did. Rachel Zoe styled Anne in The Best Supporting Actress nominee for her role Les Miserables has shown herself to be a fan of Valentino in the past, most notably her wedding last year. And later tonight, Anne will take to the Oscars stage to make a special Oscar performance wearing a custom Giorgio Armani beige-hued silk mesh gown scatter with rhinestones. Stay posted to SHEfinds for more info as it comes! For more from the red carpet, check out our score card for Jennifer Lawrence's red carpet looks this awards season, the Oscars dresses we suggested for Adele and enter to win a $2,500 red carpet closet makeover. [Photo: Splash News]
10 Colorful Gowns Rachel Zoe Should Style Anne Hathaway In For Sunday's Oscars
Look, we know Anne Hathaway is a polarizing character - you either love her (and all of her theatrics) or you hate her. But one thing we can all agree on is that we are always excited to see what designer-stylist Rachel Zoe will have her wearing on the red carpet. Seeing as Anne is an Oscar nominee this year for her supporting role in Les Miserables - and she may likely win - whatever she shows up in on Sunday night needs to be spectacular. And her track record this awards season? Meh. Rachel's choices for Anne have been pretty basic thus far. For the Critic's Choice Awards, she wore an Oscar de la Renta beaded champagne dress that was sort of a cool Gatsby-era send up, but the color washed out her already pale skin. Next, she showed up at the Golden Globes in a Chanel haute couture white strapless peplum gown, which we admit was pretty, but it was under-accessorized and a little boring with her simple pixie. Finally, at the SAG Awards, Anne wore a Giambattista Valli black gown with a sheer neckline and tulle skirt. The look was a little too princess-y for our tastes, the color boring and we weren't fans of the ankle-length hemline. All in all, as much as we love a good neutral, we think Anne needs to add some color to her look this Sunday. So we've helped her out by rounding up 10 colorful gowns to switch up her look. Click through to see our suggestions and tell us what you think she should wear in the comments. For more red carpet coverage, check out our report card of Jennifer Lawrence's awards looks, see our favorite dresses from the Golden Globes and help us pick out Adele's dress for Sunday. [Photo: Splash News]
You Don't Need Anne Hathaway's Pixie Cut To Rock These 'Anywhere' Sunglasses
She may play the starving and suffering Fantine in Les Miserables (the three hours are worth it), but Anne Hathway looked anything but when she stepped out to support her co-star Hugh Jackman and his Walk of Fame star presentation. The adorable pixie cut has us rethinking our long hair and while I can't actually fathom cutting it all off, I do think she has a style worth copying. Anne stepped out in a Prada LBD, Aldo pumps, and retro shades we want need - Karen Walker Anywhere Sunglasses ($280). Aptly named, these quirky sunglasses are the perfect accessory to contrast with your dark winter coats and sweaters and can be worn, well, anywhere. Shop below! Consider it the start of your 'resort' collection... Karen Walker Anywhere Sunglasses ($280) [Photo Credit: Splash News] Looking for more star-studded fashion inspiration? Check out Emily Blunt's graphic sweatshirt, Miranda Kerr's sexy date night outfit and Ciara's leather minidress.
Be A Sexy Cat Woman For Halloween And Land Yourself A Christian Bale, Er, Batman
She may have cut off all her hair and shed weight (and skin color) for her role in Les Misérables, but Anne Hathaway is one sexy, stealin' villian in The Dark Knight Rises as Cat Woman. Anne isn't the only actress to don the infamous cat suit and tempt the Batman - Michelle Pfieffer and Halle Berry also played the role. Who wouldn't want to emulate these beautiful women on Halloween?! Luckily the costume is very easy. You can choose to purchase the whole shebang or build it yourself with different pieces (you can always use another pair of cat ears). Next step? Study the cat-walk swagger. Don't forget to shop more awesome Halloween costumes such as Mrs. Megan Draper from Mad Men, Jessie J, and Katniss from the Hunger Games. [Photo Credit: Splash News]
Anne Hathaway's Tory Burch Espadrilles Are 30% Off. Meow!
Take a hint from Anne Hathaway, and purchase these discounted Tory Burch Holliday Suede Ballet Espadrilles ($136.50, on sale from $195) so you can strut in comfort and style during the home stretch of summer. This is a perfect pair for those obsessed with ballet flats and don't want to make the switch to full-on espadrilles, the signature shoe known for a having a rope-made sole (usually in wedge or slipper form). We love how Hathaway styled the flat with a more dressed up look, including a boucle jacket and super-size shades, proving that this pair isn't just meant for a beach-bound wardrobe. Tory Burch Holliday Suede Ballet Espadrilles ($136.50, on sale from $195) Shop more celebrity style finds: Gwen Stefani's sunglasses, Rachel Bilson's shorts and shoes, and Dianna Agron's dress.
Anne Hathaway's Ralph Lauren 'Vintage' Denim Shorts Are On Super Sale
Anne Hathaway may be playing the coy, sexy Cat Woman (July 20!!!) alongside our favorite superhero, but she certainly knows how to dress down in style. Nothing keeps you cool and looking fashionable like a great pair of cut off denim shorts. Anne's Ralph Lauren vintage cutoff shorts ($29, down from $69) look totally comfortable without losing style points. They hang low on her hip and can be easily dressed up -  throw on a belt, tuck in a blouse, and pad those feet in your favorite ballet flats. Or keep it casual with a lazy Sunday afternoon vibe - long sleeve sweatshirt T or really any T shirt you want. The bonus? They are on sale! Get It: Ralph Lauren Denim & Supply Vintage Cutoff Shorts ($29 down from $69) Shop more celebrity style: Ashley Greene's Madewell pullover, Kate Bosworth's dotted dress, and the celeb approved fall ballet flat.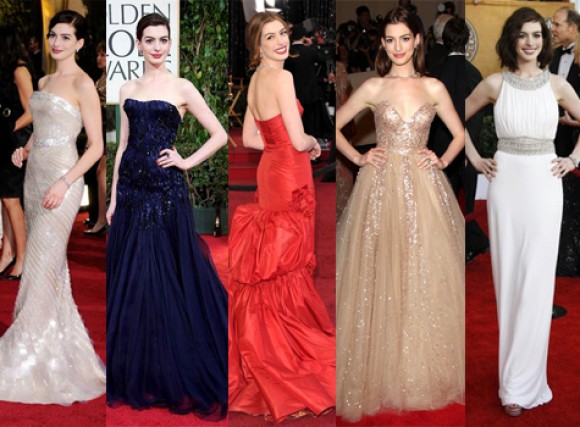 How Will Rachel Zoe Style Anne Hathaway On Her Wedding Day? A Red Carpet Analysis
Rachel Zoe has styled some of Anne Hathaway's most successful red carpet looks - including 8 dresses in 1 night during Anne's gig as Oscar host last year. But, the real question is: how will she style Anne on her wedding day? We've already seen Zoe's other client Molly Sims walk down the aisle, and Anne's upcoming wedding to Adam Shulman is another opportunity for the pin-thin designer to show off her bridal chops. She is launching a bridal line, after all! In fact, a new style was just added to Shopbop. (What do you think of it?) We digress. Everybody's buzzing about what Anne will wear on her big day, but we're taking a walk down red carpet memory lane, to see which silhouettes are best for her. We think we nailed it on the head! (more…)
Which Celebrity Engagement Ring Are You? Take Our Quiz.
We're all guilty of swooning over celebrity engagement ring photos and news -- and 2012's been a good year for it. So far, we've seen a flurry of A-list celeb engagements - Britney Spears, Halle Berry, Drew Barrymore, and Jessica Biel. And of course, who could forget last year's fairy-tale weddings of Kate Middleton and Kim Kardashian? Both with epic rings to match. If you've found yourself obsessing over one celebrity more than others, you probably identify with that high profile person -- and their choice in rings and men. What celeb engagement rings you love actually says a lot about you -- whether you're demure, and refined like Kate or flashy, and over-the-top like Kim. Take our quiz to determine which celebrity engagement profile suits you best. (more…)
Week In Review: Jil Sander's Chinese Takeout Bag, Spring Pierre Hardy For Gap Shoes, More
Must Reads: Corset one-piece bathing suits are the new Spanx swimsuits - be sure to get yours now. Gap released their newest line of Pierre Hardy shoes. Think colorblock and just the right amount of formal. Who ever though Chinese takeout bags would become the new 'It' bag? Jil Sander did. If you're celebrating cinco de mayo this weekend, jump on the Mexican embroidery bandwagon. Lady Gaga's newest music video is out, copy her cat-claw nails yourself. Celebrity Style: We're loving Kim & Bethenny's oversized hats and how they block the sun, perfect for the Kentucky Derby this weekend. Forget the tights, try a black jumpsuit instead like Anne Hathaway or Jessica Stroup. Jennifer Aniston and Beyonce let their chests literally peek out of their dresses. An easy, breezy trapeeze top is the ideal top for spring - just ask Ashley Tisdale or Gwen Stefani. Sales and Deals: Happy Friday - enjoy some of the best sales featuring Winter Kate at Nordstrom. Whether you keep it or give it to Mom for Mother's Day, this Tory Burch Free Gift is a great reason to shop. Grab some of spring's essentials for up to 70% off at Shopbop. Shop at APART's Mother's Day sale and make sure your mother stops brorrowing your clothes. (more…)
Anne Hathaway & Kim Kardashian Trade Their Tights In For Chic Jumpsuits
Since we refuse to wear tights anymore, but it's still a little too cold to go bare-legged, we need to figure out other options. Enter the jumpsuit. With fabrics such as silk and fine jersey, these baggy yet fitted jumpsuits make you look polished (and slimmer). Just as Anne Hathaway or Kim Kardashian, since we already know Jessica Stroup is super skinny. Throw on a pair of heels and you're ready to go. (more…)
Even Though You Can't BE Anne Hathaway, You Can Get Her Floral Tunic
Consolation prize! Even though you can't have Anne Hathaway's life--or her vacation to Rio de Jainero in Brazil, you CAN get her floral tunic. Wear it all summer long, whether the paparazzi are stalking or not. Where to get it: Joie a la Plage Collie Cover up tunic at Shopbop ($178). Check out all of this week's best sales and deals, more celebrity style posts and all of our best find of the day favorites.
Week In Review: Forever 21's Newest Collaboration, A&F's Legal Pursuit, And More
Must Reads: Rory Beca and Forever 21 got together and brought us the ultimate springtime collection. See the worst looks of fashion week 2011, including red face paint and a Coca Cola can dress. And be sure to check out what we learned from each Fashion Week across the globe. Abercrombie & Fitch wants their seagull back and gets legal to prove their point. Get some beads this Mardi Gras while keeping your shirt on. We're the pros, so follow our top tips for scoring free shipping & returns. Some of our favorite websites got a makeover - check it out and pick your favorite. Celebrity Style: We're loving Amanda Seyfried's chunky necklace look, find out how to do it yourself. Nerd Alert (!) See how Jennifer Aniston and Anne Hathaway look so smart these days. Jessica Alba's Michael Stars vest is not only cute and versatile, it's on sale too. Or copy Alexa Chung's brightly colored bag. There is a such thing as sexy shapewear and Bethenny Frankel is revolutionizing it. Sales and Deals: Snag feminine necessities like tulip skirts and cardigans at 60% off at J. Crew. Fill up your closet with some little black dresses from Shopbop at 70% off. Anna Sui creates a discount line for The OutNet - get a sneak peek here. Spring is coming, stock up on preppy sweaters and tops from Shopbop at 30% off. (more…)
Anne Hathaway & Jennifer Aniston Are Dabbling In Dorkiness With Faux Glasses We Kinda Love
As someone who couldn't wait to trade her glasses in for contacts, I am more than pleased to share this new celebrity trend. Glasses, whether they're fake or real, seem to be everywhere among us. Add a pair of specs for an instant touch of sophistication and quite frankly, to look smarter a la Jennifer Aniston. Looks like I'm going to have to revert back to my middle school days. (more…)
Latest From MOMfinds & BRIDEfinds: Shop Oscar Jewelry, Natalie Portman's Baby Bump, More
Shop Wedding Jewelry Straight Off The Oscars Red Carpet Get Anne Hathaway's necklace, Mila Kunis' earrings, and more. Natalie Portman's Purple Gown The Oscar winner takes maternity fashion to a whole new level. For more red carpet coverage, check out our Oscar Twitter stalking, then see our slideshow of the worst Oscar looks of all time, and catch more celebrity style like Anne Hathaway's Rachel Zoe-approved looks and get Gwyneth Paltrow's Grammy shoes.
Anne Hathaway's Blue Dress Should've Won An Oscar (Plus 4 Similar Dresses You Can Actually Wear In Public)
Anne Hathaway's Giorgio Armani Privé satin column dress stole the Oscars 2011  last night. When we first saw it on the runway for spring 2011 couture, we couldn't have imagined it on her for the Oscars...but that's the power of Rachel Zoe and her eagle eye. And not to pat ourselves on the back too much, but we totally called that Anne would be brilliant in a blue dress for the Oscars 2011. Check out our Anne Hathaway/Rachel Zoe Oscars styling predictions here, and then click through to get yourself a similar dress. (more…)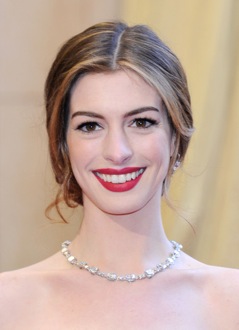 According To The Oscars, Earrings Are The Year's Biggest Jewelry Trend — Shop Now
Last night at the Oscars, jewelry (particularly the earrings) took center stage on the red carpet. This is the perfect opportunity to get inspired for your wedding jewelry shopping - from Halle Berry's diamond drop earrings to Cate Blanchett's canary studs and Amy Adams' emerald bracelet, there was something for everyone. (more…)
Rachel Zoe Styled Anne Hathaway Like Crazy For The Oscars: Here's What She Wore
Last week, we predicted some of Rachel Zoe's Oscar looks for Anne Hathaway, but we couldn't have known how many MAJOR wardrobe changes were to come (Eight to be exact.) Now that we've seen Anne Hathaway's looks, let's do a re-cap, shall we? (more…)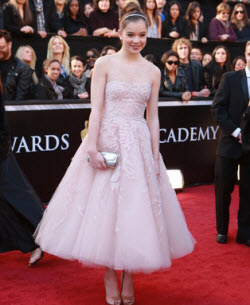 Top Oscar Moments Of 2011: The Awards They Didn't Give
Ok, so James Franco made history as the first Oscars host to ever film, tweet and publish a short video online from behind the scenes backstage. See it above, and then click through to relive the best Oscars moments: Check out all of our Oscars coverage, plus more of the best sales and deals and online sample sales.
These Celebs Have No Alibis For Their Hideous Oscar Dresses
As we count down the days to this Sunday - the 83rd annual Oscar Awards - we can't help but reflect on some of the not-so-worthy Oscar dresses. So while Anne Hathaway and James Franco take charge, we'll just point and laugh at the ugly dresses of Oscars past. (more…)
5 Rachel Zoe-Approved Trends Anne Hathaway Will Probably Wear As The Oscars Host
This year, Anne Hathaway is co-hosting the Oscars - which means that her stylist Rachel Zoe will be in charge of the multiple wardrobe changes and over-the-top red carpet looks. We can only imagine how bananas Rachel must be going right now, since she already gets so flustered when her clients are just attending. We've take the liberty of forecasting Anne's looks, based on infamous Rachel Zoe red carpet looks: Statement jewelry: Rachel's jewelry mantra seems to be the bigger the better, so I'm sure Anne's baubles will be oversized, statement pieces like these Privileged Onyx Quartz Earrings ($65). White: Rachel has declared that white is the new black, and she especially loves it at awards shows, so I think we can all safely agree that Anne will be wearing it. We'd recommend this stunning Issa Silk-chiffon gown ($800) - also a fabulous evening or wedding dress for us real folks. Asymmetric: Rachel Zoe is known for her off-the-shoulder or one-shoulder dresses, and this Halston Heritage One Shoulder Wrap Dress ($435) pretty much nails the trend. Let's see if Anne can pull it off. (more…)
February. Love, SHEFinds.
February isn't just the time to get romantic, it's also one of the most fashionable times of the year. See below. February 1st: Rachel Bilson's new movie, Waiting For Forever,  premieres this evening in Los Angeles. Oh, and a happy birthday to Miss Lauren Conrad as well. February 2nd: Happy Groundhog's Day (!) Our fingers are crossed for Spring to come early so we can wear neons and other spring trends. February 4th: If you haven't already picked up a Vivienne Westwood with the International Trade Centre Charity Bag - now is the time to do so before they sell out. February 10th-17th: It's that time of year again and the Mercedes Benz New York Fashion Week begins. Stay up to date with us as we blog about the best trends and designers of fashion week. February 11th: There are going to be no more lonely girls since Justin Bieber's film Never Say Never hits theaters today. Don't forget to rock your matching JB nail polish. February 11th: Jennifer Aniston's newest flick, Just Go With It, starring Brooklyn Decker and funnyman Adam Sandler opens today. February 13th: Keep your ears open for this year's 53rd annual Grammy Awards, on CBS . Expect to see stars like Taylor Swift and Christina Aguilera. February 14th: Pull out the red roses, Valentine's Day is here. We hope you followed our tips on getting ready for this romantic day. February 15th: Fashion Collaboration Alert (!) Kinder Aggugini, the UK designer, teams up with Macys for some exotic pieces that are bound to sell out. February 16th: Derek Lam shows his Spring collection, which shoppers can vote on in order to find out which looks will become a part of his eBay capsule collection. February 18th-20th: When the main Fashion Week ends, the Haute Couture Fashion Week begins taking place at none other than the Waldorf Astoria in NYC. February 18th-22nd: It might be raining, but that won't stop London's 2011 Fashion Week full of new designers and fresh looks that will maybe trickle into the US. February 20th: Both Rihanna and Cindy Crawford blow out the candles today as they both continue to wow us with their fashion choices. February 23rd: For those of you bride-to-bes, don't forget to watch CWTV's Shedding for the Wedding, a show where couples compete to lose the most weight before their weddings. For more wedding tips, check out BRIDEFinds.com. February 27th: The 83rd annual Oscars Award Show premieres tonight, hosted by Anne Hathaway and James Franco. We know we'll be hooked from the red carpet to the after parties. Don't miss a thing with all of our fashion news. Shop our guides to the best cheap workout gear and the best cocktail dresses. Subscribe to our e-mail list for exclusive updates.
The Maxi Skirt: Cover Up (In A Sexy Way) Like Kate Bosworth, Mary-Kate Olsen & Anne Hathaway
Since everyone seemed to love the maxi dress, why not love the maxi skirt instead? Whether you wear a crop top like Kate Bosworth or tuck in a white shirt Anne Hathaway or Mary Kate-style, these flowy numbers are the next big trend. Our thoughts: anything that hides our post-holiday thighs and makes us look tall is a-ok with us. Check out some of our favorite maxi skirts below or learn how to wear a wintertime maxi instead: Copy all of your favorite celebrity styles, then shop our guides to the best skirts and the best a-line skirts. Join our e-mail list for exclusive SHEFinds updates.
Anne Hathaway Shows Us How To Pull Off Gutsy Sequins (It's All About The Dress)
Sequins can seem daunting, but so awesome if done right. Anne Hathaway demonstrates a few rules for pulling them off. Ready? Look effortless by balancing proportions--go long sleeved if you're wearing a short dress. Choose a sequin dress with a comfortable material like jersey or cotton, so you'll feel at ease. And don't stop at the dress--make sure your shoes are equally as fabulous. Follow the author of this post on Twitter @shefindseileen. Check out all of our favorite party dresses, cocktail rings, and party shoes so you're prepared for all of those impending invitations. Have you got all of your holiday gifts yet? Don't forget about our Sold Out List, filled with the 21 gifts that WILL sell out this year, and all of the best sales and deals and best find of the day picks.
November, Love SHEFinds.
November 2nd: Happy Election Day. Celebrate your right to vote by dressing like Michelle Obama, from her signature sheath dresses to cardigans and brooches. November 4th: The premiere of Anne Hathaway's newest flick, Love & Other Drugs, premieres tonight. We're pretty excited about the star studded red carpet -- and seeing Jake Gyllenhaal shirtless. November 4th-6th: Enjoy up to 70% off  shoes, accessories, clothing and more at the annual Lucky Shops event at the Metropolitan Pavilion in NYC. Not in New York? Shop our Deal of the Day on SHEfinds. November 10th: Morning Glory, starring Rachel McAdams, hits theaters today. The movie star celebrates her 31st birthday later on this month (on the 17th). November 11th: Kate Walsh's  perfume "Boyfriend" lands on beauty shelves today. We're pretty sure it's going to make our list of the 13 worst perfumes of all time. November 14th: Tonight is the first ever "Catwalk For A Cause" with the proceeds going to the Johns Hopkins Children's Medical Center. Find out other ways to support your favorite charities, like breast cancer research, through fashion. November 15th: Divas Christina Aguilera and Cher come together at the premiere for Burlesque. Think Moulin Rouge, but with much fewer clothes. (The movie hits nationwide on the 24th.) November 16th-19th: Get worldly with Nigerian Fashion Week, Bahrain Fashion Week, and Stockholm Fashion Week - all going on this week. November 20th: Lanvin for H&M hits stores today. Although we're wishing for an online store, this is a great reason to run to your nearest H&M. November 23rd: Miley Cyrus turns 18 and is no longer jailbait. The Disney princess can now do all the voting, gambling, and smoking she wants. November 24th: Katherine Heigl is 32 today. Hopefully, this year will bring more killer outfits, and fewer awful hairdos. November 25: Thanksgiving has arrived, and I plan to stuff my face, along with the rest of the country. Stock up on shirts to hide your tummy, shapewear, and slimming pants for the week after. November 26th: Hello, Black Friday. Ladies get your coupons ready, this is one Black Friday you won't want to miss with sales and deals both in-store and online. Protection against stampedes not on sale. November 30th: The Victoria's Secret Fashion Show - every man's dream come true - airs tonight at 10pm EST on CBS. Celebrate in our favorite bras, sexy bras, and push up bras. November 30th: Michael Jackson's legend lives on with the new book, Michael Jackson: The Making Of Thriller, which hits stores today. Stay up to date by reading all of our fashion news. Shop our guides to the best sexy shapewear, the best cheap underwear, and the best cheap bras. Subscribe to our e-mail newsletter for exclusive updates.
Shatobu's New Fat Burning Tights Will Have You Thinner By Spring
Good tights are essential for the fall - just take cues from Kim Kardashian, Hilary Duff and Anne Hathaway. If you haven't spent your summer at the gym doing squats like these ladies - don't worry. Shatobu's new tights have resistance panels built in to burn fat, so you can get the celeb-approved look, without a celeb-approved diet. Intrigued? Here's the skinny: These High-Waist Calorie Burning Tights ($36) in basic black will become your fall/winter wardrobe staple. Go ahead, eat a big dinner - you'll still look fabulous. The High-Waist Calorie Burning Tights ($38) is this steel color are another great addition to your closet - you can think of them as your personal trainer (all the work, minus the mortification of sweating in front of the guy with the six pack). We love the Calorie Burning Shaping Footless Tights ($34), mostly because most footless tights can have you looking stumpy but these slimming tights help elongate and slenderize your legs. If the tights aren't satisfying enough, try these Shatobu's shapers that hide seamlessly under anything you might want to shed some poundage in: This Waist to Knee Calorie Burning Shaper ($48) has resistance on your hips and thighs bringing them from basic, average curves to Beyonce. The SHEfinds team tried out this pair of High-Waist to Knee Calorie Burning Shaper ($58) and we were pleasantly surprised to learn that we felt like calories were being burned - without horrible discomfort, sweating, or feeling like granny. Check out our guides to the best Spanx, and the best Spanx swimwear. Then see our guides to the best strapless bras, the best bras for bigger busts, and the best cheap underwear. Sign up for the SHEFinds newsletter for even more fashion updates.
Anne Hathaway Makes Hawaiian Print Look Cool
Anne Hathaway proves that you don't need to be super tall or wear sky high heels to pull off a maxi dress.  The gorgeous starlet was spotted out in LA looking casual in a hippy chic dress with gladiator sandals.  Here's how to get her breezy look that will leave you cool and comfortable as the temperatures heat up. Try Diane von Furstenberg's ($285) animal print dress that creates elongating motion with its swirling pattern.  Ditch those uncomfortable heels in favor of leather gladiators like Anne's with these sandals by J. Crew ($98). Statement gold earrings dress up this casual look; try this textured pair by Anna Beck ($198) to seamlessly take this look into the night.  This straw bag with metallic detailing by MICHAEL Michael Kors ($278) is just the right size to carry all your spring essentials like sunglasses, sun screen and extra flip flops. Get more celebrity style with our star fashion guides, including celebrity sunglasses. Check out of guide to the best maxi dresses, and summer dresses too.  Love a good bargain?  Check out our list of this week's online sample sales.
Fashion Math: Is a DVF Wrap Dress Really Worth More Than Three Months of Weekly Manicures?
Whether you have an important business meeting, a job interview where first impressions are key or a hot date with a guy you really like, there's one iconic dress that's perfect for all occasions: a Diane von Furstenberg wrap dress. Equal parts sophisticated and sexy, the wrap dress is there whenever you need it. This graphic black and white DVF wrap dress is the perfect example of just how versatile the silhouette can be when the print is right. The price, however, may seem a little wrong at first glance. You see, this dress is $365, which is more than you'd pay for three months worth of manicures. But with a little Fashion Math, you'll see why the dress is the better buy. If you wear your wrap dress just once a month for the next five years, it will cost you less every time you wear it than you probably pay for lunch. And yes, you really can wear this dress for five years. Longer than that, in fact. The colors and silhouette will never go out of style and DVF dresses are such good quality you'll be able to pass them down to your daughter. That's certainly more lasting than those manicure that require weekly maintenance. Shop more wrap dresses, plus great black dresses and party dresses in our buying guides.
Best Find Of The Day: A Dress For All Seasons
I like it when my clothing can multitask for me without having to think too hard about it. That's why this Juicy Couture silk-blend paisley print dress ($180) caught my eye. Obviously, dresses are a cinch to accessorize, making them priceless when you need to get out the door fast. But this cotton-silk blend dress has three added benefits, which are the weight, cut, and color. It's lightweight and roomy throughout the torso and lower body so that you can layer leggings and a long-sleeve top underneath. Add a chunky sweater, tall boots and a scarf to stay stylishly warm the winter. Come spring, wear it with shorts or solo to show off the 3/4-length sleeves and deep V-neck. Pair it with flats or sandals for a boho chic look on the weekends. In a neutral gray color, which is a go-to hue during the cold months, it easily transitions into warmer days. Looking for more transition dresses that work for winter fashion and summer style? See our guide to dresses, plus many more finds for all shapes and sizes.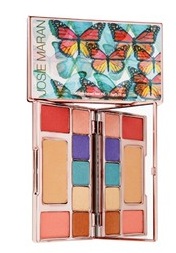 Help Haiti Update: New and Beautiful Ways to Shop and Give
You may have noticed that everyone (even celebrities and fashionistas) are stepping up to help Haiti. If you want to get in on the fashion action, check out our post on charitable giving (and shopping) for the earthquake victims. For you beauty and accessories mavens out there looking to give some and get some, there are some important feel-good promotions to improve your looks and your conscience. While you could shop Josie Maran at Sephora (at a higher cost) you could also stop over at JosieMaranCosmetics.com for this beautiful argan-oil-infused Natural Wonder Powder Palette ($35) for eyes, cheeks, and lips, and watch half of the money go to the American Red Cross for Haiti. Until February 1, 50% of all proceeds go to charity. Bond No. 9, couture scent-maker that creates fragrances that reflect neighborhoods of New York, is giving 10% of sales from the ultra-popular The Scent of Peace ($163), with notes of grapefruit, blackcurrant, musk, and cedar, to Haiti now through February 14. Today through Friday, January 22, 100% of all sales on AlexisBittar.com will be handed over to Catholic Relief services to help Haiti. All of the gorgeous items shown above (from the Elements Collection) are worth passing up that morning latte. Looking for more ways to help? Have an idea we haven't mentioned? Share it with the community by leaving a comment. You can also check out our guides to beauty, jewelry, and eco-friendly shopping.
Sponsored Post: Head To Ideeli Now To Win This Gemma Redux Necklace
What: The gorgeous Gemma Redux necklace above, which our editors hand-selected for this giveaway. Why: We wear a lot of black, a lot of sheath dresses, and a lot of simple tees and blazers - this necklace is the perfect way to add a little color and a little more edge to any of those basics, without veering into a totally different style. We love it, and we picked it out specifically for you to win at ideeli. How: Head to ideeli starting now, and enter to win any time before 9 p.m. EST. Good luck - we'll be a little jealous if you win.
How To Wear: Bold Prints At The Office (Without Looking Wild)
Spring trends are, naturally, all about reviving color and putting aside the monochrome grays and blacks of the winter. This year, designers have set out a number of (almost frighteningly) bold prints and floral-inspired hues for Spring 2010 that are gracing everything from handbags and shoes to tunics and tops. Some seem wearable, others just make me want to cower into a corner until next fall. Nonetheless, there is a way to wear a bold and colorful print, like this aqua tie dye top,  and get noticed for it in the right way. Always keep the rest of the outfit simple with clean, classic lines and neutral accents. Let the bright print be the centerpiece of the outfit and the rest, like a streamlined cardigan and polished khaki pants, will fall into place. With a sleeveless, summery top, you can still cover up with a sweater from 9 to 5, and then flaunt bare skin after dark. Finally, give the look a final touch with a great pair of modern sandals. Robbi & Nikki Embellished Tie Dye Top ($165) Ann Taylor Marisa Pleated Cropped Pants with Belt ($50) Banana Republic Italian Merino Cardigan ($35) Tory Burch 'Liv' Caged Leather Sandal ($325) Have a fashion predicament? See all of our how to wear it posts, with advice on boyfriend blazers, statement necklaces, lace tights, and more.
Fashion Math: Is $180 For A Red-Carpet-Worthy Clutch Worth The Splurge?
A sparkling accessory, like an evening clutch, can no doubt complete your outfit for a wedding, holiday party, or festive soiree. But really, how often do you actually attend one of these events? With the holidays, wedding season, birthdays, and business events combined, I can still count all of these special occasions on two hands. But factor in nights out with the girls for some drinks and I think this splurge might very well be worth it. Let's do the Fashion Math: This BCBG MAXAZRIA Sequined Mesh Bow Clutch ($178) shown above may not be suitable for day-time events, but it will cover all of your fall and winter evenings. Plus, you can wear it to a black-tie wedding without the optional chain strap, or dress it down by pairing it with jeans. Trade in your morning coffee for home-made brew once a week for nine months and you've already paid for this so-called splurge. Sate your fashion lust with more fashion math items worth the splurge, the best handbags, clutches, affordable purses, and more.
Good News & Bad News: Unfortunate Menswear, Gucci's Got Your Back, More
First, the bad news: Floral men's sweatpants, by Pegleg NYC and Opening Ceremony. Gross. Enough said. [Racked] Not sure if the vintage Gucci you got found in your grandmother's closet, or got as a hand-me-down is real? Christie's auction house has started Gucci Collector, a website that helps you appraise it for free.  If you're looking to justify a big ticket purchase, check out our Fashion Math--we'll help you make it work.  [Vogue] For the first time, Mary Kate and Ashley Olsen will work during fashion week. The pair will show their fall 2010 collection of The Row during a presentation at Fashion Week. Get all the best evening tops, blazers and skinny jeans in preparation.  [WWD] Next, she inserts very fine disposable needles into the specific points mine were in my forehead and jawline, mainly - to create a 'micro-trauma', prompting increased blood flow and nutrients to flow to the area, kickstarting the skin's rejuvenation process. See our guide to the best heavy moisturizers and hair removal products around. [Daily Mail] Want more? See our guides to get ideas for your next new look, and don't forget to peruse our calendar of online sample sales for amazing deals.
News: It's On–Alexa Chung For Madewell, SJP Defends Herself And Halston, More
1. Alexa Chung is slated to collaborate with Madewell, J.Crew's younger sister heritage brand, as their first celeb designer. She's got the downtown vibe thing going already, so we're betting this one will be worth vying for. Get the Madewell look with plaid shirts, skinny jeans and rad booties now.  [WWD] 2. Top designers such as Diane Von Furstenberg and Thakoon are teaming up with Edun, Lalesso and others in Geneva, getting ready for an eco fashion extravaganza at the UN on Wednesday. Learn more about going green through our eco-friendly shopping guide and our picks for the best vegan shoes and handbags. [The Independent] 3. As Sarah Jessica Parker gears up for her Halston Heritage collection debut, she speaks about against the naysayers: "You could make many arguments to why I am not qualified. I would say that I am very aware of the enormity of the titles, and how important they are, and my response is that they [the board] felt confident in their decisions." So there. See some truly beautiful party dresses and party shoes that will get your next party started. [WWD] 4.We showed you our Top 5 red carpet looks from the Golden Globes (and how to get the looks for less) but did anyone else notice the orange skin going on (ahem, Penelope Cruz)? Grazia shows the worst in celeb tans-gone-wrong. We show you the best self-tanning lotions so can get a glow--that won't have people pointing and staring. [Grazia] See this week's calendar to all of the best online sample sales--and don't forget to check out the sales & deals worth hitting.
Taste Test: Which Peep Toe Boots Are Made For Walking (Toward the ATM)?
My mounting hesitations about peep toe booties have obviously had zero effect on the fashion world. The evidence? Models are still hoofing it down the runways in all-weather (or no-weather, depending on how you see it) patent leather boots sans toes. And, in an even greater testament to peep toe booties' popularity spike, the major fashion houses' versions are inspiring knockoffs. Take the white patent leather booties here. One pair's runway-ready at $255 (down from more than $600) while the other pair is a sub-$30 copycat. Think you can tell runway from realistic? Click away and find out.Care to try your luck at our other Taste Tests? Lucky for you, we've got 'em all in one place.
Deal Of The Day: 30% Off Sweaters At Banana Republic
Stash your new BR sweater somewhere close to the front of your closet, so you can wear it with those great slacks from Nordstrom on the first day of fall.A long-sleeve sweater in white ($41.30, will be $59) looks so crisp against grey wool slacks. This crewneck cardigan ($48.30, will be $69) comes in seven other perfect-for-fall colors. We like the slightly-longer short sleeves on this shirred crewneck top (41.30, will be $59) – more put-together looking than a cap-sleeve sweater. More steals and deals on the Web:Save 20% on all handbags at SmartBargains until Tuesday. Use coupon code TAKE10 for 10% off jewelry at Diamonds International. 15% off denim at Old Navy.
Taste Test: Which Orange Satchel Will Leave You With Some Green?
Tangerine, nectarine, orange... no matter which citrus fruit you name these stow-it-all satchels after, there's no denying they're both juicy, summer-perfect treats. One will set you back over $1000, while the other costs about half that. Think you can tell which is which? Click above to find out. And check out our Taste Test archives for other sartorial steals and splurges. Shop our Guide to the Best Bags Under $250 for more fabulous bargains.
Taste Test: Which Royal Purple Dress Is Fit For A Queenly Budget?
You can never have too many chic little everyday dresses, and either of these royal purple beauties would make a worthy addition to your wardrobe. One will allow you to stock up on every color (since it's only $58 and also available in black, orange and green). The other will take a bigger bite out of your budget, ringing in at $794 (hey, at least you'll have an excuse to wear it over and over again!). Think you can tell practical from practically bank-breaking? Click on the dress you think is the more expensive to see if you're right.Then cruise on over to our Taste Test archives to see how you stack up against a whole slew of cheap and chic goods.
News Updates: Mad Men (And Women) Give Fashion Tips, Guess Who Winehouse Still Inspires, And More…
Viewers are anticipating the Fall return of shows like Mad Men and Gossip Girl as guides to the season's fashion trends. Check out our style coverage of Gossip Girl from last season. [WWD]Amy Winehouse has inspired the new look of Guess?, and will also take part in an upcoming BCBG Max Azria ad campaign. What do you think of Amy's style? [NYPost]A new publication from Harper's Bazaar called Runway Report will hit newsstands at the end of July. It is intended to be a thorough guide to all runway trends and designers. [FWD] Versace will re-design the interior of Manhattan's Clock Tower Building. The renovation will include 55 apartments, a spa, and a club. [ReutersUK]
Sponsored Post: Bare Necessities Helps You Go Strapless For Summer
Summer is definitely here. As the temperature rises, so does the desire (and need) to show more skin. Or is that just us? Make the most of your strapless dresses and tops with a strapless bra. You probably already have one in your top drawer. If it slips, if the underwire pokes, or if "the girls" just won't stay in place, it's time to get a new one. Check out a fantastic selection (including full busted and full figure sizes) of strapless bras at BareNecessities.com! Plus, spend $75 or more and get FREE Shipping on U.S. orders!
Fashion Find: Ask And Ye Shall Receive From WhereDidSheGetIt.com
When I was a child, I wished that I had a magic power that would let me touch a picture in a magazine and then POOF! I'd have whatever I had touched in my closet. Now all grown up, I still wish for that power whenever I spot someone wearing an adorable skirt or fab shoes that I know I simply must have. Sadly, I still don't have fashion superhero powers, but a new website called WhereDidSheGetIt.com getting me closer. Snap a picture of the style, upload it to the site, and cross your fingers that another site visitor will recognize the item. If you get really lucky, they'll even tell you the stores where you can find it! Right now, the site is targeting Manhattanites, but I'm hoping that it will spread to Chicago soon… Here at SheFinds.com, we also work hard to answer your embarrassing questions, style crises, product queries, and anything else that you can think of... and even better, so do our loyal readers. Check out our Discussion Board to join interactive and lively conversations on everything from sample sales and new designers to finding celeb fashions and reader suggested fashion solutions. And you can also leave your questions in our comments section below. We're here to serve.
Deal Of The Day: 70% Off Empire Waist Dresses At Shopbop
Nearly everyone looks good in an empire waist dress – I practically live in them from May to September. Add a go-to piece to your end-of-summer wardrobe with one of these easy styles.Contrast ties and ruching at the bust make this Ella Moss Black Label Isobel Dress ($95.40, was $318) more special than a plain old LBD. T-Bags' Print V-Neck Short Sleeve Kimono Dress ($51.60, was $172) comes in a bunch of other prints – one of the best weekend dresses out there. This Twisted Halter Dress ($62.10, was $207) from goddess of jersey Rachel Pally hits just above the knee – incredibly versatile. More sales and deals to check out:Up to 75% off at Bluefly's summer sale. Today and tomorrow, get a Saks gift card when you spend $250 of more online Save up to 70% on jewelry at Szul's year-end clearance.
Taste Test: Which Botkier Costs More Bucks?
Since our post on the Botkier bags for Target caused such a stir yesterday, we've decided to let you compare for yourself - the real deal against the steal. Do you think the $20 bag measures up to the full-priced, $225 Botkier? Think you can tell a difference? Click on the one you think is the bargain above to see if you've got an eye for deals.Once you've picked the Botkier you like best, click on over to our friends at likeWise who gave us the inspiration for this Taste Test.