The One Swimsuit Brand Every Girl With Big Boobs Should Know
The 9 Types Of Bathing Suits You Should Definitely Own
The Best Bathing Suit Tops For Girls With Small Boobs
6 Common Bathing Suit Mistakes That Are Actually Aging You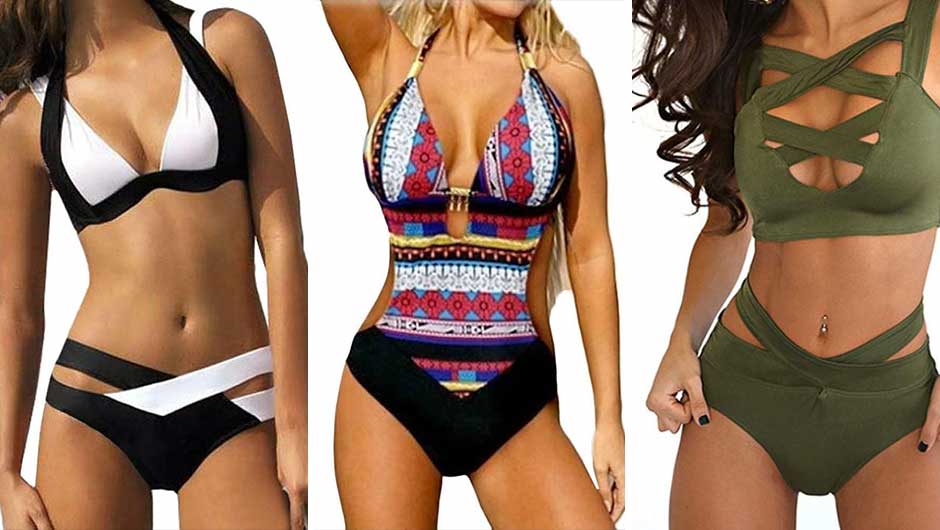 9 Swimsuits For Big Boobs With High Ratings on Amazon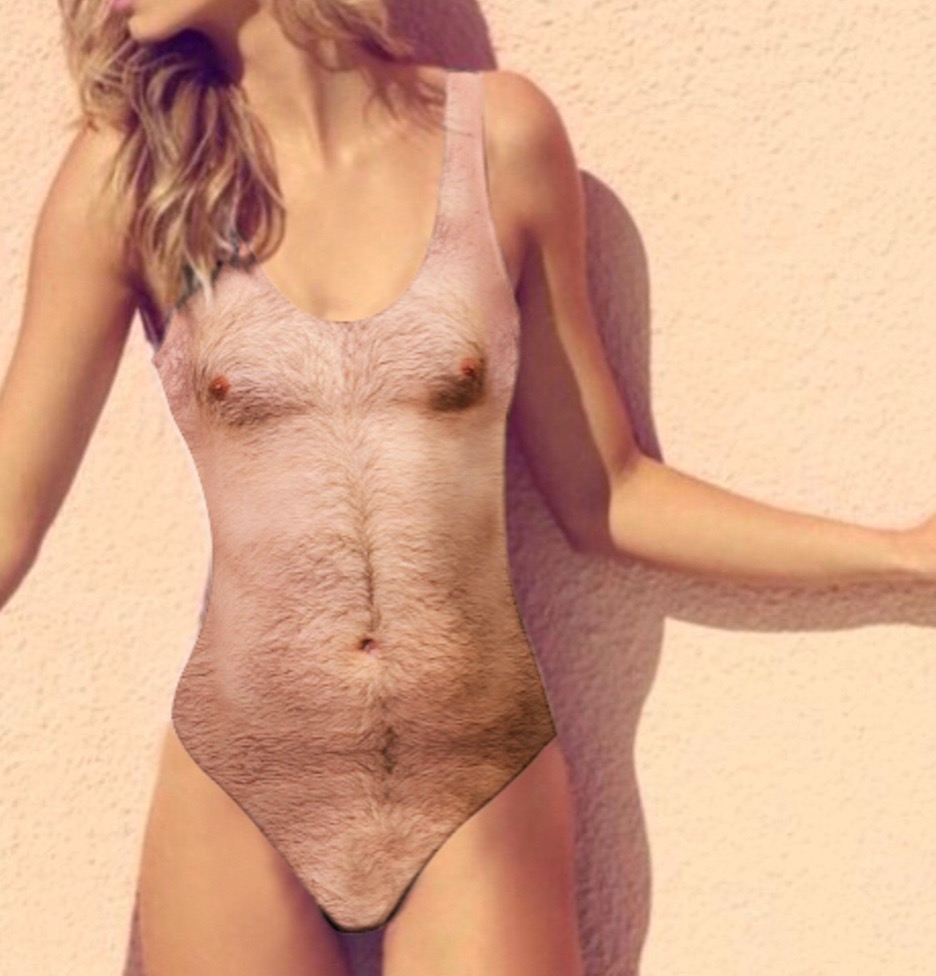 We May Have Found The Most Bizarre One-Piece Of The Summer (It's Got Hair On It!)
15 Celebs Whose Bathing Suit Game Is Always Strong
6 Mistakes Women Over 30 Make When Shopping For Swimwear
This Is The Bathing Suit That Makes Your Boobs Look Bigger
The Best One Piece Bathing Suit That Looks Good On Everyone
11 Times Emily Ratajkowski Was Bathing Suit #FashionGoals
Hands Down, These Are The Best Bathing Suits For Women With Big Boobs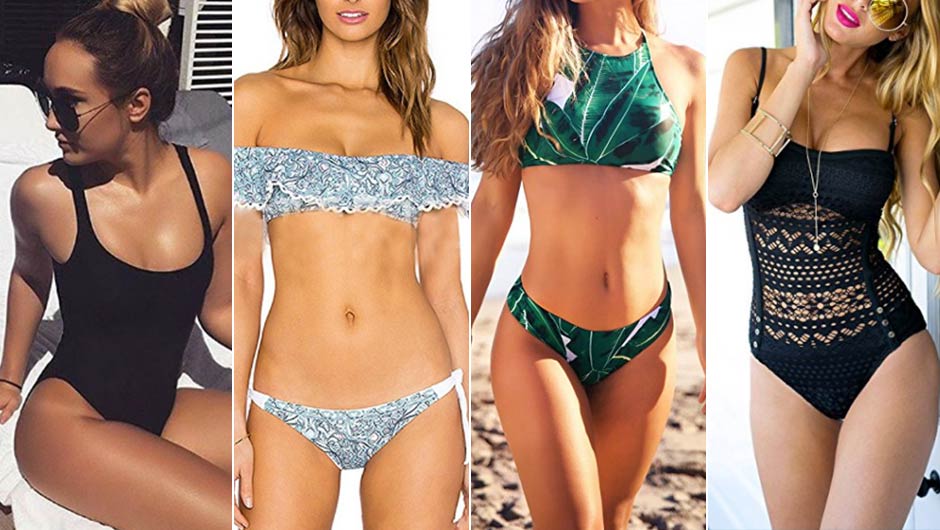 4 Cheap Bathing Suits From Amazon That Look Good On Literally Everyone
Can Someone Explain Why Velvet Swimsuits Are Happening?
The One Bikini Bottom Everyone Will Be Wearing This Summer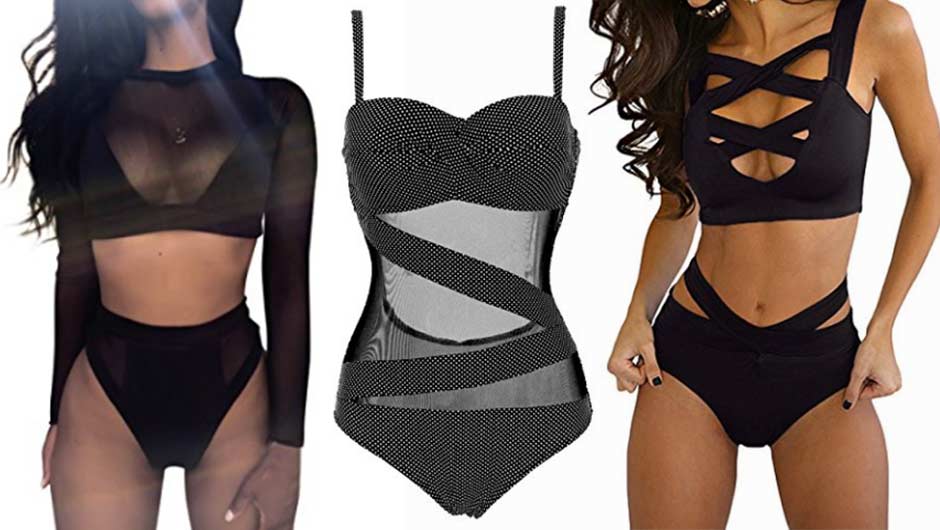 7 Weird Bathing Suits On Amazon That Are Totally Genius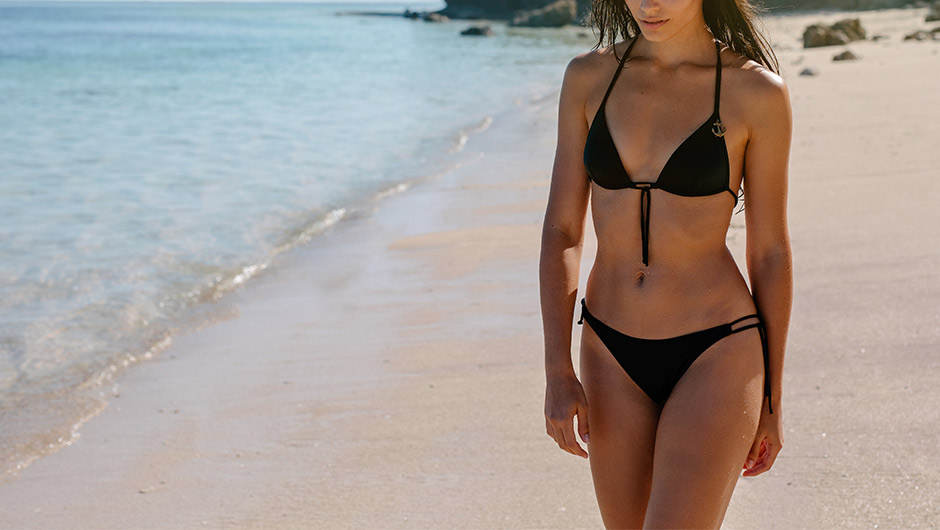 6 Trendy Bathing Suits You Just Should Not Own If You're Over The Age Of 30
7 Places To Buy Swimwear Online That You'll Wish You Knew About Sooner
Shop Your Favorite Coachella Looks Now
We Found Cheap One-Piece Bathing Suits That Don't Look Cheap
We Just Found Out That You Can Still Shop Swimwear At Victoria's Secret–Here's How
This Is The Bikini Everyone Wants For Summer, So You Can Stop Looking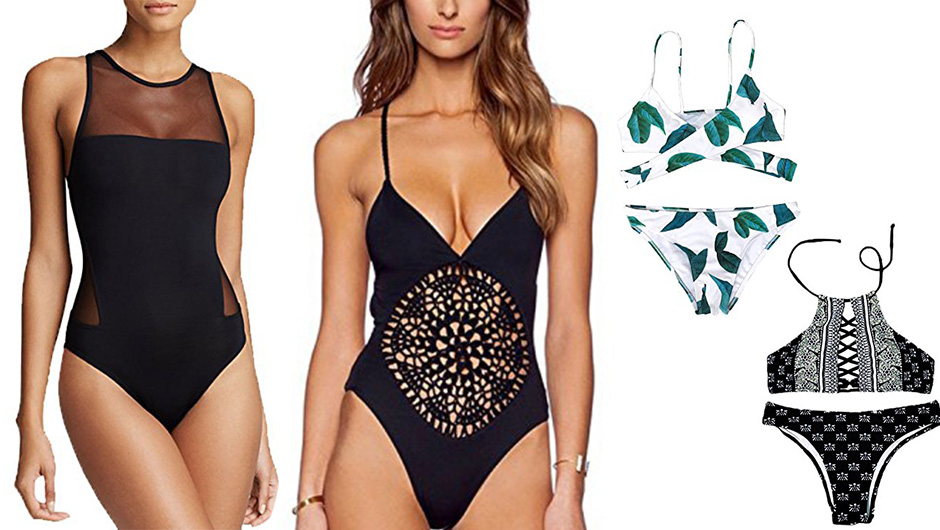 8 Cheap Bathing Suits On Amazon That Have Great Reviews
PHOTOS: Celebrities On Their Beach Vacations
Celebrities Are Obsessed With This $45 Black One-Piece
The one bathing suit that celebrities could not stop wearing this summer is the American Apparel Nylon Tricot High-Cut One-Piece ($45). The black suit is anything but basic with a low-cut back and high-cut leg openings (legit made to show off your thighbrows). https://www.instagram.com/p/BJWNbX2AogN/?taken-by=emrata https://www.instagram.com/p/6lKJSOBRoK/?taken-by=khloekardashian https://www.instagram.com/p/6X-MkGnGnv/ So, whether you still have some beach days left or are already planning for Summer Seventeen (can we make that a thing?), definitely consider adding this cheap, celeb-approved one-piece to your swimsuit rotation. American Apparel The Nylon Tricot High-Cut One-Piece ($45) Don't forget to check out: the under-$90 top "it" girls love and the cheap shoe brand celebs are obsessed with [Photos: Instagram]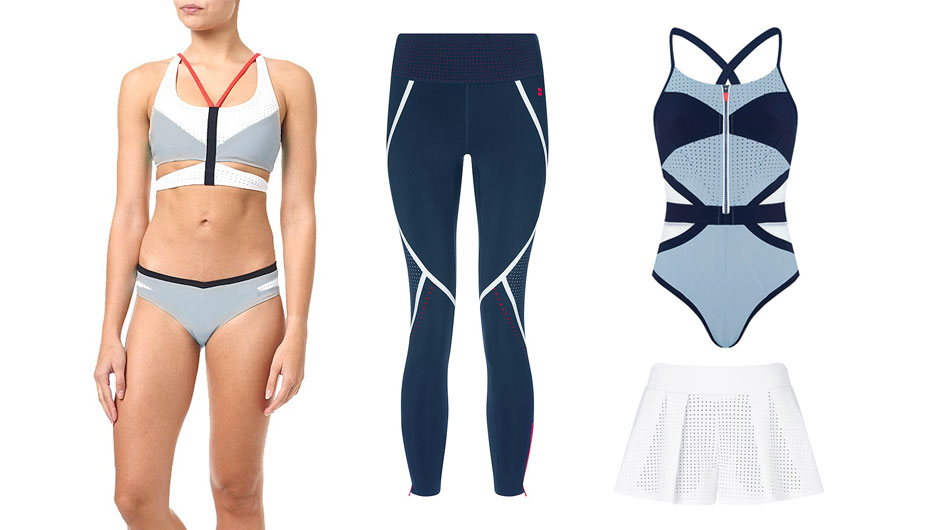 Sweaty Betty's Limited-Edition Rio Collection Is Selling Out
Sweaty Betty's London Edit is a limited-edition collection inspired by athletes "on the Road to Rio,"--and since everyone has Olympics-fever, the collection is selling out fast. They only made 100 of each of the 11 pieces in the line--will you be lucky enough to get one of 'em? Here's what's still in stock--act fast: Qualify Swimsuit ($240) Excellence 7/8 Run Leggings ($310) Podium Shorts ($185)
Find Out What Your Go-To Bikini Bottom Says About You
Sun's out, buns out! Summer's here and we're all showing off our bikini bodies. Everyone's body is beautifully different and deserves to be shown in its best light. So, since we already know what your bikini top says about you, we want to know about your favorite bikini bottom... and your bottom! Whether you love the hipster, high-waisted, or Brazilian booty, your bathing suit bottom says something about you. Check it out! A) String. She wore an... you've got it - itsy bitsy bikini! You dare to bare some summer skin in a string bikini bottom. You love a challenge, and you're not afraid to try new things. Your fit physique is always ready to join in on a game of beach volleyball or a run on the beach. Sometimes your confidence can make others intimidated, so just make sure to show off your goofy side and laugh it off! B) Brazilian. Quente! (That's 'hot' in Portuguese, fyi) You've got a great booty, and you're not afraid to show it off. If you could live at the beach, you would - you love the summer, and know how to ~get your tan on~. You're confident in your body and who you are, but be careful that you don't come off as self-centered. Your sense of self allows you to be a great friend and shoulder to lean on. C) Hipster. Plain and simple, that's your motto. You know what looks good on your body, and you like to stick with it. You enjoy having a large friend group, but don't like being the center of attention. Sometimes you get a little bit "stuck in the middle," so make sure that you don't get lost in the crowd! Try some new things this summer - you never know what you'll find. D) Boyshort. You're sporty, and you've always been an athletic one. You love your daily workout, and enjoy athleisure clothing - so why not wear it at the beach?! Your boyshort bikini bottoms are perfect for a friendly soccer game with friends or a race in the pool! Make sure your competitive side doesn't get the best of you and enjoy the summer fun! E) High-Waisted. You're the friend that is always in the know. Whether it's the latest style, designer, singer, or store, you know where the newest fashion is, and your friends love you for that. You're always on the lookout for the next new thing, but don't let that take away from your relaxing time. No matter which bottom you love to wear, you will look fab in any style! Make sure to rock your look whether you're at the beach, pool, or any destination this summer. Make sure to check out What Your Go-To Bikini Top Says About You and This 1-Second Trick For Getting Sand Completely Off Your Body!
Find Out What Your Go-To Bikini Top Says About You
Everyone's got their own style - we know what necklines, dress shapes, shoes, etc. look best on each of our bodies. And this sense of self doesn't stop there... everyone has their favorite type of bikini top! Whether you love a halter, triangle, or bandeau style we each know our go-to top. So let's find out what your favorite bikini top says about you... A) Triangle. You know that most of the time, it's best to just keep things simple. You love a chill day at the beach, playing some volleyball or swimming in the waves. You never say no to an opportunity to catch up with friends, and always give positive vibes. Your ~no stress~ attitude can sometimes lead you into a few sticky situations, but you're comfortable in your own skin and know that good things will work out. RELATED: What your height says about you B) Bandeau. Sometimes people think you're a little high-strung, but you'd rather think of it as put together... You are known as the queen of #NoTanLines and you like things to be in order. When something goes astray, you make it your priority to fix it. Be careful not to micromanage those around you, and remember that sometimes it's okay to just let things happen.  RELATED: What your ring finger length says about you C) Halter. You're a little different than a bikini, because you've got some more weight on your shoulders (if you know what we mean). You are strong and confident, and you don't let the haters get in your way. You're always down for a game of beach soccer and can run with the best of 'em. You defend your friends as if they were family, and are loyal AF. Sometimes you intimidate others, so try to show how your determination is all out of love. RELATED: What your hair color says about you D) Bustier. You're probably more busty than your friends, but you know how to dress your body to a T. You've always been on trend, knowing what's new and what's hot - so it's no wonder that you've picked up this swim style! You've got so many stories to share, and love to surround yourself with close friends to confide in! You know how to #work what you've got and you're not afraid to try new things. [Photo: Shutterstock]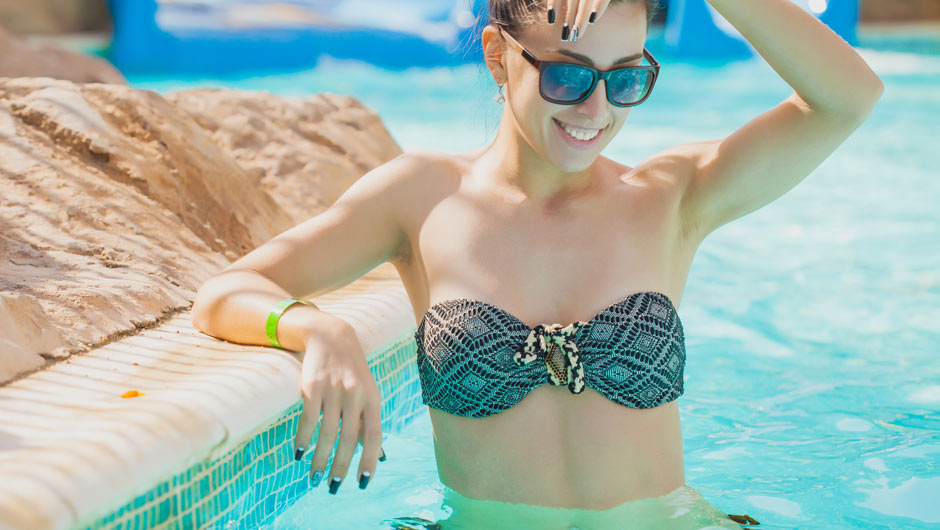 How To Clean Your Bathing Suits Without Ruining Them
If there's one thing I don't cut costs on, it's bathing suits. I don't mind spending a little extra money on a high-quality bathing suit if it's super flattering. My favorite bathing suits are by L*space and Triangl, and let me tell you, they don't come cheap. Unfortunately, these bathing suits made of delicate materials that aren't the easiest to clean. Of course, there's great inexpensive bathing suits out there, too. But I'd argue that you need to be even more careful when washing cheap bathing suits because they are likely to become discolored or rip. Washing your bathing suits is a necessity because they are exposed to things like sweat, chlorine, and sunscreen. All of these elements can breakdown fabric and cause a bathing suit to stretch or change color. Here are my tips for keeping your bathing suits clean and in the best condition all summer long: How To Clean Your Bathing Suits Without Ruining Them Rinse off after the pool. Chlorine weakens fabrics so try to rinse off with fresh water after taking a dip. Never put your bathing suits in the washing machine. The machine will damage the suit and ruin the elasticity. Wash your swimwear in the sink. Fill the sink with cold tap water and add mild detergent or vinegar. Let the swimwear soak for up to 30 minutes and then rinse with fresh water. Use a mild detergent to was your bathing suits. I'm a fan of the The Laundress Signature Detergent ($19). It's great for hand washing delicate items in the sink. Don't wring out your bathing suits. This can damage the fabric and stretch out the elastic fibers. Gently squeeze out excess water or roll the swimsuit in a towel. Make sure you lay the swimwear flat to dry. Never put it in the dryer. Don't let swimwear air dry in the sun because this can cause the colors to fade. Wash your bathing suits after every wear, even if you don't go in the water. Sweat and sunscreen can damage the fabric. Be especially careful with neoprene bathing suits (like Triangl). Always hand wash them with mild detergent. Never fold neoprene bikinis because they can crease. Be sure to store them flat after washing. [Image: Shutterstock]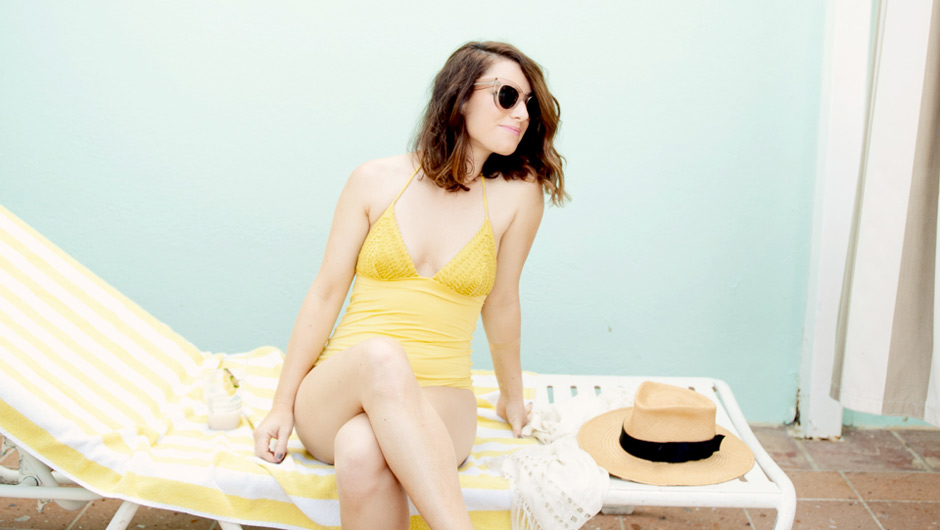 This Crazy Cheap One-Piece Looks Good On Literally Every Body
We can all pretty much agree that bathing suit shopping is the actual worst. A good swimsuit is a rare find, and most of the time, we end up walking out of the dressing room empty-handed and feeling defeated by swimsuits that are made to flatter only one body type. Things get even worse when we try online, that is, until now. This one-piece from Amazon is about to be a swimsuit shopping game-changer. Not only is it under $40, but it comes in 10 different colors. This isn't that dreaded grandma-esque one piece either--we're talking sheer, sexy crochet here. The best part: it's universally flattering (yes, every body type), and has a four-star average rating from a total of 486 happy women to prove it. Just look at the photo evidence below: Whether you're curvy, straight-figured, petite, tall, or somewhere in between, chances are this swimsuit will look killer on you. So what are you waiting for? Shop it here: Crochet Lace Halter Straps Swimsuit ($27.99 - $35). For more style and shopping, don't miss: 21 Jumpsuits That Prove They Are The Unsung Hero Of Simple Summer Dressing and Once And For All, Should You Wash New Clothes Before You Wear Them? [Photos: Cheetah is the New Black, Amazon]
This Is The Most Flattering Bikini Bottom
Okay, ladies... it's officially bikini season. Scary, we know, but don't be afraid to show some skin! We found the bathing suit bottom style that looks good on, well, everyone. Impossible, you might say, but this one style will make sure that your backside is looking on point. This "miracle" is none other than the hipster bikini bottom. Shocking, right? It's nothing crazy, nothing new, the hipster has been around forever--but this bikini bottom is the perfect style for your body's behind. Hipster-style bikini bottoms have a wide enough side band to make sure you don't get cut-off in a bad spot and they cover your backside just enough so there aren't any potential fashion slip-ups. The coverage is amazing! Check out some of our favorite hipster bikini bottoms here: Lucky Brand 'Fireworks' Hipster Bikini Bottoms ($62) L Space 'Estella' Bikini Bottoms ($70) Rip Curl 'Lovebird Luxe' Hipster Bikini Bottoms ($26.40) Make sure to check out What is Frosé and these awesome Slide Sandals. [Photo: Prosecco and Plaid]
The One Thing You Should Never Do When Buying A New Bathing Suit
Buying anything online--especially swimwear--can be really tough. Items that need to fit *perfectly*, like your bathing suit, are hard to choose the best size for when you can't try them on in person--and if it's a brand you don't wear often, sometimes you have literally no idea what they're sizing is like. Is their medium my medium?? It can be really tough, so the one thing you should never do when buying a new bathing suit--especially online--is to order just one size of it. And I mean that you should 1) only order bikinis where the tops and bottoms are sold separately, 2) only shop from stores with free or extremely cheap returns, and 3) buy two sizes of the same suit (both top and bottom) if you're on the fence at all about sizing. This way, you can find the suit that truly fits you best--nevermind what size you *think* you are. If the top and bottom of a two-piece swimsuit is not sold separately--do not buy it. Unless you're a fit model for a size medium, it's highly unlikely that a medium top and bottom are both going to fit you in every suit, every brand and every style. It's just impossible! Shopping experts agree that the best tactic is to order two sizes of something, try them both on in the comfort of your own home in real lighting at the end of the day (when you are the most bloated) and take pictures in the mirror to determine which size is best. Then, return the wrong size (hopefully for free) and you'll have a suit you love and are likely to get the most wears out of. Good luck! [Photo: Prosecco and Plaid]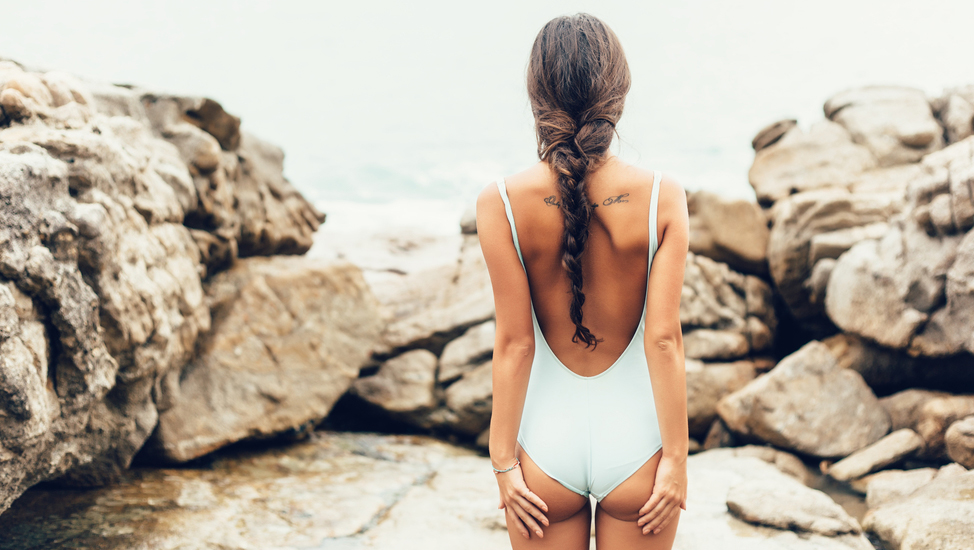 What Is An 'Australian Cut'? Find Out Why This Is The Most Flattering Bikini Bottom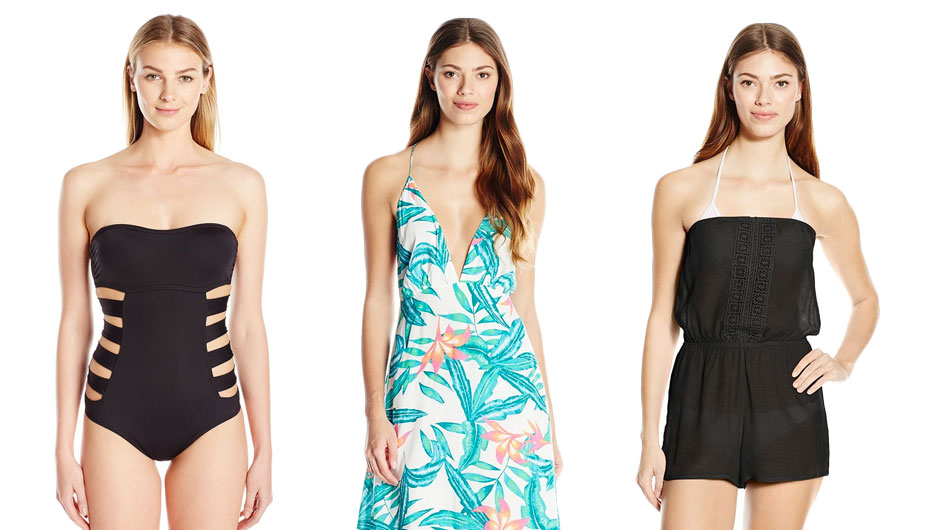 Amazon Is Having A Really Good Swim Sale Today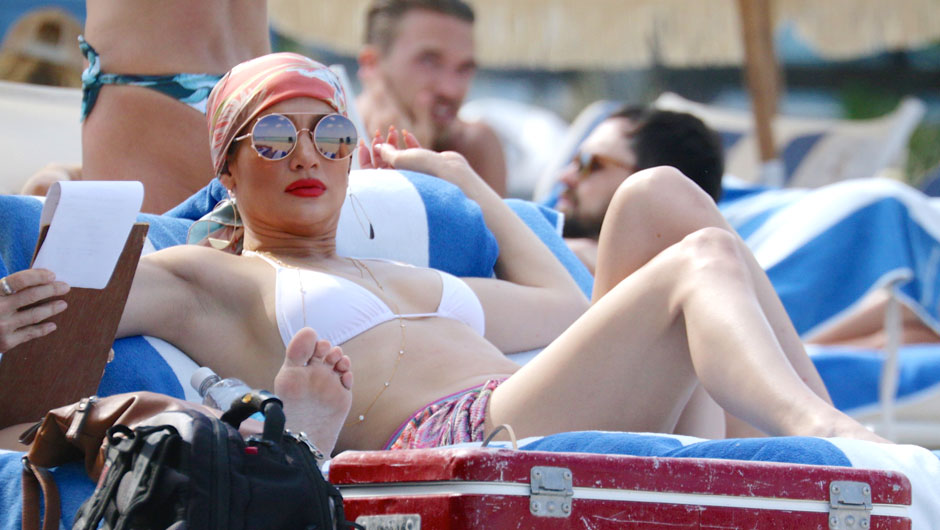 PHOTOS! The Sexiest Celebrity Bathing Suits Of All Time
'Just Put A Knot On It' Is The Fashion Rule That Works Everytime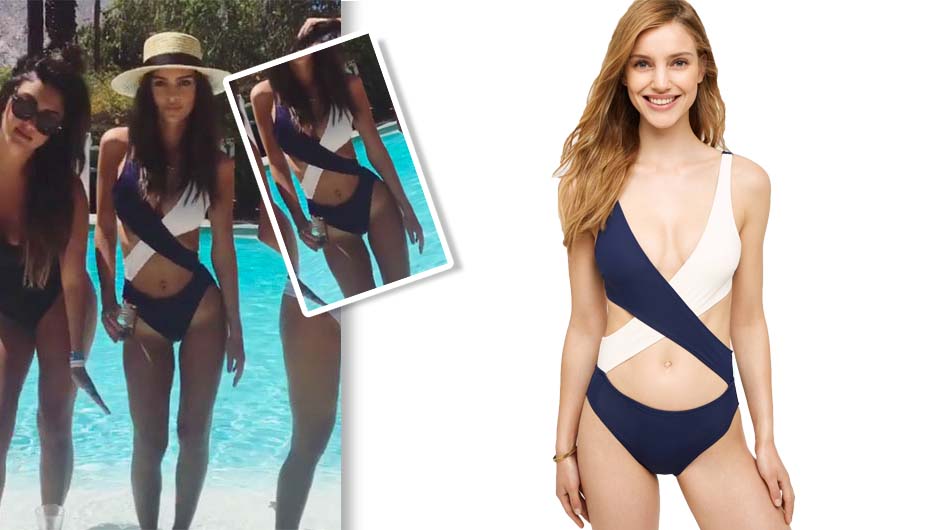 What Is A Maillot? Find Out, Plus Get Emily Ratajkowski's Coachella One
I won't make you wait one more second before finding out what a "maillot" is: according to Wikipedia, "The maillot is the fashion designer's name for a woman's one-piece swimsuit, also called a tank suit." There you have it. And why is this relevant now? These cool on pieces have been popping up everywhere--including at Coachella this weekend, where Emily Ratajkowski (EmRata if you're lazy), wore one from Hamptons-born brand Solid & Striped (Bikini A Day Insta-star Tash Oakley is also a fan!). Em posted a pic (dayum girl, that bod) of herself and some friends chillin' poolside in Palm Springs on Instagram: https://www.instagram.com/p/BEUab2nS2a2/?taken-by=emrata&hl=en The suit is actually from the brand's recent collaboration with British socialite Poppy Delevingne. Get it here: Solid & Striped x Poppy Delevingne Colorblock Maillot ($158) https://www.instagram.com/p/BEUSR00SRYt/?taken-by=solidandstriped&hl=en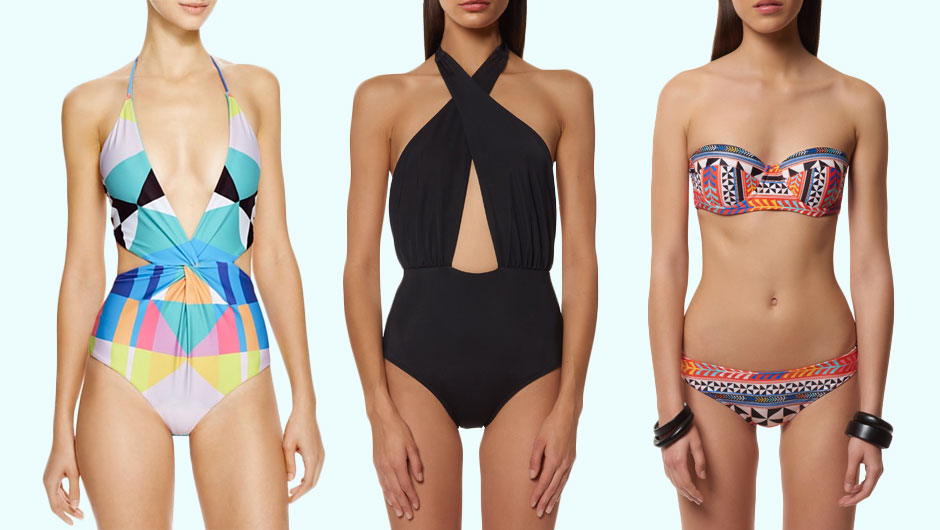 The Best Mara Hoffman Swimsuits For All Of You Getting Out Of This Miserable Cold
You Can Expect To See This Swimsuit All Over Your Instagram Feed
Move over, Triangl. There's a new swimsuit in town. The new "it" swimsuit for 2016 is by a company called Same Swim and it's designed by fashion blogger and style influencer Shea Marie of the blog Peace Love Shea. All of Same Swim's suits are handcrafted in Los Angeles from the finest Italian swim fabrics. "We are in a new era of swim - where it is really becoming a respected form of fashion," Marie says of her collection. "It's exciting. I wanted to create something wearable but also very fashion forward. Something chic and classic with a twist that could appeal to all women." You can be certain you'll be seeing Same Swim all over your Instagram feed in the upcoming months. Here's the proof: https://www.instagram.com/p/_xvUY_RaWo/?taken-by=sameswim https://www.instagram.com/p/9Yc4DLRad-/?taken-by=sameswim https://www.instagram.com/p/60P6bJLbcC/?taken-by=jessmair https://www.instagram.com/p/-9lnVqL0Ta/?taken-by=peaceloveshea https://www.instagram.com/p/_GsDYKma79/?taken-by=shoplondongirl https://www.instagram.com/p/-_7EdKhyXM/?taken-by=carolinevreeland https://www.instagram.com/p/BAAK6RDKuv_/?taken-by=aniab Don't miss your chance to enter to win a free trip to Costa Rica and 8 January collaborations you need to know about! [Photo: Instagram]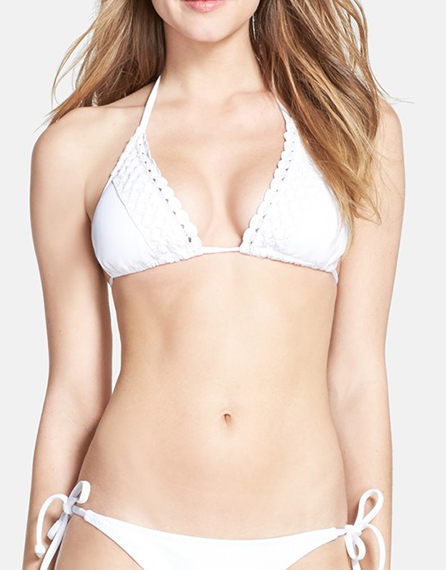 The Best Padded Bikini Tops For Girls With #SmallBoobProblems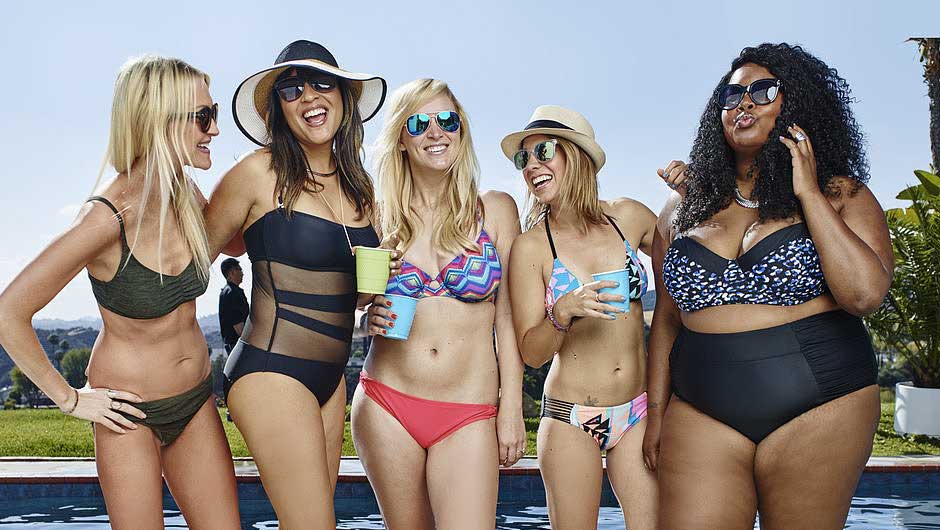 Target's New Body-Positive Swimwear Campaign Stars Real Women
This summer, Target is helping women of all different shapes and sizes find swimwear that fits flawlessly and makes them feel good about themselves. The retailer's campaign, "Target Loves Every Body," features four fashion bloggers, with very different body types, all on the hunt for the perfect bathing suit (aren't we all?). During the shoot, the women talk about their favorite body part and their "problem" area. Target stylist Zanna Roberts Rassi then uses this information to help each of the ladies find "the one." (Yes, it's kind of like that!) There are no airbrushed models here, it's all real women talking about their real insecurities. The goal of this campaign is to help women embrace the body they have and to feel confident, no matter what. [youtube]https://www.youtube.com/watch?v=qIOg-sCdzLs[/youtube] Plus, you can get 20% off tons of cute bikinis and one pieces at Target now--check it out! Don't miss How To Do A Metallic Cat Eye  and Women Who Shave Their Face Claim To Have A Softer Clearer Complexion! [Photo: Courtesy of Target]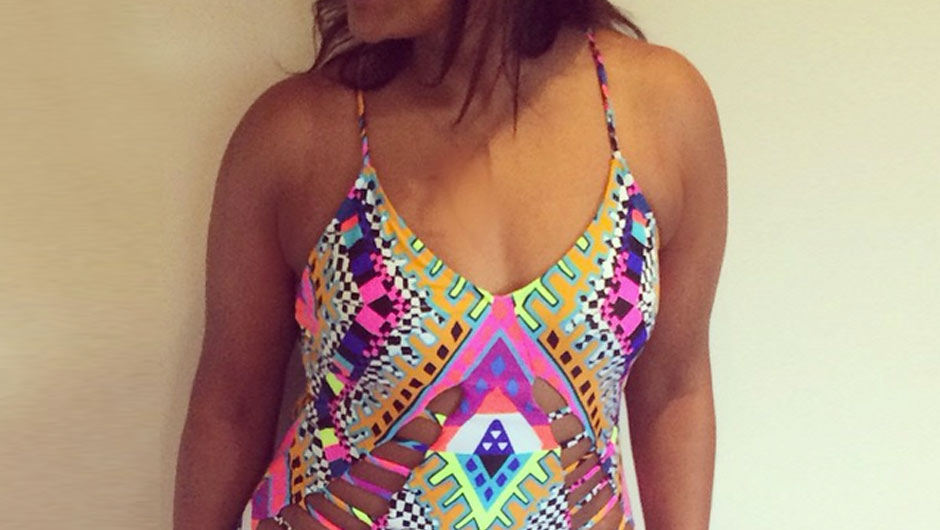 25 Super Flattering One-Piece Bathing Suits
Shop Bikinis & One-Pieces From $13 (And It's Not Even Spring Yet!)
Spring is still a few weeks away, but the deals on swimwear are already here. In fact, you can shop bikinis and one-pieces at insanely low prices year-round from places like Forever 21, Target and more. Don't let the words "cheap" and "bathing suit" scare you. Think about it: do you really want to spend a ton on such little material that gets subjected to salt water, chlorine and sun rays? Yeah, didn't think so. Click the slideshow to shop inexpensive swimsuits in all different styles and patterns. Don't forget to check out: where you can still buy MAC x Cinderella, Neiman Marcus' clearance sale and how to do a french side braid [Photo: Damsel in Dior; Bikini: Seafolly High Waisted Bikini Bottoms, Mikoh Sunset Top]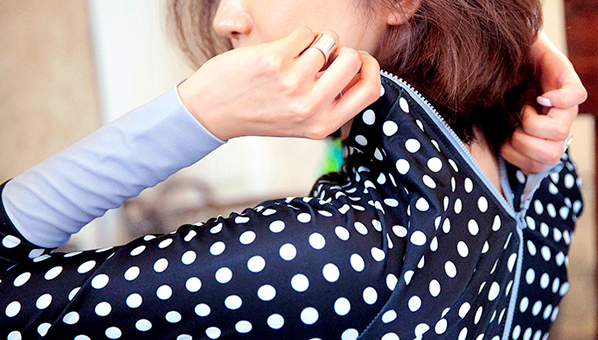 Rash Guards: The MuuMuu Free Way To Cover Up At The Beach
Now that it's officially bathing suit season, it's best you know all of the looks that are in style this summer. Besides the high waist bikini, rash guards are also making a comeback. I know, you're probably thinking, "Why would I wear this when I want to get a tan?" Or, "This is what surfers wear and I am definitely not a surfer!" But the rash guard brings a lot to the table that most bathing suits don't. First off, they aren't all long sleeved, remember Kate Bosworth in Blue Crush? Girlfriend rocked the short-sleeve rash guard. And though many are sold with matching bottoms, you can still mix it up with all of your bikini bottoms. Sensitive skin, or possibly in need of a break from the sun? The rash guard is a perfect way to cover up without having to stay in the shade all day. Have I sold you on this trend yet? Well, take a look at the slideshow to see some adorable rash guards. Be sure to check out swimsuits every woman should own, must-have sunglasses, and these massive sales! [Photo Credit: Chuu]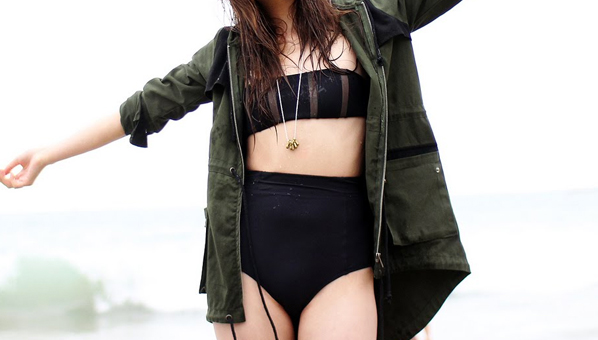 These High-Waist Bathing Suits Are Nothing Like What Your Grandma Used To Wear
It's crunch time: there's only 4 days to go until the official start of summer and you need bathing suits. We are so over the bandeau style that everyone and their mother (literally) wears at the beach; it's time for something different. Well, this season's swimwear has various styles with a new trend that really isn't that new: the high-waist bathing suit revived from the 1950s. Not just for covering up anymore, this bathing suit is flattering on everyone. You can find stars like Taylor Swift and Rihanna sporting them on their beach days. So why not give it a shot? Check out this slideshow for some high-waist inspiration! Make sure to get other summer must-haves like patriotic clothing, bright dresses, and all-white clothing. [Photo: Natalie Off Duty]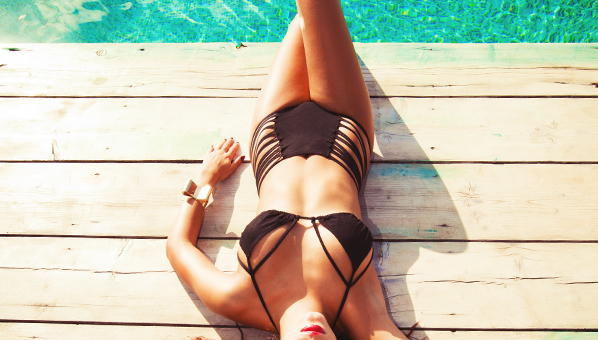 16 Bathing Suits That Will Give You The Worst Tan Lines EVER
We get it, cutouts are here to stay. But we still have no idea why this trend has made its way into swimwear. Sure, some of these bikinis and one pieces are super cute, but when it comes to wearing crisscrossing straps when lounging by the beach or pool, you're in for some real awkward tan lines. No one will notice your summer glow when your stomach looks like a checkerboard. Click the slideshow to see the 16 bathing suits we're talking about. Would you ever wear one of these? Let us know in the comments below! Fore bathing suits you'll actually WANT to wear, check out: Club Monaco x Shoshanna, the best printed bathing suits this season and the Victoria's Secret bikini mixer [Photo: Shutterstock]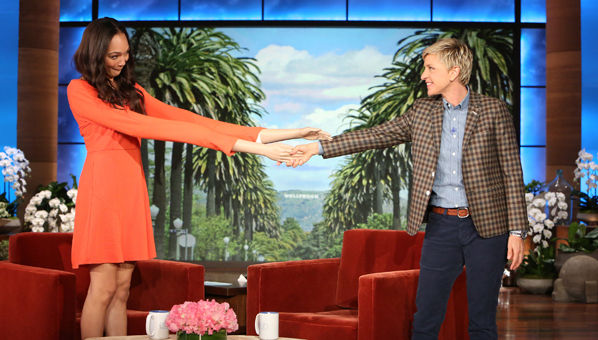 VIDEO: Ellen Hilariously Spoofs Target's Latest Swimsuit Photoshop Fail
Target basically did plastic surgery via photoshop on juniors model Tanya Marie Keller a couple of weeks back, and now Ellen DeGeneres has something to say about it. She invited Tanya to come on her show and talk about the unrealistic body images that photoshop creates for young girls. But instead of taking a defensive approach and hating on the store like everyone else, Ellen and Tanya went the comedic route. They wanted to prove that Target "DID NOT photoshop" their ads. So, Tanya came out wearing two abnormally long prosthetic arms, mimicking the way her limbs look in the ad. The poised model stayed in character the whole time using the arms to shake hands, drink from a coffee mug, and give hugs. She even offered to show viewers that the "square block between her legs" is "real." You have to watch for yourself to see their hilarious (and positive!) take on such a horrible mess. Rather than just pointing out that the image is fake, Ellen physically proved it. Sometimes, girls see ads, like Target's, and even though they know that they're majorly photoshopped, they still strive to look like the models anyway, which is extremely unhealthy and can be very dangerous. Ellen's take shows young girls that it is physically impossible to look like the models they see in swimwear ads. So next time you're feeling down about your "bikini body," remember that nobody is perfect and you look great just the way you are! GO ELLEN! [youtube]http://www.youtube.com/watch?v=RNgkjiPboPE[/youtube] And don't forget to check out: Target Sports Illustrated swim collection, Nasty Gal Swimwear, and Target's Pinterest collab. [PhotoCredit: Warner Bros/ Michael Rozman, http://www.ellentv.com/videos/0-22civl8e/]
Summer Might Be Half Way Over, But The Best Swimsuit Sales Just Started
Okay, I know what your thinking, "Why should I buy a bathing suit in the middle of July?" Frist off, let's not be dramatic. You still have over a month and a half of summer. There's still plenty of time to head to the beach or sit by the pool. Plus, if you're a cheapskate, you also know that July is the best month of the year to buy swimwear. This is the month when stores like J. Crew, Victoria's Secret and Nordstrom start marking down their inventory, meaning you can get some major deals. Even designer swimsuits are dirt cheap. If you don't have any more beach trips planned, stock up now and use all the new suits as motivation to maintain your weight until next year. Solid logic, right? Click through the slideshow to check out the best bathing suit sales going on right now. You don't want to waste another minute that you could be spending by the pool in your new bikini. And don't forget to check out Vans x Liberty London, Kate Middleton's (potential) new favorite handbag and Erin Fetherston for Cosabella.
One-Piece Bathing Suits So Sexy You'll Forget You're Trying To Cover Something Up
Shapers and slimmers are great when they are hiding under a dress, but let's face it—no one wants to be caught in just their Spanx. And finding a shapewear bathing suit that doesn't look like shapewear can be difficult. That's why we went searching for the best one-piece swimsuits that provide extra coverage, but don't look frumpy. You should never default on the first decent shapewear bathing suit you can find. There are tons of other options that will cover up the wrong places and show off the right ones. While there are cute options from Mirclesuit and Spanx, you can also find super flattering bathing suits from designers like Ted Baker and Marc By Marc Jacobs. Click through the slideshow to see our roundup of sexy-yet-slimming bathing suits. And don't forget to check the best hair removal products for swimsuit season, bustier bathing suits and swimwear that will give you CRAZY tan lines. [Photo: Jets Swimwear]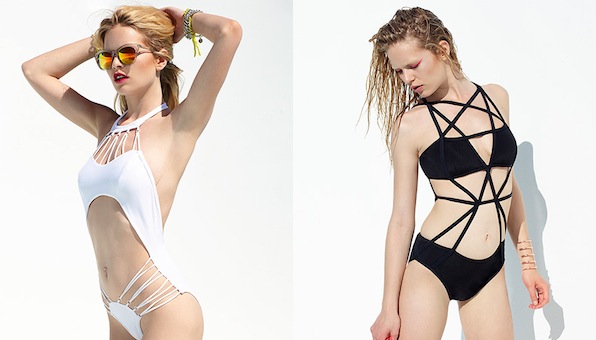 These Bathing Suits Will Give You CRAZY Bad Tan Lines
We are all about the sexy cutout swimsuits for summer. But even if you have a rocking body like Sofia Vergara, there's still one tiny little problem: tan lines. Sure, Herve Leger's strappy one pieces are amazing, but what happens if you get some color? Even the slightest tan will make you look like the blackboard of a geometry classroom. These suits are super sexy, but we don't want to run the risk of having crazy lines all over of stomach and chest. Click through the slideshow to see the bathing suits we are talking about. Would you ever wear this crazy swimwear.  Are these crazy cutout bathing suits not really your style? Try these bustier bikinis instead. And don't forget to check out Madewell's new swimwear collection, peplum swimsuits and DVF x Roxy.