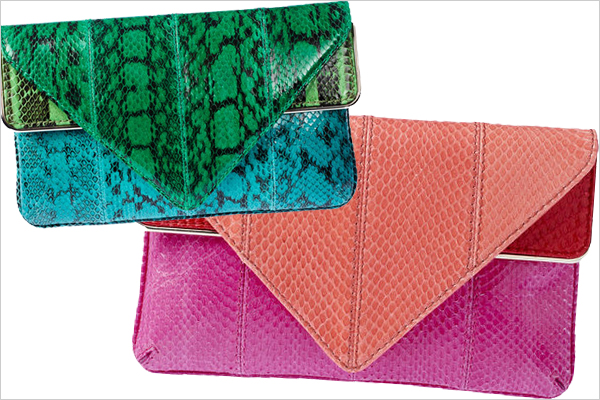 Brian Atwood's First Handbag Collection Debuts On Gilt!
Ladies, hold on your hats (or should we say handbags): Milan-based footwear line Brian Atwood will debut its first foray into handbags on Gilt at noon (EST) today. The members-only site (and first of its kind), has been tapping like Kate Spade and Helmut Lang to create exclusive capsule collections, and Brian's collex is the latest to be picked. Brian Atwood's premiere collection features four styles (Carla, Iside, Kate, and Theodora) and includes exotic materials link watersnake leather, leopard print, pony hair, mother-of-pearl, and suede. The price ranges between $1,050 and $1,850, making these pieces the ultimate investment purchase for a night out and day dates. We love the envelope clutch 'Carla' in a colorblock pattern and an exotic print, while the 'Theodora' and 'Iside' minaudières could also serve as  mini-vintage jewelery boxes. Check out our slideshow above for a sneak peek of the rest of the collection and don't forget to sign up at Gilt to make your purchase. The clock is ticking and you already have less than an hour! Check out more fashion and beauty news: OPI's Spider-Man nail polish collection, e-commerce on Club Monaco's website, and Zac Posen's sunglasses collection.
Photos: Brian Atwood Is Launching Handbags This Spring!
Footwear designer Brian Atwood, renowned for his sexy platform heels, just revealed to WWD that his spring collection will include a mini-line of clutches and minaudieres. (more…)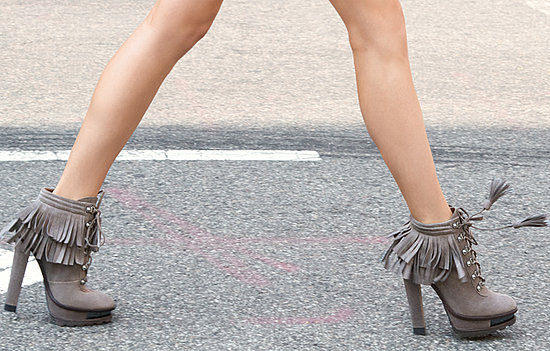 Brian Atwood's Lower-Priced Line, B Brian Atwood, Is Now At Saks. Yes, Please.
It's been a year since we first heard about Brian Atwood's plans to design a lower priced line, and now, the collection is finally in stores. Given that his regular-priced line costs between $525 to $2,900, we're thrilled to see the prices on his platforms, booties, and heeled boots start at $275. Best of all? The B Brian Atwood designs are just as covetable (if not more...) as his regular line. Check them all out for yourself at Saks.com, or see the full slideshow after the jump. (more…)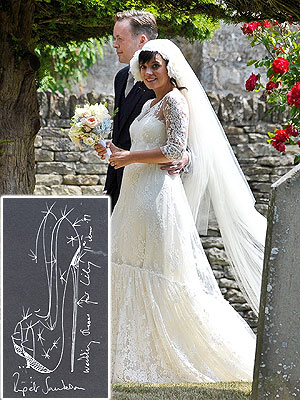 Lily Allen's Wedding Shoes Were Over 5 Inches Tall: Get The Skyscraper Look For Yourself
If you need a quick catch-up, Lily Allen walked down the aisle pregnant this past weekend and married Sam Cooper. Although no official full-view shoe photos have been released yet (just the above sketch and a mere glimpse), we know she walked down the aisle in towering Rupert Sanderson Skyscraper Hydra Pumps that were "made from a mixture of iridescent pearled suedes and boasting a 5½-in. heel," according to People Magazine. If you want to tower over everyone at your wedding, shop these 5-inch (and higher) similar styles now. (more…)
The Bride Wore 'Maniacs': Brian Atwood's Must-Have Satin Wedding Shoe
Louboutin, who? In the designer shoe world, there's no one more hot (or Worth It!) right now than Brian Atwood. He's a former model and Versace accessories designer, and the creator of this fabulous Maniac Silk-Satin Platform Pump ($480). The sky-high pumps have adorned the famous feet of Jennifer Lopez, Kate Hudson, and more, and now, Brian offers them in a silk-satin pearl pink --which means you can totally walk the aisle in them. Or do dishes in them for that matter -- you won't want to take these puppies off. If you splurge on the shoes, save on something else with our guides to cheap wedding invitations, inexpensive wedding dresses, and wedding jewelry sets.
Channel Dorothy In Spring's Hottest Trend: Red Wedding Shoes
When Dorothy clicker her ruby slippers together, she lived happily ever after -- why not do the same on your wedding day? Thanks to the Wedding Soiree bridal blog, we're on the trail of this eye-popping trend. In a sea of white, red shoes show off your individuality. And even though you probably can't wear your wedding dress again, the ruby slippers can always make an appearance. (more…)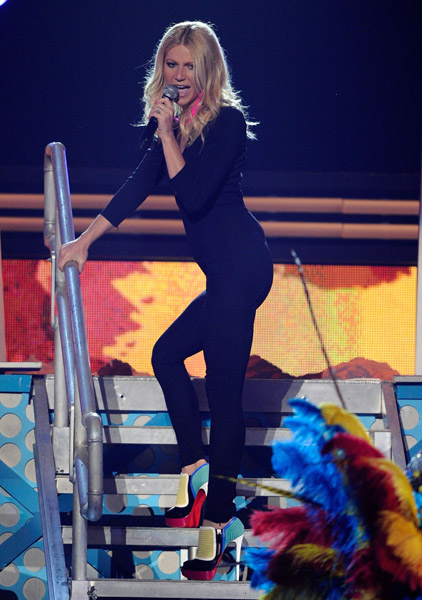 Gwyneth Paltrow May Be A C+ Singer — But We Give Her Grammy Shoes An A
If you were watching the Grammy's on Sunday night you probably thought to yourself "Wtf is Gwyneth Paltrow doing on stage?" followed by "Ooh - cute shoes!" Well, we've tracked down her sexy colorblock stilettos and sorry - you can't afford them (you can thank Christian Louboutin for that). The Futura multi-colored stiletto booties are available in brown to everyone but Gwyneth. Shop these colorblock heels now, plus the pair Gwyneth wore in brown:
Sorry Squats & Lunges – Stilettos Make Legs Skinny, Too. Science Proved It.
Cancel your gym membership. Put the FitFlops away. Recent scientific findings in something called Rocial Society journal Biology Letters (sounds official) proved what Victoria Beckham has known for years: wearing high heels truly makes your legs more toned. According to the study, "high heels activated their inner and outer calf muscles more evenly than those who wore flatter shoes." Looks like the end of ballet flats is real; the study also found that flats caused "lopsided" development" in legs. Ouch. As if you needed an excuse, now you have one to buy a brand new pair of sky-high, leg-slimming pumps: Check out our guides to party shoes and pumps, and then peruse all of our hand-picked sales and deals and best find of the day favorites. Follow the author of this post on Twitter @bridefinds.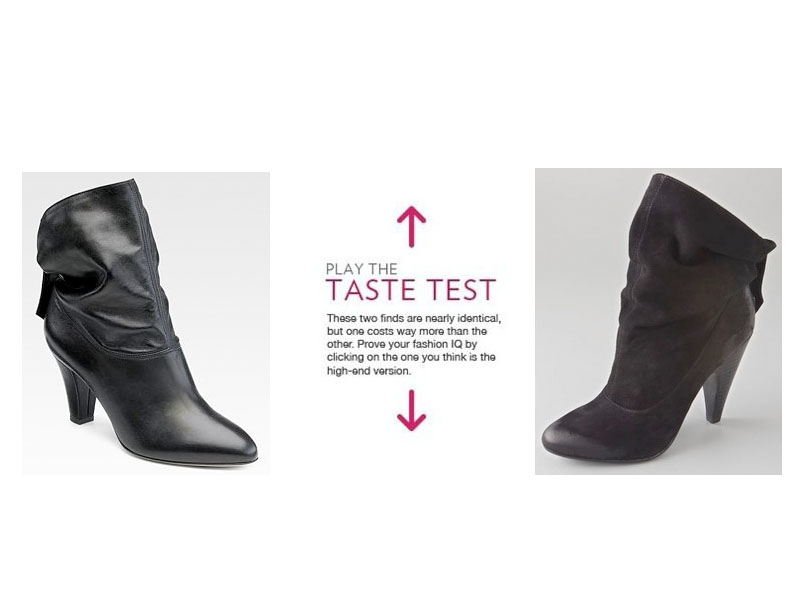 Can You Tell Which Black Ankle Boots Are Brian Atwood And Costs $400 More?
Keep guessing with all of our Taste Tests. Shop our guides to the best flat boots and the best high heeled boots. Sign up for SHEFinds to receive exclusive fashion e-mails.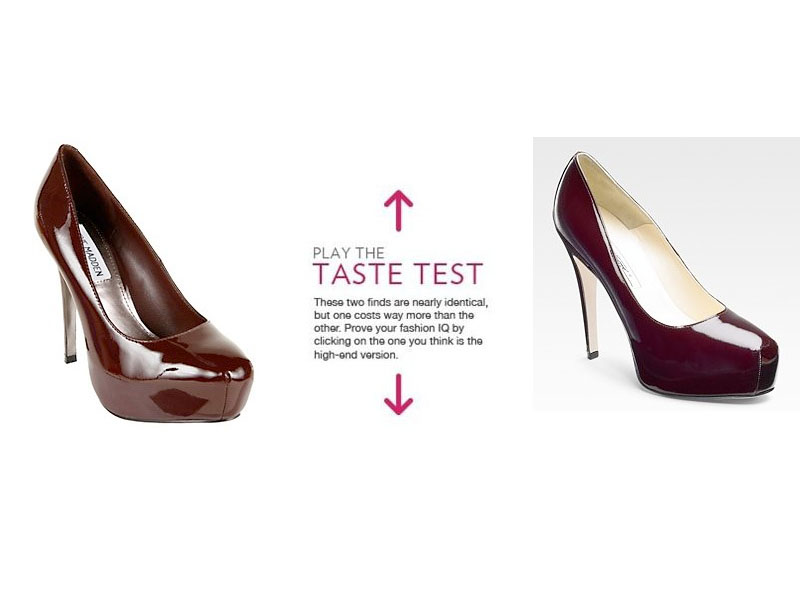 Can You Tell Which Platform Pump Is Brian Atwood And Which Is Steve Madden?
Want to keep testing your fashion knowledge? Check out the rest of our Taste Tests. Shop our guides for more platforms, party shoes, and wedges.   Subscribe to SHEfinds to receive our exclusive email newsletter.
Week In Review: Lanvin, H&M, And Brian Atwood Make Our Shopping Dreams Come True, More
Must-Reads: Holy collaboration heaven: Lanvin + H&M = possibly the best designer collaboration ever.   Speaking of fashion dreams coming true... did we mention that Brian Atwood is making a line of affordable shoes? We covered the Emmys red carpet fashion (navy blue gowns were everywhere) and a sexy Emmys after-party look to try at home (see what TV star wore it first). Oh, hello September. (See our calendar for this month's events). This changes date night: someone invented an little black dress with a built-in cell phone. Taste Tests: Can you tell which wrap bracelet is Marc Jacobs? Can you tell which lace-up sandals are Sam Edelman? Or which navy pleated skirt is $205 more than the other? Sale Alert: Get 35% off Nine West booties. Get 50% off go-with-everything black Gap leggings. These Foley + Corinna handbags are 50%. Celebrity Style: See how Brooklyn Decker introduced fall boots into her summer wardrobe. Natalie Portman's formula for killing it on the red carpet is as easy as 1-2-3. Speaking of it killing it... Rachel Zoe would DIE for these over the knee boots. Beauty: We bring you fall's hottest nail colors, straight off the runway. Your fingers will thank us. Stop walking around with gnarly, overgrown brows: Oprah's eyebrowist released a must-have kit for HSN. Guides to Check Out: This week, we scoured the web (our fingers are sore) and bring you the very, very best in hand-made jewelry, cashmere, and laptop cases.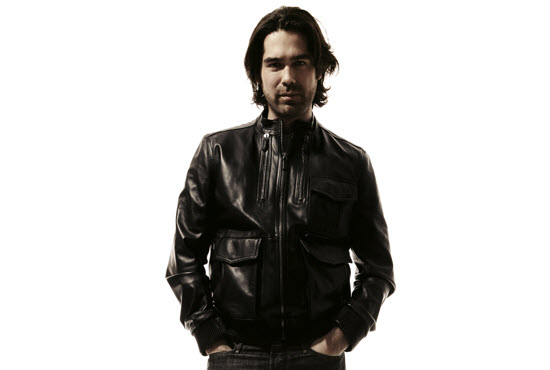 Shoe Addicts Rejoice: Brian Atwood Signs Deal For Affordable Line With Jones Apparel
Brian Atwood, genius shoemaker and celebrity favorite (Zoe Saldana, Victoria Beckham and Rachel Zoe are among his admirers), will be coming to a pedestrian closet near you. Yes, thanks to a new deal he signed with Jones Apparel Group Inc., us little people will be able to get a piece of the Brian Atwood magic starting fall 2011. B Brian Atwood will be sold in department stores and upscale retailers for $200 to $500 (the originals go for $525 to $2,900). The line will feature jewelry and handbags the year after, and eventually sportswear and sunglasses, too. Sorry, Rachel Zoe, we're guessing their won't be any "tranny heels" in this line. If you just can't wait, check out these Brian Atwood works of art we found on sale: Holy hotness. These Brian Atwood Jamie suede boots ($555.75, down from $1,235) are show-stoppers - that just happen to be 55% off. This Brian Atwood ruched suede 'Marni' ankle boots ($796, down from $995) is to-die-for and perfect for fall with skinny jeans and a chunky sweater. Every sophisticated gal needs  leopard print pump in her closet; take it up a notch with one by Brian Atwood. These tan leopard patent leather 'Starlet' pumps ($455.99, down from $600) should do the trick. If you're shoe obsessed (like us), check out our guides to the best over the knee and thigh high boots, clogs, and booties for fall.
Get A Pair Of Brian Atwood Shoes (On Sale) Before SATC 2 Makes Them Famous
Shoe designer Brian Atwood (pictured above) is no stranger to A-list celebs, but his name isn't as popular as Manolo Blahnik. The Sex and the City series, which made  Blahniks a household name has a new shoe obsession--this time, get ready for lots of sexy Brian Atwood heels to make an appearance, including the pointed-toe pumps Sarah Jessica Parker is wearing above, in her flashback to the '80s ensemble. [WWD]  Get a jump on the Brian Atwood frenzy--we found four pairs up to 60% off--and almost sold out--on The Outnet: A pair of of white slingbacks like these Brian Atwood Candy open toe sandals ($200, down from $500) are perfect for spring and summer formal events. They are left in size 8.5, 9, and 9.5. We love the olive green color and leather straps on this Brian Atwood Connie strappy sandal ($198, down from $495) that's available in a size 6 and 7.5 These Brian Atwood Mendes platform pumps ($199.50, down from $665) will pop against a basic outfit. If you're a size 10.5, these are for you. These Brian Atwood Nico leather stiletto heels ($414, down from $1,035) have a classic shape, but the wooden heel and braided leather make this pump modern. Unfortunately, they are only available in a size 9. See more Sex and the City 2 collaborations, and then check out our guide to the best celebrity shoes, and the best spring shoe trends.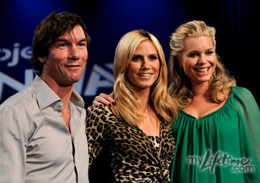 Runway Recap: Rebecca Romijn Is One Hot Mama
Project Runway got straight down to business in Episode 2. The designers had a celebrity client to design for: supermodel and actress Rebecca Romijn, who is pregnant with twins.  Curveball! Remember Mitchell from last week? He of the see-through dress with the great collar? As one of the few designers that had actually created maternity wear before, he decided to create a separates outfit with shorts, a t-shirt and sweater. Great concept, bad execution (that almost sent him home). Malvin, the conceptual ingenue, tried to create a mother hen-inspired outfit, complete with oatmeal sling and feather top. It wasn't a bad idea, but as Nina pointed out, slings are usually reserved for after the baby is born. It was just slightly worse than Ra'Mon-Lawrence's "bowling ball bag" formal dress, which practically screamed, I'm pregnant! Thus, we said good-bye to Marvin. Among the judges' favorites was Althea's jersey dress with the slimming criss-cross straps in back. However, her design was overshadowed by Shirin's winning burgundy casual dress and coat. It both celebrated pregnancy curves without looking obvious. While we're not going to recommend a maternity dress for fall (unless you plan on seeking out one of those stomach pillows from the workroom), we do love this blousy flutter-sleeve tunic ($40) that looks great belted now, or flowy and loose if a little surprise comes your way in the future. Check out MomFinds for mom and kid finds, and catch up on recent Project Runway recaps to prep for the rest of the season.
This Is What Passes For Flair These Days?
What: Completely Bare with a Flair ($115) bikini wax According to the website, the salon service will "Embellish your just waxed bikini with the Swarovski crystal design of your choice." The crystals supposedly stay on for up to 10 days. Why: Wait wait don't tell me... because girls love sparkles? Bzzzz! I'm sorry, the correct answer (according to the spa) is because, "Accessorizing your privates is the hottest rage." Huh? I get the appeal of wanting to be all waxed and smooth down there, so why would you add back crystals that are just going to make things bumpier? If you're like me and usually take care of your hair removal needs at home, check out these two DIY bikini products instead. And if you're even more like me, you're going to need a product to help with the common DIY problem of razor burn. Try Bikini Zone Medicated Creme ($6.50). Trust me, it works.
Top Five: Cropped Jackets For Chilly Summer Nights
A well-cut cropped jacket amps up any outfit.  These cute little shorties are fashionable and useful - they'll all look great keeping you covered on a cool summer evening. 1. The double row of buttons on this cropped Whitley Kros jacket ($200 from $286) give the contemporary cut a classic feel. 2. A fun, casual piece from the Gap ($30 from $59.50) makes for a great addition to any warm weather wardrobe. 3. Clean lines and a simple black form - this cropped Theory blazer is a perfect investment piece ($355.) 4. This quirky piece from Twelfth St. Cynthia Vincent ($120) will jazz up a simple shorts-and-tee outfit. 5. A short, woven jacket, like this one by Generra ($134) makes for a chic, grown-up sort of look.