Glitter Pumpkins, Skull Plates, And More Spooky-Chic Etsy Finds For A Halloween Wedding
If Halloween was always your favorite holiday as a child (and not just for the candy, but for the fabulous handmade costumes, too), then a Halloween-themed wedding may be something to consider. From orange-and-black decor, to glitter pumpkins, black chandeliers, webbed cakes, and skeleton everything, a wedding that pays homage to All Hallow's Eve is one your guests will delight in. We've teamed up with Etsy's wedding team to bring you the most scary, spooky and awesome Halloween finds: (more…)
Celebrity Manicurist Erica Marton On Fixing Day-Of Chips, 'Something Blue' Polish, More
We took your most burning wedding nail questions (chipping? fall colors for brides?!) to Erica Marton, celebrity manicurist at Face Place New York. You may recognize Erica from the New York Times, or her top celebrity clients (Mary Lousie Parker, Rashida Jones, Jill Stuart and more), and now Erica is giving BRIDEfinds readers her top tricks: (more…)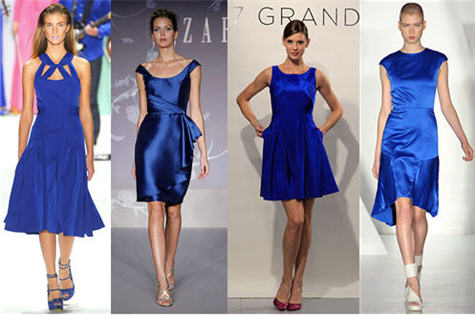 Runway Report: Royal Blue Bridesmaid Dresses Carry Over For Spring
Royal blue gowns graced the fall 2011 runways of WToo, Lazaro, Lela Rose, Nanette Lepore, and more, and we're loving this gorgeous shade of blue for Spring weddings, too. The trend has (obvious) roots in a certain royal wedding that happened this year, and the regal, bold color isn't going anywhere for next year. Pippa, you're up. (more…)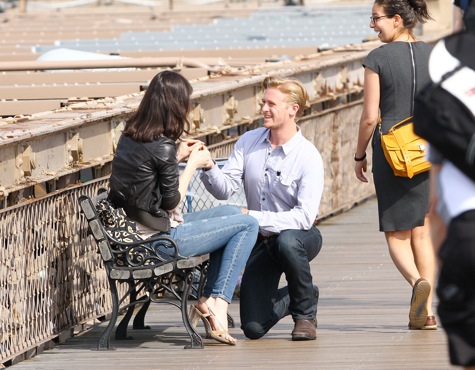 Get Paparazzi Shots & Video Of Your Engagement Through 'Pap The Question'
In the era of glossy tabloids and Kim Kardashian, "paparazzi" is no longer a dirty word; swarms of photogs means someone's important. On the day of your proposal, that lucky someone is you (there's no shame in wanting to be the center of attention). If you want to make the best wedding video ever, or just wonder what an hour of Kim K's life is like, check out Pap The Question. (more…)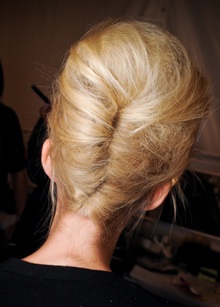 The 10 Most Gorgeous And Bridal-Friendly Runway Hairstyles For Spring
If you're looking for some wedding hair inspiration, there are hundreds of glamorous new 'dos to choose from. We're talking about looks from the Spring 2012 runways from New York, London and Milan. While some of the craziest runway looks (can you say, pink hair?) don't work for brides, there are tons of gorgeous styling tips to take away. Like the modern French twist at DVF (right), to Anna Sui's Old Hollywood curls, and more. (more…)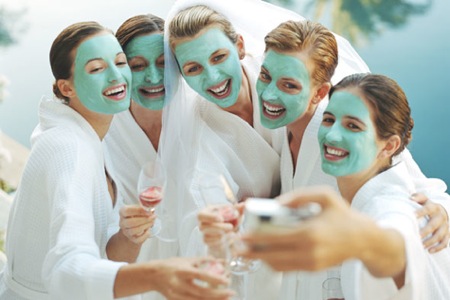 10 Bachelorette Parties That Don't Involve Strippers: Surf Camp, Champagne Crawls, More
Before you put your maid of honor in charge of bachelorette party planning, we suggest sending her this guide - unless you prefer a repeat of The Hangover. We've rounded up 10 great ideas and destination tips that will help you plan a classy yet fun-filled bachelorette party weekend. From a private yacht charter, to an adult slumber party and more, the options are endless. (more…)
Get Inspired By The Plethora Of Glitter Gowns That Graced The Emmy's Red Carpet
Glitz and glam was the theme of the Emmy's red carpet this year, as we spotted glitter and sequined gowns in every shape, size, and color this year. Christina Hendricks, Jennifer Carpenter, and Jayme Mays (pictured above) were spotted in gorgeous bridal-worthy sparkling dresses, and we couldn't help but shop around for similar styles. (more…)
Definitive Answers To Your Nagging Etiquette Questions, From Expert Kristin Banta
Wondering about wedding etiquette on plus one's, wedding party favors, and more?  Kristin Banta, wedding extraordinaire and owner of Kristin Banta Events, has offered to dish up her top advice on how to properly plan your wedding and then some. (more…)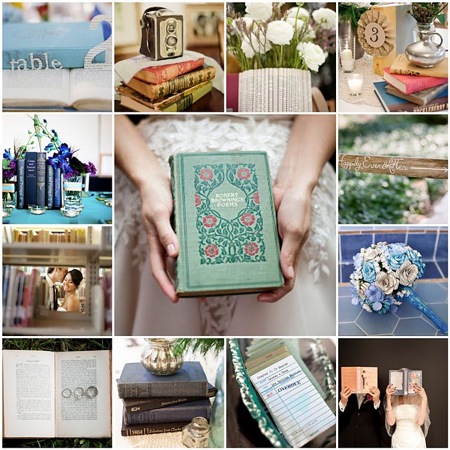 Literary-Themed Decor: Library Card Invites, Oscar Wilde Cufflinks & More Bookworm Delights
If you just can't put the books down - not even for your big day - a literary wedding theme may the right pick for you. From gorgeous dictionary paper roses to library themed saved the dates, and even vintage book bundles for decor, you'll feel right at home on your wedding day with these finds. (more…)
Old Hollywood-Inspired Feather Gowns And Accessories: This Season, Glamour Is Not Dead
Fall is just around the corner (t-minus 3 days), and this season, we encourage brides to go feather crazy. The trend has evolved from the runway (from the likes of Oscar de la Renta and Ralph Lauren) to retail in the form of glamorous, Old-Hollywood inspired gowns, shoes, hair accessories that add drama to any wedding hair 'do, and more. (more…)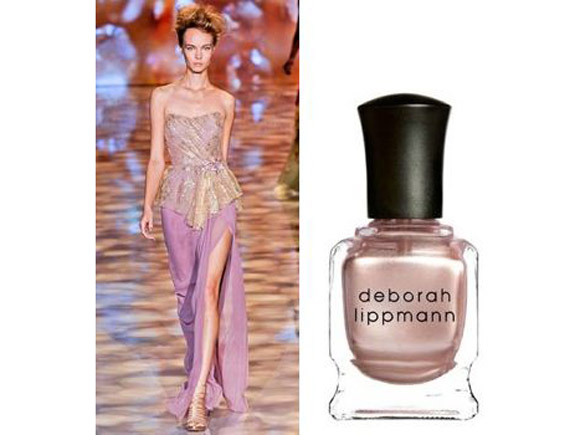 Get Inspired By Spring Runway Polishes: Tory Burch Essie Pink, Rose Gold, More
From the Spring 2012 runways of Tory Burch, BCBG Max Azria, and more, gorgeous, neutral polishes  ruled this season. Luckily, these shades work perfectly for weddings, too, and we found 4 great shades to prove it: like this Deborah Lippman 'Glamorous Life' polish from Badgley Mischka's show. (more…)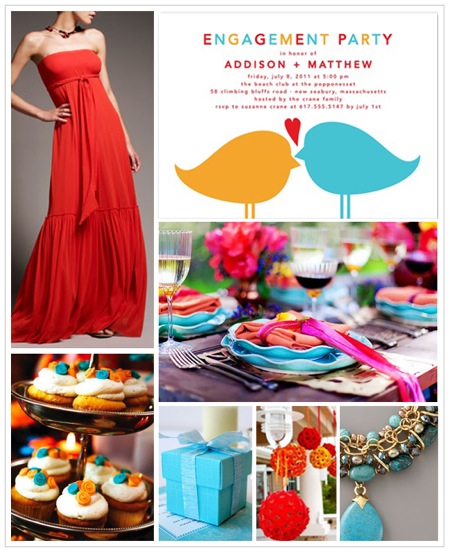 Bold Colors Are Big For Fall: Shop Red, Pink & Turquoise Engagement Party Decor
You're engaged, so what next? A fabulous party, of course. We are obsessed with this light blue, yellow, and bright red engagement party color scheme, and have picked out our favorite cake stands, dinnerware, invites,and more. Party planning has never been so easy. (more…)
Tartan, Lace, Linen & More: Fabric-Inspired Invitations Rule For Spring
Fabric-inspired wedding invitations have become a ever-so-popular this season (so says Martha, dictator of all things proper), and we couldn't be more excited. From damask to tartan, and even linen and quilted inspired invitations, we've found 10 gorgeous styles from around the web that you can scoop up now. (more…)
5 Solutions For Any Skin Issue: Trusted Derm Dr. Bruce Katz Share His Tips For Brides
When it comes to your wedding day, a flawless face is a priority on everyone's list, which is why we've turned to the expertise of Dr. Bruce Katz, Director of the Juva Skin & Laser Center in New York. Having been named "one of the best doctors in New York" by New York Magazine, and also working closely with top celebrities such as Shakira and Mariah Carey, we're all ears. Read on to find out expert skin care tips that will have your face photo-ready in no time. (more…)
Create Wonderland-Themed Engagement Photos With Teacups, Skeleton Keys & More Madhatter Etsy Finds
It was love at first sight when we discovered this "Wonderland" inspired engagement shoot on Green Wedding Shoes, styled with vintage-inspired props. From teacups to top hats, and "eat me" treats, we've found everything you need to re-create this theme on Etsy. (more…)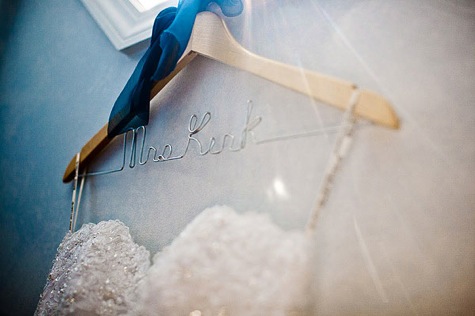 Bride-Groom Forks, Personalized Hangers, More: 10 Small Details For The OCD Bride
I'm sure you all recall Kim Kardashian's personalized wedding hanger, but that's just the beginning of it when it comes to small, intricate wedding details. They might seem pointless to you, but trust me - things like personalized bouquet charms, bride and groom forks, and more will make for gorgeous and unique wedding photos - and your guests will notice. (more…)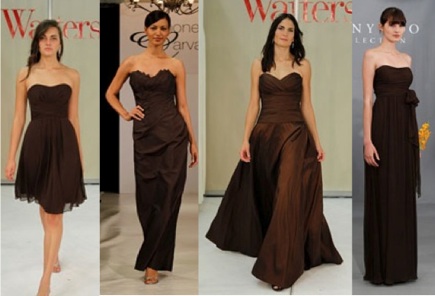 This Fall, Espresso Is Not Just Your Starbucks Order: Shop Coffee Bridesmaid Dresses Now
Yes, it's that time - time for pumpkin spiced latte's, autumn leaves, and espresso colored bridesmaid dresses. As seen on the Fall 2011 runways of Waters & Waters, Simone Carvalli, and Jenny Yoo, we're obsessed with this rich hue for maids. Espresso will make for the perfect fall themed wedding (along with these fab fall guest favors) and we've rounded up our favorite styles to shop now. (more…)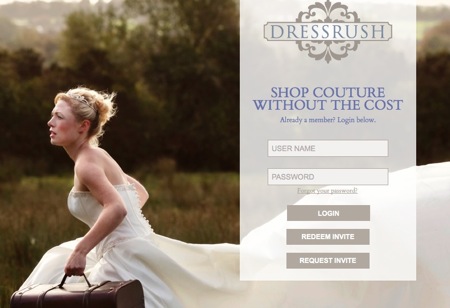 Introducing Dress Rush: Up To 70% Off Jewelry Rental, Cake Stands, Groom Sets & More
We've tipped you off to wedding sample sales and even wedding rental sites, and now comes another extremely helpful tool when it comes to finding great wedding deals: DressRush.com.  The new site offers current and seasonal couture wedding dresses, veils, bridesmaid dresses, accessories, decor, and more, up to 70% off of retail pricing - a virtual dream come true. Today's sale: Sarah's Stands cake stands. Catch brands like Tejani, Navy and Lavender, Adorn Bridal, an US Airways, on the site. Sign up this week and snag a chic cake stand from Sarah's Stands at 30% off. Shop our guides to inexpensive wedding dresses, off white wedding dresses, and plum bridesmaid dresses now.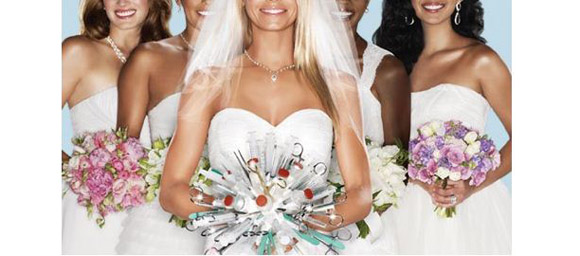 Lip Injection Gloss, Butt Lift In A Box, And 9 More Products To Try Instead Of Plastic Surgery
Does anyone recall Bridalplasty, a short-lived reality show in 2010 in which brides competed for their dream wedding and their dream plastic surgery? Newsflash: It's now trending within the bridal world. "Brides are spending anywhere between $200-$12,000 on procedures to help them feel and look their best on their wedding day," Dr. Tenley Lawton, Newport-based Board Certified Plastic Surgeon, told Long Island Press. (more…)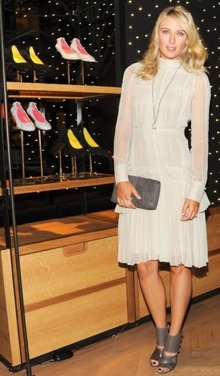 Bride-To-Be Maria Sharapova To Launch Her Own Wedding Shoe Collection
Maria Sharapova, the 6'2" tennis goddess who's engaged to NBA player Sasha Vujacic, is not just the consummate athlete, she also happens to be a fashion-enthusiast with five accessories collections for Cole Haan under her belt. Word on the street is that Maria is incredibly hands-on when it comes to designing the handbags and shoes of her Maria Sharapova by Cole Haan line.  And now comes news of her own wedding shoe line (can you say bridal fever?). (more…)
Getting Remarried? The Dos And Don'ts Of Second Wedding Dresses
Choosing a dress for your second wedding can be tough: you don't want to look like a fool (a la Kim Kardashian) in an elaborate ball gown and headpiece, but you don't want to choose something too casual that doesn't mark the occasion. Since you don't have to wear white, and many of the traditional rules are out the window, you have more freedom to choose something that suits your personality and taste. Think  Sofia Coppola in lavender or Reese Witherspoon in blush. (more…)
Ferns Are The New Floral: Shop Botanical-Themed Wedding Decor From Etsy
Green or not, we're loving the idea of a natural, botanical themed wedding with fresh green decor. Forget the colorful flowers and turn to your back yard for inspiration. From fern stamps and botanical themed invitations, to miniature air plants and terrariums, we've found all you'll need from Etsy in order to throw your very own "green" wedding. (more…)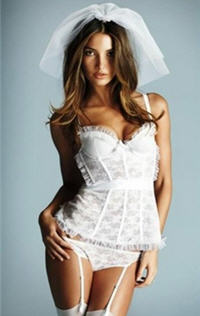 Crystal Thongs, Feather Garters, And More Extreme Bridal Lingerie You'll Actually Want
Finally, a day to dress slutty other than Halloween. If all goes well, your wedding night comes only once, so make the best of it by going "all out" with your bridal lingerie. Sure, crotchless panties and shelf bras (don't Google at work) may be too provocative for you the rest of your lifetime, but on this one day you can pull out all the stops. (more…)
Ask The Expert: 10 Tips For Creating The Perfect Wedding Photos
To achieve stylish and breathtaking wedding photos, it's important you find a credible and passionate photographer for your big day. That said, we've asked photographer Mindy Morgan of New Morning Weddings, whose shot countless weddings (and whose gorgeous photos are included in this post) for inside tips on getting the shots you want. A hot commodity in the southern states as well as Costa Rica, Mindy's tips will have you wedding day photo-ready in no time. (more…)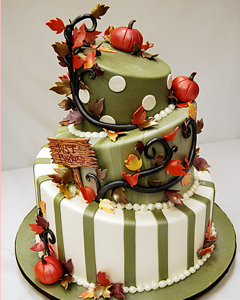 18 Delectable Fall Wedding Cakes: Sugared Hay, Sweet Pumpkin, Stenciled Leaves, More
Fall is right around the corner, so what better way to celebrate than with a delicious autumn-inspired wedding cake slideshow. From sweet pumpkin adornments to hay made out of sugar (!), there's a cake in this roundup for everyone. Note: don't flip through on an empty stomach. (more…)
10 Cozy Fall Wedding Favors: Candy Apples, Maple Syrup, Pumpkin-Scented Candles, More
We're sad to see summer go, but who can resist the fabulous fall weather filled with burnt orange, sunshine yellow, and  chocolate brown colored hues? We sure can't, which is why we've rounded up some of our favorite fall favors to shop now, including candy apples, caramel popcorn, pumpkin scented candles, and more. (more…)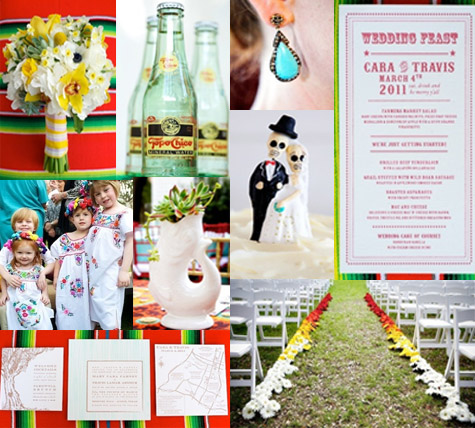 Etsy Finds: Throw A Mexico-Themed Wedding Without Setting Foot South Of The Border
Want to get married in Mexico, but a destination wedding doesn't quite fit in your budget? No prob - with a little help from Etsy, you can bring a touch of Mexico wherever you are. From papel picado bunting, to passport invites and Day of the Dead cake toppers, we've found all the fixings you'll need to throw a TexMex wedding -- just don't forget the tequila. (more…)
Engagement Shoot Idea: Use Rent The Runway To Borrow, Not Buy, The Perfect Dress
After dropping loads of cash on engagement party, rehearsal dinner, reception dresses and gowns, the last thing you want to think about is spending money on yet another cocktail dress for your engagement photos. Here's an idea: rent your dress (and accessories!) on Rent The Runway -- almost everything is under $50. (more…)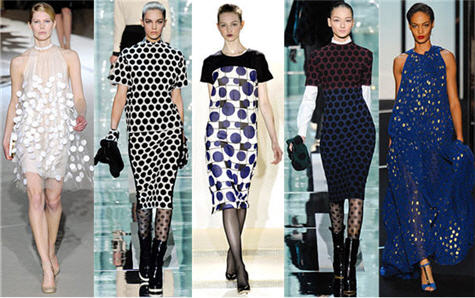 Runway Alert: Fall's Polka Dot Trend Adapted For Your Bridesmaids
Polka dots are popping up all over the fashion world, from formal gowns to stockings, and now bridesmaid dresses as of late. As seen on the Fall 2011 runways of (L to R) Stella McCartney, Marc Jacobs, Collette Dinnigan, and Diane Von Furstenberg, we're loving this trend for maids. It's a great way to spice up your overall wedding look. (more…)
Bridesmaid Gift Idea: NARS' New 'Sea of Love' Beauty Set
If you're looking for the perfect gift for your maids, consider your search over. NARS just released a Sea of Love Set ($49, valued at $82) which is filled with medium and miniature-sized cult classics (including our fav blush shade, Orgasm). This kit is awesome because a) the price is right, b) it's travel friendly, and c) the shades included will go with pretty much any dress color your maids are wearing on your big day. Shop our guides to long bridesmaid dresses, designer wedding shoes, and best wedding invitations now.
Meet Sharon Sacks, The Planner Behind Kim Kardashian's Elaborate Wedding
By now you've probs all seen the Kim Kardashian elaborate wedding photos surfacing the internet, so we thought we'd introduce you to the brains behind her wedding: Sharon Sacks of Sacks Productions in LA. Responsible for some of the most gorgeous weddings and parties in Hollywood (including Khloe's wedding, and Kourtney's baby shower) she worked alongside of  Rrivre Works, who is responsible for installations and prop styling for top Hollywood functions, including the MTV Movie Awards, and many others. (more…)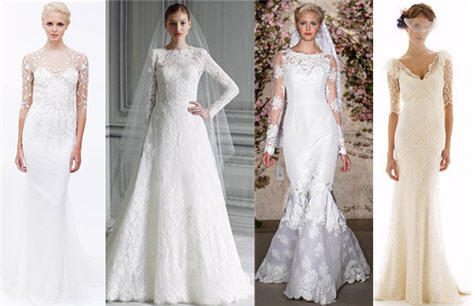 This Fall, Sleeves Are Back! (And You Can Thank A Certain Royal Bride For That)
We've seen sleeves galore on wedding gowns all around the Fall 2011 Runways of Marchesa, Monique Lhuillier, Oscar de la Renta, and Elizabeth Filmore (L to R), and you can thank Kate Middleton for this trend. After walking down the aisle in her gorgeous Alexander McQueen frock this past summer, we've seen exact replicas of her dress, altered designs, and fresh new wedding dresses with sleeves. Shop this elegant princess look now. (more…)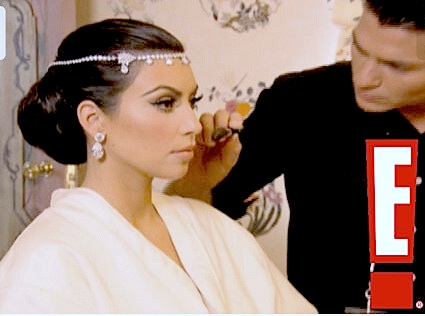 Meet The Stylists Behind Kim Kardashian's Wedding Day Makeup And Hair
We knew it was only a matter of time before all of Kim Kardashian's wedding details were leaked online, from her three dress changes to who designed her Swarovski crystal aisle runner, and then some. We've since then discovered the masterminds responsible for Kim's wedding day makeup and hair. (more…)
Throw A Rainbow-Themed Wedding With These Etsy Finds: More Is More When It Comes To Color
We'll agree with you on this - it sure is stressful choosing a color scheme for your big day, but it's most important as it sets the tone for your entire wedding. Instead of choosing one color, why not have them all and throw a bright, colorful, rainbow themed wedding? We're digging this idea and have teamed up with Etsy to bring you decor, invites, accessories, and more. (more…)
Fall Brides, Cover Up In Style: The Season's Best Wraps, Shrugs And Boleros
Don't ruin your photo-worthy bridal look with an ugly cover-up this fall. When the temperatures start to drop, think chic lace boleros, warm and fuzzy stoles, and more - they're in style this season and we couldn't be more excited. In order to celebrate this trend, we've rounded up some of our favorite (and warm) styles for you to shop now. (more…)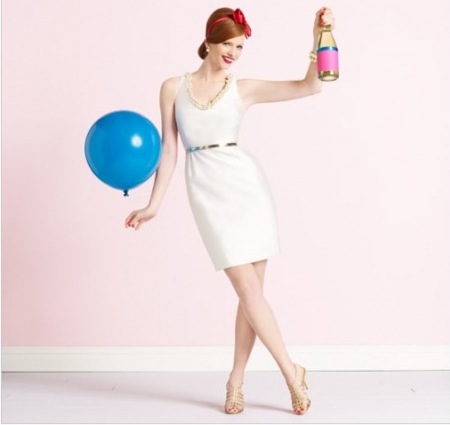 Bridesmaid Gift Idea: Jewelry And Other Trinkets From Kate Spade's Belles & Whistles Collection
Kate Spade's first wedding collection, aptly name Wedding Belles And Whistles, hit earlier this year and included some gorgeous dress styles for brides. They've just gone a step further, dedicating a whole section to the bridesmaids -- from gift-worthy jewelry to shoes and b-maid dresses. (more…)
Kim Kardashian's Strapless Basque-Waist Gown: Get The 'Princess-Bride' Worthy Look Here
Thank to E!'s sneak peek of Kim Kardashian's wedding, we now know that she wore an ivory, strapless, basque-waist, full skirt Vera Wang gown down the aisle yesterday. (more…)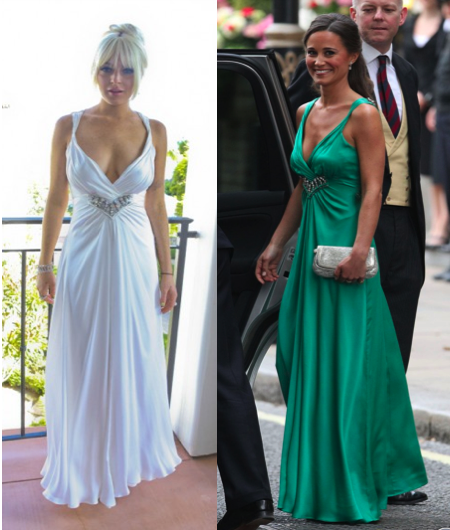 Lindsay Lohan Attempts To Be The Pippa Middleton Of Kim Kardashian's Wedding
Yes, we're afraid this really did happen - Lindsay Lohan wore the same crystal embellished Temperley London dress that Pippa Middleton wore to Kim Kardashian's wedding, only in white. Out of all the dresses Lohan copycat could have chosen, we're pretty sure she picked this one for attention. (more…)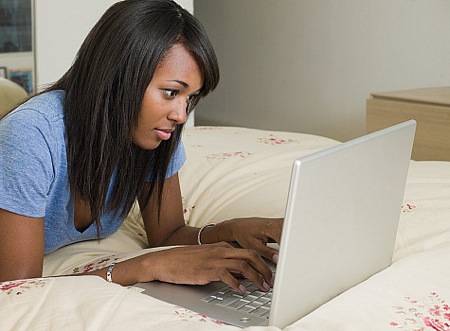 A Virtual Ring Finder & Online Dressing Room: Take Your Cyber-Obsessing To The Next Level
Let's face it, you spend most of your workday cyber-obsessing over inspiration boards and gowns you can't afford. We're not knocking it -- there are tons of online wedding tools to help you save money, and plan your dream wedding. We've told you about different eTools and apps in the past, and today we bring you 2 new f-amazing ones: (more…)
Kim Kardashian's Virtual Guestbook: Some Of The Most Ridiculous Comments So Far
Kim Kardashian found time in her busy wedding day to let the world know that she's created a "Virtual Wedding Guestbook" for fans to leave well wishes. Cute or tacky? We'll let you be the judge; now please enjoy some of our favorite (slash freaky) comments thus far: (more…)
First Photos Of Victoria's Secret Bridal (Warning: Pics Will Make You Want To Skip Lunch)
Lily Aldridge, stunning lingerie model and newlywed to Kings of Leon rocker Caleb Followill, is the new face body of Victoria's Secret Sexy Little Bride campaign. The new collection will include sexy white panties and bras, garters, veils, and more, and we've included a sneak peak just for you. (more…)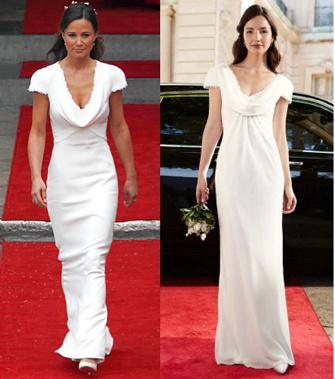 David's Bridal Jumps On The Pippa Bandwagon With A $199 Replica Of Her Infamous Dress
David's Bridal just got the memo on Pippa Middleton, apparently, because they've just released a replica of her infamous Alexander McQueen bridesmaid dress. (more…)
Host A Breakfast At Tiffany's-Inspired Bridal Shower With Robin's Egg Blue Decor
For all of you Tiffany obsessed bridezilla's out there that have been dreaming of that  "little blue box" since you were old enough to talk, this post is for you. We've rounded up several gorgeous Tiffany blue-inspired decor, favors, invites, and more, so start planning your dream shower now. (more…)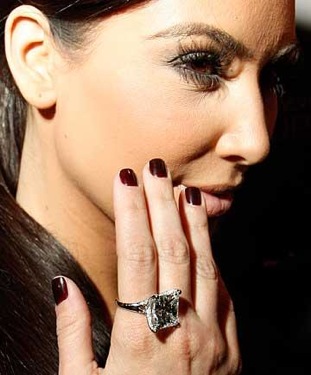 Get It Now: A Replica Of Kim Kardashian's 20-Carat Engagement Ring
When Kim Kardashian debuted her jaw-dropping 20-carat engagement ring from NBA Kris Humphries, we had to laugh because the thing was so massive and so gaudy and equaled 3.41 carats for each month they'd known each other (6). Now comes news that you can actually shop replicas of the ridiculous ring. (more…)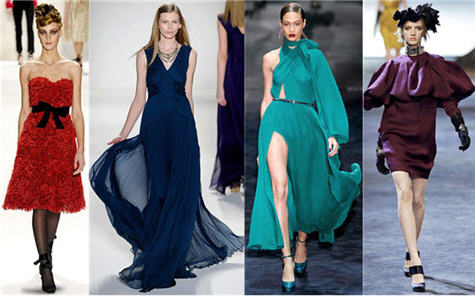 6 Fall Trends Re-Interpreted For Your Bridesmaids (You're Welcome, Stylish Brides)
Turn your aisle into a catwalk this fall with these bold colored trends fresh off the runway. From lame gold to punch red, to deep blue and more, these colors and styles are anything but boring. We've picked several of our favorite styles to shop now. (more…)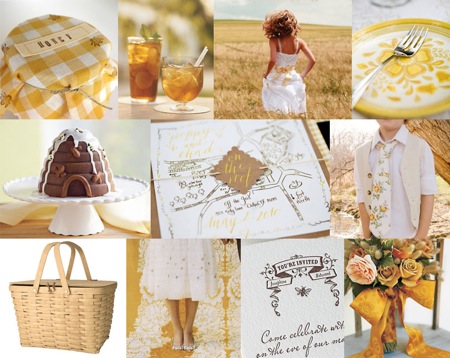 If Life Gives You Lemons, Plan A Yellow-Themed Wedding (We Found The Decor To Do So)
We're loving yellow wedding decor and favors right now, as we're trying to hold onto summer as long as possible. From beautiful sunflower bouquets to gingham yellow tablecloths and more, we've rounded up some of the brightest  yellow finds that will transform any wedding into a warm, sunny day. (more…)
We Found Wedding Shoes In Every Color Of The Rainbow: Find The Perfect Pair For Your Palette
Colorful wedding shoes are all the rage right now and can spice up your entire wedding look in an instant (we're obsessed with this idea). From hot pink to canary yellow to bright green, this trend is definitely one to try out. Match your shoes to your maids dress color, or have your whole bridal party mix and match colors for a photograph-worthy look. (more…)
Can't Afford A Monique Lhuillier Gown? Shop Her Diffusion Line For A Rehearsal Dress Instead
Earlier this summer, we tipped you off to pre-order styles of ML Monique Lhuillier Fall 2011, the designer's licensed collection of affordable evening and bridesmaid dresses. You can now purchase the black-tie wedding-worthy styles, which start at $398, here: (more…)
We're 99% Sure Kim Kardashian Is Wearing A Mermaid-Style Wedding Gown Next Week
It's safe to say that Kim Kardashian will be wearing some sort of form-fitting, booty hugging, mermaid style wedding dress - we're even willing to make a bet. Anyone whose studied the starlet's red carpet looks can tell that she's really proud of her assets. We've yet to see sketches of her Vera Wang gown, but here are a few Kim-worthy butt-hugging dresses that are available now: (more…)
Your Wedding Will Be A Circus – In A Good Way! Shop Carnival-Themed Decor From Etsy
After a few signature cocktails and champagne toasts, your groomsmen will start acting like a bunch of circus animals, so why not  go ahead and throw a carnival themed wedding so it's appropriate? We kid, we kid. But seriously, ever since Water for Elephants came out this spring, we've been obsessed with all things carnival for weddings -- from paper popcorn bags to striped straws and ticket stub invites. Thanks to Etsy, we found all of the above: (more…)