5 Father-Daughter Dance Songs That Aren't Lame
7 Things The Father Of The Bride Should Do Before The Wedding
What Exactly Is Mom And Dad Slang?
Have you ever heard of someone calling another person "mom" or "dad"? Apparently, tons of people are leaving comments on celebrity's social media pictures referring to them as mom or dad. Keith Habersberger, a staffer at BuzzFeed, kept being called a dad, but he isn't a dad so he didn't understand why people were calling him one. He did some research to find out. [youtube]https://www.youtube.com/watch?v=k7vsUkA6hWc[/youtube] Back when Kim Kardashian posted her infamous "break the Internet" picture, Lorde tweeted this in response: https://twitter.com/lordemusic/status/532432442893041664?ref_src=twsrc%5Etfw People were seriously confused as to why she called Kim Kardashian her mom, so she took the time to explain what she meant on her Tumblr. Lorde explained, "Omg haha ok so. time to explain this. i retweeted kim's amazing cover and wrote 'MOM', which among the youthz is a compliment; it basically jokingly means "adopt me/be my second mom/i think of you as a mother figure you are so epic" (obviously i love my own mama and she is the best tho) but straight after that i think someone else called out the cover saying kim has no right to look that sexy as she is a mother which is TOTAL trash - why should that stop her?" In short, if someone refers to you as mom or dad, take it as a compliment. It's a term of endearment and shows that you inspire them and they look up to you. Don't miss the 5 guys you'll meet on Tinder and Chrissy Teigen and John Legend are getting their own TV show! [Photo: Shutterstock]
Spotted! Jack Osbourne Shows Off His Adorable Little Girl, Pearl
Here's another to add to our favorite pics of celeb dads and their little ones. That's new dad Jack Osbourne and his 2-month-old daughter Pearl. Aside from Pearl being an absolute cutie, we love the look on Jack's face. Pretty much sums up how all new parents feel after 8 weeks with a newborn. (more…)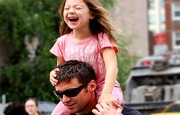 Just When You Thought Hugh Jackman Couldn't Get Any Dreamier…
Look at that smile on his daughter, Ava Jackman's face. It's priceless! There's just something about a dad making his kid laugh so hard it hurts that makes us swoon. (more…)
Don't Wait! The Best Father's Day Gifts Are 20% Off at Piperlime!
Still haven't found the perfect gift for dad? Well Father's Day is less than two weeks away, which means you're cutting it kind of close. Our advice? Head over to Piperlime ASAP because men's shoes, accessories and apparel are an extra 20% off when you use code GIFT at checkout. (more…)
Hey Dads! Get Inspired By Jason Lee and Give Mom Some Creative Pics of the Kids This Mother's Day
Have you seen this collection of creative--and hilarious!--pics dad Jason Lee took of his daughter? We're guessing Jason is pretty good with Photoshop, but we think his idea is the perfect starting point for an awesome Mother's Day gift. There's probably not a group of people more obsessed with pics of kids than moms, so how awesome would it be to steal some of Jason's ideas, swap in your own kids and create an album for mom this Mother's Day? I'd love it! Of course, if you're feeling extra inventive, you could stage your own photoshoots with the kids and get creative with your own scenes and settings. Here are a few more of Jason Lee's creative kids' pictures to get those creative juices flowing: (more…)
Hugh Grants Speaks Out About His Newborn Daughter, Tabitha
Like the rest of the world, I was totally shocked a few months back when Hugh Grant revealed he was a dad. The baby, he said, was the result of a "fleeting affair." Huh? Not normally the admission one makes about having a child, but okay I guess. At least he was honest. Hugh recently spoke out about his daughter again, who he revealed is named Tabitha, and his comments were just as bizarre. The weirdest? "I like my daughter very much. Fantastic. Has she changed my life? I'm not sure. Not yet. Not massively, no." (more…)
Don't Forget About Dad! Save 20% on Men's Shoes and Apparel at Piperlime's Men Sale
Because he never complains that you spend almost all of your time shopping for the kids--and yourself!--why not treat dad to a little something special? For three days only, Piperlime is offering an extra 20% off all men's shoes and apparel with code SPRING at checkout. (more…)

This Just In: New Petunia Pickle Bottom for Dads
Your man's probably not complaining about needing a new diaper bag, but if it's you who needs a break from carrying all the diapers, check out the new Petunia Pickle Bottom Scout Collection. Didn't know they made daddy diaper bags?  Well, they do and you can't even tell they're made for baby duty...something that dad will love.  And you don't even have to wrap it.  It's free along with shipping. (more…)

The #1 Reason to Watch the Super Bowl on Sunday…
How many of you tune in to the Super Bowl mainly for the commercials?  I'm with you.  My friends and I usually catch up with each other during the game (unless something terribly exciting happens--like Janet Jackson's nip slip), and then we all get quiet and pay close attention to the ads. So when they air this David Beckham H&M Super Bowl ad during the second quarter, I don't know if we'll be able to finish watching the game.  Might just end up replaying it over and over again.  Enjoy! [youtube]http://www.youtube.com/watch?v=eQb_-OY7Z0E&feature=youtu.be[/youtube] (more…)
Top 5: Creative Valentine's Day Gifts for Dads
It's almost February which means it's almost Valentine's Day which means if you want dad to take care of you, you have to do the same. Now we know shopping for a guy on Valentine's Day isn't the easiest task, but this is your man remember? Here are a few Valentine's Day gifts for dad to get your creative juices flowing... or you could just buy him one of these. Either way, we promise he won't be disappointed. [slideshow] (more…)
Stock Up On Warm, Winter Essentials and Save an Extra 20% at Piperlime!
I know, I know. Both you--and your bank account!--are still recovering from the holidays. But that just means you shouldn't waste cash on stuff you don't need. When it comes to essentials, though, that's a totally different story. And trust me, Piperlime's Lime Tag sale is stocked with winter essentials for the whole fam. There are Sorel boots for kids, cute Clarks desert boots for dad and cozy, chunky knit sweaters for you. All this and more is already on sale, but for the next 3 days you can save an additional 20% when you use code LIME at checkout. Start Shopping: piperlime.com (more…)
Did You Know December Is The Best Month to Buy…
This morning I was totally sucked into reading an article about the best items to buy in December. Because I love shopping and I'm always looking for a deal, I had to see what I was missing. (more…)
5 Sure-to-Please Gifts for the Outdoorsy Men In Your Life…
Whether it's your husband, your dad or your brother-in-law, every mom knows a guy who loves the outdoors. He can often be found hiking somewhere, planning his next expedition or trying to convince your kid that climbing that tree in your backyard is a good idea. Sound familiar? Stop trying to convert him into the metro man you'd always wished he was and embrace his true nature-loving self. Show him you accept him just as he is this holiday season with one of these gifts handpicked to suit his personality. [slideshow] (more…)
Watch This! 5 Insanely Cool Men's Watches to Keep Dad On Time (If He Can Figure Out How to Read Them, That Is…)
You know what today is, right? It's the first day of December, which means the countdown is on. You only have about 20 days left to get gifts for everyone on your shopping list. Now hopefully you checked the kids off during Black Friday by scoring all the toys from our hot holiday toys list. If so, that means you only have dad, grandma, grandpa, MIL, FIL, sister, brother, teacher, nanny... Oy. That's quite the list. Relax! We're here to help. Every day from now until December 20th, we'll be offering 5 awesome gifts ideas for everyone on your list. Have a special request? Email it to us at [email protected] We're starting with geeky/techie/watch-obsessed dads. Here are 5 he's definitely going to love. (more…)
Found: Ian Ziering's Diaper Dude Diaper Bag
Is it just me, or does Ian Ziering look hotter now than his old 90210 days?  Check out the new dad with his wife and baby girl, Mia Loren, visiting a local pumpkin patch in Los Angeles last weekend.  He has that sexy new daddy glow, and he wins brownie points for carrying a cool camo Diaper Dude diaper bag that costs just $56. (more…)
Moms Have Baby Showers and Dads Have…Dadchelor Parties?
You know how pregnant women have baby showers to celebrate the upcoming arrival of baby? Well, according to a segment on last night's Nightline, an increasing number of dads-to-be are having dadchelor parties. Basically, a dadchelor party is baby shower for dads, only instead of sitting around opening gifts from a baby registry, the men are partying like they would at a bachelor party--picture a night or even a weekend of drinking, bar-hopping and gambling.  They're celebrating those last moments before the guest of honor's life changes forever, only this time it isn't from marriage, but from having a child. (more…)
Last-Minute Father's Day Idea: Matching Daddy & Me Swimwear
Think mothers and daughters are the only duo who can pull off a coordinating look? Think again! Check out these matching father/son swimsuits from Ralph Lauren. Just in time for Father's Day, we say get dad and his little guy coordinating swim trunks so they can hit the beach in style this summer. Use 2-day shipping and your order will definitely arrive before Sunday. And then maybe you can all head to the beach afterwards! [slideshow] Shop more of the best boys' swim trunks in our buying guides. Sign up for our newsletter to get even more finds delivered right to your inbox. Click here to email Jeanine, the author of this post.
Would You Let Your Man Wear this Tee?
With Father's Day around the corner, there's no shortage of funny dad tees to go around.  I've seen one that proudly says "My boys can swim" and another that brags "He shoots...he scores."  And then there's the one above that says "Yeah, I knocked her up." I don't know about you, but I'd be mortified if my husband wore that shirt in public.  Scratch that...I'd be mortified if he wore it at home.  Call me a Debbie Downer or someone who lacks a sense of humor, but I think it's tacky, and there is no way I'm letting my man where that shirt.  Lucky for me he wouldn't wear it in the first place. (more…)
The Ideal Father's Day Gift for the "Green" Dad
Here's the perfect Father's Day gift for the "green" Dad who recycles religiously and buys organic.  Available exclusively at Uncommon Goods, the gift set includes a rugged Diaper Dude diaper bag made from 100% post-consumer recylced water bottles, a "Produced Locally" bodysuit made with bamboo fibers, and the hilarious The Baby Owner's Manual with operating instructions, trouble-shooting tips and advice on baby's first year of life. (more…)
Etsy Sunday: Funny Father & Son Tees for Father's Day
Dad not really a "shirt and tie" kind of guy?  Maybe he'll change his mind with this funny father and son tee set from Etsy's SuperSweetCreations.  Perfect for Father's Day and will definitely put a smile on his face.  Dad's tee is available in S-XXL, and Junior's comes as a onesie, lap tee, or big kid tee. (more…)
Stuck on Father's Day Gift Ideas? How About Some Daddy Jewelry?
Still haven't picked out Daddy's Father's Day gift?  If he has plenty of ties and an iPad is out of the budget, how about some personalized Daddy jewelry instead?  And don't worry, the ones I'm talking about are just as masculine as him! (more…)
Hurry! Get $1 Father's Day Photo Cards from Tiny Prints
Father's Day is less than three weeks away, so if you want to get Dad a personalized photo card for his special day, you need to get moving.  Need some motivation?  Tiny Prints is offering cards for just $0.99. (more…)
When Is Father's Day 2011?
Mark your calendars mamas. Father's Day is June 19, which means you have just under a month to find dad the perfect gift. If your guy is new to this whole dad thing, here's a great gift he's sure to get good use out of: a daddy diaper bag. Oh yes, they make diaper bags just for dads so he doesn't have to carry around that designer diaper bag you love so much. Take a look at a few of our faves from Diaper Dude, Storksak and more. [slideshow] Bonus: After your little one has outgrown diapers, dad can also use most of these bags to carry around his laptop or other work essentials. Shop more diaper bags for dads in our buying guides. Sign up for our newsletter to get even more finds delivered right to your inbox. Click here to email Jeanine, the author of this post
Need a Break from Carrying the Diaper Bag? Get Dad a Daddy Diaper Bag
Thinking of Father's Day gift options for the new dad?  How about getting him his own daddy diaper bag so your poor back can take a break!  Like this Diaper Dude bag with a rugged camo print.  It's plenty manly and convenient, too.  Not too big or too small, with lots of pockets to keep him organized on his day out with baby. (more…)
Make Your Man a Baby-Wearing Daddy With a Moby Wrap
Trying to figure out what to get a new dad for Father's Day?  How about his very own baby carrier like the one that Alanis Morissette's hubby, Mario "Souleye" Treadway, uses to tote around their son, Ever.  It looks like a brown Moby Wrap, and from the looks of their faces, both Daddy and Ever are enjoying the ride.  We actually think it's one of the best baby carriers and here's why: (more…)
Would Your Guy Wear Spanx?
My husband never fails to surprise me.  This time around, it was his thoughts about Spanx for men.  I thought he'd laugh about the Compression Tees and Zoned-Performance Crew Necks and make some joke, but nope.  He said he'd wear them if they were comfortable and if they actually make him look better like in the photo below.  Hmmm, I guess it's not just women like me who worry about muffin tops and love handles.  And let's not forget about their beer bellies! (more…)
Shop for a Cause! Gap Joins Japan Relief Efforts with Limited Edition Tees
Looking for ways to help support the relief efforts in Japan? Purchase any of these Gap limited edition Japan Relief tees, and the profits from the sale will be donated to GlobalGiving's Japan Earthquake and Tsunami Relief Fund. Buy one for yourself and another for your man, and if it's just not your style, you can give directly to GlobalGiving from the Gap website. (more…)
Check Out Matthew McConaughey's (Double) Stroller Style
It's always a breath of fresh air to see a dad pushing a baby in a stroller.  But to see Matthew McConaughey pushing not one, but two babies in a double jogging stroller?  That would make any woman's day.  Feast your eyes on the hottie dad pushing his two kids Levi and Vida in a Baby Jogger City Mini Double Stroller in Malibu last weekend. Price: $430 with free shipping Get Yours: toysrus.com Find more of the best double strollers in our buying guides. Plus, find out which celebs are expecting at People.com. Sign up for our newsletter to get even more finds delivered right to your inbox. Click here to email Farah, the author of this post.

Steal the Look: Eric Dane's Sexy Daddy Diaper Bag
Want a daddy diaper bag your man will actually carry?  How about this Storksak Emily Baby Bag?  It's fully loaded with plenty of pockets, a changing pad, and insulated bottle pockets, and the taupe  color and silver hardware are classic and handsome--not too feminine.  And if it's good enough for hottie Eric Dane (that's him above with his beautiful baby Billie Beatrice), it should be good enough for your man. Price: $375 Get Yours: neimanmarcus.com Find more designer diaper bags and black diaper bags in our buying guides.  Plus, find out which celebs are expecting at CelebrityBabyScoop.com. Sign up for our newsletter to get even more finds delivered right to your inbox. Click here to email Farah, the author of this post.
Don't Forget Dad This Valentine's Day. Here Are 5 Gift Ideas Just for Him
The traditions of Valentine's day are decidedly feminine: roses, fancy chocolates, jewelry, perfume. And though a day about love obviously should celebrate the important man in your life, it can be challenging to find a gift that isn't, well, really for you. So we went ahead and did the looking for you. Check out these 5 Valentine's Day gifts for your man--we promise he'll, well, love them. [slideshow] Click here for more great Valentine's Day ideas. Sign up for our newsletter for even more finds delivered right to your inbox. Click here to email Courtenay, the author of this post.
Sale Alert! 30% Off Diaper Dude Dad Diaper Bags
Tired of being the only one schlepping the diaper bag around when there's another set of hands with you (aka Dad)?  If his biggest excuse is that he doesn't want to carry a girly diaper bag, then it's time to invest in a dad diaper bag. Check out these manly picks from Diaper Dude. There's nothing feminine about camo and guitars, and they're all on sale. P.S. I've had the Camo Backpack for about three years now, and it's the best diaper bag for traveling. There's plenty of space for a days' worth of stuff for two kids, the camo print is fantastic for hiding dirt and stains, and my husband doesn't mind carrying it when it's his turn. Diaper Dude Camo Backpack ($61, was $87) Diaper Dude Gray Diaper Bag ($35, was $50) Diaper Dude Faux Suede Print Bag W/ Flap ($73, was $105) Find stylish black diaper bags, designer diaper bags and cheap diaper bags in our buying guides. Sign up for our newsletter to get even more finds delivered right to your inbox. Click here to email Farah, the author of this post.
A Funny Daddy Tee Every Man Should Own
The Mitetees post I wrote earlier this week got me thinking more about the current celebrity baby boom.  Yes, we're all excited about Natalie Portman and Kate Hudson being pregnant, but what about all the famous men? David Beckham is preparing for #4 (fingers crossed it's a girl), and Owen Wilson, David Schwimmer, and New Kid on the Block Joey McIntyre are expecting. OK, they're not pregnant, but they should get a little credit, right?  That's why every dad-to-be should have his own "Co-Producer" dad tee.  You know, to let everyone know that mom couldn't have done it all by herself. Price: $27 Get Yours: mitetees.com Find more of the best baby gifts in our buying guides. Plus, find out which other celebs are expecting at People.com. Sign up for our newsletter to get even more finds delivered right to your inbox. Click here to email Farah, the author of this post.
Get Your Man to Change Diapers… Like Cristiano Ronaldo
Don't feel like your husband puts in equal time when it comes to changing baby's diapers?  If he's a big soccer fan, tell him that Cristiano Ronaldo does it. And if the best soccer player in the world can change diapers, he should, too. And then get him this funny dad tee from 2Chix that says "Changing the world…one diaper at a time."  Hey, it's not the World Cup, but it's something. Price: $38 Get Yours: 2chix.com Find the best gifts for new dads and diaper bags for dads in our buying guides. Sign up for our newsletter to get even more finds delivered right to your inbox. Click here to email Farah, the author of this post.
Top 5: Places to Score Last-Minute Holiday Gifts
Yes, Christmas is a mere 4 days away, but you know what? It's still not too late to order gifts online. Really! Lots of retailers are still guaranteeing Christmas delivery and the even better news is that they aren't charging you for it. So if there's still someone you'd like to send a gift to--yes, yourself included--here are 5 sites with a proven track record of speedy delivery and awesome customer service in case anything goes awry. 1. Zappos.com: Believe it or not, you actually have until 12/23 to place your order because Zappos.com is offering free overnight shipping on all orders. But really, why put off until tomorrow what you can do today, right? I'm sure you know a little one who could use this adorable reindeer coverall for his/her first Christmas picture. (more…)
18 Days of No-Fail Stocking Stuffer Ideas… Mighty Wallet
This water- and tear-resistant wallet  with credit card slots and pockets will keep dad organized in the new year. It's expandable, durable, and made from the same stuff as those express mail envelopes you can never seem to tear! Choose from unique patterns like a watercolor sketchbook, looseleaf paper, or weathered leather, all which will break in over time but remain incredibly strong and useful. Price: $15 Get Yours: quirkgallery.com Don't forget to check back each day for more super stocking stuffer ideas. Sign up for our newsletter for even more finds delivered right to your inbox. Click here to email Courtenay, the author of this post.
Because He Lets You Have a Mom Cave, Make Dad Smile This Season With An Amazing Gift
If at any point over this past year, you've thought to yourself, "Wow, my children have a great dad" or "How did I get so lucky to snag this man?" you need to knock dad's socks off this holiday. No more ties, homemade cards with the kids or those other cheesy dad gifts. Sure, he appreciates just about anything he receives, but this year why not get him a gift he freakin' loves? We found 4 that will make him giddy. I know, $149 for headphones is absolutely insane, but you really do have to experience these in person to understand. I tested them earlier this week and they blew my current headphones out of the water. If dad loves music, this is easily the best gift ever. If dad is the designated videographer of the family, he can't do his job without the best equipment. Treat him to a new Flip ultraHD video camera ($200) and he'll be able to easily capture the kids' reactions to all their gifts. PS: Personalize his Flip with his favorite picture of the little ones. For all the workaholic dads out there, help him enjoy his downtime in style with these handsome Allen Edmonds slippers ($125). The inside is so ridiculously soft, we have a feeling he'll never want to take them off. If dad has a taste for the finer things in life, surprise him with this luxe Sturhling watch. It was originally $795, but now it's down $300. Of course, dad doesn't have to know that. Still haven't started shopping for the kids? Hit up out sold-out guide for everything you need. Sign up for our newsletter to get even more great finds delivered right to your inbox. Click here to email Jeanine, the author of this post.
18 Days of No-Fail Stocking Stuffer Ideas… App Magnets
If dad's obsession with his iPhone is borderline unhealthy, he's sure to get a kick out of this set of 18 magnets that look like popular App buttons. Sure, magnets on the refrigerator are a bit of a throwback for a tech-savvy guy like dad, but they're perfect for displaying the kids' artwork in his office. Price: $13 Get Yours: thinkgeek.com Don't forget to check back each day for more super stocking stuffer ideas. Sign up for our newsletter for even more finds delivered right to your inbox. Click here to email Courtenay, the author of this post.
Don't Forget About Dad… Save $120 On A New Toshiba Laptop
Okay, we've got the top gifts for kids covered and the SHEfinds team has you covered, but there's one glaring omission: dad! If the one thing dad has been asking for all year is a laptop, here's a deal you shouldn't pass up: a brand new Toshiba laptop for under $700. In the days leading up to Thanksgiving, Toshiba has been offering incredible deals on their amazing electronics. I'm a huge fan of Toshiba laptops because they're powerful and durable, so I couldn't resist sharing this online deal. Here are some of the highlights dad is sure to appreciate: Blu-ray™ & DVD SuperMulti drive Integrated webcam harman/kardon® stereo speakers Windows® 7 Home Premium You can't deny this is a great deal, but there's one catch. You have act fast because the price goes back up tonight at midnight. Price: $699 (down from $819) Get Yours: toshibadirect.com Sign up for our newsletter for even more finds delivered right to your inbox. Click here to email Jeanine, the author of this post.
A Hilarious Last-Minute Halloween Costume for Expecting Dads
I saw this Hangover Baby Carrier T-shirt advertised in my Kohl's mailer today. Yes, it was funny on the page, but I couldn't imagine someone actually wearing it out. But then I remembered that Halloween is right around the corner, and thought that it just might work as a last-minute Halloween costume for the dad-to-be.  It might not be enough to win first place for best costume, but it should get him a few laughs. What do you think? Price: $20 Get Yours: entertainmentearth.com Check out more hilarious maternity Halloween costumes in our buying guides. Sign up for our newsletter for even more finds delivered right to your inbox. Click here to email Farah, the author of this post.
Traveling with Baby? Don't Leave Home Without a Diaper Dude Backpack
Holiday travel season is around the corner, so if you're planning on going anywhere with baby, don't leave home without this Diaper Dude Backpack. The sporty backpack diaper bag has three separate compartments to help keep all your things organized and has a clever fold-out changing pad for easy diapering. It also has the requisite insulated bottle holder and pouch, removable phone holder on strap, padded shoulder straps, and clips to hang it on the stroller. You're probably wondering about the camo print, huh? Well, it's designed for Dad (hence the name Diaper Dude) so you won't be stuck carrying it through the airport. Awesome, right? It's also seriously on sale so get one now! Price: $61 (originally $87) Get Yours: 6pm.com Find more of the best diaper bags, messenger diaper bags and diaper bags for dads in our buying guides. Sign up for our newsletter for even more great finds delivered right to your inbox. Click here to email Farah, the author of this post.
Send Dad Back to Work Organized And Stylish With This Jack Spade Work Tote
Tired of seeing dad trudge to work every morning with that same briefcase or messenger bag he's been using for years? While you're stocking up on new back-to-school supplies and gear for the kids, treat dad to a new work bag so he doesn't feel left out. This nylon Jack Spade work tote is super sturdy, so it can hold a laptop, a few file folders, plus dad's keys and wallet. There's even an outside pocket you can pack his coffee mug in. Once he's all packed, dad has the option to carry this tote in his hands or use the shoulder straps to wear it crossbody style. And let's face it: on the weekends, it makes for a pretty hip tote for dad to carry around diapers, wipes, a sippy cup and a few snacks. Sorry, dad--this find is just a little self-serving. Price: $143 Get Yours: zappos.com Click here to email Jeanine, the author of this post.
Thank You Levi's and Brooks Brothers For the Best Birthday Gift for Dads… Ever
Considering how excited we are about Levi's and Brooks Brothers recent collaboration, we can't even imagine how excited dads are going to be. Levi's created three exclusive denim styles for Brooks Brothers and they are awesome. Imagine taking what guys love about Brooks Brothers--expert tailoring and fit--and marrying that with what Levi's is known for--durable, quality denim. It's the perfect jean union, right? Each of the three styles is available in two different washes, so whether dad has a birthday coming up or your anniversary is right around the corner, you now have the perfect gift. Price: $148 Get Yours: brooksbrothers.com Click here to email Jeanine, the author of this post.
Are Dad's Dingy Undershirts Grossing You Out? It's Time to Update His Underwear Drawer
As long as they're relatively soft, most men could care less who makes their undershirts and underwear. But you have to look at them and there is nothing sexy about a disintegrating grayish-yellow t-shirt. So take the shopping reigns back from dad--at least when it comes to underwear shopping--and get him these long-lasting Calvin Klein t-shirts. They're made with a technologically advanced fabric that wears better than any other so they'll look new and bright white longer. And if dad's underwear could use an update, too, BareNecessities.com is having a buy 3, get 1 free sale on all Calvin Klein underwear and tees. So get dad four new undershirts, plus a pack of boxer briefs and you'll get an extra pack on the house. Price: $35 (for 2) Get Yours: barenecessities.com
If You Don't Want Another Baby On Your Hands, Save Dad From A Painful Sunburn With This 3-in-1 Sunblock
You never leave the house without rubbing your little ones down in the best sunscreen for kids and you always remember to apply your own, but what about dad? If you can't get him to slather on the sunblock, get him this Neutrogena facial moisturizer that comes with SPF20 already in it. This way dad gets his protection from the sun's rays just by doing what he probably already does every morning after he washes his face. In addition to hydrating and protecting dad's skin, this lightweight moisturizer is fast absorbing and also soothes razor irritation. It's basically a surefire way to guarantee you want to have baby your husband back to health. Price: $7 Get Yours: drugstore.com
Found: The Coolest Men's Crocs Ever. Plus, They're 50% Off
Call us crazy, but we're sort of falling for Crocs. These corduroy loafers are ridiculously cool and despite being corduroy, they're prefect for summer. Like all Crocs, the insoles are odor- and bacteria-resistant and the footbed has nubs that stimulate circulation and blood flow. The outsole is designed to absorb shock with the patented crocsLite technology. What's more, they're eco-friendly--these Crocs are made with recycled materials. So if dad needs a new pair of summer shoes, we have a feeling he's going to love these. Price: $25 (down from $50) Get Yours: piperlime.com
Help Dad Fake A Six-Pack With Spanx for Men
If dad has been slacking off on his workouts, this compression tank will come in handy. Moms, it's time to share the Spanx love and get dad some shapewear, too. Once he gets over the idea of wearing shapewear, he won't want to leave home without it. This compression tank sucks in his love handles, firms his chest, flattens his stomach and supports his lower. You want one, right? It's perfect for that upcoming wedding to ensure dad looks his best. Price: $55 Get Yours: spanx.com
Don't Forget About Dad… Team USA World Cup Track Jacket
If dad is stoked Team USA is still in the World Cup, get him this Nike USA team jacket to wear to the next match. The cool track jacket style flatters just about all guys' figures and it's machine washable so it will bright and clean for all our upcoming games. Best of all, because it's red, white and blue, dad can also wear it on the 4th of July and to show his national pride. Price: $80 Get Yours: nordstrom.com
Don't Forget About Dad… Frette Bathrobe
Because dad is so stellar and he's always there to fix broken things and give you a break when you're at your wits end, we chose this incredibly luxe Frette bathrobe just for him. Father's Day is right around the corner so if instead of more tools or gadgets what dad really needs is some rest, this is the gift for him. Frette is synonymous with luxury. This 100% cotton robe is ridiculously plush and soft and because it's such good quality, it will last for years. Dad may not wear it every day, but when he does we guarantee he'll be in heaven. Price: $120 Get Yours: frette.com