Happy Early Labor Day: 25% Off eDressMe Sitewide (Gowns, Bridesmaid Dresses, More)
Get 25% off all eDressMe styles this weekend with code LABOR25 - including gorgeous gowns, bridesmaid dresses, reception and rehearsal dresses, and pretty much any flirty frocks you need for wedding-related events. (more…)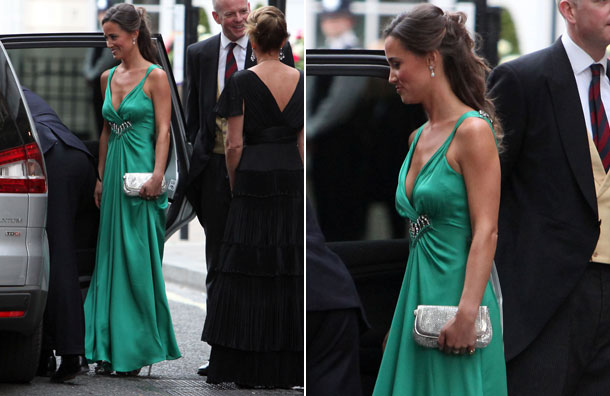 Pippa Changed Into A Reception Dress, Too! Behold, Her Emerald Green Evening Dress With Diamond Details
Kate Middleton's sister, Pippa Middleton is determined to wow us today. As if her first dress by Sarah Burton at Alexander McQueen wasn't enough, Pippa pulled out all the stops with her second dress by Temperley London, a beautiful emerald green confection detailed with a diamante bustline. Lucky girl that her sister let her share the spotlight with a dramatic wardrobe change for the reception. We found a similarly gorgeous Temperley London dress below: Temperley London Long Melicent washed-silk gown, $1,495, Net-a-Porter (more…)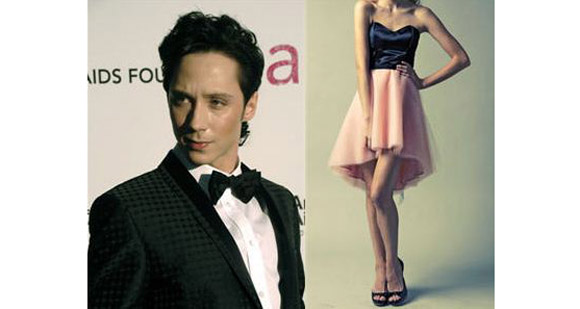 Johnny Weir For eDressMe: Not What You'd Expect From A Man Who Wears Sequins To Work
Flamboyant ice skater and sometimes-client of Rachel Zoe Johnny Weir has strong-armed his way into the fashion industry with the announcement of a Johnny Weir for eDressMe capsule collection. Our favorite people (The Cut girls) have the first photos and a word from Johnny on the line - which is not as outrageous as we would expect from someone who wears sequins to work. They're actually wearable for engagement parties and the like. (more…)
eDressMe Has Liz Fields Gowns On Sale — Act Fast
Bride and bridesmaid collections from dress designer Liz Fields have been popping up in bridal stores across the country. Both graceful and feminine, her gowns are an effortless choice for many -- especially when they're as affordable as they are right now at edressme.com's Lo-Ve-La by Liz Fields wedding dress sale. (more…)
Deal Of The Day: Up To 50% Off Summer Sweaters From The Gap
If you've gotten excited to shop for fall but just can't quite bring yourself to dive in just yet, hit a reasonable middle ground by picking up some layering steals from the Gap. This pleated sweater will keep you warmer than a t-shirt on cooler summer nights, and will look great under a light jacket come fall ($20 from $40). Capped-sleeves and a deep v-neck on a medium-weight knit are appealing all year-round ($20 from $30). A lightweight, neutral colored cardigan will complement almost any outfit ($40 from $50). And check out our cardigans guide for options to layer over a basic tee or flowy dress. More Sales and Deals: Lord & Taylor: Save 20% with code TWENTY Adidas: Save an extra 20% off sale and full-priced sneakers with code SAVINGS101 Swimsuits For All: Save up to 75% off sale items Shobha: SheFinds readers save $5 off Ingrown Relief Lotion with code 0709IRL520
Ask SheFinds: How Do I Keep Suede Boots Safe In The Winter?
A reader recently asked us a really, really good question that couldn't be more appropriate for this time of year: I just bought a pair of cute suede boots--so cute, in fact, that I never even stopped to consider that snowy streets would probably ruin the suede. How can I winterize my boots? We totally feel you on this one. For even in all our wisdom, SheFinds sometimes falls for the "too cute for practical concerns" purchase. Case in point: last month I ordered the Minnetonka Moccasins boots ($80) only to realize they wouldn't make it through a nasty New York winter without disintegrating in the salt and slush. Fortunately, there are ways to minimize--though not entirely eliminate--the possibility of damage from brutal weather. First order of business is waterproofing the boot. Try ReviveX Nubuck Suede and Fabric spray ($7). Since it's made especially for porous fabrics like leather and Gore-Tex, it won't darken or stain the fabric. Spray from about 12 inches away, wait for the boot to dry (about five or six hours), then spray again. That's a double coat, ladies--don't scrimp on this detail. To make sure your tootsies stay not only dry but warm, get some fleece insoles ($9), which will immediately make your boots feel more cozy. Have a question for SheFinds? Post it in our forum, and we'll get on the case!
Plan A Staycation For The Holidays. You Can See The Fam Next Year
Crowded airports. Over-the-top airline ticket prices. The threat of having to listen to Christmas carols on continuous loop during an eight-hour car trip. Do the hassles of holiday travel have you breaking out in hives this holiday season? You're not alone—people the world over are batting down the hatches and staying put this winter, choosing staycations over vacations, even if it means missing out on family time. House-bound staycationers are using home videos to keep in touch with loved ones. A tiny point-and-shoot camcorder like the Flip Video Ultra ($130) allows you to shoot your live holiday greetings (or covert footage from your office party) and upload them to your computer in a snap via a USB port. A single candle can make your home smell like a cozy ski lodge at Christmas. We featured our favorites a few weeks ago, one of which is this Leaves Candle from Slatkin & Co. ($22). Since the best part of a staycation is that you don't have to put forth the effort to go anywhere, indulge in a soft cashmere robe ($230, was $398) and aloe-infused socks (3 for $15) to wear around the house - all week if you desire.
Vivienne Tam's Digital Clutch Is The Only Laptop We Actually Want To Lug Around
What: Vivienne Tam Digital Clutch, $700Why: When I first eyed the Vivienne Tam Digital Clutch on the runway of her Spring 2009 show, I wanted it immediately - as an evening bag. When realized it was actually a fully functioning mini laptop, it jumped to the top of my hoiliday wish list, as well as our annual Sold Out Guide. Unfortunately the clutch was only available for pre-order on the hp website. Until now, that is. Finally, you can order the poppy colored wonder at hp.com and have it in time to either surprise that special someone at Xmas or treat yourself to a well-deserved, and ridiculously chic, gift.Get Yours: hp.com
Sponsored Post: Tory Burch's Holiday Collection Might Be More Fun Than Your Holiday Parties
Inspired by the designer's childhood in Valley Forge and by Truman Capote's 1966 Black And White Ball at the Plaza, Tory Burch's Holiday '08 collection is sparkly but sophisticated. In a classic black, white and grey with pops of fuchsia, these are the sorts of classy pieces that fit right in at holiday parties. Play on the retro appeal of the Grania Dress by adding round-toe pumps, or make this embellished silk sheath look edgier with a pair of booties, like by Brylyn Bootie, a perfect peep-toe alternative to pumps for evening. If it's a glam day-to-evening bag you're after, the Green Patent Anna Satchel is a bold option in a shape that's new to the line. Wear it with a Rihannon Cardigan for a classic laid-back, pulled-together look – something like the ladies who partied at the Plaza back in the '60s.
Today on Better.tv and SheZoom: Beauty Multitaskers That Save Time, Space, And Much-Needed Cash
On today's Better.tv and SheZoom segments, SheFinds shows you some of the best 2-, 3-, and 20-in-1 beauty products out there. Read and watch below for our finds. Since we're always big on lip balm this time of year, we found a few balms that do double duty. Kiehl's Lip Balm #1 ($8.50) is always a favorite for lips, but you can also use it on cracked hands and dry cuticles – just a tiny bit goes a long way. If you buy this version, Kiehl's will donate 100% of net profits to HIV/AIDS charities. Philosophy's Hope in a Tube ($33) helps to soothe and hydrate lips while firming and reducing the appearance of fine lines – which is why you can use it on eyes, too. And Revolution Organics All-Over Body Balm ($28) has over 22 uses; smooth it on lips, hands, feet or even stretch marks or unruly eyebrows. Even more ways to get all-over moisture: Josie Maran Argan Oil ($48) is totally organic, and can be used to moisturize everything from cuticles to split ends. Palmer's Cocoa Butter Formula ($4.40) also manages flyaways and dry skin, plus it helps treat stretch marks and scars. A retro option, Elizabeth Arden 8-Hour Cream ($17) has had the same formula since 1930. Use it anywhere you need heavy-duty softening, or mix it with powder eye shadow for a creamy formula with a pretty sheen. Multitasking makeup is ideal for travel, or to just to remedy an overstuffed makeup bag. ModelCo's Luminosity Shimmer Stick ($28) can be used as an allover highlighter on eyes, lips, cheeks and décolletage. Avon's Be Blushed stick ($8) is particularly budget-friendly, and comes in eight sheer colors appropriate for lips and cheeks. Another convertible product for eyes and lips: Youngblood Crushed Mineral Eyeshadow ($18) – the highlighters in particular – can be mixed with clear lip gloss for a shimmery lip color, or even a sheer cheek tint.
News: Jerry To Pose For Chanel, Lindsay's Leggings Are A Must-Have If You Can Afford Them, And More
1. Jerry Hall will star in the latest ad campaign for Chanel handbags. Maybe Karl Lagerfeld will stick her in those jester-like two-tone tights. [CatwalkQueen]2. Lindsay Lohan's 6126 leggings have remained a hot seller this holiday season despite their steep prices. We even suggested hers as a milder alternative to liquid leggings. [NYDailyNews]3. Abercrombie & Fitch still refuses to cut prices or offer any discounts on their clothing. This is why they will never have the honor of being featured in our Deal of the Day. [WSJ] 4. Shop designs for Count Me In and support women entrepreneurs. Purchase a clutch from LMB Designs or a necklace from Jamie Diane. Enter MomFinds 12 Days of Giveaways. Today's prize: $100 Shopping Spree at giggle.com.
Sponsored Post: Bare Necessities Knows The Waist Is Not Always A Girl's Best Friend
Many women can relate to having their problem area only in their mid-sections. A waist cincher is supposed to reduce your waist measurement by an inch or two. But the real purpose is to shape your mid-section and give you that hour-glass shape. If the waist cincher you currently own is not doing the job, try a smaller size or a firmer control garment like the Miraclesuit Inches Off Waist Cincher. Another pick is Flexees Instant Slimmer® Firm Control Long Torso Waist Nipper, which is a long torso waist nipper that provides firm control. It targets your tummy to waist and is super comfortable because it is constructed of microfiber.Get Yours: barenecessities.com
Deal Of The Day: 20% Off Holiday Frocks At Shopbop – Last Day!
Forget the little black dress this holiday season and go for something merry and bright instead. These dresses will stand out from the endless sea of dark-colored cocktail frocks. Enter SNOWDAY at checkout to get the discount. It's sexy, it's sophisticated, and the smocked diamond detail at the waist makes the Black Halo Keyhole Diamond Minidress ($260, was $325) a flattering choice for almost anyone. The color of Lauren Conrad's Nora Dress ($208, was $260) gives the Grecian goddess look a mod twist. This Milly Chain Dress ($320, was $400) is very Jackie O., and perfect for transitioning from the office to the office holiday party.More sales and deals on the web:At Pink Mascara, get 25% off full-priced items with coupon code gift25, and 20% off all sale items with code 20offsale. Save 20%-40% at Paragon Sports's sale.Save an extra 20% on cashmere at Bluefly, today only The sample sale scoop - shop these sales today for huge discounts: Rachel Pally at Hautelook Botkier and M Missoni at Gilt Groupe Kooba and La Perla at Rue La La Inge Christopher at Editors' Closet
Want Lindsay's Timeless Glamour? Just Buy Her Expensive Leggings
Apparently, word of the recession hasn't reached Lindsay Lohan and her minions, because, according to this Daily News article, her pricey leggings are selling like mad. Some of them - like the Dom Leggings ($135) and the Mr. President Leggings ($139) with quilted leather knee patches - are cute, but I still don't think I'd drop a Benjamin on them. Others seem destined for the clearance rack. At least, I hope they are. The number of people who look good in skin-tight animal-print stirrup pants surely doesn't number into the double digits.Lohan's publicist Ali Brubaker says that they are "building a lifestyle brand that represents timeless glamour." Yes, because that's what springs to mind when I think of Lindsay Lohan. Would you spend over $100 on a pair of leggings? Let us know your thoughts in the comments section below.
What To Wear To A Funeral, Courtesy Of Gossip Girl
Last night's Gossip Girl was a somber affair, with the death of Chuck's father and Chuck, to quote Rachel Zoe, coming "undone." However, we got a look at the funeral chic of the Upper East Side gang and we have to say, who wears a one-shoulder evening dress to a funeral...Serena? S did look spectacular covered up, however, dressed head to foot in Burberry, Chanel, and Sigerson Morrison. But with this economy, you have to watch your dollar and come up with a more cost-effective ensemble. This Bebe Studded Long Trench Coat ($279) is a hot alternative to the Burberry trench and a gorgeous solution for covering up a holiday dress. If it's a quilted bag you seek, this Rebecca Minkoff Stud Clutch ($210) transitions effortlessly from day to night. Just pull it out of your tote and you're ready to go. Black pumps are one of the hardest working items in any wardrobe, and this pair of BCBG Max Azria Black Patent Jewel Platform Pumps ($170) will keep you stylish and comfortable.
MAC's Retro Glam Makeup Means You Won't Need A New LBD (Since Everyone Will Be Focused On Your Face)
I recently attended a MAC Cosmetics seminar, and I'm happy to report the retro diva look is in full swing (think Mad Men après five). Leading makeup artists instructed eager students in recreating the glamorous Hollywood look that Jayne Mansfield and others popularized - just in time for holiday festivities. Begin by arching and filling in your brows, keeping them on the thinner side. A mechanical pencil ($14.50) gives the most precision for this detailed job. After priming your lids, apply an eye color that's close to your skin tone, perhaps one shade lighter. Try Mineralize Eye Shadow in Word Of Mouth ($17.50), which you will also use to highlight under your brow bone. Shade in the crease using the copper that comes in the trio and sweep that same copper under your bottom lashes in a neat line that you softly smoke out. Boldly line your upper lashes in black – gel liners like Fluidline ($15) were made for this. Then top your lashes with a nice coat of black mascara, concentrating on the upper lashes but lightly touch the bottom lashes too. Although the lips are the last step in this process, the classic red lip color is the key to this look. A medium blue-red such as Red She Said ($14) will work for many skin tones.Get Yours: nordstrom.com
Freebie Friday: Win A $150 Shopping Spree At Kolobags.com
What: $150 to spend at kolobags Why: When browsing this site, you'll find stylish laptop bags – and you'll find them quickly and easily, because the ingenious Laptop Bag Finder allows you to narrow the selection by price, style, screen size and more. As a woman with a strong preference for totes and a mid-sized computer, I used the tool to help surface these two stylish bags:The Metrochic Paris Laptop Bag (left) would look totally in place next to tailored work clothes and smart black dresses, while the Samsonite Verana Leather Computer Tote is the perfect color for spring and summer. You can also browse the huge collection of laptop briefcases, laptop backpacks, and adorable luggage – plus many more computer-carrying options. We were drawn to the cheery printed overnight bags, like this dotted one, for just $35 each. How: Go to kolobags.com, browse around a bit, and pick out what you'd want to buy if you won. Then come back to this post, and leave a comment about your finds, and we'll enter you for a chance to win the $150 credit. Can't wait to win? Shop now and take advantage of the flat shipping rate – you can stock up on gifts for laptop-toting friends (or for yourself) and pay only $5.95 for shipping.And stop by MomFinds for a chance to win a $100 holiday card shopping spree at Minted.com. 1. Post in the comments section about what you'd buy with $150 from kolobags.com2. You must supply us with a valid email address and sign up for the SheFinds newsletter.3. The contest starts now and entries must be date stamped by our server no later than Friday, November 21st, 2008 at 11:59 AM Eastern Time to be eligible.4. One winner will be selected during a random drawing and will be announced in the November 25th SheFinds newsletter. The winner must reply via email as instructed in the newsletter to claim the prize.5. No prize substitutions.6. You must be 18 years old or older to enter and a resident of the USA.7. No purchase necessary.8. Void where prohibited.9. Click here for the full rules.
Clinique & Trina Turk Actually Give You More Than You Pay For Until November 22
With everyone watching their pennies these days, it's great to know you can get freebies with your new recession red lipstick. Clinique has partnered with Trina Turk on a free gift available with any $25 Clinique purchase at Nordstrom until November 22. She's designed a makeup bag exclusively for Clinique and filled it with her favorite essentials from the timeless beauty and skincare line. The stunning silver and white makeup bag is chock full of incredible products from Rinse-Off Foaming Cleanser to Colour Surge Eyeshadow. The pink, plum, and coral shades of makeup were a little summery for my taste, but I love the makeup bag. And if you're wondering which Clinique products you absolutely need, we recently featured the Moisture In-Control face lotion ($38) as an Oprah pick and the Advanced Concealer ($14) as a Cosmo beauty secret.
Interviewing? Look Like You Know What You're Talking About
A NY Times article brought about some conversation here at the Shefinds water cooler. With so many of us out there interviewing, what does one wear to make the best impression against multiple other job applicants? As someone who worked in corporate HR, I know you don't have to wear pinstripes to get your point across. We showed you one option a few months back, but here are a few other looks to try out: The Suit: Make it the best you can afford and purchase pieces that coordinate to make your life easier. J.Crew is a fantastic go-to resource for classic suiting at reasonable prices. Their Wool Gabardine Two-Button Jacket ($165) with corresponding City Fit Wool Gabardine Trousers ($95) makes a great pantsuit. Or switch out the pants for the Wool Gabardine Pencil Skirt ($78). I would suggest against wearing a black suit to the interview – dandruff or lint shows up like a neon sign. The Blouse: Finance and law can stick with the standard J.Crew Kelly Shirt ($54), but If you wear a white shirt, make it brand new or completely spotless. Less conservative atmospheres can utilize this season's purple to set off a great complexion, like this BR Silk Charmeuse Quilted Blouse ($79). Creative types? Show your personality with this cute Fred Flare Emerald Bow Sheer Blouse ($40).Remember to show personality through accessories but keep all your personal expression below the line of your eyes so interviewers are listening to you speak, not staring at your loud, jangling earrings.
News: Hayden-Harnett Could One Up Anya, Palin Wants That Manicure But Probably Shouldn't..
1. Images for Hayden-Harnett's line for Target have just been released. The collection debuts December 28th, and we hope it can live up to Anya. [Racked]2. Sarah Palin will head to a Miami press conference that will also offer a 'Day of Beauty' for Republicans to relax and unwind. We think she should instead opt for a cheap tube of lipstick to get her mind off the election. [TelegraphUK]3. The debut of Kate Moss for Topshop at a Hong Kong Lane Crawford store caused a serious ruckus this week. Not surprising - her Xmas collection sold out in 15 minutes online. [CatwalkQueen]4. Shop designs for Count Me In and support women entrepreneurs. A pendant necklace from H. M. Mills or charm necklace from Beth Ann Designs will make great gifts for the holidays.
Deal Of The Day: Up To 48% Off Basic Sweaters At The Gap
You can rely on these simple sweaters when you "have nothing to wear" - they'll work with jeans, trousers or skirts, and are incredibly easy to accessorize.We like the way the turtleneck on this lightweight sweater ($23, was $44) can be scrunched down in an uncalculated kind of way. The twisted neckline on this V-neck sweater ($23, was $44) provides feminine detail and a flattering silhouette. This crewneck sweater ($37, was $48) is shaped like a tee, but substantial enough to stand alone; zipper detail in the back adds interest. More sales and deals on the web:As seen in the SheFinds forum: 20% off Orla Kiely items at Ped Shoes with coupon code [email protected] Take an extra 15% off your order at Irv's Luggage Warehouse with coupon code HOLIDAY15. 30% off everything at Armani Exchange now through Sunday. The sample sale scoop – shop these sales today for huge discounts:Vince at Rue La La Walter, True Religion, Malia Mills and Lisa K at Hautelook Alvin Valley and Made Her Think at Gilt Groupe Dana David Jewelry and Junior Drake bags at ideeli. Use invite code shefinds.com.
News: H&M's Comme Des Garçons Will Most Likely Be Picked Over By The Time You Get To It Today..
1. Comme des Garçons debuts today in H&M stores. Be prepared for long lines, aggressive customers, and contextually expensive merchandise. [Racked]2. Macy's has reported a whopping $44 million loss in the third quarter. Help the poor retailer out by shopping their Something Extra Sale at macys.com. [WWD]3. Rumors have surfaced that Madonna could star in a new ad campaign for Louis Vuitton, following in the footsteps of Sean Connery. [Style.com via NYMag] 4. Shop designs for Count Me In and support women entrepreneurs. Pick up a Chain Maille Bracelet from 2 Beads & Me or GirlMoguls's Future Self Made Millionaire Girls Ringer T-Shirt.
Only 1 Day Left To Win A $250 Shopping/Borrowing Spree At Avelle (The New Bag, Borrow Or Steal)
There are so many options to choose from at Avelle, the new name for the now-infamous (thanks, SATC movie) Bag, Borrow or Steal. You can borrow a bag (see two of our favorites), buy a bag (check out today's Deal of the Day for ideas), or browse their extensive collection of jewelry and sunglasses. And we're giving you a chance to win a $250 credit to browse, borrow and shop with – but hurry up and enter to win, this contest ends tomorrow at 11:59 AM. To enter, check out Avelle then come back to SheFinds to tell us what you'd buy in the comments section. If you win, you could be carrying a brand new bag (or two) to all those holiday parties.
HeFindsAdam Cleans Up Nicely, Sees How Checks And Stripes Can Be Friends
On Day 3, the wonderful Kalyn Johnson came to my door to prepare an outfit for a more formal evening. Kalyn's work is featured in countless magazines, and she has a number of NYC clients who all rave about her, including Ryan Smith, the co-host of BET's My Two Cents. She has created a "Little Purple Book of Style" that everyone should get their hands on – focusing on the essentials of building a better wardrobe. Kalyn's first suggestion was to go shopping and accessorize. Combinations of ties, cuff links, and shoes can really make an outfit extra special. She also felt I needed a great pair of black dress shoes from Johnston and Murphy as a staple to my wardrobe. Kalyn showed me ways to put together patterned dress shirts and ties – combinations that I would have never thought of myself. She combined a striped blue tie similar to the one above with a white and blue checked button-down to create a unique and modern look. Another great suggestion was to replace plastic shirt collar stays with stainless steel versions for the most important shirts in my wardrobe. Kalyn provided me with a full evaluation of my formal wardrobe after our meeting and I highly recommend learning more about this fantastic stylist at www.kalynjohnson.com.Here are Kalyn's stylist tips:Suits: A charcoal grey suit will look great on you and will work with most of the dress shirts you own. Once you find the right charcoal grey suit, you will be able to use it in place of your black suit. Go for an all-weather fabric, a 2-button jacket and flat-front pants with pant legs that narrow towards the ankle.Shoes: One way to update or elevate your look is to invest in new shoes. Plan to spend at least $250 on one pair – over the course of time, you will get your money's worth. Break down the cost of the shoes by number of times you will likely wear them (or number of years you will wear them). Don't let the dollar amount scare you off, focus on maximizing your investment over the long-haul. Accessorize, accessorize, accessorize: Accessories can make or break an outfit; I cannot emphasize this enough. For your formal wardrobe, that really means ties and cuff links. Consider adding a pop of color to your tie collection. And for the bling at the wrist, find a pair that make your heart leap. Check out Paul Smith, Century 21, Saks, Bergdorfs, and Steve Alan.And check out our guide on how to Hippify Your Guy for more ways to make your man stylish.
Today on Better.tv: Shapewear You'll Want To Show Off
Today on Better.tv and SheZoom, SheFinds shows you some of the sexiest shapewear around – stomach cinchers and butt lifters so cute, you'll at least want to walk around your house in them. For even more attractive body shapers, check out our Sexy Shapewear Guide. And watch the SheZoom segment below! Suck In Your Tummy Without Holding Your BreathFor moderate tummy control in a very pretty package, Flexees Smooth Black Lace Cami (left, $22) is a surprisingly affordable option. A more thorough alternative, Slimpressions Seamless Torso and Arm Shaper (center, $72) smoothes not only your midsection, but upper arms and back as well. It even has mesh armpits for breathability – you can tell a woman invented this thing. Va Bien's Ultra-Low Plunge Body Briefer (right, $80) offers firm control for hips, butt and tummy, plus a built-in bra and adjustable straps. And the plunging design and mesh insets are undeniably sexy. Instant Buns Of SteelWhile we'd never put down the classic Power Panty, SPANX has an even prettier option in their Hide & Sleek Lace Trim Shaping Panty ($30). The light-control lingerie is perfect for wearing under fitted pants or skirts, especially since the microfiber it's made from won't stick or cling. Sassybax Bottoms Up Leggings ($68) will also give you a slimmer-looking rear end (and it "lifts and separates" – that's hard not to love), but these leggings continue down to the ankles for an all-over smoother look.
Warning For Those Looking To GOOP Like Gwyneth
So, we told you about Gwyneth entering the blogging/website world with GOOP, which gives Gwyneth's view on how to 'Paltrow-fy' your life and be Gwytheth-level fabulous. This week's newsletter centers on the ubiquitous LBD (Little Black Dress) and how to accessorize this closet workhorse to take you through a very busy day/week. These looks from her newsletter are cute but we think they should come with a warning label or two: Warning #1 – Hot pink hosiery with your LBD will not work on you unless you are very tall and very thin (and even then, we're not so sure). Add ankle boots to the mix and it will amplify any imperfection in your legs and make you look stumpy. Patterned tights will add necessary impact and keep the eye moving, like these cute Hue Argyle Sweater Tights ($18). Warning #2 – You are taking style advice from someone who grew up as Hollywood royalty, has always been wealthy, and apparently has no concept that the rest of us do not consider Roger Vivier and Gucci as "running errands" labels. The Gucci Babouska boots shown she suggests will set you back about $995! Why not take the studded inspiration in a style that elongates the front of the leg, like these Steve Madden Elivate Booties for $169? We DID love the cardigan and belt look she showed with the little black dress. For a recessionista-friendly take on this look, try pairing your LBD with a Forever 21 V Neck LS Cardigan ($19.80) with this slightly edgy Gap Leather Belt in Black ($39.50). Now you have enough money to try one of the restaurants she mentions in her beloved Zagat guide. After all, great style will take you to the hottest restaurant in town, but if you can't afford to try the food, what's the point?
HeFindsAdam Realizes Casual Means More Than Gym Shorts And A Hoodie
What a pleasure it was to meet the incredibly upbeat and personable Amy Salinger, my second stylist of the week. Amy's a professional stylist who has been on every TV network and magazine including MTV and The Today Show, and has worked with several celebrities. She was also a cast member on the reality show The Cut. I was excited to spend time with her to come up with a casual daytime ensemble. Amy first tackled my shoes. She pulled out a pair of blue Adidas (similar to the ones above) that she thought were great. Amy showed me a ton of different items to wear with them and suggested getting additional casual and "dress casual" shoes at DSW or Zappos. Once we got the shoes sorted out, we focused on a casual outfit for day. Amy really liked a Cordarounds pair of pants that I owned (and reviewed for GuyFriday) and suggested matching them up with a dark blue casual fleece and grey undershirt. She brought out my Adidas shoes and we were good to go. I would have never put this outfit together myself, and I think Amy did a great job of taking me to a place that I would never have gone on my own. I highly suggest learning more about Amy on her website at www.amysalinger.net!Here are her stylist tips:Mixing patterns: Subtle with subtle always works. Subtle with bold is more daring. Save the bold with bold for when you are a pro!Add an unexpected color. The key is to have everything match and then throw it off with one surprise color. This is what sets you apart from the crowd!Layer it up! T-shirts, button-downs, sweaters, and blazers. This is the order from which to layer. Think options... Layers one and four. Layers two, three and four... And check out our guide on how to Hippify Your Guy for more ways to make your man stylish.
Cougars With Cocktails Inhabit This Week's Lipstick Jungle
Friday on Lipstick Jungle, we saw the fabulous threesome hit a cocktail party to celebrate the launch of a new sports magazine under Nico's management. The ladies looked spectacular as usual, but there's something particularly interesting about Victory's dress - it's the same Andrew Gn design she was wearing when we interviewed her at the Tide Party! Evidently, this is a custom version of one of his dresses, but you can grab this Andrew Gn Wool Jersey Dress with Leather Trim ($2,045) and have the cuffs customized too if you're willing to shell out the cash. Pair it with the shoe choice from the show, these hot MICHAEL Michael Kors Penelope Sandals ($128). As for the other two fashionistas, how about taking some inspiration from their pieces without spending a mint? This Phoebe Couture Stretch Satin Strapless Dress ($270) is a great holiday-savvy take on Wendy's style. For Nico's form-fitting silver dress, try this Silver Label Grey Pleated Dress ($148) It's a sure-fire way to take your look from office to evening. You can also see this post at SeenON's Lipstick Jungle page for these and other styles from Friday's episode, plus info on where to buy them.
Oprah Gives Us A New President, Now A Perfect Skin Regimen
Yesterday's Oprah had Dr. Oz talking about the science of beauty for his new book, You: Being Beautiful. I was happy that Big O reinforced what we've been telling you all along -  you don't have to spend tons of money to get gorgeous skin! All of us are afraid of wrinkles and dramatic skin changes, even the non-sunscreen wearing surfer mom on the show yesterday (yes, she surfs every day but doesn't wear sunscreen and is afraid of wrinkles – marinate on that for a moment).  Dr Oz says anyone concerned about wrinkles should use products that contain Vitamin A, C, and E – key anti-oxidants that cause cellular turnover, put niacin cream on your skin, and exfoliate. Beauty expert Paula Begoun went on to recommend products for your own skin regimen: Everyone should be using a gentle cleanser to clean your skin daily (the trick is that if you splashed it in your eye, it doesn't hurt, like baby shampoo). They recommend Olay Foaming Face Wash ($4.40) and so do we! Your next step is to exfoliate the skin to stimulate cellular turnover and an alpha-hydrox lotion does the trick.  This Alpha Hydrox AHA Enhanced Lotion ($11.99) is a one-step process that gently exfoliates. Moisturizers are the most baffling key to any beauty regimen and the key is what's in them; antioxidants along with Vitamins A, C, and E are vitally important.  Clinique's Moisture Surge Extended Thirst Relief ($34) contains these important ingredients.
Fashion Top Five: Sane-Looking Patterned Tights
We love certain patterned tights, but we're conflicted about supporting the category as a whole. Some patterns, like complicated flowery lace or horizontal stripes, can make legs look bizarre or stumpy. But others – including the five below – are a flattering way to add texture to an outfit. As a bonus, they'll probably help keep your legs from freezing off.These Diamond-Knit Tights ($9.50) will keep the chill out – no holes here – but the nylon/spandex knit isn't too chunky. SPANX Tight-End Tights in Geo Stripe ($42) are my new favorite fall tights; they add interest to my extensive LBD collection and have a flattering vertical pattern. Probably the most out-there pick in the bunch, Urban Outfitters' two-tone tights ($14) mimic the look of Sarah Jessica Parker's absurdly expensive Chanel pair (they sell for $250). These ribbed tights ($16.50) have a subtler pattern than the pair above – you could even pair them with a printed dress. We think every woman should own a pair of fishnet stockings ($12.50 at Bare Necessities); just make sure the knit is relatively small, and please promise not to wear them with miniskirts.
Cosmosis Knows Not All Women Like To Wear Sneakers On Their Commute
As a public transportation commuter, the fall-to-winter transition is always the hardest time of year to find the right shoes. The shoes have to be socks-compatible and comfortable enough to trek several city blocks, plus they have to be cute and versatile enough to wear with plenty of outfits. I was thrilled to find Cosmosis shoes because several styles hit all my points. The chic silver Nice loafers ($150) are a lovely break from your typical slip-on athletic shoes, and they feature the patented Reflex Zone Bed - five cushy pads of massaging delight that help improve circulation and relieve foot stress. And for winter, I'm liking the Alaska tall boots ($250). They're a nice departure from the ever-present Uggs, but cozy shearling-lined nonetheless. The founder of Cosmosis started her own shoe line so she could find wearable shoes to fit her size 12 feet. Since she knows the plight of the large and small-footed women out there, all the shoes in her online boutique are available in sizes 5 through 14.Get Yours: ShoeSizes5to14.com
Latest Blog Posts From MomFinds
Deal of the Day: Up to Half Off Outerwear at Old Navy It used to be that you could never get great deals on winter coats and jackets until the season was almost half over. But before most of the country has seen serious snow, Old Navy is there with major markdowns on this season's outerwear. Alleviate Carpal Tunnel Syndrome with Wrist Guards Designed Just for WomenWellgate's Wrist Support fits like a glove, and it's supportive without being restrictive. Win it Wednesday: Win a $100 Shopping Spree for Holiday Cards at Minted.comDon't wait until the last minute to get those holiday cards made. In fact, get them done early (and for free!) with this week's prize courtesy of Minted.com, a fantastic site loaded with gorgeous customizable greeting cards.
News: Victoria's Secret Causes A Class Action Breakout, Payless Gets Philanthropic, And More…
1. Victoria's Secret is facing a class action lawsuit for allegedly using formaldehyde in their Angel Secret Embrace and Very Sexy Push-Up Bras. For chemical-free options, shop our SheFinds Bra Guide. [ABCNews]2. Payless will donate $1 million worth of shoes to several charities this holiday season. Now we like Payless even more. [NYMag] 3. Sarah Palin has proclaimed herself a "fashion novice", and is playing dumb regarding initial knowledge of the prices racked up at Neiman's. We still think we could have helped her and the RNC out with cheaper finds. [WSJ]4. Shop designs for Count Me In and help women entrepreneurs while you're at it. Pick up some Card Stix or a pair of Labradorite and Pearl Earrings - they'll make great holiday gifts.
Deal Of The Day: 70% Off Elegant Jewelry At Brooks Brothers, Plus 30% off at Shopbop
Preppy-style jewelry can be surprisingly versatile – as long as you only wear one piece at a time, and it's not a short pearl necklace.This gold-plated Safari Bamboo Link Necklace ($98.40, was $328) can be worn with a pile of chains, or a slightly earthy addition to a prim and proper outfit. A classic resin bangle ($38.40, was $128) in rich brown goes with all your fall staples.Use this Nonogram Pin ($44.40, was $148) to close a cardigan or as a sophisticated accent on a simple wool coat. More sales and deals on the web: As seen in the SheFinds forum: 20% off select Hip-T's. 30% off all full-priced clothes and shoes at Shopbop with coupon code EARLYGIFT. Today and tomorrow only. Up to $40 off boots at Steve Madden. The sample sale scoop – shop these sales today for huge discounts:Carolina Herrera at Editors' Closet. Enter coupon code "OnlyForSheFinds" for an exclusive $50 discount at this sale. Marc by Marc Jacobs at Gilt Groupe Tracy Reese and Acrobat at Hautelook Natalie Portman for Te Casan at Ideel. Use invite code shefinds.com.Elie Tahari outerwear at Rue La La
Lofli Jeans And T-400 Are Quietly Taking Over Hollywood (Sounds Like A New Sci-Fi Flick)
What: Lofli Jeans, $198Why: We wouldn't say celebrities have more style than the rest of us; they just have access to more options, and get to pick from the best of the best. And so it's worth noting that Lofli jeans have been spotted hugging the perfectly sculpted derrières of Jennifer Aniston, Angelina Joilie, Sienna Miller, Kate Hudson, Audrina Patridge and Jessica Alba who are all reportedly huge fans. But despite their popularity with celebs and chic Europeans, they're still flying under the radar in the States. That's a shame, because in addition to the sexy, streamlined fit that's devoid of unnecessary bling, they've got substance along with style. There's no gap between the jeans and the small of the back, and a T-400 fabric prevents bagging at the knee (much like the DL1961 denim we higlighted last week). Get Yours: shopbop.com And shop our Denim Guide for other stylish and classic finds.
Michelle Ditches Narciso For Maria During Her First White House Visit
After the controversy that erupted from her election night dress (many said she resembled a life-sized lava lamp), Michelle Obama opted for a less busy, but no less bold red sheath dress for her first visit to the White House this week. The dress was by Maria Pinto, no surprise there, and was received in a much more positive light than her Narciso decision. If you approve of the future First Lady's White House look, we suggest Vivienne Westwood's Cowl Red Dress ($542) which is similar in shape and tone to Michelle's sheath. Below are some more budget-conscious options to help you mimic the look:
Sponsored Post: Bare Necessities Addresses Your Bulge Issues With Sleek New Shapewear
This season is all about tailored, sleek looks: pencil skirts, skinny jeans, form-fitting tops. In other words, there are plenty of opportunities for bulge issues. Whether you want to whittle your waist, trim your thighs, raise your rear, or tame your tummy, there is a shapewear solution for you at Bare Necessities. Body briefers, available in styles like bodysuits, slips, and unitards, shape from busts to hips. Control briefs offer moderate to firm control of the tummy. Perfect for pairing with form-fitting pants and skirts. Control camisoles offer medium control of the bust, tummy, and waist. Sleek and lightweight, they define your silhouette for an enviable look.
Cosmo Makes Beauty Sexy (Surprise, Surprise)… 5 Of You Will Win The Book
Is there really a secret to looking gorgeous? Some may argue that Angelina Jolie has found it and is keeping those impossibly plump lips shut. But thankfully, Cosmo has leaked some crucial info in its new book, Cosmo's Sexiest Beauty Secrets: The Ultimate Guide To Looking Gorgeous. Known for its unabashedly racy content, Cosmo has compiled tips on how to pull off a sex kitten aesthetic, from romp-in-the-hay hair to smoldering eyes. And this must be your lucky week, because we're giving away copies of the book to 5 winners. How's that for sexy. And, the gracious editors have shared some insider tips from the book with SheFinds. (Note: All below product picks are SheFinds suggestions, and not those of Cosmo.) 1. Shrink a zit instantly by dabbing it with toner then placing an ice cube (wrapped in tissue) on the bump for one minute. Use a spot-treatment product before dotting on concealer. Clinique's Advanced Concealer ($14) will cover blemishes instantly. 2. Get the shiniest hair imaginable by using an at-home clear gloss treatment, which will infuse your strands with potent polishers like silicone, jojoba oil, and vitamin E. Protect against frizz while you're at it with Citre Shine Laminating Anti-Frizz Serum ($6.89). 3. Make your eyes look larger by rimming the inside of your lids with white liner. Then define your upper and lower lashes with a charcoal liner and finish with three coats of black mascara. We highly recommend CoverGirl LashBlast in Very Black ($6.88). 4. Fake the look of fuller lips by blending a thin line of liquid highlighter along your cupid's bow so light will bounce off it and play up this curvy area. Eternally the master of cosmetic artistry, Kevyn Aucoin's liquid highlighter ($22) will undoubtedly fill out your lips. 5. Get the exact lip color you see in the tube. Create a neutral base by dotting your lips with foundation before applying a nude or flesh-tone lipstick like NARS Honolulu Honey ($24). In order to enter the giveaway, write to us in the comments section and let us know your own beauty secret for attaining a sultry, seductive look. The contest ends a week from today, so act fast. And if you can't wait to win one, buy Cosmo's Sexiest Beauty Secrets ($12.25) now on amazon.com.
Sponsored Post: Who Cares About Black Friday When You Have The Kate Spade Private Sale?
We are pleased to announce the Kate Spade Online Private Sale, your chance to purchase items at an exclusive discount. Save up to 60% from November 11-14. Be sure to act quickly, as inventory is limited.All sales are final. Happy shopping.