3 Different Ways To Wear A Fur Vest (Because It Finally Feels Like Winter)
A fur vest is the perfect staple for transitioning from this bizarre Indian summer to the inevitable cold winter season that we are secretly hoping will just play hooky this year. What is so great about a fur vest is how it goes with absolutely anything from our favorite flannels to our coziest of sweaters. A fur vest can be as versatile as you'd like, whether worn day or night, it's all about how to wear a fur vest and what to wear it with. The key is knowing how to play with proportions and different textures and fabrics. Don't worry, to make it easier for you, we broke down three ideal outfits that show you how to wear a fur vest. RELATED: Call Me Basic If You Want, But I'm Not Giving Up My Black Faux Fur Vest Outfit #1: All black everything Topshop 'Leah' Faux Fur Vest ($125) Ponte three-quarter sleeve shift dress ($59.95) GLAMOROUS Faux Leather Leggings ($48)Kimchi Blue Laurel Blouse ($39, down from $59) This outfit can work for either day or the night. It's just a matter of how you do put it all together. For day, you can wear a casual LBD dress and accessorize with funky jewelry. For night, switch out the casual dress for some leather leggings and a black tunic blouse. When considering what works and what doesn't, wearing all black makes it easy. You know it will be flattering, and the fur vest becomes your statement piece. This is one of my favorite outfits for when I'm running low on time, because you don't have to put too much thought into it and you instantly look incredibly and effortlessly put together. Outfit #2: Flannel + Fur vest + Boyfriend jeans Thomas Mason® Flannel Shirt In Stewart Plaid ($168)DEX Shaggy Faux Fur Vest ($78)1969 destructed sexy boyfriend jeans ($48.96, down from $69.95) This is the perfect example of playing around with mixing different textures and patterns into one outfit. We love this particular outfit because it's perfect for those mornings at the farmer's markets to those cozy nights by the fire. The simplicity of a flannel with boyfriend jeans is like PB and J, and the fur vest works well as an unexpected twist. RELATED: 16 Pairs Of Lace-Up Boots That Will Get You Through Winter Outfit #3: Sweater dress + Fur vest + Over-The-Knee boots Free People Extreme Cowl ($198) kensie Faux-Fur Multi-Color Vest ($79.99, down from $99) VOLATILE Carina ($75) The sweater dress might be one of the fashion world's greatest inventions because it gives you the comfort of a baggy grandma sweater, while also being magically form-fitting. The sweater dress plays with portions in the way of wearing something bigger on top, but slimming out and giving the illusion of skinnier and longer legs. Could we possibly want anything more? So these are our three ideal outfits that should help you figure out how to wear a fur vest. Do you have any recommendations we didn't mention? Comment below and share your fur vest outfit ideas with us! Don't forget to check out: VIDEO: Adele Pulls Off An Epic Prank By Impersonating Herself In Front Of Adele Impersonators, 10 Things You Never Knew About Trader Joe's, and This $23 Dress Looks Good On Everyone #ForReal [Photo: The Fashion Guitar]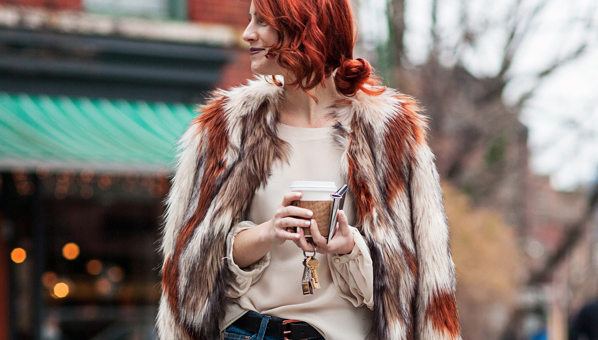 This Season Is A Fur Lover's Dream Come True: Faux & Real Sweaters, Bags, More
If you're thinking that there's no reason to be excited about the cold, you're wrong. You should actually be jumping for joy because now you can finally take advantage of all the furry commodities available right now. Fur (faux and real) has been taken to a whole new level, with coats being the least of what I mean. I'm talking sweatshirts, sneakers, cardigans, and mittens (nothing touches the warmth of a fur mitten—trust me). Oh, and then there's that faux fur clutch shaped like a daisy—umm, yes please. The bottom line is that fur has invaded all categories of attire, and I'm really diggin' it.  Who's with me? On a full-on fur kick? See fur collars, and faux fur sweatshirts. [Photo: Cheetah Is The New Black]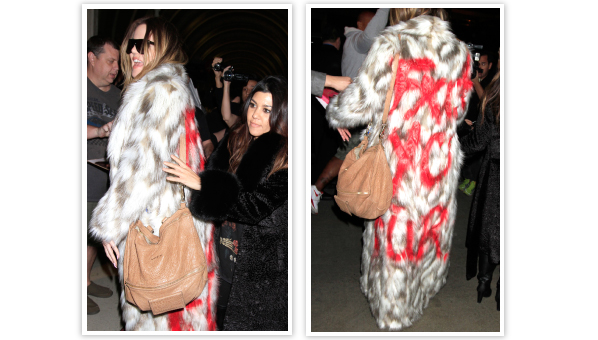 Khloe Kardashian Wears 'F*ck Fur' Coat… While Carrying Real Leather Bag
Estranged PETA spokeswoman Khloe Kardashian (she seared ties with the animal rights group after that time Kim-got-flour-bombed for being a "fur hag") is still clearly conflicted about whether torturing animals for fashion is cool or not. The mogul just rocked a floor-length fur coat to Fashion Week with "Fxck Yo Fur" spray painted in red on the back: The sentiment is strong... but the message is mixed, as Khloe was also carrying a 100% sheep skin Givenchy Pandora bag with the outfit, and was photographed next to her sisters wearing very REAL, unmarked fur themselves (which Refinery29 pointed out). So, does this make Khloe one of fashion's most outspoken animal activists or one of PETA's worst nightmares? Is she just trying to get even more needless attention (what are the Kardashians shilling these days? Some kids line or something??) or is she actually trying to make a statement? Sound off in the comments below.  [Photos: Splash News]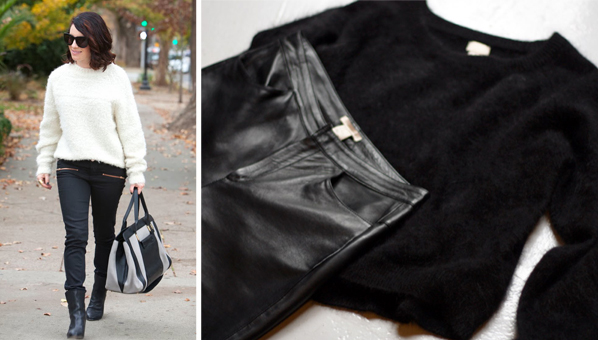 Who Needs A Fur Coat When You Can Wear A Fur Sweatshirt?
When we spotted Olivia Palermo in a faux fur sweatshirt, it seemed like the perfect addition to our winter weather layers. And it turns out a slew of other designers agree. Since Palermo, we've noticed a number of other fur (and faux) sweatshirts in all sorts of different styles, from leopard print to black and white. Is this a new take on the graphic sweatshirt? Not exactly. Sure, mixed media sweatshirts with leather accents and hologram details ruled the runways for Fall 2013, but this fur trend is just a cozy and warm addition to your sporty-turned-chic-apparel. Check out our slideshow to shop your favorite fur sweatshirt now. Check out more fashion and beauty news: shop Madewell's sale, lace dresses are the new sequin dresses, and Urban Decay's Naked3 palette. [Photo Credit: Cheetah is the New Black, AfterDRK]
Can You Tell The Difference Between Real And Faux Fur?
Who ever thought something could bring together PETA members and fur lovers? Well this post does. We know it's hard to tell the difference between real and faux fur, so we're here to help. We want to ensure that whether you're all for fur or totally anti, you find something to keep you warm this season. So we're giving you 10 different taste tests to see how good your fur meter is. We found real and faux fur items that look almost identical. There's shoes, bags, mittens, skirts, sweaters, vests, jackets, and more, so you won't miss out on anything whatever your fur preference is. Plus, we found some real and faux calfhair items too since that seems to be popping up everywhere this season. Click through the slideshow now to test your fashion savvy for real vs. faux fur. How many did you get right? Let us know in the comment section below! Don't forget to check out: how to cure your World Series hangover, fake a manicure and shop reversible coats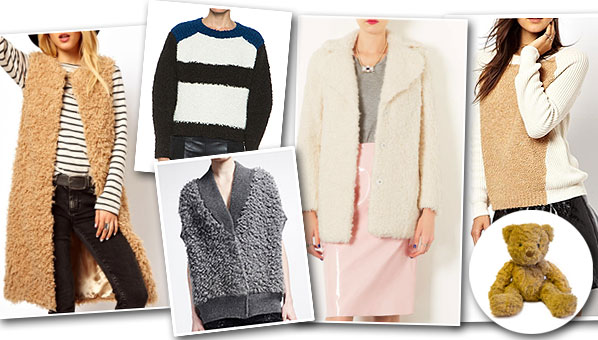 Fall's Teddy Fur Trend Is Exactly What It Sounds Like
When it's Fashion Week for fall collections, designers are always creating clothing with fur, fur, and more fur. But for this season a new trend has popped up on the runways (Nina Ricci, Carven, MaxMara) and street style stars (French editrix Carine Roitfeld) with a faux fur that will make any PETA fan happy. It's a stylish spin on our childhood toy: the teddy bear. A material that's super soft and cozy, you'll want to live in (and snuggle with) your teddy fur coat, cardigan, or sweater all fall and winter long. Shop our favorite teddy fur pieces in the slideshow now. Shop more trends for fall like military-inspired clothing, the best jackets based on fall temps, and long-sleeve dresses.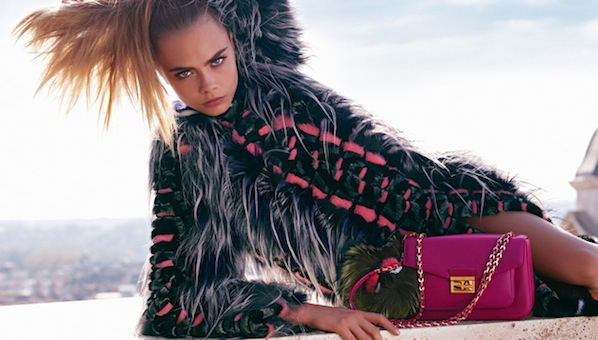 Better Watch Out For Red Paint–Fur Is One Of Fall's Biggest Trends
Fur always makes its way down the Fall 2013 runways, but this year is a little different. Designers took fur to a whole new level. We're not talking about your average mink jacket--we mean fur shoes, fur purses and even fur sunglasses. And these fur colors definitely aren't found in the wild (unless you've seen an orange bunny before). Some of the wackiest designs are from Fendi (the luxury brand is seriously trying to make colorful fur a thing). But Tom Ford also makes a case for fur with these Geometric Patchwork Fur Over-the-Knee Boot ($3775), which we can't wait to see a street styler wear. Basically, PETA is probably going crazy right now. But thanks to Stella McCartney, there are faux-fur versions of the trend, too. Intrigued? Click through the slideshow to see some of fur pieces that came straight off of the Fall 2013 runways. We even found crazy fur effect nails! For more fall trends, don't forget to check out iridescent clothing, beanies and this fur coat that editors couldn't get enough of after New York Fashion Week. [Image: Fendi Fall 2013 Lookbook]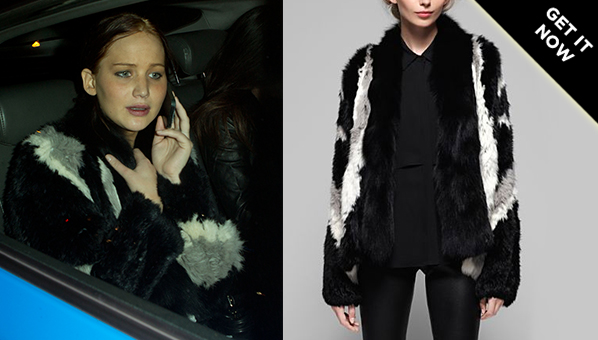 Who Cares How Jennifer Lawrence Did On SNL? Her Fur Jacket Is Awesome.
Say what you will about Jennifer Lawrence's performance on Saturday Night Live this weekend, but the girl has great style - or at least a great stylist. She killed it at the Golden Globes in Dior Haute Couture, and then wowed paparazzi in this Theory Nia Fur Jacket ($747, down from $1,495) which also happens to be on sale. You're welcome! [Photo Credit: Splash News] Shop more celebrity style such as January Jones' plaid shirt, Nicki Minaj's dress, and Ashley Tisdale's workout gear!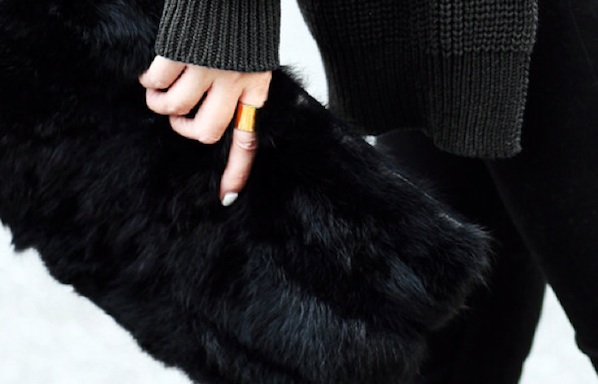 The Fur Clutch: Because Hands & Handbags Get Cold, Too.
I'll wear fur however we can--on jackets, vests, sweaters, hats--you name it. (Bonus points if it's faux fur that feels real - thank you, Rachel Zoe, for that.) Fellow fur enthusiasts of the world: here's a new accessory trend you can get behind: the fur clutch. Perfect for holiday parties and all your winter activities in-between, the fur clutch not only adds a bold pop of texture to your cold weather outfits, but also serves as a cuddle buddy for your cold hands. This statement piece works just as well for a night out as it does with your casual wear--just ask designers such Proenza Schouler, Alexander McQueen, and Christian Louboutin, who are all selling it in their winter collections. Browse our favorite fur clutches in the slideshow, and don't forget to check out other trends we're loving: elbow patches, velvet blazers, and zippered moto jeans.
If You're 1 Degree Away From Wearing A Ski Mask, Try A Fur-Collar Coat First
Ooh la la - everybody loves fur. Nothing beats cozyin' up to a little fur in the dead of winter. Take a hint from ladies like Mary-Kate Olsen and Sienna Miller, who know how to work fur, especially in the freezing cold. We've picked out some super svelte choices that are worth investing in; from long wool coats a la Jennifer Lopez', to short bomber jackets like Olivia Palermo's, this trend has a range of options -- all of them equally warm. Don't forget to check out shopping guides to the best faux fur vests, stylish rain boots, and trench coats.
What We Learned From New York Fashion Week: The Final Exam
Fashion Week is like an entire semester of school, and this is our final exam. If you can't come away with anything - you're screwed. Luckily, Marc Jacobs, Derek Lam, and DVF were our professors, and passing this test means looking good all fall. (more…)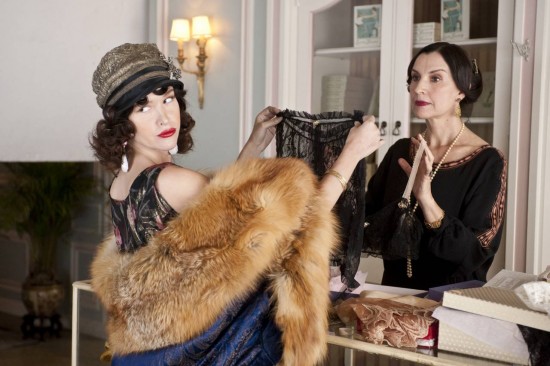 Boardwalk Empire Is The New Mad Men: Pull It Off Without Looking Like A Full-Blown Flapper
If you're a fan of HBO's new series Boardwalk Empire, about Atlantic City during Prohibition, you know about the fabulous 20s attire the female cast gets to wear. From beaded drop waist dresses, to fur stoles and embellished headbands, the 20s wardrobe is ready-made for parties. We recommend trying the look before it catches on like the 50s did for Mad Men: For more 20s-inspired fashion, check our guides to the best cheap jewelry, summer hats, and sheath dresses.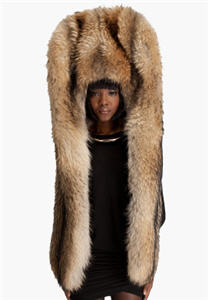 Designers On Crack: What Were They Thinking?
I don't mean to be a hater, but the following designer finds are the ugliest effing things I have ever seen. These people must be smoking something, because $4,000 for a fur headdress is not okay. No wonder this crap is on sale: Ok, I'm ready for the hate mail now. For non-atrocious fashions, check our guides to to the best bras, stylish rain boots, and leather jackets.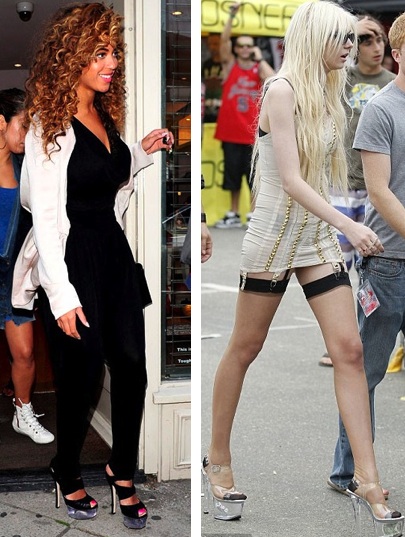 Stripper Heels, Side Boob And Swamp Rat: Six Trends We Wish Would Disappear In 2011
Lucite Stripper Heels: Beyonce and Taylor Momsen tried to make stripper heels happen in 2010. Let's hope we don't revisit it again. Animal Print Uggs: The Jimmy Choo for UGG collaboration produced a $600 studded boot that only a Hilton sister or Real Housewife of New Jersey could love. Sheer Clothing: Gwen Stefani stepped out in what looks like pajamas, Naomi Campbell rocked some side boob, and Leighton Meester let her granny panties hang out. Teva Stilettos: $330 Teva stilettos... everything that is wrong with America. Jeggings On Men, Or "Meggings" Jeggings for women... bring it on. Jeggings on men? No, thanks. I'm talking to you, Conan O'Brien. Rat Fur: Okay, the Olsen twins never wore swamp rat (that we can prove), but one designer did try to make Louisiana swamp rats a fur trend in 2010. Follow the author of this post on Twitter @bridefinds. Check out more Don'ts with our red carpet re-do's. Shop all of the best sales and deals, online sample sales and black dresses, party dresses, faux fur vests, pumps and blazers.
Gwyneth Paltrow And Sarah Jessica Parker Make Bundling Up Chic In Fur Trim Coats
For the celebs who live in New York, sleek winter coats that don't make you look like the Michelin man are the key to good paparazzi photos. Bundling up, while still looking like a pro, is actually quite difficult. That's why it takes 2 fashion pro's - Gwyneth Paltrow and Sarah Jessica Parker to show how to do it in style. And the secret is: long black coats with fur trim. Genius. Follow the author of this post on Twitter @bridefinds. Shop all of the best sales and deals, online sample sales and then head over to our guides of the best peacoats, puffy coats, black dresses, faux fur vests, pumps and blazers.
Fur Is Everywhere This Year. If You're Not A Member Of PETA, This Is Your Best Bet.
If you're not a member of PETA, consider this cool State & Lake rabbit fur bomber jacket ($418, from $595)  this year. We know you all love faux fur vests but have you ever seen something as sumptuous as this? Wear it over all of your cocktail dresses, black dresses and even with skinny jeans. Check out more of our best find of the day picks, plus online sample sales and sales and deals.
Get The Leopard Coat Kourtney Kardashian Scored A Hat-Trick In
The Kardashians are definitely not ones to shy away from the spotlight - or animal fur for that matter. Kourtney Kardashian has been stepping out quite a lot lately in this Funktional Predator Coat in Animal ($840). She's worn the leopard printed fur coat on the red carpet and even while out running errand with her kid. If you love leopard as much as Kourtney and I do, look no further: Craving more coats? Shop our guides to the best puffer coats and peacoats, then head over to our guide of our best leopard print shoes, the best pencil skirts, platforms and belts. Join our e-mail list for exclusive SHEFinds updates.
Going, Going, Gone: Only 1 Pair Of Eugenia Kim Fur Earmuffs Left
Earmuffs as furry and awesomely fluffy as these Eugenia Kim Janine Fair Isle & Fur Earmuffs ($165) are just screaming to get purchased. They're a surefire way of keeping your ears toasty this winter while also adding an unexpected touch to your winter ensemble. Whether you pair these with a peacoat or a big puffy coat, these will make a fun and oh-so-adorable statement. If you're as in love with these as we are, you better click over quick and get yourself a pair while you can. If you miss this great find, check out our Holiday 2010 Soldout List for all of your gift-giving needs (be them for others or yourself). Check out more of our favorites sales and deals. Join our e-mail list for exclusive SHEFinds updates.
Can You Tell Which Fur Scarf Costs $154 More Than The Other?
Spot more designer lookalikes with all of our Taste Tests. Shop our guide to the best faux fur accessories and the best scarves. Join our e-mail list for exclusive SHEFinds updates.
Coming To A Fur Vest Near You: The Louisiana Swamp Rat?
There is and always has been a great debate over fur. PETA and rabid animal-lovers feel that real fur is wrong, and have been known to use a paint can or two to get their point across. On the other side, you have the Victoria Beckhams and Olsen twins of the world who love fur. The Telegraph is now reporting a resolution to the great debate: Louisiana swamp rats (not pictured above) which are "culled legally to protect marshland." Designer Cree McGree is arguing that since 400,000 of them go to waste every year, using their fur is pretty much guilt-free (albeit pretty gross). So, what do you think, should the rats not die in vain? What will PETA say? And most importantly, would you wear a swamp rat vest? Leave comments here. We've looked high and low to find you the best holiday gifts,  stylish rain boots, boots under $100, and faux fur vests. Join our e-mail list for exclusive fashion updates and sales.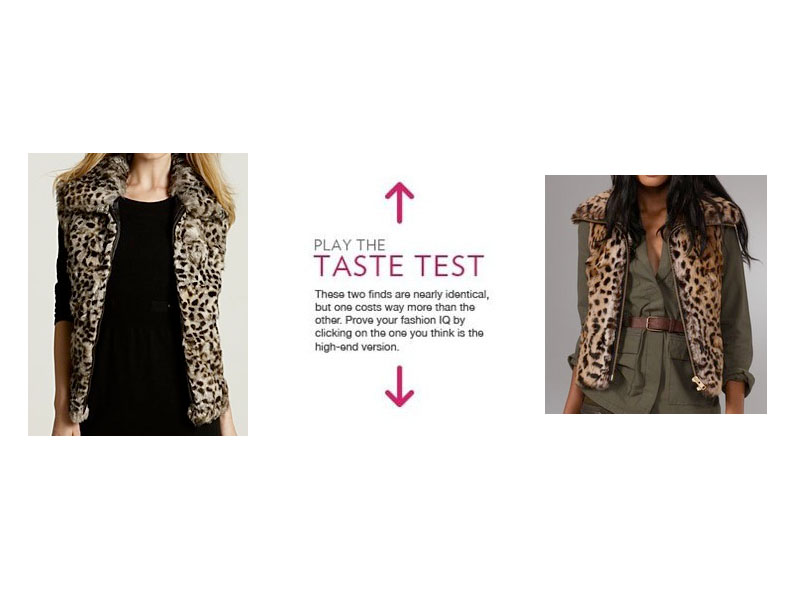 Can You Tell Which Leopard Print Fur Vest Costs $400 More Than The Other?
Did you guess right? Press your luck with more of our Taste Tests. Shop our guides to the best fall fashions and the best vests. Subscribe now for exclusive fashion news.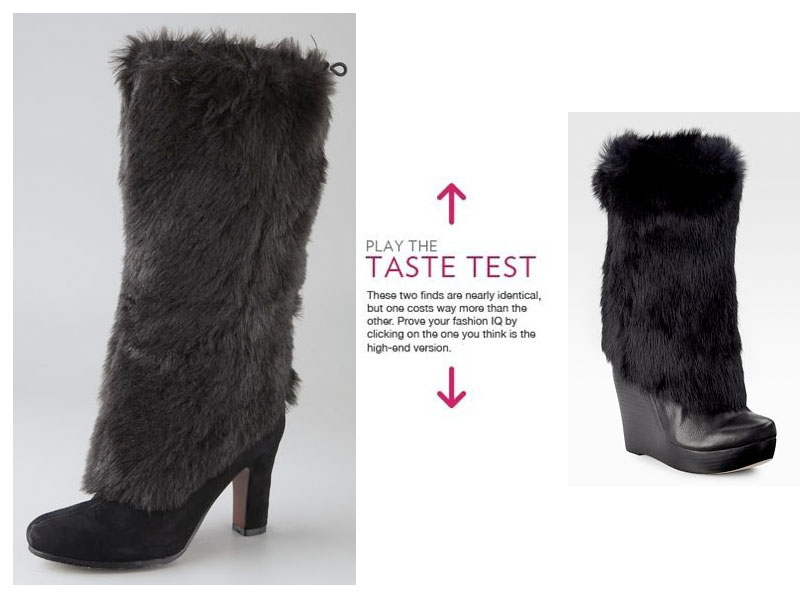 Can You Tell Which Black Fur Boots Are $130 More Than The Others?
Shop more faux fur accessories, faux fur vests and boots under $100.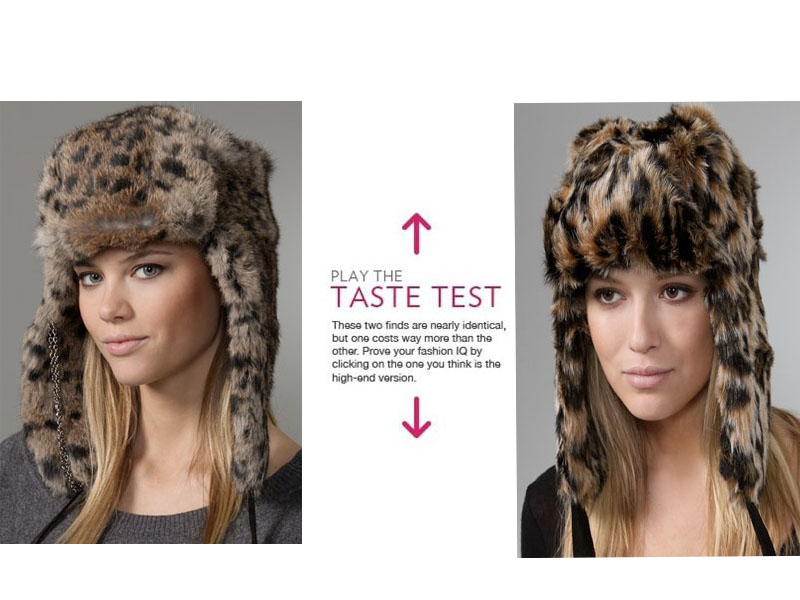 Can You Tell Which Leopard Print Trapper Hat Costs $155 More?
Shop more winter staples from faux fur, to scarves, gloves, fingerless gloves and hats.