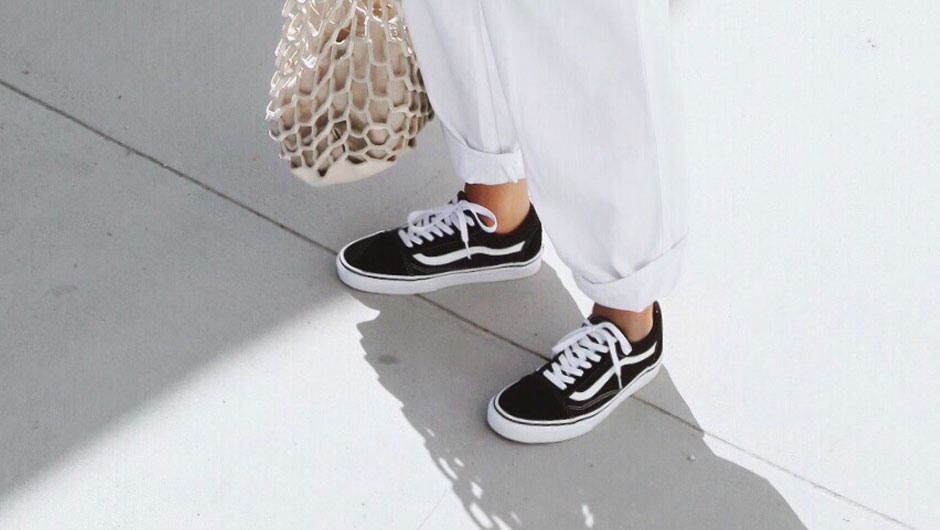 Karl Lagerfeld Wants You To Go For Broke With His New Vans Line
Melania Trump's Inauguration Designer Might Have Just Been Revealed–Who Is It?
New Balance Cites SHEfinds In Lawsuit Against Karl Lagerfeld
Back in April, we noticed that Karl Lagerfeld's Leather Suede Mesh Sneakers ($360) look almost exactly the same as these New Balance 574 Black Sneakers ($112.88). So, we did what we do best and wrote about it as a Taste Test. Little did we know that two months later, the sneaker company would take action against one of the most iconic names in fashion--and SHEfinds is involved! New Balance is suing Karl Lagerfeld for creating confusion by using a block capital letter "K" on an otherwise identical shoe. TMZ broke the news yesterday and other media outlets, like Vogue UK, have written about the case. The original article mentions that a fashion blog is quoted in the suit, "The sneaker company points out it's been using this design since the '70s, noting even fashion blogs have seen the similarity ... one with an article titled, 'Wait did Karl Lagerfeld just knock off New Balance sneakers?'" Yeah, that's us, and we STILL can't believe the head designer and creative director of Chanel knocked off New Balance. But we are talking about the man whose last runway show was a high fashion supermarket, so maybe Karl knows exactly what he's doing and this is all just a play on the whole sneaker trend? Guess we'll have to stay tuned to find out! UPDATE: We got our hands on the official court docs and confirmed that our article IS in fact mentioned in the lawsuit. Check it out: And don't forget to check out: Kourtney Kardashian is pregnant, Gwen Stefani's favorite loafers and what 6 professionals wore to the interview that got them the job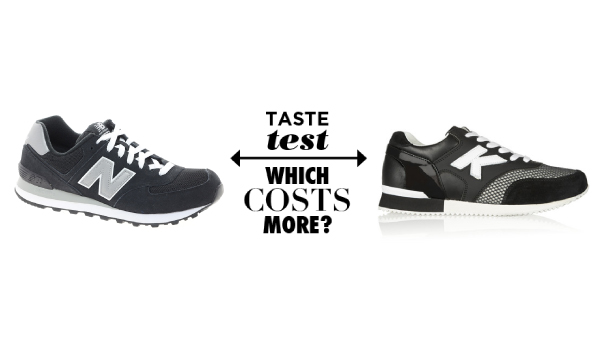 Wait, Did Karl Lagerfeld Just Knock-Off New Balance Sneakers?
Sneakers are all the rage for spring--we know. So should we be that surprised that Karl Lagerfeld, the man, the myth, the legend, created his own pair of kicks that look almost identical to New Balance sneakers? Yes, the head designer and creative director of Chanel knocked-off the shoes your grandpa wears. The only major difference between his Karl Lagerfeld Leather Suede Mesh Sneakers ($360) and these New Balance 574 Black Sneakers ($112.88) is the "K" on the sides. Which shoe do you like better? Let us know in the comments below! UPDATE: It looks like we're not the only ones who noticed the similarities between the two shoes. Exactly two months after writing this, TMZ is reporting that New Balance is suing Kaiser Karl! The sneaker brand decided to take legal action against the designer for creating a lookalike. Oh how the fashion tables have turned... Test your fashion savvy some more with: pearl chokers, studded pumps and french fry iPhone cases
Karl Lagerfeld Thinks Nobody Wants To See Curvy Women–And He's Being Sued For It
Remember when Karl Lagerfeld used to be fat? Well now that he dropped some weight he can't help calling other people fat, and he's finally being called out for it. A French feminist group is filing a lawsuit against him, saying that he is discriminating against curvy women. The group's name means "Beautiful, Round, Sexy and OK With It," and they're trying to stop famous people from giving young girls a reason to be insecure. While the lawsuit is just against Lagerfeld, it could have scare tactic for the rest of the industry. Body issues aren't just in fashion consumers, models feel them too. Betty Aubriere, the group's president, told AFP, "Today it's him who insults us and tomorrow who will it be?" We're wondering if Adele has heard the news? Calling her fat is definitely Lagerfeld's most famous insult. Do you think this lawsuit will make a difference? Let us know in the comment section below! In other news, check out Rebecca Minkoff's nail polish, C.Wonder and Clos du Bois Winery made a bike, and Kerry Washington is pregnant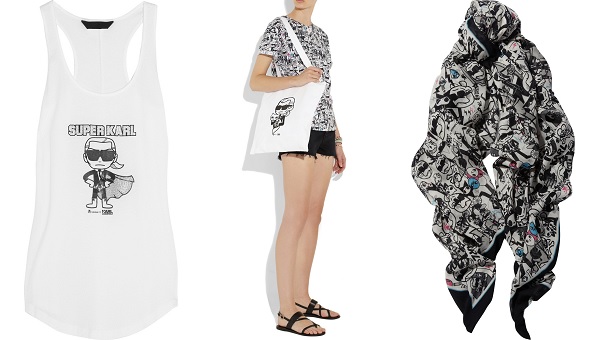 We Have To Give Tokidoki Madd Props For Putting Karl Lagerfeld In A Cape
Just before July 4th we told you all about the upcoming Karl Lagerfeld x Tokidoki collection. We knew there would be Karl Lagerfeld figurines--which are just as amazing as we imagined--but we didn't know Karl would also be in a cape. Yes, that's right. The folks over at Tokidoki designed a Super Karl tank that features Mr. Lagerfeld himself wearing a cape. It's epic. Of course, the complete Karl lagerfeld x Tokidoki collection doesn't disappoint. In addition to the Karl dolls which are already selling out, there's a cool graphic iPhone case, a canvas tote bag, tees and a pair of printed jeans. Click through the slideshow below to shop it now. SHOP KARL LAGERFELD X TOKIDOKI NOW And be sure to check out Wren x Minnetonka, the first photos of Isabel Marant x H&M and these new MAC makeup bags.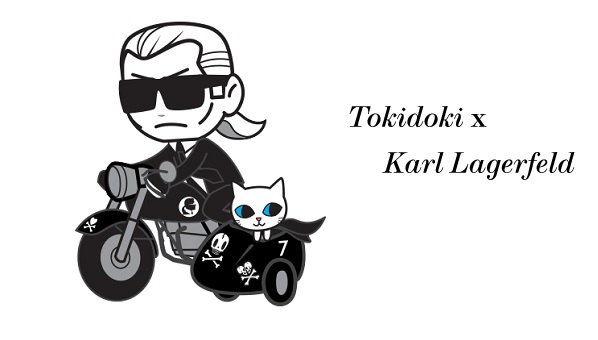 Karl Lagerfeld Teams Up With Tokidoki On A Collection Of… Dolls? Yup, It's Happening
Okay, there are obviously clothes, too. Our friends over at Net-a-Porter just shared with us that they'll be launching an exclusive Karl Lagerfeld x Tokidoki capsule collection next week, which will feature 3 lookalike dolls plus ready-to-wear clothing. Now we all know Karl Lagerfeld and his signature style, but you may not be as familiar with Tokidoki. The Japanese-inspired lifestyle brand is actually the brainchild of Italian artist Simone Legno. The adorable Tokidoki characters--icons in their own right--have been featured on everything from tees to sneakers and accessories. Of the upcoming collection, Holli Rogers, Fashion Director at Net-a-Porter had this to say: "We're so excited to be partnering with Karl Lagerfeld as the exclusive online retailer for the Tokidoki x Karl Lagerfeld collection. These fun and playful pieces truly encompass the spirit of Karl." The collection lands at Net-a-Porter on July 1st, so save the date. We'll have images and links to buy everything on Monday morning. In other news, you can still score Beyonce's bee ring, Reason Clothing totally knocked off Brian Lichetnberg and Michelle Obama wore J. Crew (again).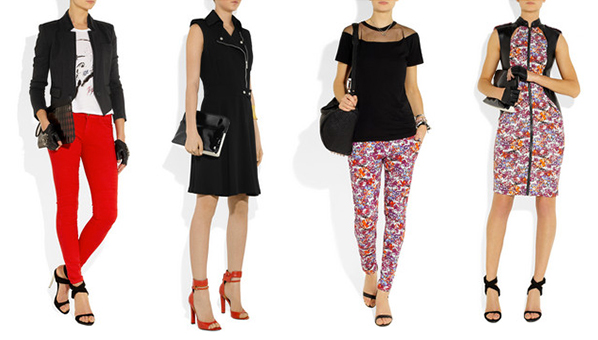 Spring 2013 According To Karl Largerfeld: Sparkly Collars & Fingerless Gloves, Natch
The newest KARL by Karl Lagerfeld collection just arrived on Net-a-Porter and it's so, well, Karl. There's a pretty blouse and a cute pair of floral pants, but the obvious highlights are the collars--yes, they're still here--and the fingerless leather gloves. We're not quite sure who wears them besides Karl, but there's an abundance of them if you're so inclined. Collars and gloves aside, the spring 2013 KARL collection is actually pretty gorgeous. The floral pants we mentioned above are super pretty, but there's also a perfect black dress and a cool jersey blazer. Click through the slideshow to shop the collection first. (And we promise not to tell if you splurge on a $109 pair of jeweled gloves.) Be sure to check out this color-changing dress, this perfume that attracts men and our favorite colorblock bags.
Oh, KARL! Shop The Designer's Latest Lower-Priced Line For Net-A-Porter
The always anticipated collab collection by the great Karl Lagerfeld hit Net-A-Porter today with a brand new collection of the designer's taste and style. Unlike his usual signature black-and-white palette, this stock of apparel, footwear, and outerwear has some color in it with a printed long-sleeve dress and maroon-hued denim jeans. But for those vying for that iconic Karl look, be sure to check out the batch of geo-centric knits, a fut-trimmed coat, moto-style jumpsuit, and more. The only thing that's missing is a sweet graphic t-shirt with Choupette's face on it. You hear us, Karl? More collaborations to shop: Fleabags x J. Crew, Kenzo x Vans, and Louise Gray x Topshop.
Color Coded: Karl Lagerfeld Slated To Collaborate With Shu Uemura On A Makeup Line
Karl Lagerfeld is emerging to be somewhat of the king of collaborations. How else would you explain the collab collections, for Macy's, Net-A-Porter and Sephora among many others, that he produced just within the last year alone? And looks like he's not ready to drop his title-- WWD just announced that come November and there will be a Karl Lagerfeld for Shu Uemura limited-edition makeup line. A fan of Shu Uemura's color palettes (he previously employed the brand to color his illustrations), Lagerfeld will be in charge of the color selection and the packaging of the 17-piece makeup collaboration. Considering Chanel sets the tone for practically every color trend known to man (remember Chanel Jade nail polish?!) mint is now everywhere! This is big. And Karl Lagerfeld for Sephora has taught us anything, is that we can expect bright colors, lots of gold and images of the Kaiser himself all over the collection... For more news, check out Revlon's legal neon nail polishes and Kanye West's Nike Yezzy II sneakers.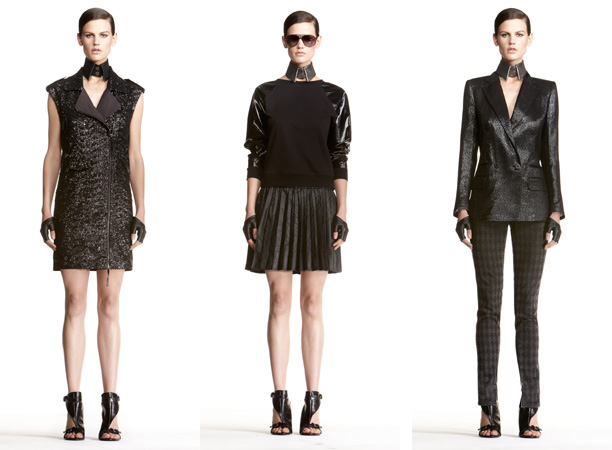 SNEAK PEEK: Karl Lagerfeld's "Karl" Collection For Net-A-Porter
Three looks from the Karl collection Net-A-Porter is very excited about "Karl," the Karl Lagerfeld-designed line set to launch exclusively on their site January 25th. So excited, in fact, that they've created their own Karl microsite including a sneak peek at some of the looks (above), a Karl Lagerfeld photobooth, and a "FIND KARL" smartphone game. (more…)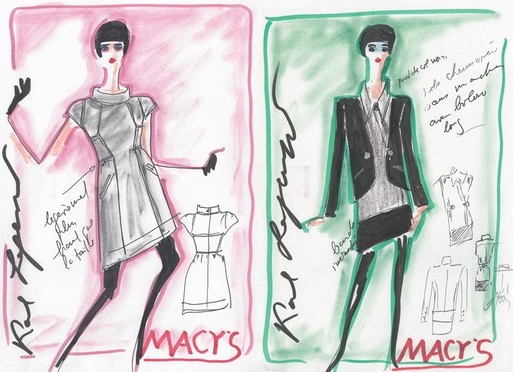 The Sketches From Karl Lagerfeld's Line For Macy's Impulse Are Finally Here
Two of Karl Lagerfeld's sketches for his Macy's line With only a little over a month left until Karl Lagerfeld's capsule collection for Macy's Impulse hits stores, the details of the line have been shrouded in secrecy---until now. (more…)
Midday Catch Up: Karl Lagerfeld Is Designing Glassware, Diane Von Furstenberg To Partner With GapKids
From left: Karl Lagerfeld champagne glasses and Diane Von Furstenberg Karl Lagerfeld Set To Design Glassware For Bloomingdales Champagne flutes start at $135. Yup. Diane Von Furstenberg Partners With GapKids Her capsule collection for the brand will launch next spring. For more non-bridal, non-baby news, be sure to see the Christian Louboutin shoes that cost 3 times as much as they usually do, check out Jonathan Adler accessories, or shop the Spanx private sale.
Sorry Guests, $135 Karl Lagerfeld Champagne Flutes Are About To Invade My Registry
Label lovers rejoice: Karl Lagerfeld just announced that he's going into the glassware business. According to WWD, poppa Karl's collection of glasses and vessels will hit Bloomingdale's in mid-October, and the line will feature crystals handblown in Sweden, and prices will start at $131.50 for a Champagne flute up to $1,600 for a large vase. Sorry, guests, but now you have to buy me Karl Lagerfeld glassware AND Kate Spade tabletop. #goforbroke Shop our guides to the best strapless wedding dresses, white wedding shoes, and inexpensive wedding dresses.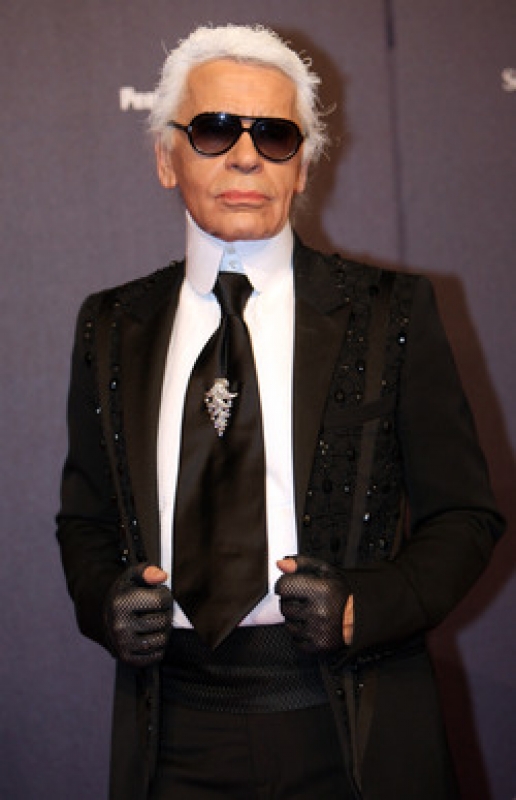 2011 Fashion Collaborations To Watch Out For: Karl Lagerfeld For Macy's, Jason Wu Nail Polish, More
February 7: Levi's chambray collection for Opening Ceremony. February 15: Macy's first collaboration ever - Kinder Aggugini for Macy's - hits stores and online. The UK designer's aesthetic has been described as "an unholy marriage between Coco Chanel & Sid Vicious." February 16: During his NY Fashion Week show, shoppers will vote on which looks end up in the Derek Lam for eBay capsule collection. February: This one is an editor's favorite. We are so excited for Loeffler Randall for Suno. March 13: Target reissues 34 bestselling dresses from 17 past designer collaborations. Think Zac Posen for Target, Tucker for Target, Rodarte for Target, Proenza Schouler for Target, Libertine, Alice Temperley, Erin Fetherston, and Tracy Feith for Target. March 15: UK Style by French Connection hits Sears stores. Spring: Marc by Marc Jacobs celebrates its 10 birthday with a Greatest Hits collection. Bestsellers will be brought out of retirement. April: Catherine Malandrino for Lacoste hits stores. April 14: H&M continues its eco-friendly streak with the H&M Conscious Collection, made with all eco-friendly and organic materials. April 20: Nobody does the clog trend better than Swedes. Today, Swedish Hasbeens for H&M hits stores. May 1: Jennifer Aniston's favorite beachy brand Calypso launches a capsule collection, Calypso St. Barth for Target. The ambitious line includes beauty, swimwear, kid's, jewelry, home and, of course, women's clothing. May 1: Nine West chose a CFDA winner for their latest collaboration - smart, huh? Sophie Theallet for Nine West hits today. May: After trying his hands at dolls and bridal, Jason Wu nail polish hits stores. The collection for CND includes colors like Miss Wu (a limestone-gray hue with a satin finish), Brigitte (a dirty rose), Veronica (a blood red) and Sophia (a dark mushroom). Fall: Fans of Brian Atwood rejoice when his affordable shoe collection with Jones Apparel hits. The line will expand to jewelry and handbags in 2012, and eventually sportswear and sunglasses, too. September: His last collaboration for H&M caused mass hysteria, so we're assuming Karl Lagerfeld for Macy's will be a pretty big deal this fall. The line even has a chic name - K Karl Lagerfeld. December: H&M launches eCommerce site.
Karl Lagerfeld Will Work His Magic On A Macy's Capsule Collection
Karl Lagerfeld has announced his plans to launch a Macy's capsule collection in September to debut in 250 stores and online. The plan is part of a larger movement on Macy's part to feature inexpensive lines by established designers every two months, following with Kinder Aggugini, a well-known UK designer. Lagerfeld is no stranger to the collaboration arena, having signed on in 2004 for one of the first big-time collaborations with H&M, causing mass hysteria. Can't wait 'til September? Shop his less expensive line, K Karl Lagerfeld, now and deeply discounted Chanel at Portero: Follow the author of this post on Twitter @shefindseileen. Check out all of our sales and deals, plus even more fashion news, our list of online sample sales, and best find of the day picks.
Pinch Us, We're Dreaming – Karl Lagerfeld Brings Us An Affordable Online Collection
When Karl Lagerfeld introduced the idea of a new inexpensive collection, we wanted it. And when the line comes out in Fall 2011, we can get it - with the click of a mouse. That's right, Karl Lagerfeld, Chanel creative director, is spreading his new "masstige ready to wear line" into the e-commerce world. And luckily for us, the collection contains mainly women's clothing. If you can't wait check out the Karl Lagerfeld sample sale going on now at Editor's Closet or shop these fabulous Lagerfeld finds: This K Karl Lagerfeld Kim S Blouse ($76, down from $190) flatters any figure with the cinched waist. Pair it with a black blazer and skinny jeans for every occasion. Since cardigans are so in style, try this one by Karl Lagerfeld ($215, down from $395). The nude color is ideal for any season and it has plenty of room in case you opt for that extra cookie. It might cost a bit much for just a basic, but this Karl Lagerfeld Silk Long Sleeved T-Shirt ($225) is worth every penny. It's perfect for work or a fancy dinner and it won't cling to you. Don't miss a minute in the fashion world - read all of our news posts. Shop our guides to the best cardigans and the best v-neck sweaters. Sign up for SHEFindsMail for exclusive style e-mails.
Twitter Stalking Chanel's Cruise Show: Bocce Balls, Crystal Renn, And The '70s
The Chanel 2011 cruise show was a two day affair. We should know, because we Twitter stalked it. Guests arrived in St. Tropez on Monday to a pair of metal bocce balls in their hotel room, for a pre-show tournament (team USA won), and today Crystal Renn, Georgia May Jagger,  and Abby Lee Kershaw arrived by sailboat to walk the streets of southern France barefoot--clad in '70s-inspired pieces.  Since you weren't there, here's what went down: After lots of rumors, plus sized model Crystal Renn walks--proving every size can wear Chanel. Photos courtesy Bernadette Morra and  Lisa Tant. Misshapes DJ Leigh Lezark's hotel room with champagne and aforementioned metal bocce balls courtesy of Chanel. Diane Kruger the day before the show looking super cute in her fedora. Photo courtesy of Lisa Tant, editor-in-chief of  Flare Magazine. Vogue's Andre Leon Talley being interviewed by Fashion Television reporter Jeanne Beker. Look how tall he is (!) Photo via Bernadette Morra, editor-in-chief of  Canada's Fashion Magazine. Karl Lagerfeld hobnobbing in St. Tropez  pre-show, captured by Grazia Live. The models arrive to the show in motorboats. Thanks, Jeanne Beker. Georgia May Jagger and Abby Lee Kershaw channel the '70s on the runway. Photos from Grazia Live. See more of our Twitter stalking, and then check out our guides to the best flat sandals, and the best spring fashion trends.