5 Interesting Facts About Calvin Klein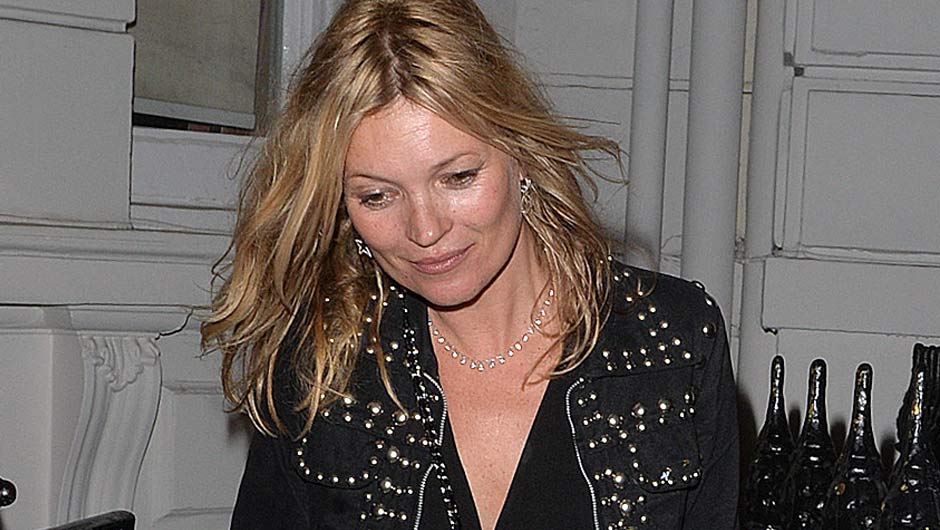 Kate Moss Escorted Off Plane, Calls Pilot 'Basic B****'
Supermodel Kate Moss was allegedly escorted off an easyJet plane in route to London Luton airport for "disruptive behavior." The model, 41, was on her way back from a detox retreat in Bodrum, Turkey. Other passengers revealed that Moss was drinking vodka from her luggage after being denied alcoholic beverages while on board the flight. A spokesman for Bedfordshire police told The Guardian, "The passenger had been reported as being disruptive on the flight. Officers attended and escorted the passenger from the plane. No formal complaints were made against her and she was not arrested." In a statement released to People, easyJet "can confirm that police met flight EZY2232 from Bodrum to London Luton yesterday due to the [behavior] of a passenger onboard. EasyJet does not tolerate disruptive behavior and will always report any incidents to the authorities." Apparently, Moss told the pilot she was a "basic b****" before being escorted off the plane. Maybe it's time for another retreat? Don't miss J Crew customers are flipping out and enter to win a trip to Buenos Aires! [Photo: Splash]
Kate Moss For Topshop Is Still In Stock…And Now It's All 30% Off
If you missed out on Kate Moss for Topshop earlier this year (it sold out by 7am the day it launched!), then today's your lucky day. Not only is it still in stock, in many sizes, but now the entire collection is on sale for 30% off. This is even better than the time it was restocked back in May! Out of 59 boho meets flapper meets rock 'n' roll pieces, 45 are still available to shop. And don't be fooled by the fact that this collab came out just in time for spring. There's tons of items that you can wear beyond the warm weather months, like a leather fringe jacket and suede long sleeve dress. We won't hold you back any longer because who knows how long it will be before everything sells out for good. Click the slideshow to see our picks and get shopping. SHOP KATE MOSS FOR TOPSHOP NOW For more can't miss sales, check out: summer trends on sale, 60% off at Loeffler Randall and Kate Spade's wedding sale
Thank The Topshop Gods, The Entire Kate Moss Collection Has Been Restocked
If you're anything like us, you've been dying to get your hands on something from Kate Moss' Topshop collection since the lookbook dropped. But most of the collection was sold out by 7AM the day it launched. By now, you've been waiting to shop this collection for so long that you'll probably settle for your least favorite item. Am I right? We'll now you don't have to. It seems too good to be true, but while I was browsing the web for some awesome Memorial Day sales (don't forget to check back for those), I stumbled upon the Kate Moss collection and it has been entirely restocked! But you should definitely hurry. If this is anything like last time, the collection will be sold out before you know it. Shop for some of our favorite and most popular restocked pieces in our slideshow. You don't want to miss out this time around. SHOP KATE MOSS x TOPSHOP COLLECTION NOW For more collabs, check out: Bing Bang x UO, Banana Republic x Marimekko, and Kate Spade x Keds
Shop These May Magazine Covers: Kate Moss In Topshop, More
Why just admire the clothes featured on the covers of your favorite magazines when you can actually own the exact items celebs like Kate Hudson and Kate Moss are modeling? It's easier than ever with this month's new crop of glossies because the cover stars are wearing real-girl brands like rag + bone, Topshop and Tory Burch! Click through the slideshow to shop our top three fave May 2014 mag covers. Don't miss Michelle Obama's Tracy Reese dress, Ashley Greene's $51 dress and  Taylor Swift's sunglasses. [Photo: Self; Lucky; Harper's Bazaar]
The Wait Is (Almost) Over, Pre-Order 3 Pieces From Kate Moss For Topshop Now!
Back in October, we found out Kate Moss was teaming up with Topshop for the first time in 3 years. We had to wait months and months for more details, THEN we finally saw photos of the entire collection a couple of weeks ago. Between the boho fringe pieces and sleek sequin dresses, we're super stoked for this collection to hit on April 30th. BUT we got word that you can pre-order 3 items thanks to Harper's Bazaar. The magazine's ShopBAZAAR website features the Kate Moss for Topshop Gold Beaded Fringe Dress ($500), Tuxedo Lame Jacket ($240) and Strappy Black Jumpsuit ($150), all ready for you to scoop up right now. But don't wait, there's only limited availability. So we'd get on that if we were you because who knows how crazy hard it will be to get ANYTHING once the collab launches later this month (probably very difficult). PRE-ORDER KATE MOSS FOR TOPSHOP NOW And don't forget to check out: Kate Spade x Gap Kids, 10 trends only Florida girls think are cool and 43 matching skirt sets that don't cost a fortune [Photo: Splash News]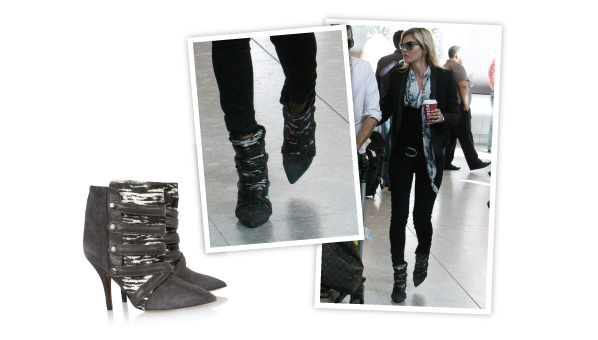 WTF?! Kate Moss' Killer Isabel Marant Boots Are Still Available In Every Size
Just when you think Isabel Marant has reached the pinnacle of her fashion career, she debuts even more drool-worthy styles. On top of her wedge sneakers, Carol sandals and Caleen boots, Marant has another soon-to-be cult fave shoe to add to her roster: the  Tacy Suede Printed Calf and Leather Boots ($1,505). Supermodel Kate Moss recently stepped out wearing a pair with an all black outfit and it's pretty hard to not want anything Kate Moss wears. Shall we mark them as a wishlist/investment worthy piece? Hell yes! Shop the must-have booties below! Tacy Suede Printed Calf and Leather Boots ($1,505) Can't stop, won't stop. Shop more great celebrity style such as Kate Upton's dress, Rachel Zoe's cape, Nicole Richie's House Of Harlow booties and Kate Hudson's workout line. [Photo: Splash News]
We Can't Look Away From Kate's Lazy Eye On The Cover Of Vogue UK
We've never really paid much attention to Kate Moss' misaligned eyes (probably because she and her photog friends do a great job at hiding that particular quirk). Well, the eyes are on full display on her latest Vogue UK cover. CLICK HERE TO SEE THE COVER
Happy Birthday, Kate Moss! In Honor Of Your Big Day, Here Are 21 Reasons We Love You
Supermodel Kate Moss is celebrating her 39th birthday today, so given her fashion royalty status it's only right we take a moment to reflect on all the joy she's brought us over the years. Obviously, Kate's had her slip-ups during her long run at the top, but she's been on the up and up over the last few years and we love her more than ever. Here are 21 reasons why. Need more reasons to love Kate? Check out her wedding pics, her cute black bikini and her hot Agent Provocateur ads.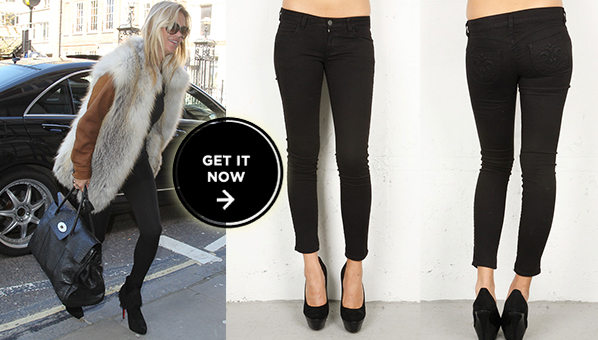 The Only Thing Forever On Kate Moss' Hips Are These Siwy Jeans
If you didn't see Kate Moss on the cover of Vanity Fair and read her rare interview, get yourself a copy. This girl was born to walk the runway and become a style queen (she was rocking Galliano at 15). So naturally, we want to emulate her style. Kate has been spotted numerous times in Siwy Hannah Slim Crop Jean in It's Magic ($154) and it's easy to see why. The black skinnies are super flattering and slide right into all your boots, plus the cropped style looks great with ballet flats in warmer temps. Don't hesitate - you will wear them as much as Ms. Moss herself. Shop below! Siwy Hannah Slim Crop Jean in It's Magic ($154) [Photo Credit: Splash News] Shop more celebrity style such as Jessica Chastain's riding boots, Ciara's leather dress, and Cameron Diaz's trendy nail polish.
Kate Moss' Latest Rimmel London Lipstick Collection Has Arrived
Supermodel Kate Moss and her collaboration with major beauty brand Rimmel London has been going on for quite some time (nearly a decade to be exact) but it wasn't until this year that Moss launched an exclusive lipstick collection with the company. Her debut range boasted seven shades, including the model's signature fiery red, and for spring/summer, five more shades have been introduced. From a subtle nude hue to a bright coral, as well as deep purple and delicate rose shade, each color was chosen by Moss herself with the idea of wearing these lippies to any summer-friendly occasion, such as a music festival or outdoor party. The new colors are available on Ulta ($5.19 each). Read more fashion and beauty news: Target's newest (and possibly best) collaboration, Miu Miu's London collection, and Molton Brown's Olympics collection.
What Do LiLo, Miley Cyrus & Kate Moss Have In Common? These Siwy Short Shorts
What an interesting mix of gals to share a pair of Siwy Camilla Cut Off Shorts in Snowstorm ($165). First, Lindsay Lohan shows some skin with the super short shorts, while still trying to conceal herself from what is most likely a swarm of paparazzi. Then, Miley Cyrus (pre-gluten-free) is clearly at peace with her cut-off pair. And finally, we have ultimate style icon Kate Moss, who's perfected the look of cut off denim shorts with a pair of muddy wellies—as seen at many summer festivals by more stylish It girls than we can keep track of. What makes these shorts your top choice for summer is its bright white shade, which goes with just about anything in your wardrobe. Plus, Siwy claims these cut offs won't continue to fray or get any shorter. As if this tiny pair can get any shorter! Siwy Camilla Cut Off Shorts in Snowstorm ($165) Shop more celebrity style finds: Jessica Alba's TOMS shoes, Rachel Bilson's dress, and Reese Witherspoon's accessories.
Get Kate Moss' Exact Siwy Skinny Jeans — Or The Equally Awesome Coated Version
Megamodel Kate Moss has worn her Siwy Hannah Slim Crop Jeans ($154) enough to prove that they work with anything. Wear them in summer with strappy black sandals, or a la Kate with with tall leather boots or lace-up ankle booties all fall and winter. The cropped style makes them even easier for stuffing in to boots -- and are perfect for petite gals. (more…)
Smoking Slippers Are The New Ballet Flats. Just Ask Kate Moss.
These are only $56 at Topshop. Kate Moss started the ballet flat trend back in 2003...and it was only a matter of time before she pulled the rug out from under outdated feet. The newest flat shoes trend comes from kind of an unexpected place, though.Though these kind of look more like something that Hugh Hefner would wear, they're actually the biggest shoe trend of 2011. So you might want to get yourself a pair. (more…)
Kate Moss Wants To Sell You Her Tattoos For $46,000. Are You Game?
Now Kate Moss is selling her tattoos. Kate Moss has a knack for turning her modeling jobs into designing gigs. Her next venture? Turning her tattoos into luxury jewelry. (more…)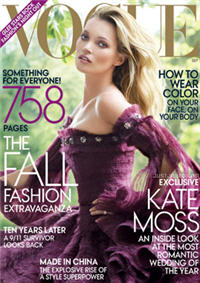 5 Reception Ideas I Got From Kate Moss' Wedding
The September Vogue cover story this year is "the most romantic wedding of the year," which, if you have any doubts, belongs to Kate Moss. The issue features a 15-page spread on her English countryside wedding to The Kills rocker Jamie Hince. I had already fawned over early media photos of whimsical bridal party, and this deeper look into her wedding day has provided other inspirations, as well. (more…)
Mid-Day Catch Up: Kate Moss Married Thanks To 'My Big, Fat Gypsy Wedding,' Kingston Rossdale's Shaved Head, More
From left: Kate Moss' Vogue Cover, and Kingston Rossdale's new 'do (more…)
Take A Cue From Kate Moss: Your Bridal Party Can Look Like A Bunch Of Child Models, Too
Kate Moss' adorable entourage of flower girls almost stole her wedding day thunder (though technically, female attendants to the bride are considered "bridesmaids" at any age in the UK...but we say pish posh). We SO prefer these chic little maids to Kate Middleton's. You can emulate their ethereal wedding look by keeping it sleek n' simple. Here's how to keep your flower girls looking more couture than creampuff... (more…)
Mid-Day Catch Up: Kate Moss' Honeymoon, Victoria Beckham Welcomes First Daughter, More
From left: Kate Moss and husband on their honeymoon, David and Victoria Beckham Kate Moss And Husband Jamie Hince Honeymoon Around The Mediterranean The newlyweds traveled around on Topshop CEO Sir Philip Green's yacht. Victoria Beckham And Husband David Welcome First Daughter The couple, who already have three sons together, welcomed their first daughter, Harper Seven, yesterday. For more non-bridal, non-baby news, check out Nicole Miller's Indego Africa collection, Kate Middleton's tiny waist in her DVF dress, or shop under-$100 summer dresses.
Kate Moss' Honeymoon Destination Revealed (Plus Black Bikinis Just Like The Supermodel's)
Kate Moss and her brand-new hubby Jamie Hince were spotted on their honeymoon this week - it turns out the pair is romping around on Topshop CEO Sir Philip Green's yacht. The couple boarded the boat, called "Lionheart," in Monaco and are now making their way through a Mediterranean tour: Portofino, Italy, Cannes, Saint Tropez. Kate was spotted in a strapless black bikini that everyone is flipping for: Loving her look? We found 4 identical suits to stock up on for your own honeymoon. (more…)
NYMag Declares A Winner In The Wittstock vs. Mosstock Wedding-Off. Do You Agree?
This weekend, Kate Moss (practically royalty) and Charlene Wittstock (real royalty) headed to the aisle in what turned out to be weddings of epic proportions. Both celebrated over multiple days, and even had overlapping guests lists (what is Naomi Campbell to do?!), not to mention their designer dresses (Kate chose Galliono, while Charlene wore Armani). Today, NYMag tallied the "points" for each and declared Charlene the winner. What do you think? Shop our guides to the best wedding costume jewelry, black bridesmaid dresses, and simple wedding dresses.
More Kate Moss Wedding Photos Surface – Including The Dress & A Very Floral Bridal Party
Kate Moss is a stunning bride, it turns out. We just saw the first photos from her big day, and she looks stunning in an ivory, speckled veil. Her daughter, whose face has been blurred, is wearing an adorable floral wreath, which look very much like the ones the royal wedding flower girls wore. Shop our guides to the best wedding jewelry, lavender bridesmaid dresses, and outdoor wedding dresses.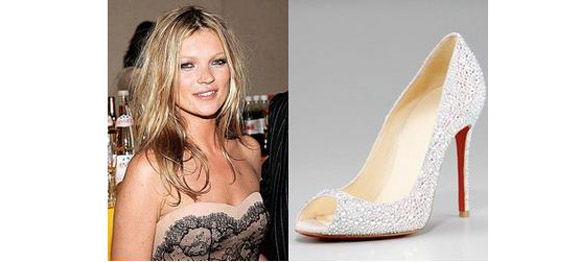 CONFIRMED: Kate Moss Is Wearing Christian Louboutins!
ELLE UK has just confirmed that Ms. Moss will be wearing Christian Louboutin pumps to her wedding today. No word on what the exact pair looks like (we're sure it's custom), but we do know that the Louboutin bridal collection contains baby blue in the interior of the shoe. So I guess we know how Kate is satisfying her "Something Blue." Personally, we'd go for these Christian Louboutin Crystal-Encrusted Suede Pump ($3,095). (more…)
Kate Moss' Wedding Dress Designer Revealed! (Hint: It's A Controversial Pick)
It's disgraced designer John Galliano! In March, long before the whole anti-semitic, booze-filled tirade, John Galliano was tapped to create Kate Moss' wedding dress - undoubtedly a dream for any designer. Then, alas, he got himself in hot water, got fired from Dior, faced criminal charges, and was effectively black-listed by the industry. It turns out that his girl Kate is sticking by him as multiple sources are confirming that he is, in fact, designing her gown for tomorrow's wedding, which has been dubbed Mosstock. Leave a comment: do you think Kate is condoning bad behavior, or is it time to forgive and forget? Shop our guide to the best strapless wedding dresses, white wedding shoes, and inexpensive wedding dresses.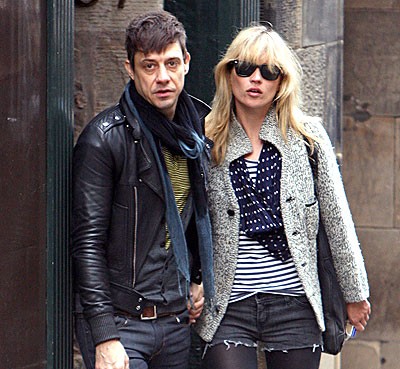 Rumors About Kate Moss's Festival-Style Wedding (AKA "Mosstock"): Include Snoop Dogg
A quick update about Kate Moss's upcoming wedding, because we know you're dying to know. Considering Moss has been setting trends consistently for decades, her wedding could become a template for future rocker brides. Details-slash-rumors about the three-day, rock festival wedding Kate Moss is planning to her beau Jamie Hince (in which news reporters have dubbed "Mosstock") have been swirling for some time, from the model's bachelorette party at the Aisle of Wright Festival, complete with pink hummer limousines and rock 'n roll-partying to the list of performers. Apparently everyone from The Rolling Stones to Snoop Dogg and Lady Gaga have been approached to join the roster. Anyone know where to score a ticket? For bridal picks even Kate would approve of, shop our guides on simple wedding dresses, designer wedding shoes, and bridal hair accessories. And don't miss the chance to see photos of a 17-year old Moss rocking a Laura Ashley wedding dress.
Midday Catch Up: Kate Moss Modeled Bridal At Age 17, Pink Welcomes New Baby, More
From left: 17-year-old Kate Moss, and Pink with husband Carey Hart See The Pictures Of 17-Year-Old Kate Moss Modeling Wedding Dresses And now, 20 years later, Kate won't just be modeling wedding dresses, she'll be wearing her own! Pink Welcomes Daughter Willow Sage Hart Into The World The 31-year-old singer gave birth to her baby with motorcycle racer Carey Hart this past Thursday. For more non-bridal, non-baby-related news, be sure to check out Heidi Klum's new line of sneakers for New Balance or shop our favorite little white dresses on sale.
A 17-Year Old Kate Moss Models Laura Ashley Wedding Dresses. Yes.
Possibly to celebrate her upcoming July wedding, BRIDES UK dug up a very retro photo shoot of Kate Moss from 1991 modeling wedding dresses at the ripe old age of 17. In more Kate Moss wedding news, apparently she's changed her wedding date to throw off the paparazzi. Smart. (more…)
Two Fashion Heavyweights Tapped For Kate Moss' Wedding — Find Out Who
Kate Moss' wedding has already stirred up enough controversy -- from news that she'd hired and fired John Galliano as her wedding dress designer, to her There's Only One Kate In London ad (a jab at Ms. Middleton). According to Vogue, Kate has hired the world's most famous fashion photographer Mario Testino to shoot her wedding, and is allegedly still wearing John Galliano, despite his epic fall from grace. Shop our guides to the best strapless wedding dresses, white wedding shoes, and inexpensive wedding dresses.
Midday Catch Up: Kate Moss Takes It Off For Agent Provacateur, Versace Launches Kids Line, More
Kate Moss Stripped Down For Agent Provacateur ...and this isn't even the NSFW ad. Versace Will Launch Kids Clothing Line Next Year As if celebrity children were somehow lacking in ample choices for designer duds... For more non-baby, non-bridal news, be sure to check out Prabal Gurung's collaboration with J.Crew or shop Tory Burch wedges on sale.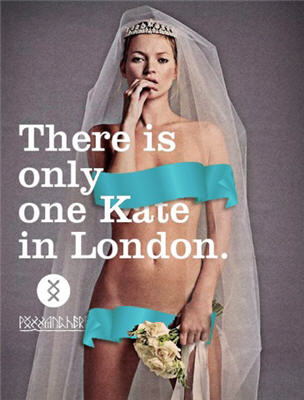 Agent Provacateur Bridal Is So Hot That Kate Moss Was Willing To Pose Naked For It
Kate Moss is about to be a bride herself and I suppose she's taking it very seriously because she just bared it all for this Agent Provocateur Bridal ad. We've censored the photo (see the NSFW version here), because the sexy collection is worth writing about. Word to the wise, Kate, a few waxing strips wouldn't hurt. (more…)
Get Kate Moss' Rag & Bone Moto Boots Before All The Wannabe Supermodels Do
Kate Moss was looking rather tough with her all black ensemble featuring a long leather jacket with a matching leather belt and leather motorcycle boots by Rag & Bone. With her slicked back ponytail, Kate means business as she departs from the Louis Vuitton fashion show. (more…)
UPDATE: Will Kate Moss Keep John Galliano As Her Wedding Dress Designer?
Update: Now that John Galliano has been fired from Dior, the big question looms: will Kate Moss ditch him as her wedding dress designer? Kate, who weathered that whole blowing cocaine on camera scandal in 2005, is certainly no angel herself. What do you think? Leave a comment below. From 4/25: With style icon Kate Moss recently engaged, and Kate Middleton's royal wedding two months away, the battle is on for which British Kate we should care about more. I'm going to side with Moss - who's been our radar much longer than the future princess, and has far better taste. That's why news that she tapped John Galliano for her wedding dress is so major. The good news: he has plenty of experience designing couture dresses for Christian Dior and Givenchy. The bad news: those dresses made our worst haute couture list, and last night, John went to jail. You win some, you lose some. For more Kate Moss-approved wedding fashion, check our guides to simple bridesmaid dresses, long bridesmaid dresses, and satin wedding shoes.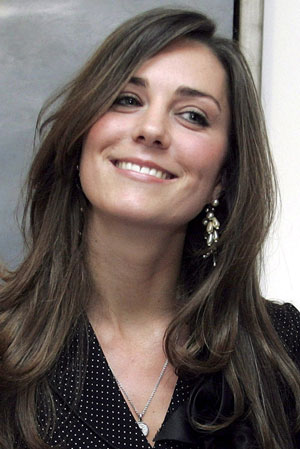 Must-Reads: Kate Middleton Wedding Details, Budgeting Tips, More
Obsessed with the royal wedding (to the point where it's scary?). We found 7 ways to Kate Middleton-ify your wedding, from cake to the clutches to the invites. Find your dream dress without blowing your budget - Real Simple has the scoop. Look at the sweetest, realest photos of couples in love on Honey Living. Price William and Kate Middleton's inspired wedding invitation and Free Custom Download by the Wedding Chicks. bWed Exclusive explains Something Old, New, Borrowed, and Blue. I'll give you a hint: there's reason behind it - or at least superstition. Every Last Detail has something that all brides (and vendors) need to read is on this week: what to keep in mind when communicating with your wedding vendors. Off-the-rack wedding gowns for under $1k abound on The Broke-Ass Bride this week. Gorgeous AND inexpensive? Yes please! Can't get enough bridal news? See who's designing Kates Moss' wedding dress, find out what to pack for that Safari honeymoon, and see how you can transform your wedding into the Secret Garden with these Etsy finds.
6 Conversation Starters To Get You Through Any Weekend Awkward Silences
Welcome to the weekend - a place to relax, unwind, and mingle with your pals. And since we don't want you to be a mute, here are some excellent conversation starts to really get the ball rolling: Kate Moss is engaged, we know, but she has just decided to have John Galliano design her wedding dress. Maybe it will be covered in newsprint about her wedding. [CocoPerez] Tyra Banks is more than just looking for model and hosting "Panty Parties (!)" on her show. Next up, Harvard Busisness School. You go girl. [CocoPerez] Justin Bieber, Jennifer Aniston, and Olivia Palermo all took a trip to the barbershop together and unveiled shorter lengths. Maybe too much Smart Water makes you go crazy. [Vancouver Sun] (more…)
Week In Review: Yikes – Vintage Golden Globes Pics, Prada's Paisley Collection, More
Must Reads: These stars weren't always so glamorous at the Golden Globes - check out our slideshow of hideous dress from years ago. Prada unveils their new capsule collection, too bad it looks like your aunt's window curtains. Oprah announces her 2011 must-haves. If Oprah needs them, so do we. Obsessed with Spanx swimwear? Us too...and their new line of cover-ups. Taste Tests: Can you tell which leopard print belt cost $39 more than the other? Which yoga pants are Old Navy and cost $67 less? Can you find which one shoulder dress costs $1,436 less than the other? Best Sales of the Week: Save 70% on ASOS' Maxi Dresses - perfect for every season. We're loving these 50% off Tucker blouses at Piperlime. Love eBay? Check out these super cheap YSL, Louboutin, and Dior shoes now. Celebrity Style: Celebrate Kate Moss' birthday with us by shopping her favorite trends. Michelle Williams looks like our grandma is this double-trouble lace dress. Separated at birth? Gwyneth Paltrow and Taylor Swift have more in common than just country music. Dance the night away in these Black Swan-inspired trends. Going, Going, Gone: Grade this gorgeous suede Kate Spade pumps - before they're all gone. Beauty: We found out what's in those Golden Globes gift bags. You'll be in shock. Wonder woman isn't just a skanky Halloween costume, she's inspiration for a new makeup line.
Kate Moss May Not Eat Cake, But It's Her Birthday, So Let's Celebrate Her Trendsetting Ways
Today is Kate Moss' birthday. Since she's been a fashion icon for years, why not celebrate by shopping her (and ours too) favorite trends? Faux Fur Leopard Coats: Meow (!) We are loving Kate's ferocious faux fur coat and luckily, we found a less expensive, yet still very diva version. Wrap yourself up in this Motel Leopard Print Faux Fur Coat ($87.92, down from $146.54) and strut your stuff. Hunter Rainboots: Kate can be seen sloshing around in muddy London in her trusty Hunter Wellington Boots ($125). Available in an array of colors, these babies will keep your feet dry in any weather. Wool Fedoras: Ms. Moss has never seen a bad hair day, thanks to her go-to wool fedora. Whether you're into hats or not, this Rag & Bone Floppy Brim Fedora ($70, down from $140) is a staple to keep in the closet. Ray-Ban Wayfarers: Block the sun supermodel-style with a pair of cool shades. Kate, and other celebrities, reach for their Ray Ban Original Wayfarer Sunglasses ($145) and now you can too. Over The Knee Boots: If you're just as obsessed with Kate's suede boots as we are, be sure to try this trend yourself. Since she loves suede, we recommend picking up a pair of these Cole Haan Air Talia Over The Knee Boots ($299.90, down from $498) and slip your favorite skinny jeans inside. Shop all of our favorite celebrity styles. Shop our guides to the best over the knee boots, the best faux fur, and the best sunglasses. Join our e-mail list for exclusive fashion e-mails.
Go Over The Knee For Under $100 – A La Kim Kardashian And Kate Hudson
From Kim Kardashian to Kate Hudson and Kate Moss, over-the-knee boots are, well, all over the place. Flat versions of these boots are perfect for work and errands,  but add towering heels and instantly they are ready for a night out on the town. One of the best reasons to get your hands on a pair, though, is that some of our favorites are under $100. Happy shopping! You'll want to wear these Rampage Kourtney boots ($59.50, down from $69) everywhere this season. Not only do they pair perfectly with skinny jeans and leggings, but the flat heel makes them a dream to walk in. Charlotte Russe's Flat Riding Boot ($45.50) have a more rugged, cowboy feel and for this price, you can easily afford some distressed denim to wear them with. We love how the suede texture and subtle studding on Coconuts' Marshall Boot ($99) give the boots a luxurious feel. No one will ever know they cost you under $100. When you want to spice it up, look no further than Report's deep brown Kenly Boots ($87.96, down from $109.95). Slide on a pair of these babies and voila! Instant sex appeal. If color is more your thing, you will love these White Mt. Tall Ship Charcoal Suede Boots ($83). Pair with black leggings and tunic top for a perfect brunch outfit. Love under-$100 deals? Check out our favorite under-$100  faux fur pieces, military jackets, and booties. Then, use our shopping guide to find more over-the-knee boots and the perfect skinny jeans and leggings to wear them with.
Fake It 'Til You Make It: Get Gisele & Kate Moss's Leather Look for Less
Leather jackets aren't just fierce--they're sexy, too, in a tough way. Throw one over pretty much anything and earn insta-fashion cred. These days, they're as common on off duty supermodels (like Gisele Bundchen and Kate Moss) as a pair of Louboutins on the red carpet. Don't have a supermodel's bank? No problem--try these faux leather jackets that look (and feel) real: Check out 9 more of our favorite leather jackets, plus skinny jeans and pumps for a seriously cool look. Follow the author of this post on Twitter @shefindseileen.
Blog Roundup: Seen And Heard Around The Web This Week
SHEfinds pulls together the best Kate Moss for Topshop buys -- hurry, they're limited edition! Allie is Wired spills about the controversial song Gwyneth Paltrow will be singing on Glee. Alternative Consumer found surprisingly cute vegan boots. Handbags for the Trendy Mom on Bag Bliss! Bag Snob loves the foldover clutch - there is so much wiggle room for extra stuff! Skin care expert, Renée Rouleau answers if you need to use a serum at Beauty Snob. Coquette celebrates the final mainline collection from Kate Moss Topshop. The Jet Set Girls can't wait for the new Lanvin for H & M collection! KRISTOPHER DUKES is going to return of the mid-heel pump Shopping and Info wants to buy this amazing leather bracelet with gold buckle from Fendi. StyleBakery asked their favorite bloggers to share their must-haves for fall The Beauty Stop takes a look at the ombre hair color trend. The Fashion Bomb compiled a handy guide to over 50 fashionable and chic warm winter coats. The Shoe Goddess is very impressed with Yves Saint Laurent's Resort Collection, especially these fabulous "Woodstock" Platform Sandals! Check out all of our best find of the day picks, this week's sales and deals and all of our celebrity style looks.
Grab The Last Kate Moss For Topshop Pieces Before The Brits Do
It's the end of a fashion era: after much anticipation, Kate Moss's last collection for Topshop has just launched. When we reported on Kate Moss's split from Topshop, we were sad--now we're just focused on getting a piece of it. Here's what's for sale: Kate Iconic, 1o of Moss's best-selling pieces (the peony dress sold out in minutes from the original collection), limited edition party dresses, and "One In," a line so limited it says what number it is on the label. Oh and a line of brand spanking new jewelry. Get shopping now at Topshop! Check out all of our posts on celebrity style, plus best  leather jackets and skinny jeans, to all of our favorite sales and deals, updated every single day. Follow the author of this post on Twitter @shefindseileen.
Blog Roundup: Heard Around The Web This Week
Never underestimate the power of an awesome pair of pumps, a la A-listers like Kate Moss, Jennifer Aniston and Victoria Beckham. Get yourself one of the 9 hottest pairs from around the web, curated by SHEfinds experts. Ali Lohan is modeling for Lindsay's 6126 line and Allie is Wired has the pictures. Alternative Consumer brings you the best of eco fashion week - plus an eco-friendly deal of the day. Bag Snob has the Burberry Prorsum collection - bags that you can order, right now, until September 28th. Beauty Snob says this is the best eye cream La Mer's ever come out with! Coquette recommends a stylish cape coat to transform your look this fall. Fashion Pulse Daily divulges it's survival tactics for making it through New York Fashion Week's Spring 2011's Collections The Jet Set Girls find a pair of designer tweezers that they couldn't live without. KRISTOPHER DUKES is wanting a pair of Whooga Ugg Boots . Second City Style has mandated these 9 fall must-haves! Shopping and Info loves the over the knee black leather boots by Stuart Weitzman seen on Olivia Palermo. Stiletto Jungle shopped Tucker for Target and picked 5 must-buy pieces. The Beauty Stop explains how to wear vibrant eyeshadow. The Shoe Goddess prevents a shoe disaster with these chic Lanvin Satin Bow Pumps! Go on a shoe shopping spree--it's Friday, after all. Check out the best flat black boots, clogs, desert boots, leopard print shoes, slingbacks, cool sneakers and wedges--we've got something for everyone. Follow the author of this post on Twitter @shefindseileen.
Must-Read Blogs: Heard On The Web This Week
Know what the most comfortable shoe trend is this year? Oxfords, a la Kate Moss and Sienna Miller. Let SHEfinds help you choose your next pair. Allie is Wired counts down the top 10 celebrity appearances at Fashion's Night Out. Alternative Consumer rounds up some ec0-friendly fashion finds. It's never too early to start your holiday planning and this is a great fun clutch that does not require too much thought at Bag Snob. Beauty Snob says to go try this at a Bobbi counter immediately! Coquette picks the best menswear-inspired gold boyfriend watches. The Jet Set Girls are coveting the new Chanel for Fashion Night Out nailpolishes: Les Khakis de Chanel. KRISTOPHER DUKES is using Scent Genie travel atomizer for fragrance. Shopping and Info wants the Vince shearling drape front leather jacket for Fall. StyleBakery's 15 days of fall fashion trends continues this week with minimalism, lace, jewel tones, long skirts, capes and more The Beauty Stop takes a look at the new fall beauty line from Payless Shoe Source. The Shoe Goddess chats with designer Paola Hernandez! See all of our favorite sales and deals, best find of the day picks and up-to-the-minute celebrity style posts.
It's The End Of An Era: Kate Moss' Final Topshop Line Hits In October
After 3 years, 14 collections, and a giant U.S. opening, Kate Moss and Topshop are parting ways. We are super bummed to report that the supermodel's last collection for the British chain will be her fall 2010 line, which hits in October. Apparently, there's no rift between Moss and her BFF, Topshop owner Sir Philip Green, the model just has "other commitments." Hmm, we can't wait to see what those might be... hopefully it's more than just Kate Moss fruit jam. Before you sink into a deep retail depression, stock up on the almost-collectors-items from the line: Kate loves fitted maxis, so this Kate Moss for Topshop Jersey Maxi dress ($80) is perfect for her line. You will love the drop tie waist of this knit dress - it's perfect for fall. Pair with flat boots for a rocker girl look, or booties for a glam one. This Limited Edition Kate Moss for Topshop Diamante Shift dress ($310) is super cute now, and will be auction-worthy later. Also from the Limited Edition collection, this White Rose Fishtail Maxi dress ($280) totally looks like something Kate Moss would wear with a cropped leather jacket. Get the best online sample sales from around the web, more celebrity style, and see our guide to more cardigans, little black dresses and the best fitting jeans.
Daily Links: The $130 Hermes Coloring Book, Steve Madden Big Heads Make A Comeback, More
1. Supermodel Kate Moss does eat-- her own jam, that is. Moss' brand new line of homemade jam, Kate's Damson Jams, will definitely be on our toast. [NY Daily News] 2. If you thought Lady Gaga's MLB appearances were racy, think again. The star revealed everything under a thin layer of mesh at the Lollapalooza concert festival. [People Stylewatch] 3. Steve Madden has traveled backward in time to bring back the notorious big headed girl ad campaign. [Refinery 29] 4. Crayola never had this in mind: Hermes now has a coloring book for children. At $130, the resulting art better be frame-worthy. [The Cut] Get your gossip fix with all of our Daily Links. Shop our guides to the best flat boots and to the best party shoes. Sign up for SHEFindsMail for fashion news in your inbox.
Daily Links: Kate Moss Book Has A Built-In Mirror, Happy Birthday Oscar De La Renta, More
1. The Kate Moss book by Mario Testino has arrived. For $400, enjoy exclusive pictures and an inside cover mirror--do what you want with it (wink, wink).  [Coco Perez] 2. Katy Perry, feeling left out of the celebrity-turned-fragrance trend, decided to produce her own scent: Purr by Katy Perry will come to Nordstrom in November. [WWD] 3. Happy 78th birthday Oscar De La Renta! Take this fun quiz to see how much you know about the man, the myth, the legend and his clothes. [FabSugar] 4. Women may love the deals on online sample sales, but men don't agree. You'll never guess why. (Hint: Think football and beer) [The Cut] Never miss a thing with our Daily Links. Shop our guides to the best designer handbags and the best fragrances for every season. Subscribe to our online newsletter for instant fashion news.
Sienna Miller And Emma Watson Tie For The Shortest Shorts at Glastonbury
As you can see, cut-off shorts were the biggest trend at England's Glastonbury music festival. Kate Moss, Sienna Miller, Alexa Chung, Kelis and Emma Watson were all seen wearing the style. It almost seems like these ladies entered into some sort of who-can-wear-the-shortest-shorts contest - and they are all winning. Whether you're bold enough to go with the shortest short cutoffs, or prefer a more classic denim style, we plucked a few jean styles to try: If you want to try the distressed, cutoff look at home, we recommend these cool Current/Elliott The Boyfriend shorts ($163). This faded style is just the like ones the celebs wore. These Genetic Denim Dakota Cutoff Boyfriend shorts ($154) are a great every day pair - the true blue wash goes with everything, and they aren't overly distressed or too short. If you would prefer a more relaxed  pair, go for these Free People "Rugged & Ripped" Cutoff Denim shorts ($68). The price is right, and the style is flattering, even if you don't have a petite frame. If you're wary of the cutoff look, try a rolled-up pair like these Joe's Jeans 'Sammy' Roll Hem Stretch Denim shorts ($98). You will love the dark wash and relaxed fit of this go-to weekend pair. Craving more celebrity-approved styles? Shop our guides to the best summer dresses, the best maxi dresses, and the best sheath dresses. Subscribe to our newsletter for SheFinds e-mails in your inbox.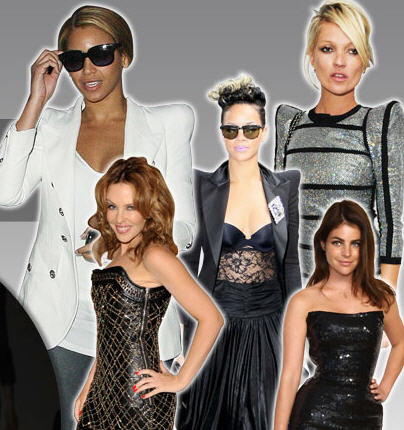 Starting Now: Shop 85% Off Balmain At The Outnet's Pop-Up Sale
When it comes to online shopping, The Outnet definitely knows how to create frenzy. Back in April, shoppers pulled all-nighters to nab something from their $1 designer sale, and today they're holding a Balmain pop-up sale at up to 85% off.  Balmain, a runway favorite among A-listers like Beyonce, Kate Moss, and Rihanna is still pretty expensive, even at 85% off-- but because this is such a rare occasion, it might be worth the splurge. You only have seven days to snap up one of these Balmain pieces, but we suggest you buy them now because they're likely to sell out within hours. When these Balmain buckle boots ($642, down from $1,025) came strutting down the runway, nearly every fashion editor died with delight, and featured them in their magazines. If you've just gotta have them, now's your chance. Snag this Balmain chain belt ($303, down from $1,010. Like a classic Chanel chain strap belt, it always looks chic--and you can wear it 'til you're old, and pass it on as an heirloom. Balmain brought back the strong shoulder--be a part of the '80s remake with this Balmain Wool Tuxedo jacket ($1,992.50, down from $3,985) that is ridiculously sharp looking--if you happen to have some extra dough lying around. Get more designer deals by checking out our sales and deals section, and then see our guides to the best black dresses, the best blazers, the best skinny jeans, and the best CJ by Cookie Johnson jeans.
Daily Links: Designers Cut Off Lindsay Lohan, Kate Moss' New Longchamp Handbags, More
1. Is there anything Kate Moss can't do? The model revealed her second line of Longchamp handbags for fall 2010, and they look pretty cute. See her Topshop collection, and then shop our favorite chain strap bags. [Stylefrizz] 2. According to The Cut, designers aren't letting Lindsay Lohan "borrow" clothes anymore. We're sure her alcohol-monitoring ankle bracelet has something to do with that. [The Cut] 3. Brands like Dolce & Gabbana, Emporio Armani, and Y-3 are designing clothes inspired by the World Cup field. [WWD] 4. Bridezillas, rejoice. Tiffany & Co. launched an iPhone app that lets you peruse engagement rings and wedding bands via your cell. Casually download the app to his phone if he hasn't gotten the hints yet. [The Frisky] Stay in the know with all of our daily links. Check out our guides to the best pencil skirts, the best blazers, and the best leggings. Receive updates in your e-mail with our newsletter.
What to Wear To Bonnaroo (And Other Outdoor Festivals) Rain or Shine
We get it: you're not a hemp-wearing Grateful Dead fan, but want to look hippie-chic and comfortable at the outdoor concerts and festivals this summer. Have no fear, there is a stylish way to wear hippie-inspired clothing (thanks for the inspiration, Kate Hudson and Kate Moss.)  Get the look here: Start the look with a pretty floral tank like this adorable Mini-Floral Henley Tank ($14.99, down from $49.50). This will be the girly base to an otherwise hippie meets rocker outfit. Get the celebrity cut-off style without the celebrity price tag. These Revolt Cut-Off Jean Short ($19.90) are the perfect way to nail the look; now you can spend the money saved on liquid refreshments. Bring a cardigan - it gets chilly at night, and we know you'll be rocking out until the wee hours. This Sparkle & Fade Short Sleeve Roll-Cuff Open Cardigan ($48) has great roll-up sleeve detail and is super soft. Now you can rock out in comfort. Get your Woodstock on with a cool, fringe bag like this awesome Urban Code Leather Fringe And Stud Clutch ($42.27). You will love the sandy color and stud details - so Almost Famous. Avoid muddy, bruised feet by opting for a cool boot, rather than a sandal. You will love the rock 'n' roll feel of these Steve Madden Texic Grey Leather ($129.95, down from $149.95). Check out more cool summer fashions, from rompers and summer dresses to shorts, and flat sandals.
Tights And Shorts: The Unlikely Fashion Combination Sweeping Hollywood
Some of Hollywood's chicest starlets are moving into spring by ditching their skirts in favor of shorts with tights.  Katie, Nicole and Kate prove that this trend is versatile and works no matter what your style mantra is. These classic jean shorts by J. Crew ($79.50) are instantly dressed up with a pair of opaque, silky tights by Wolford ($52) that will literally last forever. Get a plain white tank, like this one by Kain ($80), that you can wear under each of these three looks. On warm days, take a cue from Katie and simply throw on a printed cotton scarf like this one by Guess ($61.44).  Go retro in this vest by  Bindya ($42.90) that embodies Nicole's hippie chic style.  If you're feeling a little more conservative, try this tweed jacket from K Karl Lagerfeld ($420) that's a staple of Kate's wardrobe. Check out all the latest celebrity fashion, including celebrity denim and handbags.  Find out about all the best online sales with our list of this week's online sample sales.