Um, What Was Kendall Jenner Thinking When She Wore This Outfit?
Kendall Jenner Might Have Gotten Plastic Surgery… And She Looks JUST Like Kylie Now!
5 Celebs You Didn't Know Struggle With Acne
How Did Kendall Jenner Not Realize Her Top Was See-Through?
Um, Did Kendall Jenner Not Realize That Her Outfit Was Completely See-Through On The Red Carpet?
Um, Did Kendall Jenner Not Realize That Her Outfit Was Completely See-Thru?
What Is Kendall Jenner's Halloween Costume Supposed To Be? She's Practically Naked!
Hold up — Did Kendall Jenner Photoshop Her Latest Instagram Pic?
How To DIY A Kendall Jenner Pepsi Commercial Halloween Costume This Year
Kendall Jenner has been on everyone's radar in 2017, especially following her controversial Pepsi ad that ran earlier this spring. And depending on your opinion of the ad, you may be looking to recreate Kendall's look from the commercial for your own DIY Halloween costume. You can get her look for less for Halloween this year with just a few simple pieces that you can order or buy from your favorite stores. Without further ado, let's dive into how you can easily create a DIY Kendall Jenner Pepsi Halloween costume. In the commercial, Kendall transforms from a lavish dress and platinum blonde wig while modeling into a more natural look topped off with a simple tee and denim. Luckily, you can score this white t-shirt from Forever 21 for less than $10. Forever 21 Raw-Cut Crew Neck Tee ($8.90) Kendall is also seen wearing denim head to toe in the Pepsi video. You can recreate a similar look to Kendall's with this denim button-down from Target. The best part about this top is that you can wear it time and time again in the fall long after Halloween is officially over. Target Women's Chambray Button Down with Crochet Trim - Knox Rose™ Chambray ($27.99) It's no secret that raw denim and two-toned jeans are so in right now. And not to mention, many stores have cheap alternatives to what can be very expensive denim. You can snag a dupe for Kendall's jeans from Old Navy for less than $30-- they're on sale! Old Navy Mid-Rise Rockstar Raw-Edge Jeans for Women ($29.00) Of course you'll also need to include a can of ice cold Pepsi for this costume. Simply pick up a Pepsi six pack from Target or order it online along with your chambray buttondown and sneakers. Target Pepsi - 6pk / 7.5 fl oz Mini-Cans ($3.49) Kendall is also spotted wearing a pair of retro round shades on top of her head in the Pepsi ad. Pushed back to keep her hair out of her face, these sunglasses serve as a stylish and effortless accessory. So, be sure to pick up your own pair from Forever 21 for less than $8. What a deal, right?! Forever 21 Classic Round Sunglasses ($7.90) Last but not least, let's talk shoes. Your feet want to feel comfortable come Halloween night, right? Luckily, Kendall does appear in the Pepsi ad wearing a pair of white high top sneakers, and while Vans could work, it's no secret that the sneakers can be pretty pricey. Instead, you can opt for this pair of white sneakers from Target for less than $20. Target Women's Lenia Sneakers Mossimo Supply Co.™ ($19.99) We've got you covered on all of the Kardashian-Jenner news you're looking for, in addition to the best DIY Halloween costume ideas for 2017. For more, make sure to check out these affordable sneakers Kendall Jenner wore, and Kendall Jenner's rumored boyfriend. Or are you looking for more Halloween content? We've still got you covered. For more DIY Halloween costume inspiration, make sure to check out the ultimate pop culture Halloween costume guide, and how to DIY your own pregnant Kylie Jenner costume this year. [Photo: YouTube]
Are Scott & Kourtney Getting Back Together? Here Are The Biggest Moments From The 'Keeping Up With The Kardashians' 10 Year Anniversary Special
Now Everyone's Going To Want These Adidas Sneakers Kendall Jenner Just Wore
When Kendall Jenner says jump, we say how high - well, when it comes to fashion anyways. It's no secret that Jenner and the rest of her model clan (i.e. the Hadid sisters) set the tone for popular trends. Thin-framed glasses, dad shorts, and mismatched denim jackets? You can thank the older Jenner sister for those *amazing* looks. But if some of her daring styles are a little too bold for you, you can look look to her recent choice of footwear for some classic inspiration. The starlet recently stepped out in a pair of Adidas forum sneakers, the chic kicks that are bound to be worn by every editor this season. Described on their website as a "sophisticated court style in a low-cut design," the new sneakers combine the best of function and fashion. They feature a leather exterior - so you won't have to worry about stubborn stains - and perforated details for a little extra edge. What's more, for those who aren't fans of the all-white finish, the shoes are available in a sandy color called St. Pale Nude. The most intriguing part of the shoe? The hook-and-loop strap over the laces. Even if you won't be spending your afternoons playing hoops, you're sure to score in compliments on these sensational kicks. Adidas Original Women's Forum Low Shoes ($110) Although we can't imagine you'll have a hard time styling these versatile beauties, you can follow Kendall's expert tips when all else fails. Like the 21-year-old model, you can opt for a more sophisticated look by wearing the sneakers with a cool denim jacket and khaki-colored bottoms. The cropped pant is the perfect base here, as the cut expertly shows off the stunning shoe. As a final touch, you can even pair the shoe with a brightly-colored sock. For a more laid back look, try a pair of fringe jeans and your favorite graphic T-shirt. We're loving the celebrity-approved Supreme tees; even Kendall herself has been spotted wearing the "Cease and Desist" shirt from the iconic brand. Photo: Splash And the options just keep getting better. You can wear the kicks on date night for a comfy and chic fix! Pair them with a mini dress and peacoat for a look that's sure to impress. If after all this you're dying to get your hands on a pair, we've got some good news for you. Since the shoes have been available since May, they're currently on sale at various retailers. While Adidas is still selling them for the original price of $110, you can find the same kicks for 30 percent off at Pacsun. Word to the wise: You'll want to nab a pair before they sell out in your size. They're already going fast! For even more hot sneaker tips and trends, check out 5 Easy Ways To Clean Your Converse To Make Them Look Brand New and the 2-Second Trick For Breaking In Your Sneakers. You'll especially need the latter if you decide to buy Kendall's favorite footwear. After all, a girl can never have too many pairs of tennis shoes, right? [Photo: Splash]
Kendall Jenner Just Chopped Off All Of Her Hair & Is Giving Us Major Kris Vibes
Does Kendall Jenner Have A New Boyfriend? You Have To See Who She Was Spotted With!
Hold Up– The Victoria's Secret Fashion Show Is Taking Place WHERE?
Kendall Jenner Has Officially Been Named The Fashion Icon Of The Decade
7 Celebs You Never Knew Had Huge Feet
Kendall Jenner Just Cut Her Hair SO Short & We Hardly Recognize Her!
Did Kendall Jenner Really Not Realize That Her Top Was Completely See-Thru?
Did These Celebs Really Not Realize They Completely Forgot To Wear Underwear?
Did These Celebs Really Not Realize They Forgot A Bra?
7 Times Kendall Jenner Didn't Wear Clothes — And Was Still Fashion #Goals
Sharon Osbourne Had A LOT To Say About Kendall And Kylie Jenner's "Vintage Tee" Line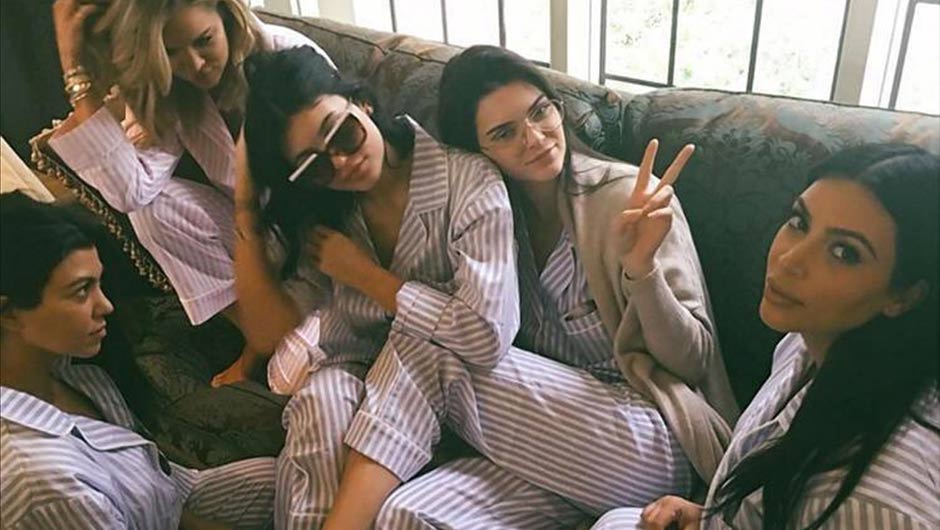 See How Much The Kardashians Have Changed Since 'Keeping Up With The Kardashians' Premiered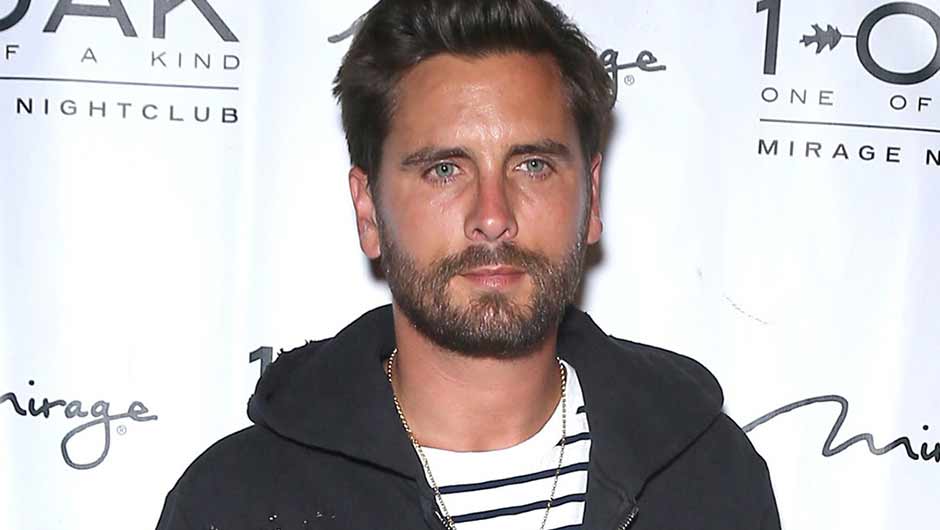 Sad News For Scott Disick, Ex Kourtney Kardashian Is Moving On!
You Have To See The Bathing Suits Kendall Jenner's Been Wearing in Cannes
Sun's Out, Buns Out: 8 Celebs Who Were Serious #SwimwearGoals At Cannes
Bella, Kendall And Selena Wore These Pants, So Now We Want These Pants
Pepsi Just Pulled That Tone-Deaf Kendall Jenner Commercial
Can Someone Please Explain What Is Wrapped Around Kendall Jenner's Ankles?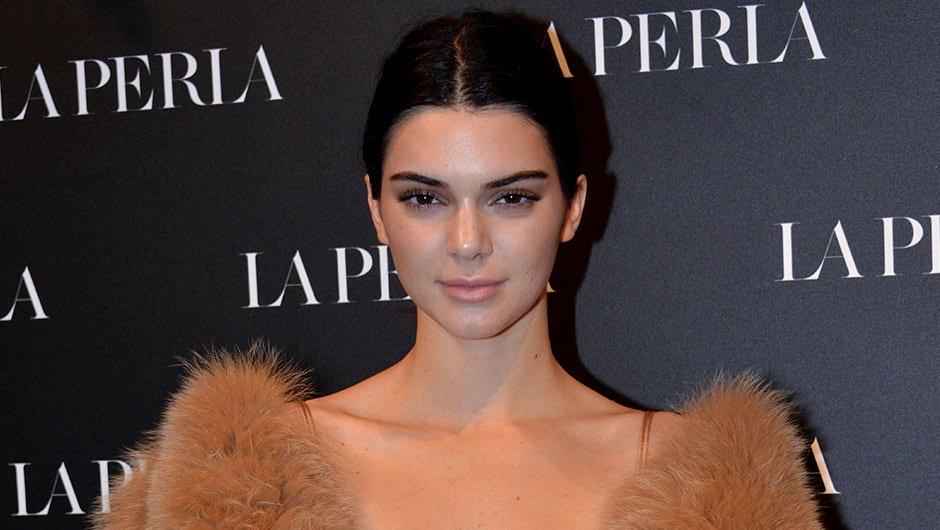 Kendall Jenner Was Robbed Of $200K In Jewelry
7 Cheap Stores That The Kardashian-Jenner Sisters Swear By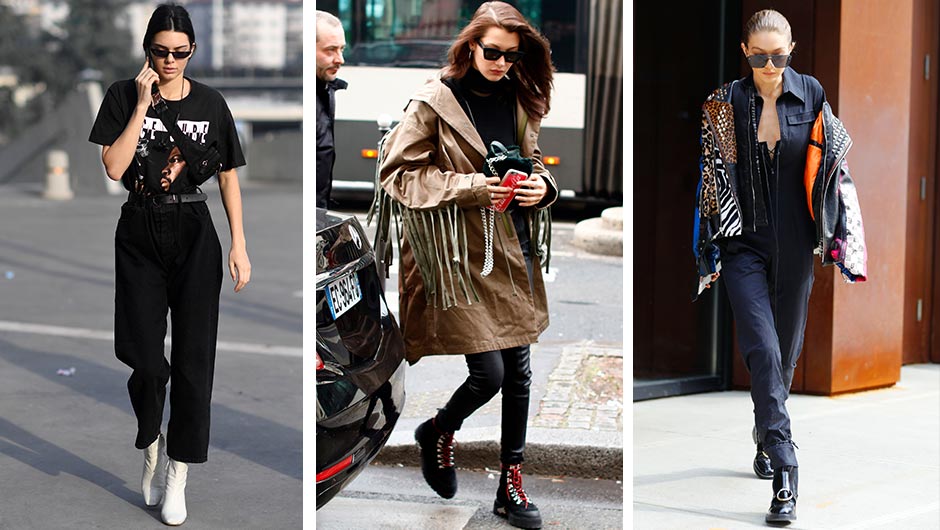 The One Thing Gigi, Bella And Kendall Never Wear
Why Are All The Cool Girls Wearing Hoodies This Way?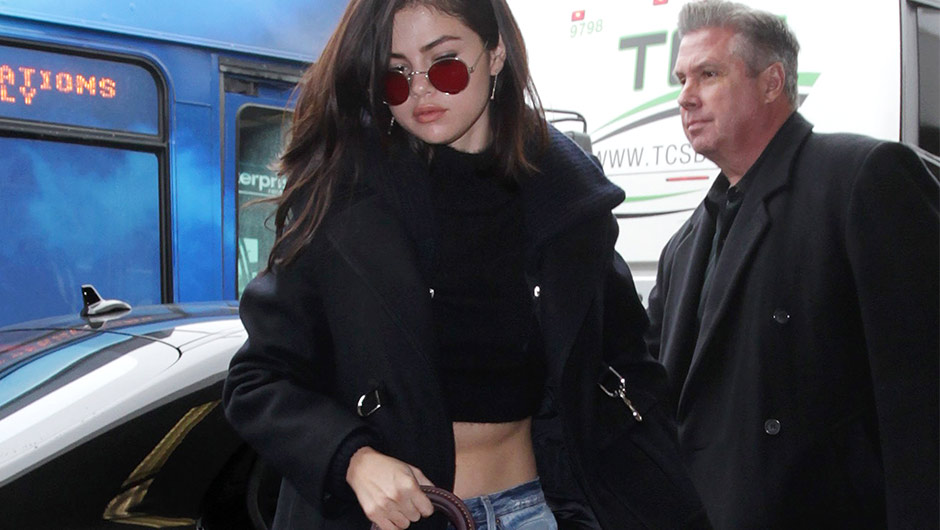 Selena Gomez Just Wore The Jeans Every Celeb Is Obsessed With
The Weird Reason Kendall Jenner Painted Her Living Room This Color
Here's What You Don't Know About Kendall And Kylie Jenner
See What The Kardashian-Jenners Got For Christmas: Puppies, Cars, Diamonds, More
The Kardashian-Jenners must have been really good this year, at least according to the gifts they received. The family showed off their Christmas presents on social media because pics or no one knows you made the nice list! Check out their insane haul below: Kylie The makeup mogul received a ton of gifts from her boyfriend Tyga (all of those black wrapped presents are for her!), including a red fur coat. https://www.instagram.com/p/BOdBg7bFOes/ https://www.instagram.com/p/BOdBCWKFtYC/ She also got this sick painting from Scott. https://www.instagram.com/p/BOcyb1rFGDK/ And someone (we're guessing Kris) gifted her a gorgeous Hermès Birkin. "Oh my I'm gonna cry" she captioned a snap of the $9,000 bag. Same, Kylie, same. https://www.instagram.com/p/BOc1hpPl6AX/ Kendall Since she's always playing with Kylie's dogs, Kendall was given a puppy of her own! Kylie gifted her a white Italian Greyhound. https://www.instagram.com/p/BOcyYBnFBh2/ Kris and M.J. Kris received a classic 1956 Ford Thunderbird car from all her children, which is reportedly worth over $35,000... https://www.instagram.com/p/BOdExa0gvH7/ https://www.instagram.com/p/BOc0pmGFMxT/ Her mother Mary Jo was gifted one too in addition to a brand-new Mercedes-Benz SUV. Guess that's what you get when you're the person responsible for the Kardashian empire! https://www.instagram.com/p/BOc0jHDFjQe/ https://www.instagram.com/p/BOcywRvl3Rw/ North and Penelope Kylie gifted her nieces their very own custom lip kits and palettes named after them! So cute. "North, one day you will really appreciate this," Kim Kardashian can be heard saying in the background of the video Kylie shared to Snapchat. https://www.instagram.com/p/BOczCRLF2zd/ https://www.instagram.com/p/BOczF5-lqVa/ Khloe While Khloe didn't spend the holidays with her family (she was in Cleveland with boyfriend Tristan Thompson), she didn't miss out on any swag. She got huge diamond hoop earrings from Kim and a choker from Kylie: https://www.instagram.com/p/BOc49dFDEr6/ https://www.instagram.com/p/BOc4uzGjsdf/ Kris also gifted Khloe two original photos of Marilyn Monroe shot and signed by legendary photographers Bert Stern and Richard C. Miller. https://www.instagram.com/p/BOY7vSZDQH5/ Scott received a Patek Philippe watch worth $50,000 and a Cartier lighter, both from Kylie and Tyga. https://www.instagram.com/p/BOczbNVlNJc/ Don't forget to check out: the first thing Chrissy Teigen eats every morning and why 2016 wasn't Taylor Swift's best year [Photo: Splash News]
Kendall Jenner's Trainer Reveals Her Insane Daily Workout Routine
While her older sisters Khloe and Kourtney Kardashian show off their workouts on Snapchat, Kendall Jenner quietly crushes it at the gym. According to Us Weekly, the 21-year-old worked out "almost every day" with celeb trainer Gunnar Peterson leading up to the Victoria's Secret Fashion Show. What, did you think she just woke up one day with that insanely toned physique? Well, you're not entirely wrong. Peterson acknowledges that Jenner is genetically and athletically gifted. Her dad is an Olympic gold medal winner, after all. But that doesn't mean the model doesn't put in work at the gym. In fact, Peterson tells the magazine, "people will find it hard to believe, that girl squats, dead-lifts and does pull-ups." To get ready for her second VS show, Jenner focused on "a lot of sled-pushing, a lot of lateral banded work, up and down the track, and a lot of very high-intensity cardio intervals." So that's how you can look like this: https://www.instagram.com/p/BNe2sYEjKm6/ https://www.instagram.com/p/BNccQ0nDRJy/ Oh, and apparently Jenner is "fully in the zone" at the gym. Peterson doesn't allow her to wear headphones while she transforms her body. "One time I had somebody come in who wanted to wear headphones during the workout and I'm like, 'Let's not do that.' I find it rude. Maybe it's not my place to find it rude, but I do," he said. So work out like a maniac almost every day, without music, and you'll look like Kendall Jenner. Good luck with that! Don't forget to check out: how to make Kendall Jenner's DIY zit cream and the first thing Gigi Hadid eats every morning [Photo: Splash News]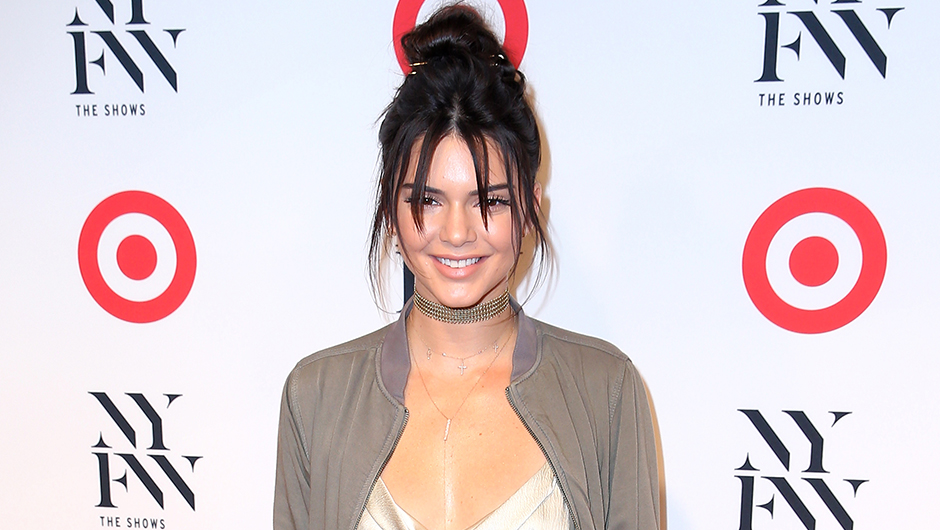 Kendall Jenner Reveals The First Thing She Eats Every Morning
Last year, Kendall Jenner followed an intense diet for two months leading up to her debut in the Victoria's Secret Fashion Show. She's walking the runway again in just under two weeks, so we're guessing she's currently on a healthy food kick. Jenner's trainer revealed that her fiber-filled breakfast consists of avocado over eggs and a big bowl of oatmeal. The model is running from meeting to meeting throughout the day and doesn't really have time for lunch, so this meal keeps her going until 5 or 6 pm when she gets to eat again. She does snack on almonds and juice throughout the day, but it sounds like breakfast is her biggest and most important meal. So, if you're training for the VS show (lol), or just aspiring to look like Kenny (obvi), make sure to have two breakfasts every morning (done and done) and incorporate lots of fiber into your diet! Don't forget to check out: Kanye West is hospitalized after canceling his tour and this woman spent $60,000 on plastic surgery to look like Ivanka Trump [Photo: Splash News]
Kendall Jenner Opens Up About Her Anxiety And Sleep Paralysis On 'Keeping Up With The Kardashians'
On the most recent episode of Keeping Up With The Kardashians, Kendall Jenner admitted that she was struggling with sleep paralysis, which is typically caused by anxiety. "I'm freaking out because recently I wake up in the middle of the night and I can't move," Kendall tells Kris Jenner. She continues to explain to her mom that it mostly happens on planes. Kris says she thinks Kendall has "incredible anxiety about traveling" and that she "can't have a fear of getting on a plane." Kendall quickly becomes frustrated with her mom's dismissal of the issue and says, "But it's not...no I'm done arguing with people because everyone says I'm fine, but I don't feel fine. And I promise you one day when I'm rushed to the hospital then you guys are gonna wake up." While Kendall's reaction might seem a bit extreme, she's totally justified in her fear of this health condition. Sleep paralysis is the temporary inability to move or speak while falling asleep or waking up. It usually occurs with the sensation that there is an intruder or supernatural force holding you down. "Sometimes people describe a sense of chest pressure, choking, and gasping for breath," Jennifer Haythe, M.D., assistant professor of medicine at Columbia University Medical Center tells Women's Health. Scary! Luckily, there are ways to stop and prevent sleep paralysis. Getting eight hours of sleep a night, setting a bedtime and creating a stress-free sleep environment without distractions (aka, your phone) are some ways to do it. And if it's happened to you, you're not alone. Board-certified sleep medicine doctor and neurologist W. Christopher Winter, M.D, tells Women's Health, "a lot of people will describe it at some point in their life" and "it happens when you're stressed, traveling a lot or have a sudden change in your schedule." For Kendall, she found that meditation helped get her anxiety under control. We have to give the model props for opening up about her anxiety struggles. Hopefully her honesty helps others going through the same thing! Don't forget to check out: Kylie Jenner is obsessed with this healthy snack and what Kim Kardashian always keeps in her fridge [Photo: Splash News]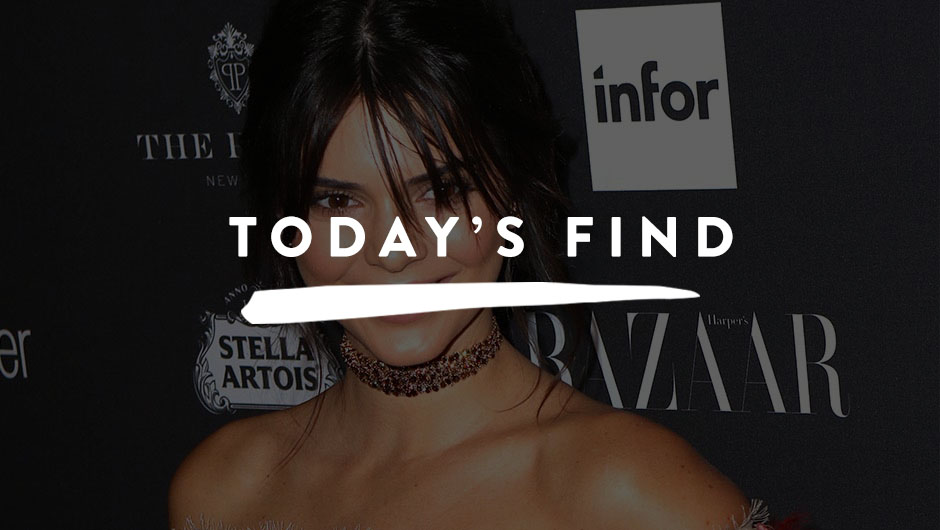 Kendall Jenner Swears By This DIY Zit Cream–Here's How To Make It
Kendall Jenner is very open about her struggles with acne--she even admitted it "completely ruined my skin" in a video on her app just last year. While her skin has cleared up as she's gotten older, which she credits to her dermatologist and the end of those awkward teen years, she still gets breakouts from time to time. So what does the supermodel do when a zit pops up out of nowhere? She uses a DIY spot treatment that's SO easy to make. You probably have all the ingredients in your kitchen already. Here's the recipe: Half teaspoon of baking soda Half teaspoon of lemon juice Teaspoon of honey And if you're wondering whether or not this concoction is legit, Allure did some digging to find out just that. Top dermatologist Joshua Zeichner gives his seal of approval. "Baking soda absorbs oil; acids in the lemon juice will exfoliate dead cells from the skin's surface; and honey will both calm and soothe inflamed skin and may help kill acne-causing bacteria on the skin." However, if your breakout is inflamed and painful, over-the-counter or prescription treatments are definitely the way to go. Will you try Kendall's recipe next time you get a pimple? Let us know in the comments below! Don't forget to check out: the diet of each Kardashian-Jenner sister and the cheap jeans Khloe can't stop wearing [Photo: Splash News]
Kendall And Kylie Jenner Snapchat Their 'Worst Nightmare' Of Getting Stuck In An Elevator
Kendall and Kylie Jenner got stuck in an elevator and lived to tell the tale, on Snapchat of course. "So my worst nightmare just happened. We are stuck in the elevator," Kylie says in the first clip. "Our worst nightmare," Kendall snaps back. Someone's a little stressed... Next, Kylie takes mirror selfies of her outfit while Kendall and Hailey Baldwin (did I mention her and Jordyn Woods were there too?) try to actually figure out what the F is going on. Save the pretty people!!!! "This is crazy! I'm dying! This is the funniest shit of my life," Hailey says. Then she calls out Kendall for eating "all the fucking food we had in the elevator." Points to Jordyn for being the most calm at this point. Side note: of all the bars THIS one, the crumbliest of the crumbliest, is what Kendall Jenner keeps in her bag??? I expected better of you, Kenny. Finally, the NYPD came through to rescue the girls. Wonder if they had any idea who was behind those malfunctioning doors?? FYI, according to PEOPLE, the whole ordeal lasted just 20 minutes. Watch it go down in this video: [youtube]https://www.youtube.com/watch?v=GVqe-qiIL-Q[/youtube] Don't forget to check out: Rihanna's Fenty x Puma collection and all the times Kylie and Kim were twins [Photo: Splash News, Kendall Jenner Snapchat]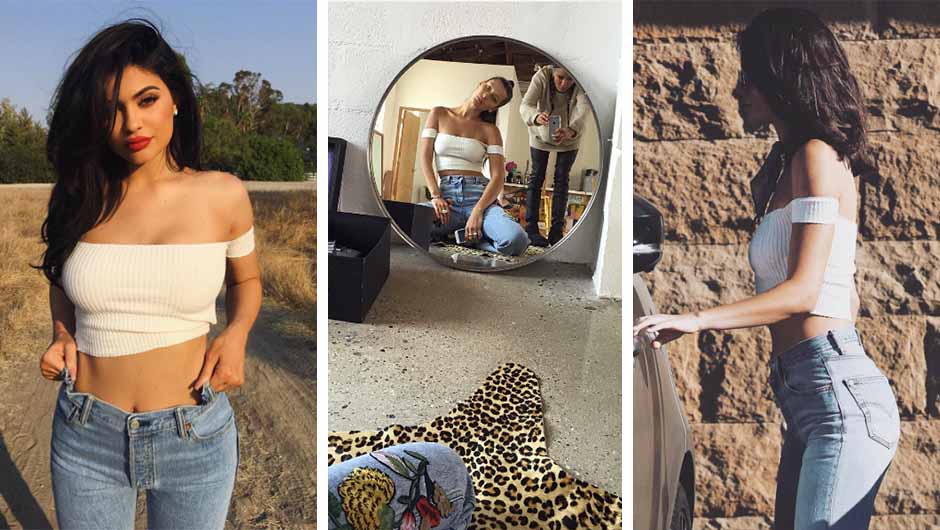 Kendall, Kylie And Bella Are Obsessed With This Under-$90 Top
The Jenners and Hadids have their pick of designer clothes to wear. So the fact that Kendall, Kylie, and Bella all own the same top must mean it's good (jury is still out on how Gigi feels about it). The three "it" girls have all been spotted in the Minka Top ($89) by blogger brand Are You Am I. Check out how they each style the white ribbed off-the-shoulder crop top below and get one for yourself, girl! https://www.instagram.com/p/BIZGXS_DmQo/ https://www.instagram.com/p/BJjnkyQAMnd/ https://www.instagram.com/p/BJjemSZhwFu/ Are You Am I Minka Top ($89) Don't forget to check out: Lucy Hale's under-$100 skinny jeans and the cheap shoes every celeb loves [Photos: Instagram]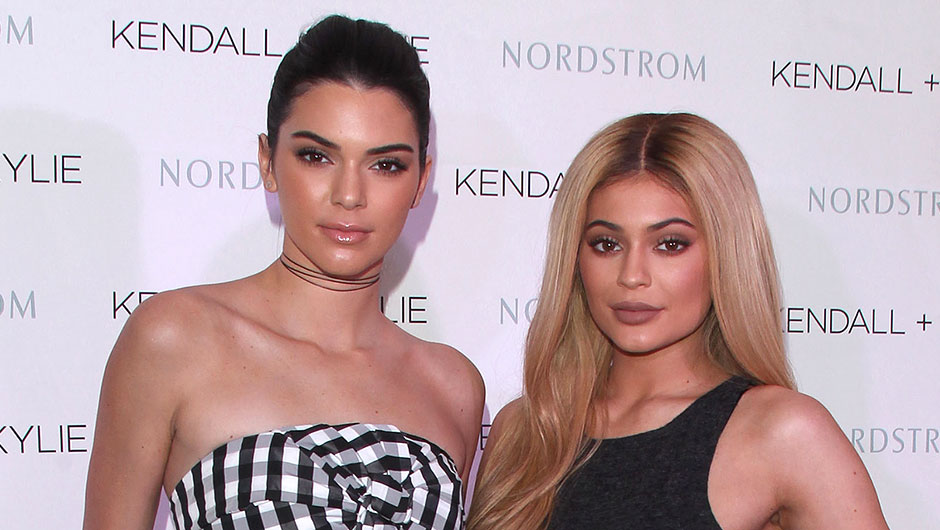 Everything You Want To Know About The Kardashian-Jenners' Glam Rooms
Part of being a Kardashian-Jenner is getting ready. We learn their makeup trick from their apps and see their finished looks on social media, but what we don't know much about is their glam rooms. Which is interesting, since the family takes pride in interior design. Well, now we have some details. PEOPLE spoke with Martyn Lawrence Bullard, the interior designer who did Kourtney and Khloe's glam rooms, along with Kendall's upcoming space as well as Kris' Birkin closet (!!). Here are the 5 best revelations from his interview: Everything starts with their individual styles Bullard doesn't begin designing until he gets a feel for their personal styles. "Kendall is cool and hip and her vibe is so amazing, so her glam room is more of a cool space, rather than being very serious," he tells the mag. "Whereas for Khloé, it's a serious space with serious accessories, a big chandelier… the room itself feels very glamorous. The new room we're doing for Kris is a very beautiful space. It's dramatic and ultra modern, which is a new look for her, but it's also super luxurious." https://www.instagram.com/p/BIthEYpAqGV/ Then he meets with their glam squads Since the Kardashian-Jenners' glam squads are practically family, it only makes sense Bullard would meet with them. "The starting point is to make sure that I take a meeting with their makeup artists to understand exactly what each of the girls needs, what they expect out of their glam room." https://www.instagram.com/p/BJQcWvhD_kZ/ Lighting is the most important detail in the room While everything in the room is tailored to each of the girls' needs (down to the chair height!), lighting is by far the most important. "For makeup, particularly for TV makeup and for their red carpet makeup, we have to have perfect lighting. You have to be lit in a way that the girls makeup will look correct under TV lights or under the natural lighting. We use a particular diffused light bulb that have special fittings made to fit them into. We have to have prefect equal lighting on either side of the face,  but we make sure there's no lighting above their heads because that is the worst thing you can ever do in a makeup room. We don't want any shadows, we need pure, pure lighting for that good well made-up look." They own a lot less makeup than you think This one was really surprising! I really thought the girls had closets and closets filled with free product. Turns out, they really go with what they know. "You'd be surprised, because there's not that much makeup. They have favorites, and they like to stick to them, and then excess makeup is actually brought in by the makeup artists, so it's not tons of makeup that's kept in the glam rooms." Khloe's room is by far the best "Because Khloé and Kourtney live directly next to each other, Kourtney likes to get ready at Khloé's," Bullard says. "Khloé's house becomes a hub for the family to get ready. Kourtney comes over there a lot, Kim comes over there a lot, for some reason they all like to go over to Khloé's and get ready together." She even has four stations to accommodate getting-ready buddies! "In Khloé's, we've got some great photography, there's a great Marilyn Monroe image, she's got some really beautiful art objects in there, because it's a direct flow from her house, so she wants that flavor to continue in all of her spaces." Bullard also adds that not only is Khloe's glam room the biggest but it also "would make for a very good-sized bedroom in a normal person's life." #Jealous https://www.instagram.com/p/BBTQLJ0n-Wp/ Don't forget to check out: the most common contouring mistakes and the worst topping to put in your salad [Photo: Splash News]
Here's What The Kardashian-Jenner Sisters Actually Eat Every Day
In a blog post titled "My Sisters' Diets Are Cray" (how nice!), Khloe Kardashian revealed exactly what each of the Kardashian-Jenner girls eats in a day (no, they don't live on the Health Nut salad ). She wrote, "You won't believe what my sisters actually eat. We all have such different eating habits that sometimes when we're trying to choose a restaurant I wonder if we're even related. LOL!" She's right, family dinners must be really hard to coordinate with this bunch. Let's see whose diet is the most "cray," shall we? Kim Kim Kardashian West is on the Atkins diet because she's trying to get skinnier than ever before, something Khloe wants no part of. "I wouldn't last a day on Kim's new diet," she wrote. "It involves cutting out all sugar and carbs but it allows meat and dairy. I like sweets too much and also don't eat red meat or dairy so I'm saying hell no to this one!" Kourtney Khloe confirmed what avid watchers of Keeping Up With The Kardashians already know: Kourtney is a health nut. "She's by far the most cray about her diet! I always feel like I need to lock my pantry before she comes over so she doesn't yell at me for what's in it, LOL." Khloe said her older sister "only eats organic food and has pretty much convinced herself that she is allergic to dairy and gluten too." Clearly, these two never eat together... Kendall  OK, this one is annoying. Apparently, Kendall is on the "anti-model diet." "She loves burgers and pizza and goes to In-N-Out all the time," Khloe explained. "Kendall is my go-to girl on cheat day!" Ugh, could this girl be more #blessed? Kylie The youngest Kardashian-Jenner "eats like a typical teenager," according to Khloe. "But she's also super aware of what she puts in her body when it comes to fresh and organic foods. It's all about that moderation, boo!" So, to sum things up, if you want to eat like a Kardashian-Jenner, cut out gluten, sugar and carbs, go organic, and hope there's something on the menu for you at In-N-Out. Don't forget to check out: Olivia Palermo's $40 Zara top and what really happens when couples move in together [Photo: Splash News]
Kendall + Kylie Handbags Are Available For Pre-Order–Shop Now
Kendall Jenner Has Worn These Sunglasses No Less Than 5 Times
Any designer is #blessed when Kendall Jenner wears one of their creations. When she wears it again, well, you know it's hot sh*t. That's exactly the case with these Elizabeth and James Watts Sunglasses ($195). Kendall's worn them not once, not twice, but five times--and that's just in the last month. Here she is working the sidewalk like it's a Givenchy runway. She wore them out and about in NYC. Also with model besties Gigi Hadid and Hailey Baldwin. Topping off the perfect bomber-choker combo with the shades. And using them as a paparazzi shield. So, convinced to buy them now? Here you go: Elizabeth & James Watt Sunglasses ($195) Don't forget to check out: how to lose weight after studying abroad and actors who hate the role that made them famous [Photos: Splash News]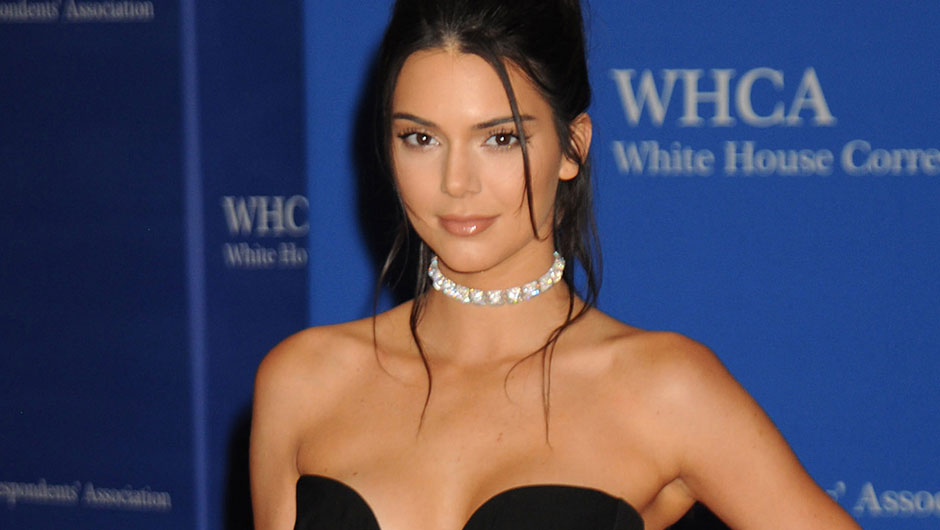 Definitely Watch This Video Of President Obama Throwing Shade At Kendall Jenner
The White House Correspondents Dinner, aka nerd prom, happened this past Saturday. Journalists and celebs came together to celebrate President Obama's final year in power. One person in attendance was Kendall Jenner. She was honored to be there. https://www.instagram.com/p/BE2F1V3Do-e/ The supermodel/reality star had the chance to meet Obama backstage before his big speech, which included weed jokes, Trump bashing, and some Kardashian-Jenner shade. In a clip posted to Instagram by Kris (lol), Obama says, "Kendall Jenner is also here. We had a chance to meet her backstage and she seems like a very nice young woman. I'm not exactly sure what she does but I am told that my Twitter mentions are about go through the roof." https://www.instagram.com/p/BE3orwlG-De/ BOOM, Obama roasted! Don't forget to check out: best celeb style under $50 and rainbow sunglasses [Photo: Splash News]
11 Times Kendall Jenner Wore Very Aggressive Shoes
Kendall And Kylie's Exclusive Neiman Marcus Collection Is Here! (And Going To Sell Out)
SHEfinds receives commissions for purchases made through the links in this post. Neiman Marcus is partnering up with Kendall and Kylie Jenner for an exclusive collection of their growing line, Kendall + Kylie. The entire collection is currently available for pre-sale and it will be available in stores on April 7. This Kendall + Kylie line is included in Neiman Marcus' #OnlyatNM program, which was developed last fall to feature exclusive merchandise. The exclusive collection is an "elevated extension" of the Kendall + Kyle spring collection. It's inspired by vintage items and their current closet favorites. Kendall and Kylie Jenner created nine pieces in hopes to bring customers (and fans) closer to their "aesthetic, taste profile and personal style." The line features quality fabrics and expert tailoring. "When we started working on our spring ready-to-wear line, we knew we had to do exclusive looks for the Neiman Marcus shopper," said Kylie. "We paid a lot of attention to the fabrics and silhouettes." Kendall and Kylie were part of the entire process, from selecting fabrics and colors to styling fit models. They each took inspirations from their own closets to create a line completely true to their style and personalities. Belted Zip-Front Leather Jacket ($995) Sleeveless V-Neck Split-Hem Dress ($495) "The collection is sophisticated, clean and beautifully tailored," said Kendall. "We wanted to widen our range of customers by introducing a more premium clothing line. We incorporated a lot of sophisticated and versatile pieces that were simple yet chic." "Neiman Marcus is delighted that Kendall and Kylie created exclusive pieces for our #OnlyatNM program," said Neiman Marcus Senior Vice President, GMM, Lisa Kazor. "The sophisticated, feminine designs will appeal to a great range of our customers." Shop the entire collection here. Don't miss Beyoncé's new athleisure line and Kim Kardashian's latest naked selfie! [Photo: Easton Schirra]