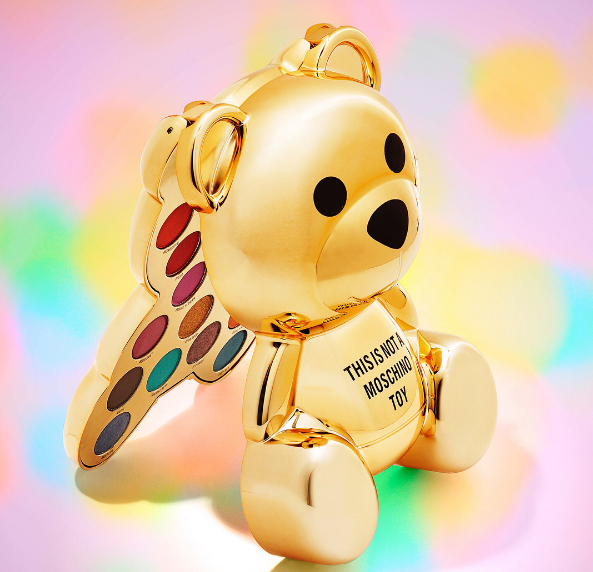 Moschino Is Making It's First Makeup Line, And It's Adorable!
10 February Collaborations You Need To Know About
Shop The Teddy Bear Pieces From Mochino's Fall 2015 Collection Now
Another season, another WILD and CRAZY Moschino collection from Jeremy Scott. He debuted the Fall/Winter 2015 range in Milan yesterday, which featured neon streetwear, Loony Tunes sweaters and teddy bear bags. Yes, this is the dude who brought you McDonalds and Barbie fashion--did you really expect anything less? Even though it will be a couple of months before the entire collection hits stores, you can shop the teddy bear pieces now. There's teddy bear print sweaters and pencil skirts, as well as furry bags and of course, a bear-shaped phone case. If you want in on the next big street style bait, grab something from this collection ASAP. SHOP MOSCHINO FALL 2015 NOW Don't forget to check out: the dress that's breaking the internet, Gigi Hadid's sandals and Neiman Marcus' 65% off sale [Photo: Splash News]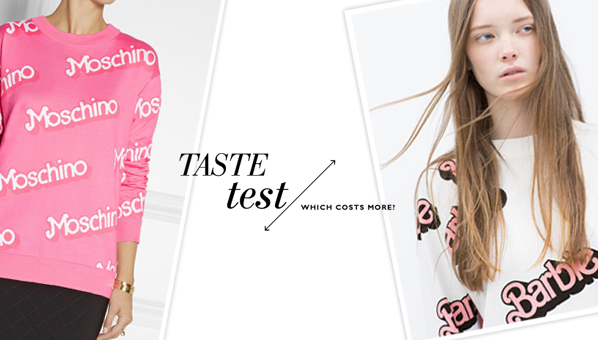 Can You Tell Which Barbie-Inspired Sweatshirt Is Moschino?
One of the most eye-catching collections from the Spring/Summer '15 runway shows this past September was Jeremy Scott's Barbie-inspired line for Moschino. It was full of glitter, oversized bows, and, of course, lots and lots of pink. It was quite memorable, to say the least. So memorable, in fact, that when Zara released its own version of Scott's design, it was impossible to deny the blatant similarities between the two. Can you tell them apart? Click the images below to find out if you're right. Test your fashion savvy some more with: flatbed sandals, colorblock sweaters and denim skirts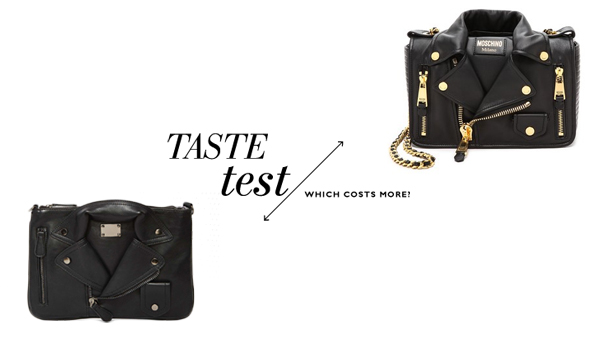 Can You Tell Which Black Moto Jacket Bag Costs $1,947 More Than The Other?
Nobody does fashion quite like Jeremy Scott. The head designer of Moschino has a knack for turning something ordinary into a statement-making "it" item, like this motorcycle jacket-inspired clutch from his Pre-Fall 2014 collection. It's basically a moto jacket folded squarely into the shape of a bag, complete with gold hardware and zipper detailing. Not something just anyone thinks up, right? That's why we were kind of surprised to see another moto jacket-turned-clutch so similar to Scott's. We first noticed the lookalike last week, and so did The Fashion Law. Now we want to know if you can tell which one costs $1,947 more than the other. Answer: The Go Moto Crossbody Bag ($48) on the left is from Nasty Gal, and the Moto Jacket Shoulder Bag ($1,995) is by Moschino. Did you guess correctly? Which do you like better? Let us know in the comments below! Test your fashion savvy some more with: multicolored pumps, color block ponchos and graphic sweaters
Shop Moschino's Barbie-Inspired Spring 2015 Collection, It's Fantastic
Jeremy Scott's spring 2015 collection for Moschino hit the runway yesterday, and it was all Barbie-inspired. Like, old school '80s Barbie: glitter, ruffles, oversized bows and lots and lots of PINK. Remember, this is the man who turned McDonald's into high fashion last season. Nothing is too wild or crazy for him. The show began with "Hiya, Barbie" blasting from the speakers, and the models took the runway as the classic doll we know and love. There was Beach Barbie! Office Barbie! Rollerblade Barbie! Even if you weren't able to see "the dream" live in person, you can just tell the room was filled with fun vibes. We'll have to wait and shop the entire line in a couple of months. However, a capsule collection of 28-pieces are available to buy now, including t-shirts, pencil skirts, handbags and an iPhone case that looks like a handheld mirror. So come on ladies, let's go party with Barbie and get some Moschino!  SHOP MOSCHINO SPRING 2015 NOW And because it's Friday and Barbie: [youtube]https://www.youtube.com/watch?v=ZyhrYis509A[/youtube] For more Fashion Week, check out: the Milan livestream schedule, all the nail polish from NYFW and pre-order Alexander Wang S/S '15 [Photos: Splash News]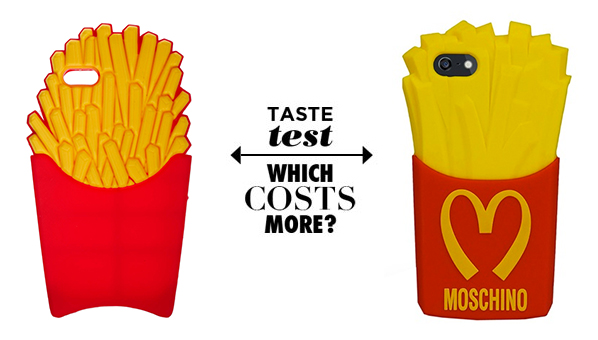 Can You Tell Which Fast Food iPhone Case Is Moschino And Costs 3x More?
When it comes to iPhone cases, there are those who prefer a more practical looking cover (or none at all, which is pretty daring in our opinion) and there are those who want to make a fun, silly, and sometimes impractical statement with their tech accessory. For those of you in the latter category, then this Taste Test is for you. Can you tell that there's an over $60 price difference between these two iPhone cases inspired by a serving of French fries? Answer: While most iPhone cases are shaped like cartoon characters or come in crazy patterns, Jeremy Scott, the new creative director of Moschino looked towards the iconic dishes (and golden arches) of McDonald's for his debut Fall/Winter 2014 collection. One of the most coveted pieces includes his Moschino Special Edition FW14 Capsule Collection iPhone 5 Case ($85), which is shaped like French fries straight from the Mickey D's $1 menu. Unfortunately, the price is anything but $1. In fact, there's a similar style that's been available for purchase even before the Moschino runway show: the ASOS iPhone 5 Fries Moulded Case ($22.58). Besides the recognizable Moschino logo, the two iPhone cases are pretty much twins! Which one would you prefer? And if you want to see the rest of Moschino's McDonald's-inspired accessories, you can find (and shop) it here. Check out more Taste Tests: Sam Edelman vs. Valentino, Anthropologie's $48 version of Chanel's pearl necklace, and see if you can tell which twisted skirt costs more.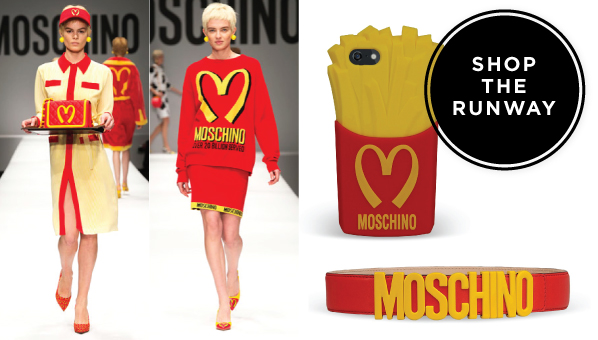 Shop Moschino's Fall 2014 Collection, Side Of Fries Not Included
Jeremy Scott's debut collection for Moschino hit the runway just last week and it's already shoppable. We shouldn't be that surprised though. After all, part of his line is inspired by McDonald's, so it only makes sense that Scott would turn fast food-themed clothing into fast fashion. There are nine pieces available now, ranging in price from an $85 french fry iPhone 5 case to a $935 Wool Blend Knit Dress, both of which Anna Dello Russo wore ahead of time to Moschino's show. (so you know they're basically street style porn). [Photo: Instagram] But if Mickey D's isn't your thing, there are two pieces that don't have fries or the golden arches on them: a cheese doodle Cotton Jersey Dress ($715) and "I don't speak Italian but I do speak Moschino" Cotton Jersey T-Shirt ($265). We're pretty sure everyone and their mother will be trying to get their greasy french fry hands on something from this collex. So get a piece of designer McDonalds now, or just save your box next time you get a Big Mac and turn that into a chic handbag. Now THAT'S fast fashion. SHOP MOSCHINO FALL 2014 NOW For more Fashion Week, check out: every show live streaming from Paris, the clutch winning street style and shop Tory Burch's Fall 2014 collection now [Photos: Moschino]
Tuesday's Sample Sale Scoop: Max Studio, Current/Elliot, Moschino Cheap And Chic, More
Editor's Pick: Moschino Cheap and Chic at Gilt Groupe Billion Dollar Babes: D&G, JPark, Karen Zambos Beyond The Rack: Toy Watch, Theory sunglasses, Linq, Say It With Vases, Charlotte D'Amour, Argento Vivo, Due Fratelli, Natural Pearl The Sample Sale: BCBG ideeli: Paper, Denim & Cloth, Max Studio, Reed Evins, Matty M, Ed Hardy, Lanciani, Classic Coffee & Tea Gilt Groupe: Lutz & Patmos, Moschino Cheap and Chic, Love Moschino, Elie Tahari shoes, Kendra Scott jewelry, Thread Social Modnique: Institute Liberal, Krementz Jewelry, Christian Audigier Bags Editor's Closet: Denim Closet: Citizens of Humanity, Current Elliot, Blank, More Hautelook: Pasquale Bruni, RapidLash, Shae, Love Shop, decadestwo, Petit Lim Bamboo, Luigi Bormioli, Chaiken Maternity Rue La La: The Final Sale: Act 1 Ivory Trunk: Lucky Brand Guiltless Purse: Take up to 70% off Tylie Malibu, Lauren Merkin, Marcio Furla, Kooba, Hayden Harnett, Isabella Fiore, Cole Haan, More OohILove: Take up to 90% off Louis Vuitton, Chanel, Christian Louboutin, Marc by Marc Jacobs, More Check out more of your favorite brands on sale with our schedule of online sample sales. Shop our guides to the best cheap shoes and the best handbags under $250. Subscribe now to receive SheFinds e-mails.