Don't Miss Your Chance To Get A Pair Of Classic Tall UGG Boots–On Sale! #ThisNeverHappens
It's extremely rare that classic UGGs go on sale, but when they do, they sell out fast--like really fast. So consider this our way of you giving you the heads up. Saks Fifth Avenue currently has the Classic Tall UGG boots on sale for just $165, down from $195. You may be thinking $30 isn't much, but do we need to remind you that this style basically never goes on sale? That's precisely why you should jump at this chance to get them for cheap. Choose your favorite color below, then buy ASAP! UGG Australia Classic Shearling Tall Boots in Chocolate ($165.75, down from $195) UGG Australia Classic Shearling Tall Boots in Black ($165.75, down from $195) UGG Australia Classic Shearling Tall Boots in Chestnut ($165.75, down from $195) UGG Australia Classic Shearling Tall Boots in Grey ($165.75, down from $195) BUY YOUR UGG CLASSIC TALL BOOTS ON SALE NOW Be sure to check out Alessandra Ambrosio's cute fringe bag and cheap cashmere gloves.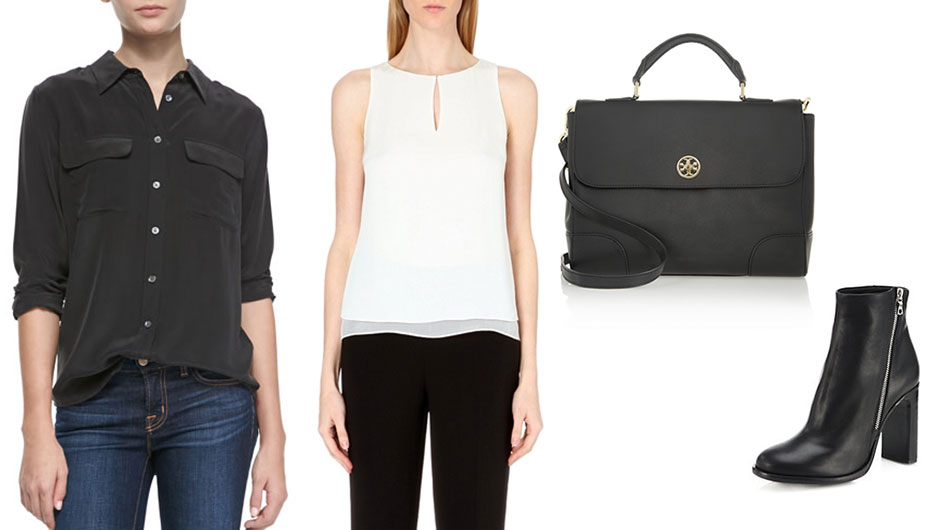 Rag & Bone, Joie And More Are Up to 40% Off At Saks Fifth Avenue's Designer Sale
What better way to start your week than with a fantastic sale?! Saks Fifth Avenue is in the midst of their designer sale, which means you can save up to 40% off must-have designers like Elizabeth and James, Joie, Equipment, Tory Burch and many more. What's more, use code HOLIDAY at checkout for free shipping and returns! Happy shopping. START SHOPPING Don't miss Nordstrom's designer clearance sale and shop Heidi Klum's laid-back Rag & Bone sneakers! [Photo: Equipment Slim Signature Silk Shirt, Diane von Furstenberg Raica Silk Top, Tory Burch Robinson Leather Satchel, Rag & Bone Avery Leather High-Heel Booties]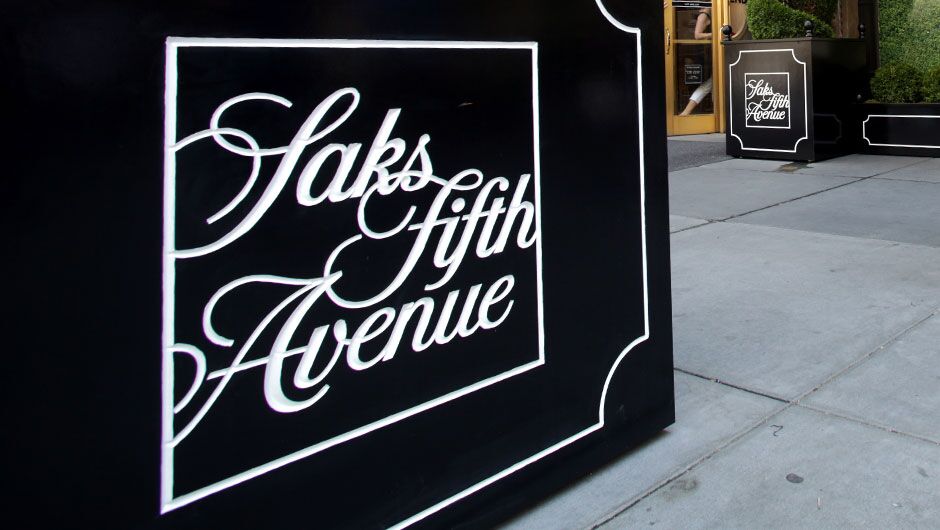 Earn Up To A $700 Gift Card At Saks Fifth Avenue With This Code
Today is the last day to earn up to a $700 gift card at Saks Fifth Avenue. This is an exclusive deal for this weekend only, so don't miss your chance to earn big! Here's the deal: spend $250-$3,000 and you'll have the chance to earn up to a $700 gift card. Use code NOV15 for savings, plus use code HOLIDAY for free shipping and free returns. SHOP NOW Don't miss how to pack for the holidays and shop the BaubleBar x Olivia Palermo collection before it sells out! [Photo: Shutterstock]
Save Up To 75% Off At Saks Fifth Avenue's Midsummer Surprise Sale–LAST DAY
Today is the last day to shop Saks Fifth Avenue's Midsummer Surprise Sale! The offer is online only and you can save up to 75% off major designers like Rag & Bone, Jimmy Choo, Joie and tons more. To save even more use code: FREESHIP at checkout for free shipping. LAST DAY TO SAVE BIG Don't miss your chance to win a $50 Tatcha gift card and decide which dress costs $2,668 more than the other! [Photo: Paige Distressed Verdugo Ultra-Skinny Jeans, Stuart Weitzman Perforated Glittered Leather Espadrilles, Coach Mini Multicolor Whipstitched & Chain-Accented Crossbody Bag, BCBG Angella Short Jumpsuit]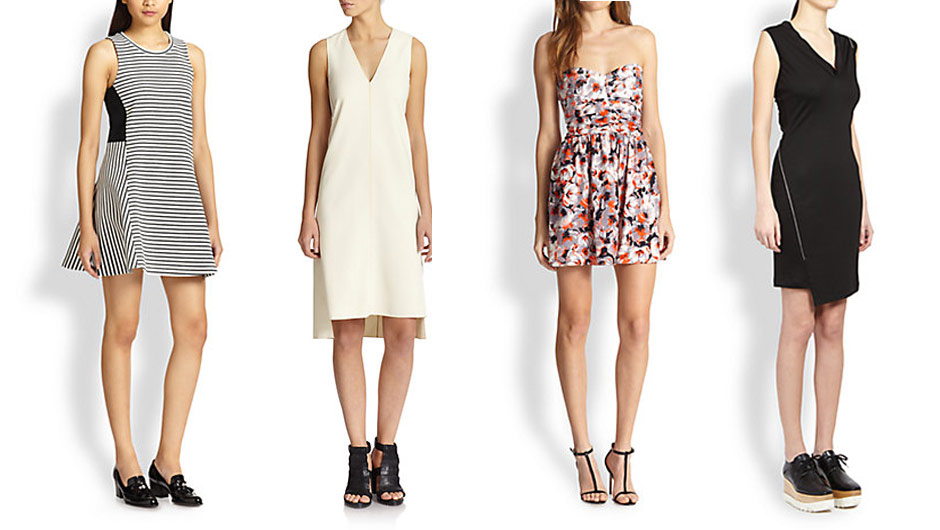 Run, Don't Walk, To Saks Fifth Avenue's Massive Designer Clearance Sale
Looking for the perfect way to celebrate the arrival of warm spring weather? Look no further! Tons designer clothes and accessories from brands like rag & bone, Parker, DVF and loads more are now 40% off at Saks Fifth Avenue. And yes, believe it or not, the markdowns are on items you'll want to wear right now. The dress selection is insanely good, so definitely make that your first stop. Just hurry because sizes are selling out crazy fast! SHOP THE SAKS FIFTH AVENUE 40% OFF DESIGNER SALE NOW Be sure to check out Jessica Alba's Kate Spade flats, spring's best tie dye and dip dye clothing and Alessandra Ambrosio's $88 overalls. [Photo: ADDISON Mixed-Striped Fit-&-Flare Dress; Rag & Bone Fernanda Cutout-Back Crepe Dress; Parker Melrose Silk Strapless Floral-Print Dress; Stella McCartney Jersey Zipper-Detail Dress]
Blahnik, Choo, Laurent & More Are Up To 40% Off At Saks' Shoe Sale
I seriously can't stop clicking through the Saks shoe sale. From beaded Jimmy Choo heels to Burberry's tapestry-print boots, each pair is prettier than the next. Not to mention, classic designer must-haves, like the Chloe Suzanna boot, are up to 40% off. That never happens! Send your wallet our apologies because you will be getting something at this epic sale. It's too good to pass up. SHOP THE SAKS SHOE SALE NOW For more sales, check out: Moda Operandi's fall sale, Nordstrom's designer clearance and Markus Lupfer sweaters on sale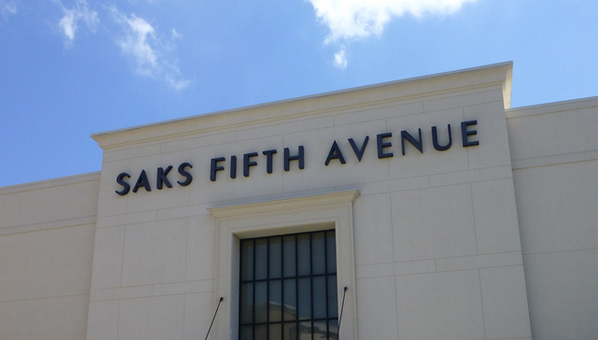 Saks Fifth Avenue Employees Stole $400,000 From 22 Unsuspecting Shoppers
Credit card fraud has become a serious and frighteningly common issue. Whether it's stealing your information at the gas pump, or taking it straight from a department store's card reader, credit and debit card fraud is all around us. Recently, five department store employees at Saks Fifth Avenue in New York City stole $400,000 from 22 different shoppers' credit card accounts and used the money to buy designer handbags, shoes, clothes and beauty products. The group of employees was caught by security cameras and the police were alerted. A thorough search was conducted and over 100 boxes of shoes and many more boxes of handbags and merchandise were found in one guilty employee's apartment. All five were charged with grand larceny and identity theft. Shortly after, all of the stolen merchandise was returned to the store and the unsuspecting customers' accounts were restored. Let's hope that Saks can resolve this issue and hire more trustworthy employees in the future. For more news check out: vintage Chanel bags are now sold online, new garment care products and DVF x Goop. [Photos: Flickr]
Saks Fifth Avenue Was Feeling Left Out, So They Launched An Epic Designer Sale, Too
So you didn't find anything to splurge on at Net-A-Porter's 50%-off sale, Shopbop's designer sale or Nordstrom's designer sale? Well before you put that credit card away, make one last stop at Saks Fifth Avenue's designer sale. They've taken 40% off clothing, shoes and handbags from designers like DVF, Tory Burch, Dolce & Gabbanna and more. Some of the gems we found? This 3.1 Phillip Lim Pashli backpack for $626.50 (down from $895), these Vince metallic d'orsay flats and this embellished rag + bone jean jacket for $264 (down from $440). Don't wait--the good stuff is already selling fast. SPLURGE AT THE SAKS FIFTH AVENUE DESIGNER SALE NOW! For more insane sales, check out 50% off at Jimmy Choo, $50 off at ASOS and 50% off at MATCHESFASHION.COM.
Don't Be The Lame Left Out Of The Saks Fifth Avenue Off 5th Designer Sale
What does Saks do with all that designer goodness they can't seem to get rid of? Send it over to Saks Fifth Avenue Off 5th, of course. And if you've never shopped saksoff5th.com, now is the time. They just kicked of The Big Sale and the prices are ridiculous. Designers like Alexander Wang, Phillip Lim and Balmain are up to 65% off and even better, all orders over $75 ship for free with  code SHIP75. Not sure where to start? We're stocking up on designer denim which starts at just $65 (down from $199!) and there are so many good shoes we're having trouble narrowing down our faves. The sweater selection is also pretty money, so basically you can't go wrong. SHOP THE SAKS FIFTH AVENUE OFF 5TH SALE NOW! Don't miss 25% off at J. Crew and the Zappos end-of-season clearance sale.
Didn't Shop The Columbus Day Sales? Good 'Cause It's Going Down At Saks Now
There were loads of good sales yesterday for Columbus Day, but if work or a three-day weekend hangover kept you from taking advantage, Saks has your back. Normally, the only time we feel it's acceptable to go into Saks Fifth Avenue is during the holidays and that's just to score their gorgeous holiday shopping bags (the snowflake one is our fave). But here's a reason to hit up Saks right now--25% off! From now until October 20th, Saks is offering 25% off a bunch of designer merch--20% off jewelry--with code FRNFAM at checkout. You probably don't need our help finding something amazing, but if so click through the slideshow to see some of our picks. SHOP SAKS FIFTH AVENUE FRIENDS & FAMILY SALE NOW Also make sure to check out Mariah Carey's new holiday collection, 33 awesome Halloween costume ideas, and Guy Bourdin's collab with NARS.
70% Off At Saks?! TGIF, Indeed.
Saks just added thousands of items to their 70% Off Sale (!!!), and although we're loving the cute dresses, on-trend blazers, and fun separates, this sale is really killing it on the accessories side. Shoes (OMG, shoes), bags, and jewelry from brands such as Rebecca Minkoff, Elizabeth & James, Gryson, Kenneth Jay Lane and dozens more. Free shipping on orders of $150 and more with the code "SEPTSFA" #DoIt. SHOP OUR FAVORITES FROM THE SAKS 70% OFF SALE Check out our entire calendar of online sample sales. Join our e-mail list for exclusive fashion updates. Love online sample sales? Check out our Group Coupons page!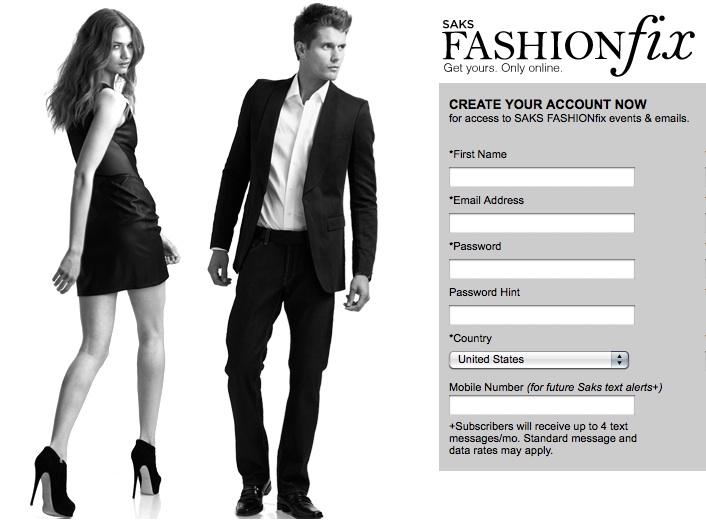 Saks Fifth Avenue's New Flash Sale Site, SAKS FASHIONfix, Is Live Today
There's another player in the flash sale game: Saks Fifth Avenue. The department store officially launched their SAKS FASHIONfix flash sale site today, with the first sale going on at noon. (more…)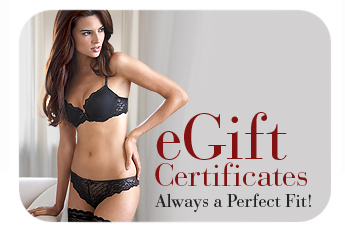 The Lazy Girls' Guide To Valentine's Day. All You Have To Do Is Lift Your Mouse.
OMG, the Valentine's Day hype is almost unbearable--I just saw three engagement ring commercials in a row. Forget all of that: I'm about to make  a hundred times easier for you. Ready? E-Gift cards (!)  Don't run to the mall during your lunch hour--just click and buy a couple of them for whomever you love this year, and then just send it via-email. This will save your ass every holiday, guaranteed. Because we believe you really shouldn't stress about V-Day any more than you already have, here are the best e-gift cards: Check out all of our gift ideas. Shop our guides to the best sexy underwear and the best shapewear to show off. Subscribe to our e-mail list for exclusive updates.
Warning: Shoe Porn Below, Blogger Tommy Ton Gets the Money Shots For Saks
Street style photographer Tommy Ton knows good shoes. He travels the world snapping shots of the most stylish feet to feature on his Jak and Jil blog--we're talking top fashion editors like Anna Wintour. Vogue loved his keen eye so much that they recruited him to take off-the-runway fashion week pics for their site, and Saks Fifth Avenue asked Tommy to pick and shoot his favorite shoes for spring 2010. This is what we call shoe porn. Here are our four favorite shoes from Tommy's picks that will remain front runners in your shoe wardrobe forever. There is nothing like a classic  slingback, and the red platform on this Christian Louboutin Bianca Patent Leather Slingback ($755) will make a pair of sweat pants look fabulous. This Yves Saint Laurent Open-Toe Pump ($650) also has a classic shape, but not too many pumps have this architectural heel. We loved the bedazzled boots from Tory Burch's fall 2010 presentation, and the black studs on this Valentino Studded Sandal ($865) are the perfect amount of edge. Everyone needs a break from heels, but you don't have to wear orthopedic shoes. This Miu Miu Knotted Flat Sandals ($465) are equal parts comfortable and chic. See what else is going on in our fashion news section, then see our favorite party shoes and platform shoes.