Hurry! We Found Tons Of Cute Sandals Under $25
Heels That Are Actually Comfortable? Yup, We Found A Bunch!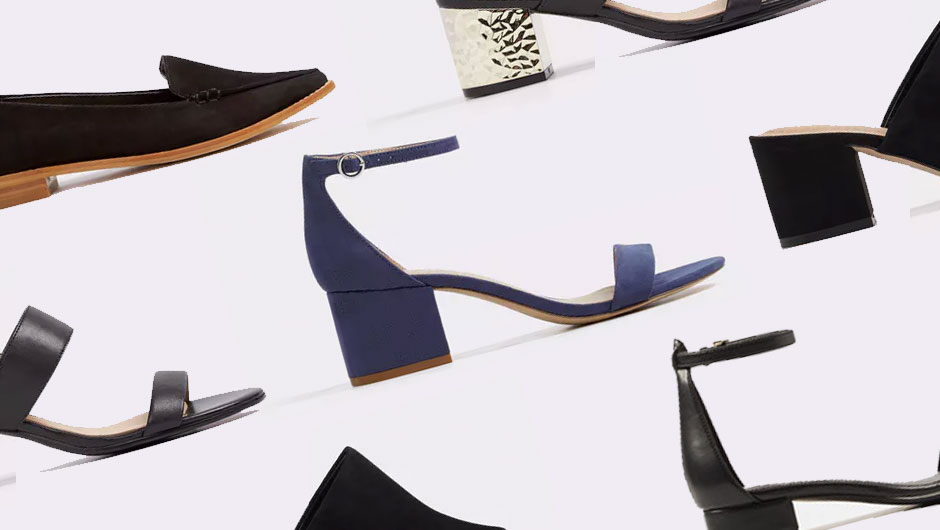 Psst! We Found The Most Amazing Shoe Sale Ever–Sandals Are Just $15
August might be your signal that summer is coming to an end, but it's most definitely not too late to get your hands on a ton of sandals before the season is over. The icing on the cake? The prices, duh! Spring is having an amazing sandal sale right now with tons of great styles on sale for super super cheap. Our favorite pair? These simple black suede flats that are perfect to wear every day with cropped pants, skirts, dresses and even short. The best part? They're only $15--really! Trigode Sandals ($15.39, down from $44.99) Trigode Sandals ($15.39, down from $44.99) But it gets better: there are more super cute shoes on sale for just as cheap. Even better, they all transition perfectly from warm to cool weather; just swap out your shorts and rompers for jeans and leggings when you style them. Mellisa Medium Blue Sandal ($20.99, down from $59.99) Black Nubuck Loafer ($39.98, down from $80) Angilia Black Sandal ($22.50, down from $45) Brandey Black Sandal ($34.98, down from $70) Alaska Black Suede Mule ($39.98, down from $80) SHOP SALE SANDALS AT SPRING! Be sure to check out Nordstrom's $11 leggings and the best black work pants on sale. [Photo: Spring]
FYI, My Favorite Sandals This Summer Are Only $19
When it comes to buying sandals, my go-to is always a pair that looks good with as many different outfits as possible. I mean, I'd love to have endless storage space for shoes galore, but my space--and budget--are tight, so I need to be practical. That's exactly why I snatched up these amazing gladiator sandals the moment I saw them. Not only are they super versatile, but they're affordable, too. Sold! What I love most about these sandals is all the different ways you can wear them. I pair them with a flowy white dress and a red lip for work. I've also worn them with jeans and a cute tank to run errands. And if neutral tan isn't your preferred color, no worries. These sandals come in four other great colors! The best part? They are so affordable! They are currently marked down to only $19--really! Get a pair ASAP. I promise, you will wear them everywhere. SHOP OLD NAVY'S ZIP-BACK GLADIATOR SANDALS NOW Be sure to also check out the best drugstore shampoo and conditioner combo for frizzy hair and 4 ways to wear white jeans this summer.
Shop Summer's Prettiest Metallic Sandals Starting At Just $19.99
Already Over Your Summer Shoes? These Two-Tone Sandals Are The Perfect Mid-Season Update
You Need These $39 Sandals For Summer… They're Perfection!
If you're already over all the sandals in your closet, here's some good news: Sole Society has tons of summer-ready styles on sale for less than $40! Our favorite, must-buy pair? These Dahlia knotted flat sandals. They're available in three pretty colors and look good with all outfits. Whether cropped flare jeans, skirts or dresses, these will be your go-to sandals. Even better, they're real suede and just $39! Dahlia Knotted Flat Sandal ($39.98, down from $79.95) Dahlia Knotted Flat Sandal ($39.98, down from $79.95) Dahlia Knotted Flat Sandal ($39.98, down from $79.95) Looking for more super cute sandals under $40? Here are some of our other faves on sale at Sole Society: Pandora Fringe Flat Sandal ($34.98, down from $69.95) Lace-Up Gladiator ($37.48, down from $74.95) Sana Strappy Flat Sandal ($39.98, down from $79.95)  Auburn Block Heel Sandal ($39.98, down from $79.95)  Lylia Silver Cage Lace-Up Sandal ($39.98, down from $79.95)  SHOP SOLE SOCIETY'S SALE NOW Don't forget to check out Old Navy's $8 dress sale and Tory Burch's huge semi-annual sale.
9 Knockoff Birkenstocks You Won't Even Know Are Fake
We ALWAYS support splurging on a pair of shoes. After all, there's no better form of retail therapy than shoe shopping. Plus, you'll get way more use out of a quality pair of shoes than splurging on a top you might only wear a few times. One of our favorite shoe trends right now is Birkenstocks sandals. Birkenstocks are having a major moment because they're the perfect everyday, comfortable shoes. BUT, why splurge on a pair of Birks when you can—dare we say it—snatch up an identical knockoff pair for way less money. *GASP*—knockoffs?! Trust us, you're going to want to check out these killer shoes from four different stores that could easily pass as Birkenstock twins. Target Rose gold shoes are on fire this season, so hop on board this trend with a pair of fake Birkenstocks from Target, of all places. Target always comes in clutch with literally anything you could ever need, so it's no surprise they have a huge line of Birkenstock-looking sandals. They even put their own spin on the classic Birkenstock Arizona shoe in traditional colors, but also with a fun floral pattern. Check out their footbed sandal collection for all your knockoff Birkenstock needs. [caption id="attachment_604004" align="aligncenter" width="196"] Women's Mad Love Prudence Footbed Sandals ($22.99)[/caption] [caption id="attachment_604003" align="aligncenter" width="196"] Mad Love Keava Footbed Sandals ($22.99)[/caption] DSW DSW is another great place to get your knockoff Birkenstock fix. They do offer real Birkenstocks at a discounted price, but some of their knockoff styles are surprisingly even cuter than the real deal. Just like Target, they offer a ton of cool patterns and shades. At prices like this, it might do you well to buy more than one pair. You know you can't resist! [caption id="attachment_604005" align="aligncenter" width="196"] White Mountain Crawford Flat Sandal ($34.95)[/caption] [caption id="attachment_604001" align="aligncenter" width="196"] White Mountain Carly Nubuck Flat Sandal ($29.95)[/caption] Madden Girl Steve Madden's Madden Girl line has another version of the classic Arizona Birkenstock sandal that looks equally as comfortable. If you're looking for solid colors, Steve's got you covered with white, gold, and black. If you want to take more of a walk on the wild side, experiment with different materials or patterns. Try one of the ever so chic velvet sandals or go bold with stars and embroidered stickers. You'll definitely stand out from the plain old Birkenstock crowd,  but these variations are more playful—and not to mention a huge bargain. [caption id="attachment_603996" align="aligncenter" width="196"] Madden Girl Brando-N ($49.95)[/caption] [caption id="attachment_603998" align="aligncenter" width="196"] Madden Girl Brando ($49.95)[/caption] Payless Last but not least, Payless has A TON of fake Birkenstocks through their American Eagle line. Unfortunately, they don't have as many patterns and color variations as other stores, but if you're looking for the cheapest, most authentic looking route, these shoes are definitely the way to go. Payless usually has perks for ordering online, like discounts or free shipping, so act fast and grab 'em while they're hot! [caption id="attachment_603999" align="aligncenter" width="196"] Women's Wren Footbed Wedge ($29.99)[/caption] [caption id="attachment_604000" align="aligncenter" width="196"] Women's Robyn Flat Slide ($29.99)[/caption] [caption id="attachment_604002" align="aligncenter" width="196"] Women's Sage Flat Sandal ($19.99-$29.99)[/caption] [Photo: Birkenstock]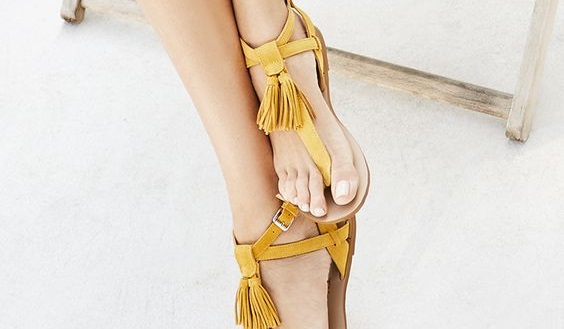 You'd Be Insane Not To Snatch Up A Pair Of These Crazy Cute (And Cheap!) Sandals For Summer
Is there anything better than a comfortable, stylish pair of sandals that you can wear with just about any outfit? Sole Society's Pandora sandals are all of that, plus the price can't be beat. They're on sale for just $34, down from $70! Not only are these gorgeous sandals made from genuine suede, but they also feature this season's hottest detail: a tassel! They're available in three versatile colors and they really do look amazing with jeans, dresses, skirts and shorts. My advice? Get a pair in every color while the price is this low! Sole Society Pandora Fringe Flat Sandal ($34.98, down from $69.95) Sole Society Pandora Fringe Flat Sandal ($34.98, down from $69.95) Sole Society Pandora Fringe Flat Sandal ($34.98, down from $69.95) Want a few more sandals to add to your shoe collection for the season? Check out these cute, under-$40 styles we found! Splendid Jojo Slide Sandal ($38.96, down from $77.95) Sam Edelman Gigi Sandals ($29.96, down from $59.95) Latigo Gem Sandal ($34.96, down from $69.95) Sole Society Misha Flat Sandal ($39.97, down from $79.95) Don't miss Boden's major dress sale and cute ways to wear a colorful blazer. [Photo: Sole Society]
Not Sure What To Wear With Lace-Up Sandals? These Cute Outfit Ideas Will Help
All The Fashion Girls Are Wearing These $33 Sandals, And So Should You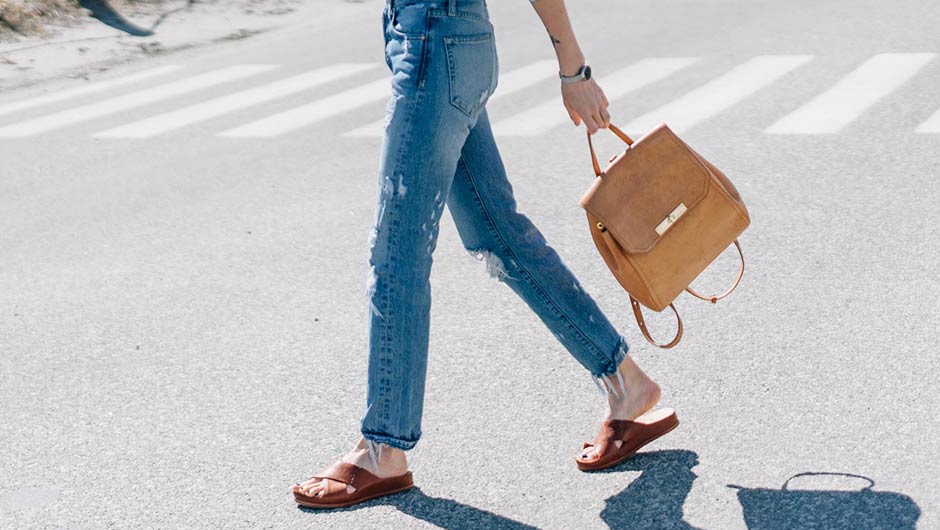 Flat Slide Sandals Are A No-Brainer–They'll Be Your Go-To Shoe All Spring And Summer Long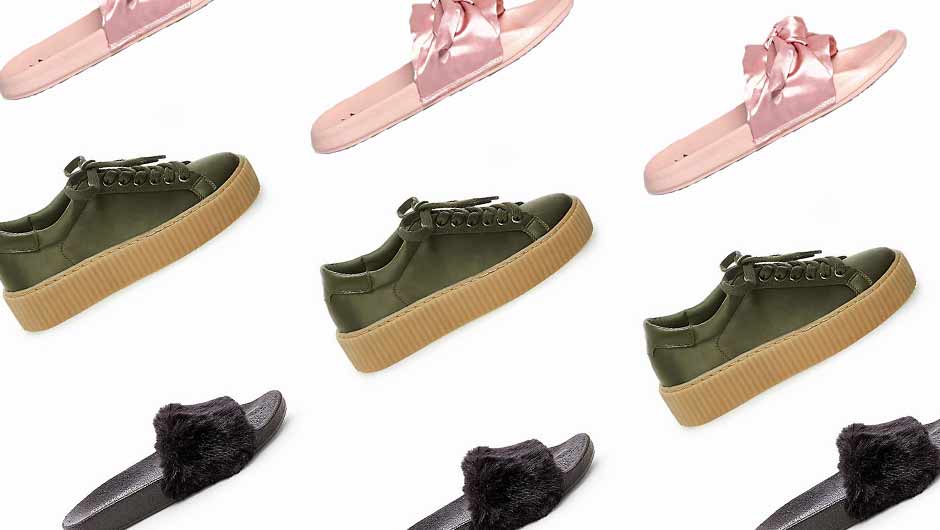 9 Fenty x Puma Dupes You'll Love Just As Much As The Originals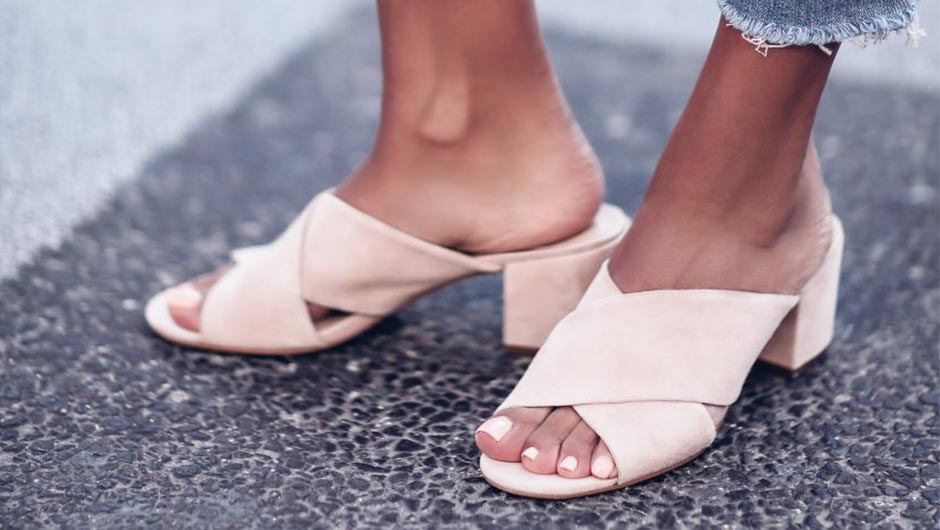 These Are The Best Cross Strap Sandals, So You Can Stop Looking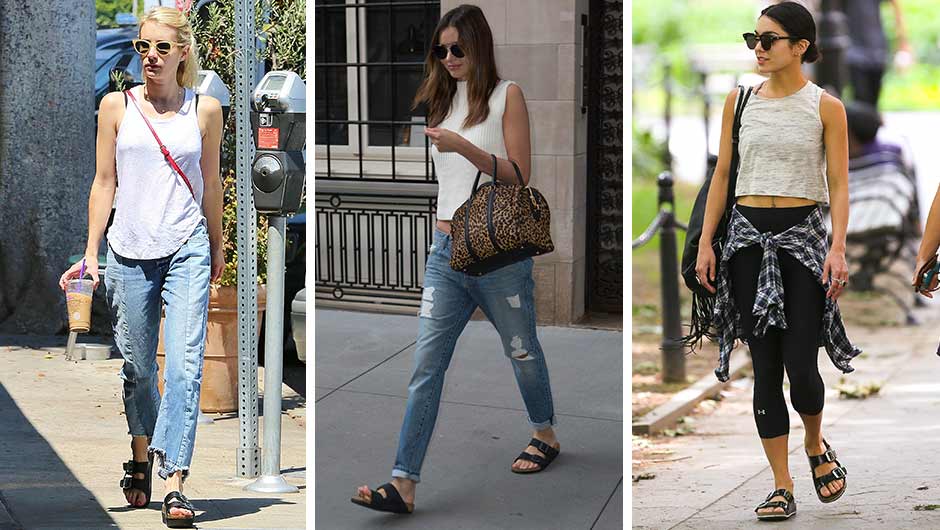 The One Pair Of Sandals Everyone Will Be Wearing This Summer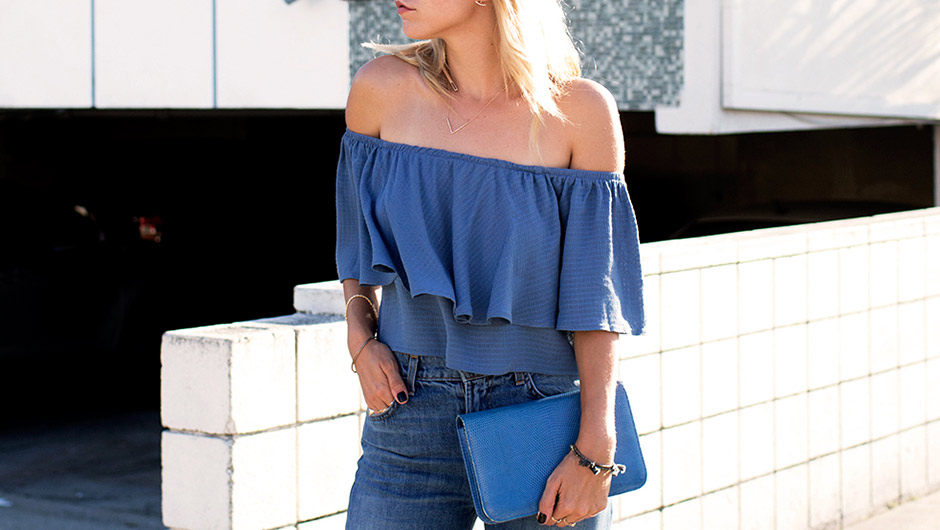 These Are The Best Shoes To Wear With Off-The-Shoulder Tops
These Super Cute, Wear-With-Anything Sandals Also Happen To Be Crazy Comfortable (And Affordable, Too!)
Once upon a time I could wear shoes that pinched and rubbed in the name of fashion, but no more. My tolerance for foot pain is basically non-existent, which is why I just had to share these amazing sandals. I've always felt relegated to flat sandals come spring and summer because anything with a heel inevitably caused blisters or soreness. Not these, though! And get this: they're from Aerosoles! Obviously, Aerosoles is well known for super comfortable shoes, but they've never really been on my radar for fashion-forward options. These sandals really do have both, though! They look good with dresses, skirts and cropped jeans and thanks to the HEEL REST technology which  distributes your body weight toward your heel and away from the ball of your foot, they're also shockingly comfortable for all day wear. Best of all? They're on sale for just $69.99! My advice? Get a pair in every color! Aerosoles High Hopes ($69,99, down from $79) Shop the best drugstore beauty products and pretty ruffle dresses for spring. [Photo: Aerosoles]
Summer's Must-Own Statement Shoe? Pom Pom Sandals, Duh!
6 Shoes Every Woman Should Own This Spring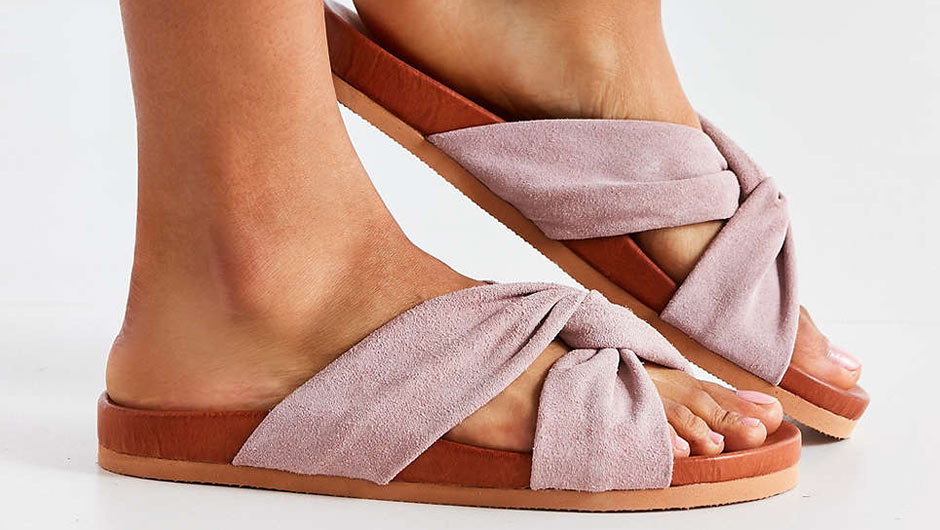 Slide Sandals Just Got A Necessary Update–What Is It?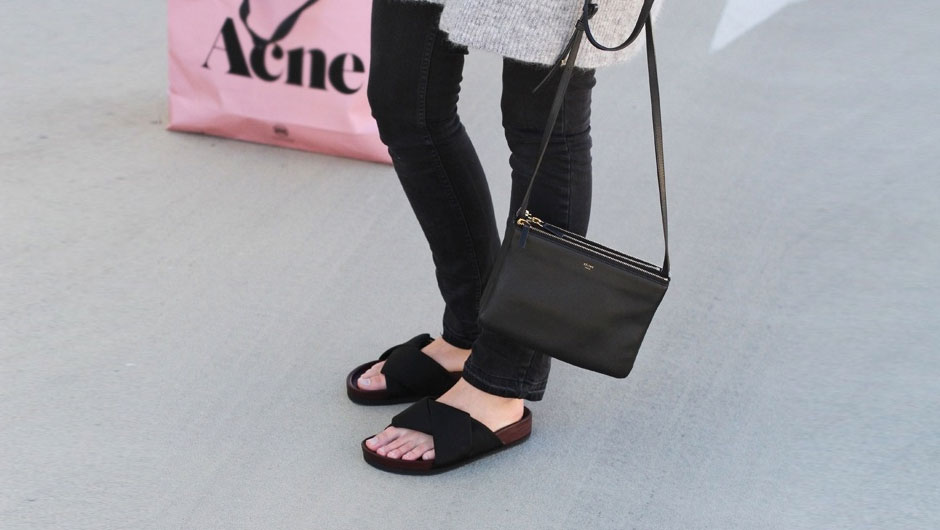 These Are The Best Slide Sandals, So You Can Stop Looking
UGG Just Made Sandals That You Definitely Need (Wait, What?)
This Spring's Must-Own Shoe? Nude Block Heel Sandals That Work With Every Outfit
Celebrities Who LOVE Steve Madden Shoes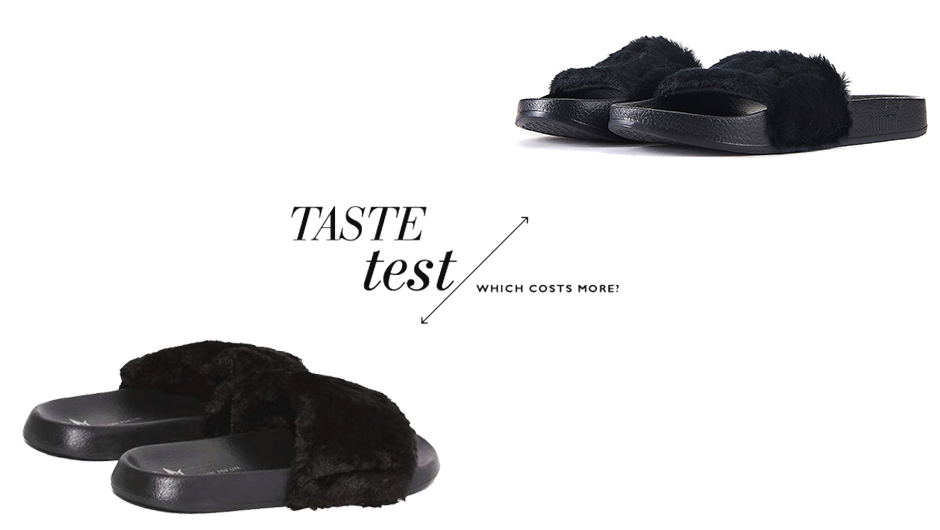 Can You Tell Which Fur Slides Cost $50 More Than The Other?
Rihanna's PUMA Fur Slides by Fenty ($79.99) are basically sold out everywhere. Sure, you can find a stray size 11.5 deep in the depths of the Internet, or shell out triple the price to buy them on resale sites. But if neither options are ideal for you, there's hope yet. Nasty Gal sells these lookalikes LFL by Lust For Life Slides ($30). They even come in white and pink too (and for $6 less) at Forever 21! OK, so I know it's obvious from the picture which one is Puma (solid branding), but let's pretend the logo is not there and just acknowledge these slides are basically the same? K, great. Test your fashion savvy some more with off-the-shoulder tops and lace-up ballet flats
Shop Olivia Palermo's Incredible Closet Now!
How To Wear Sandals When You're In-Between Pedicures
Summer is about sun, swimming, sweating (let's be honest here), and sandals. There's hundreds of amazing styles and colors out there, I swear I could find a different pair of sandals to wear every day over the summer. And how amazing is the feeling when you're walking down the street on a hot summer day, and your toes can actually breathe?! I love being able to slip on my favorite pair of sandals and just walk out of the house... oh sh*t! What do you do when your toes aren't painted?! When I'm in-between pedicures, I'm stuck in this weird limbo of half-painted, chipped toes that honestly look gross. This is a problem that all women go through in the summer, but also in the fall! What about those nights out when it's still warm enough to wear an open-toe heel? How do you get by when your feet are getting ready for winter hibernation?! The struggle is #real. Here at SHEfinds, we think that there are two solutions - plain and simple. Option One: take off all of your nail polish and go au naturel! We know, it can be a bit bold to bare so much nail, especially in the summer, but we promise than clean toes look better than chipped! With a summer tan, bare nails look great, we promise. Option Two: look for any polish in your bathroom and throw some paint on the toes that are visible in your shoes. We know, we know, this is kind of half-fixing the problem since you're not really getting a complete pedi, but c'mon, no one will know the difference! Save some time and money, and just give your toes some color for the day. So pick a side, and decide which beauty hack you think works best! And worse comes to worse, you can always treat yourself! Make sure to check out These Amazing Sandals of The Summer, For Under $50 and These Metallic Heel Sandals That You Need This Summer [Photo: Always Judging]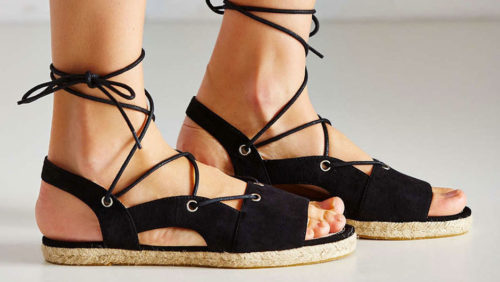 Sorry To Your Wallet: All Urban Outfitters Sandals Are On Sale For $25
I Wore $24.99 'Firkenstocks' In A Rain Storm And They Held Up
"Are those Birkenstocks?" my mom asked about my new shoes. "They're Firkenstocks!" I replied. Fake Birkenstocks. I know, I'm so clever. No one else ever thought of putting an "F" in front of another word to indicate that it's a fake. Whatever, I'm kind of obsessed with the name. Anyway, let me tell you about my Firkenstocks because they are legit the best purchase I've made all summer. I'd been contemplating splurging for a pair of  real Birkenstocks since April but never did the damn thing. Fast-forward two months later, I'm in a bathroom at a bar (where the best discoveries happen) and notice this girl wearing all black Birkenstock lookalikes. Before I even had to ask, her friends were on it--it's like they were reading my mind! She revealed that the sandals were, in fact, from H&M. I went to buy them the next day. To my surprise, there were still a ton of sizes left in both black and silver. The shoes were on my feet for a week straight--no joke. I even wore them during my 4th of July weekend travel, and that's where the rain storm comes in. If you were in the New York area for July 4th, then you know the weather on Friday was pretty shitty. I was heading out to Fire Island, which requires a train ride that's just over an hour, a 10-minute transfer and a five-minute van ride to a 30-minute ferry. Lots of movement, to say the least. I knew I wanted to wear comfy shoes and I already had my Firks (oh ya) practically glued to my feet so, why not? I did not know showers were in the forecast. By the time our train reached the van part of the trip, it was pouring. Next up was waiting 45 minutes for the ferry (it was covered, but still got pretty wet), sitting on a ferry (again, covered, TG) that smelled like wet dog and then the part when I trekked through the storm. It wasn't even a long walk from the ferry to the house I was staying in, but Fire Island does not have cars--the streets are pathways. Hence, puddles formed. My feet fully submerged in multiple puddles (more like mini lakes, IMO!) during my walk. But, you know what? The shoes survived with nary a scratch. The footbed is fake suede, so the moisture didn't take well to that, but nothing a few sprays of perfume couldn't fix! Basically, these shoes are the bomb. There aren't too many sizes left so if you want to snag a pair I highly suggest doing that ASAP. Also, check out H&M stores too, you might be surprised to see them in-stock (like I was!) or maybe a salesperson can tell you when they'll be back. Sandals ($24.99) Don't forget to check out: The best food Instagrams for New York City and how to dry your bikini before leaving the beach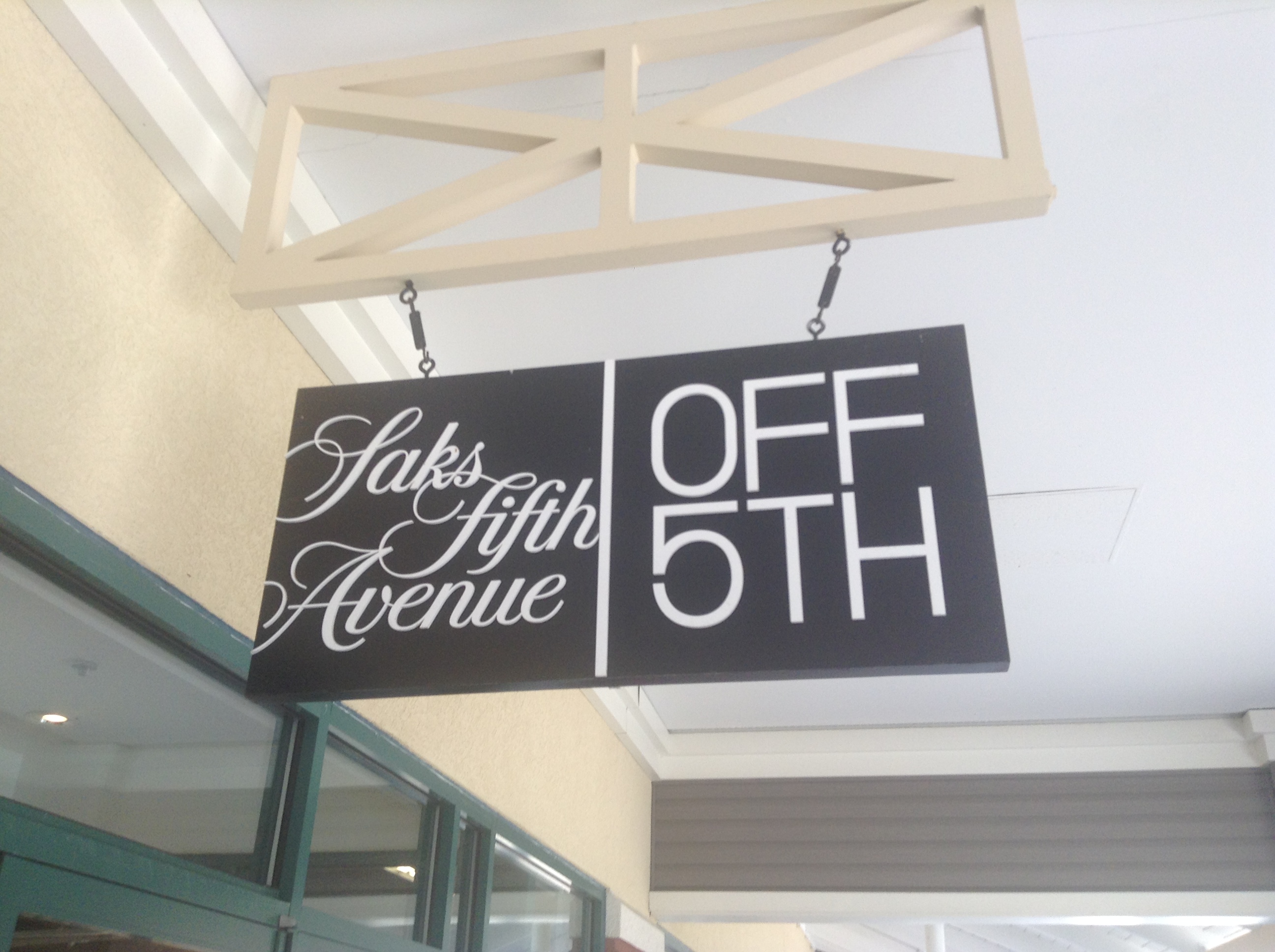 There Are So Many Amazing Sandals On Sale For $24.99 At Saks Off 5th This Weekend!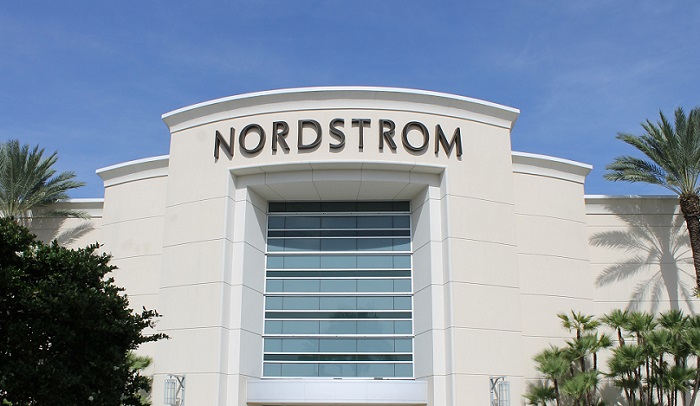 Sandals And Dresses Are Super Cheap At Nordstrom Right Now
Nordstrom Has Tons Of Crazy Cute Sandals On Sale For Under $50–Including Those Cult TOMS Wedges
Nothing Is Easier Than Slide Sandals–12 Pairs To Shop Now
Can You *Finally* Wear Sandals To The Office Now That It's Almost June? The Answer.
We hear you, Reddit users and women everywhere who really, really want to start wearing sandals to work right now but aren't sure if it's appropriate just yet. I mean, it would give you so many more outfit options to work with--but is it too soon? Will your co-workers look at you funny if you rock out with your toes out? Style expert (and SHEfinds founder!) Michelle Madhok says yes, you can! "It's definitely ok - as long as the sun is shining and the skies are clear break out your sandals, but make sure you get a pedicure first!" Well, there you have it ladies--a hall pass to wear those sandals AND get a pedicure today. And if you need a new pair, these are the sandals our editors are OBSESSED with this year. And more inspo for how to style yours: https://www.instagram.com/p/BF1hD4lJDXw/?taken-by=loefflerrandall&hl=en https://www.instagram.com/p/BFaFYm4p0OP/?taken-by=sam_edelman&hl=en https://www.instagram.com/p/BFri729moPV/?taken-by=shopdolcevita&hl=en https://www.instagram.com/p/BE658EjBK0t/?taken-by=stevemadden https://www.instagram.com/p/BFmIQPRlTeW/?taken-by=chineselaundry [Photo: Could I Have That?]
It's Not Even Summer Yet And Nordstrom Already Has So Many Good Sandals On Sale
With summer just over one month away, you wouldn't really expect to find cute sandals on sale, but that's precisely what we found over at Nordstrom today. I'm talking gorgeous lace up flat sandals, super cute flatform espadrilles and even highly coveted styles from brands like Loeffler Randall and Ancient Greek. Did I mention these were all on sale--before summer is even officially underway?! Whether you're not feeling the sandals you have from last year or you just want to treat yourself to something new, this is the sale to hit up. Just hurry before all the good styles sell out! Franco Sarto 'Appalachia' Lace Up Sandal ($59.99, down from $98.95) Jack Rogers Whipstitched Flip Flop ($89.90, down from $117.95) Michael Kors 'Maxwell' Sandal ($80.96, down from $134.95) Splendid 'Kenya' Wraparound Lace Sandal ($88.98, down from $137.95) Via Spiga 'Nemy' Platform Sandal ($110.90, down from $185) Ancient Greek 'Thais' Sandal ($288.90, down from $384.95) Loeffler Randall 'Hana' Lace-Up Gladiator Sandal ($209.98, down from $350) SHOP NORDSTROM'S BIG SHOE SALE NOW Be sure to check out Boden's clearance sale and how to prevent razor burn. [Photo: Instagram]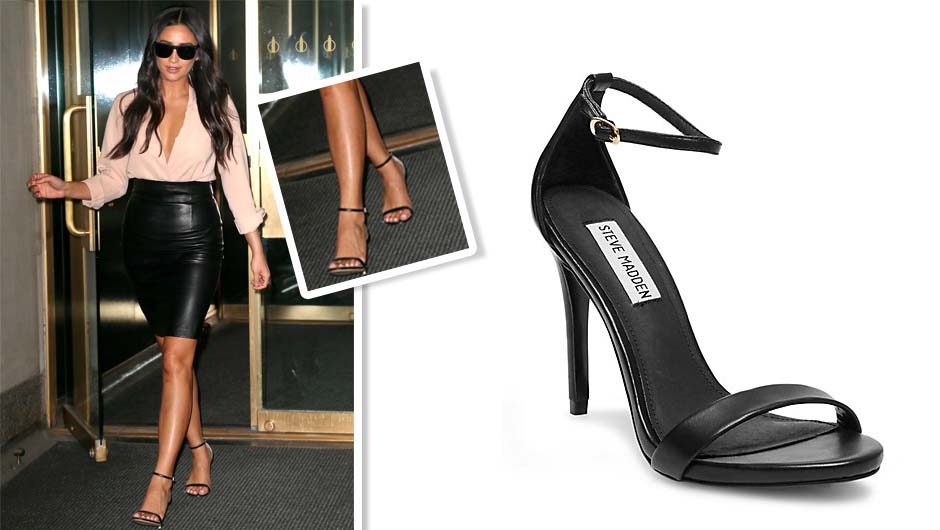 Shay Mitchell Wears Steve Madden Shoes, Just Like You And Me
It's always fun to see when celebrities shop at mall stores. Although, they probably didn't do the actual shopping themselves, but that's beside the point. Shay Mitchell recently stepped out wearing the most basic heels ever (aka, Stuart Weitzman Nudist knockoffs) from none other than Steve Madden! Got prom coming up? Graduation? Weddings? There's really no event that the Stecy Sandals ($79.95) don't work for. And, bonus points for being under $100 and available at a mall near you. Steve Madden Stecy Sandals ($79.95) Shop more celebrity style: Kourtney Kardashian's denim cutoffs and star finds under $50 [Photos: Splash News]
Pom Sandals Are Like Confetti For Your Feet–How Could You Say No To That?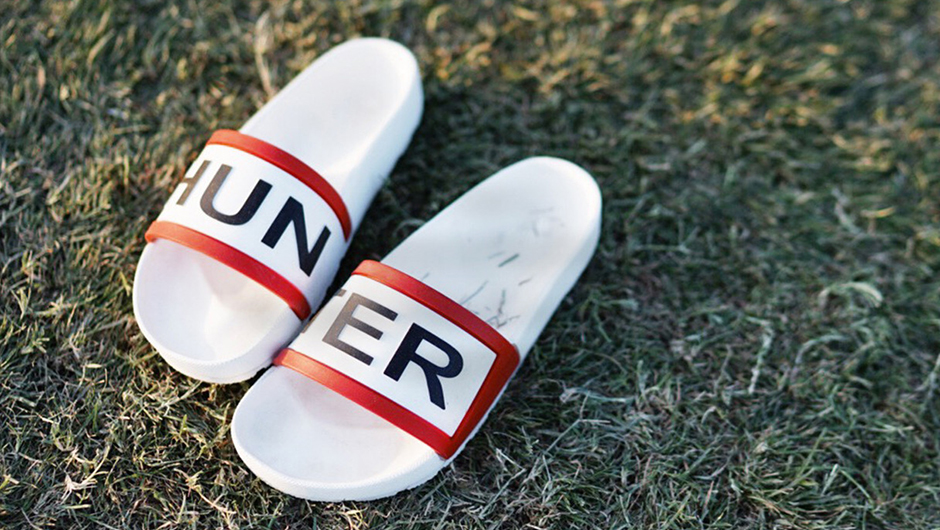 Beyonce, Kate Hudson & Everyone Else Are Into Slide Sandals Right Now
Damn, Rihanna x Puma Fur Slides Are Already Sold Out
SHEfinds receives commissions for purchases made through the links in this post. Rihanna's Puma creepers sold out real quick and it looks like the same thing happened with her new fur slides. The PUMA Fur Slides by FENTY ($80) just launched today and as of 12 PM EST they are all gone. Yes, all three colors, black, white and pink, are sold out. No doubt promotions from celeb PYTs like Kylie Jenner, Zendaya and Sofia Richie had to do with this. Keep checking back her for when they'll be back in stock. https://www.instagram.com/p/BEKSRTPpmOP/?hl=en https://www.instagram.com/p/BEav8WLsw_9/ https://www.instagram.com/p/BEQcO5ENVWg/ Don't forget to check out: Kylie Jenner and Blac Chyna's Snapchat and shop celeb looks from Coachella [Photo: PUMA]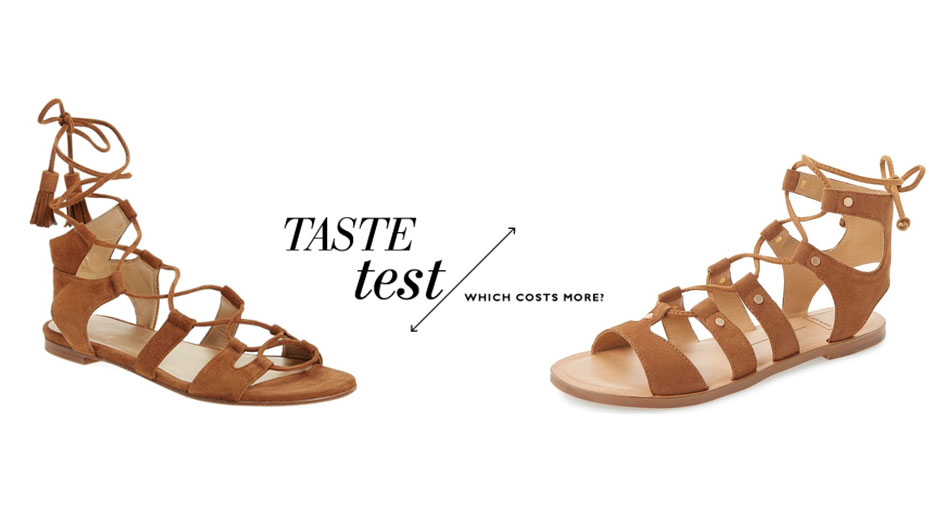 Can You Tell Which Ghillie Sandal Is Stuart Weitzman And Which Is Dolce Vita?
I just got my first pair of ghillie sandals--I know I am late to the game, but I'm here goddamnit!--these Chinese Laundry ones. They're great, right? While shopping for 'em, I came across BEAUTIFUL Stuart Weitzman ones. Oh my goodness were they gorgeous. Genuine leather, the perfect "amaretto" brown, cool tassel ties--the whole 9 yards. But, alas, they were also $445 (about 10x my budget for new sandals). So, I kept shopping and found another brown pair from Dolce Vita--almost the exact same color, lace-up ties, genuine leather but the sole is synthetic (who cares?). They were $89.95! So--can you tell: which pair are the Stuart Weitzmans and which are the Dolce Vitas? Click to find out! So--did you guess right??
These Gladiator Sandals Are Already Sold Out At Tons Of Target Stores And It's Not Even Summer Yet!
I know I'm not alone when I say "I love Target." Love really isn't even a strong enough word. I adore that store. I go to my local Target just about every weekend and I can't think of a time when I left empty-handed. One of my latest scores? These Mossimo Supply Co. Lilac Gladiator Sandals ($22.99). I purchased them when it was freezing cold here in NYC, in hopes that having them in my closet would make warm weather get here faster. That didn't exactly work, but I am so glad I snatched them up when I did because now they're out of stock at tons of stores. So consider this your warning. Even if you're still weeks (months?) away from wearing sandals, order these babies ASAP. Not only are they super cute, but they're wildly comfortable too. I wore them for a day of exploring during my vacation in Dominican Republic last month and after three hours of straight walking my feet didn't hurt at all. You're welcome. Mossimo Supply Co. Lilac Gladiator Sandals ($22.99) Be sure to check out J.Crew jewelry on sale and Marimekko for Target.
There Are So Many Good Designer Sandals On Sale At Neiman Marcus Last Call
Yesterday I decided it was time to make the switch. It's not quite warm enough to wear sandals in NYC yet, but it will be soon and when that day comes I want to be ready! I pulled my sandals out of their boxes and was actually quite bummed to see they were in as great shape as I remember. I hadn't exactly budgeted for having to spend a whole bunch of dough of new sandals, but luckily I stumbled upon an insane stash of gorgeous designer sandals over at Neiman Marcus Last Call. I'm talking Jack Rogers, Loeffler Randall and more for under $100! Ready to say buh-bye to your winter boots? Get over to Last Call asap because sizes are going fast! SHOP SANDALS AT NEIMAN MARCUS LAST CALL [Photo: Jack Rogers Megan Whipstitch Thong Sandal; Loeffler Randall Pascal Leather Lace-Up Flat Sandal; Joie Luca Laser-Cut Leather Sandal]
Here's Where To Buy Halle Berry's Super Cute $129 Sandals
Whether you're headed somewhere warm or just can't bear to buy another pair of boots, here's a weekend treat with serious star power. Halle Berry was recently snapped wearing these Cocobelle's Snake Wrap Sandals ($129) and yes, that price is right. An A-list celeb wearing sandals under $150? That basically never happens! Sadly, Halle's black pair is no longer available, but you can still snag the exact style in gold or white. Just hurry, before those are gone, too! Cocobelle Snake Wrap Sandals ($129) Be sure to check out Katie Holmes' cute boots and Mansur Gavriel bags on sale. [Photo: Splash News]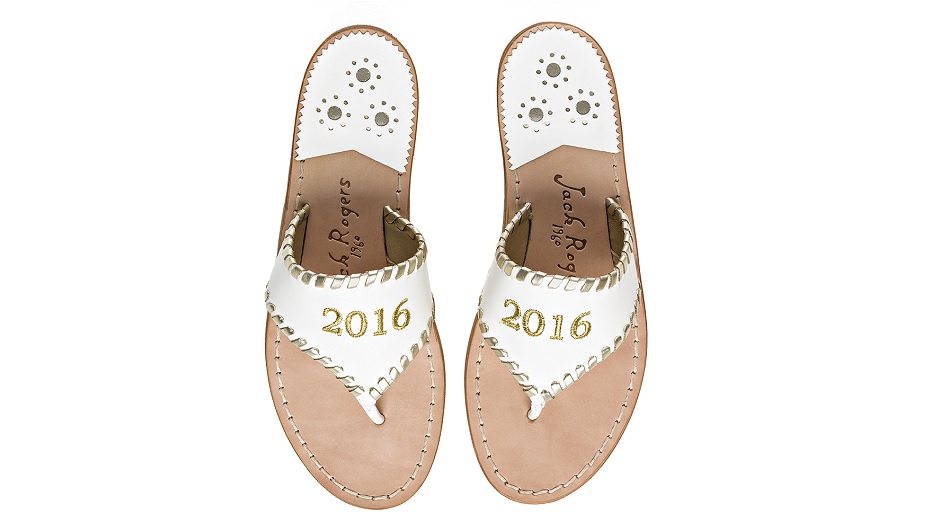 Ringing In The New Year On The Beach? Not Without These Limited-Edition Jack Rogers Sandals
Lucky enough to be counting down the final minutes of 2015 some place warm? #Jealous But that's not stopping me from sharing these amazing, limited-edition Jack Rogers 2016 sandals. It will definitely be too cold for me to rock them in NYC, but that shouldn't stop all you lucky ladies headed somewhere tropical for the New Year. Just hurry because limited-edition Jack Rogers sandals always sell out. These are still available in every size... but not for long. SHOP THE EXCLUSIVE 2016 JACK ROGERS SANDALS NOW Be sure to check out Olivia Wilde's bikini and Reiss' 50% off sale. [Photo: Jack Rogers]
Madewell Recalls Over 50,000 Sandals #UhOh
Do you own a pair of Madewell's Sightseer sandals? If you do, you might want to toss them in the garbage. Madewell has recalled more than 50,000 pairs of Sightseer-style sandals that were manufactured in Brazil and sold within the last six months. According to the U.S. Consumer Product Safety Commission (CPSC), there have been eight reports of "metal shanks dislodging and breaking through the bottom of the outsole." No injuries have been reported thus far. The recall applies to sandals sold at Madewell stores, online at madewell.com and online at shopbop.com from February to July, ranging from $60 to $80. A total of 10 Sightseer styles has been recalled: C0275 Sightseer Knotted Slide Sandal C0276 Sightseer T-Strap Thong Sandal in Black Leather C0277 Sightseer T-Strap Thong Sandal in Metallic Colorblock C0278 Sightseer Buckle Gladiator Sandal C0279 Sightseer Slide Sandal C1105 Sightseer Crisscross Sandal C5893 Sightseer T-Strap Toe-Loop Sandal C5895 Sightseer Ankle-Wrap Sandal in Shiny Silver C5897 Sightseer Lace-Up Sandal C6090 Sightseer Ankle-Wrap Sandal in Metallic Sand You can locate the style number on a sticker on the outsole. If you have purchased any of these sandals, you "should immediately stop using the recalled shoes and contact Madewell to return them for a full refund." Don't miss what to do with your skin and hair after a day at the beach and shop real leather and suede at Forever21! [Photo: Shutterstock]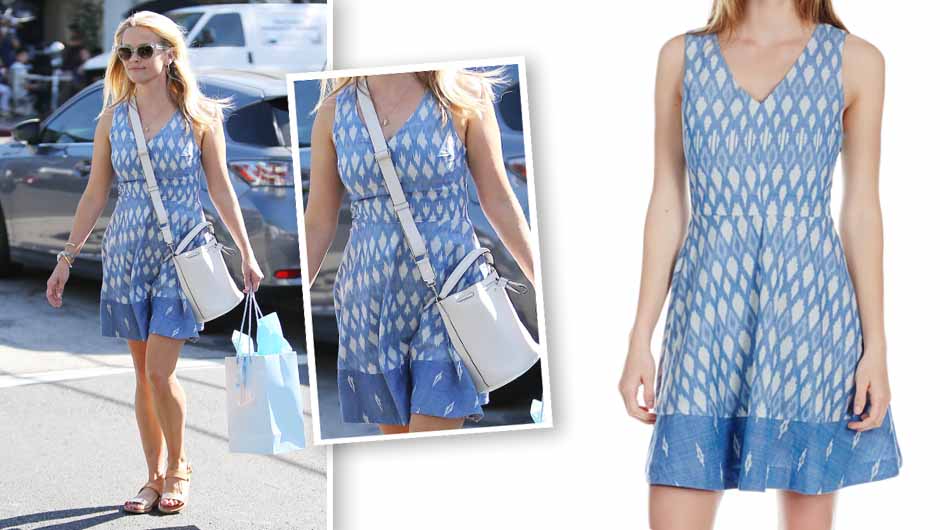 Reese Witherspoon's Chambray Dress Is The Perfect End-Of-Summer Sale Score
If your summer wardrobe is starting to look a little boring, join the club. Same old dresses, same sandals you've been wearing for two months straight--it's time for a refresh! Luckily, Reese Witherspoon is here to the rescue in one of the prettiest chambray dresses we've ever seen. Not only will this Joie Norton B Dress ($178, down from $298) be the perfect end-of-summer addition to your closet, but it also happens to be on sale. Score! And just for good measure, why not treat yourself to Reese's Ancient Greek Sandals Clio Metallic Leather Sandals ($185), too? It's a no-fail outfit with celeb street style cred--what could be better than that? Shop both items below.  Joie Norton B Dress ($178, down from $298) Ancient Greek Sandals Clio Metallic Leather Sandals ($185) Don't miss Beyonce's nude bag, Lea Michele's tank and Lena Dunham's printed bikini. [Photo: Splash News]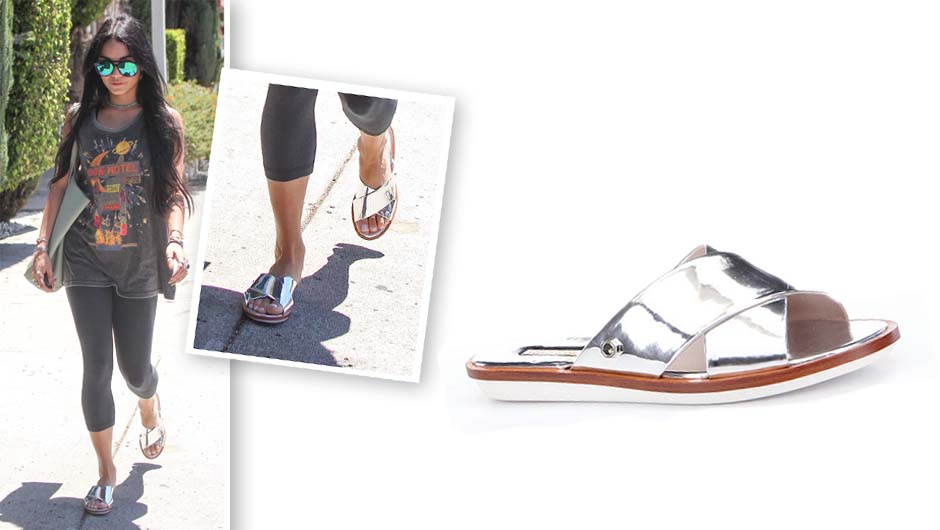 Psst! Vanessa Hudgens' Cool Metallic Sandals Are On Sale For Less Than $50
You know what would look really fabulous with that tan? Metallic sandals to emphasize your summer glow. When Vanessa Hudgens wore these Louise et Cie Adalla Metallic Flats ($45.15, down from $129) with her yoga outfit, we knew we had a winner. Then we saw the price and now we have a superstar. The metallic slip on sandals will bring you to sweat sessions and happy hours. At $45 and selling fast, you may want to hurry. Shop them below! Louise et Cie Adalla Metallic Flats ($45.15, down from $129) Don't miss Jessica Alba's eyelet shorts, Blake Lively's sandals, and Kendall Jenner's chambray shirt. [Photo: Splash News]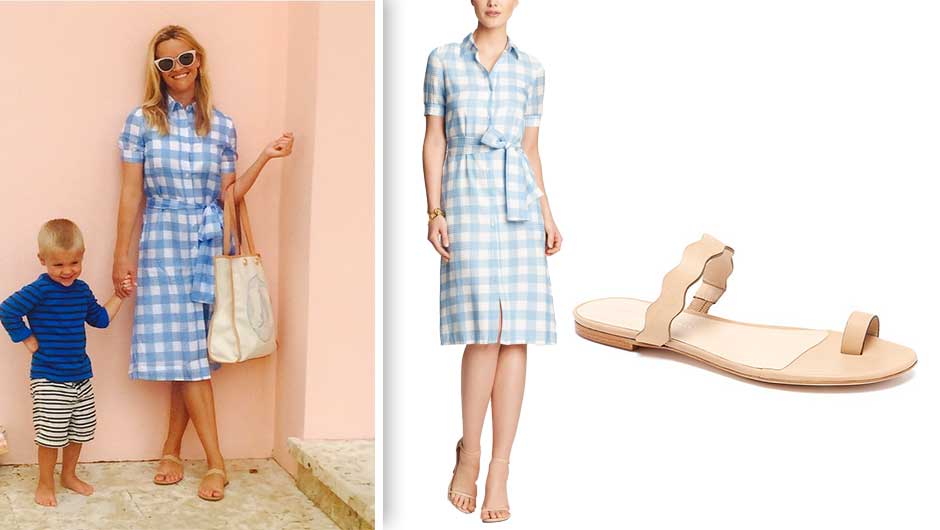 We Know Where To Get That Preppy Gingham Dress Reese Witherspoon Instagram'd
When you think of a true southern lady, Reese Witherspoon will usually cross your mind. The always classy mother showed off her style and charm in the Instagram post above with her adorable son wearing a Draper James Midi Shirtdress ($385) and Loeffler Randall Petal Slide Sandal ($225). Whether for garden parties, showers of all kinds, or just shopping for fresh flowers in the market, this dress is a must and will have all the classy broads smiling your way. Shop it below with her delicate, feminine slip-on sandals. Draper James Midi Shirtdress ($385) Loeffler Randall Petal Slide Sandal ($225)  Shop more great style such as Kourtney Kardashian's ripped jeans, Beyonce's white jeans, andRihanna's leather tank top. [Photo: Instagram]
From A Girl Who Wears Flatforms Everyday, You Need A Pair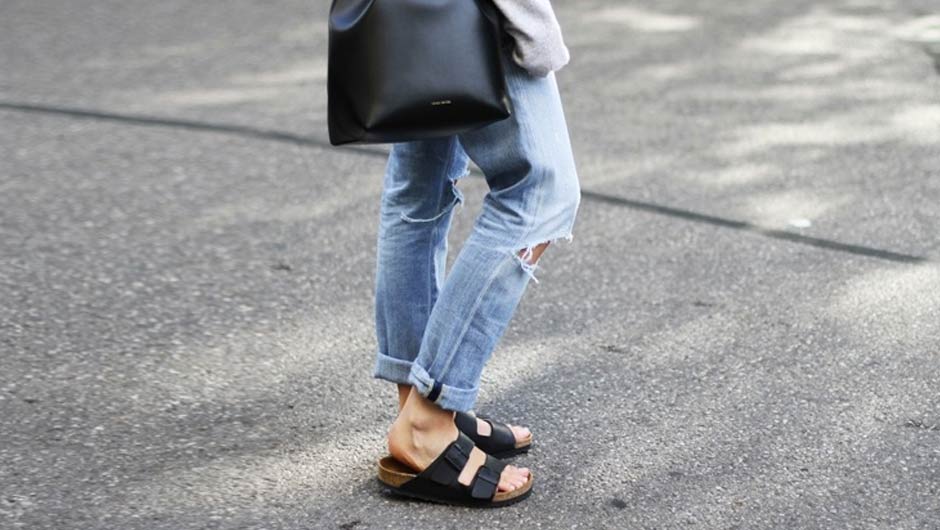 With These Awesome Styles, Birkenstocks Will Always Be Trending