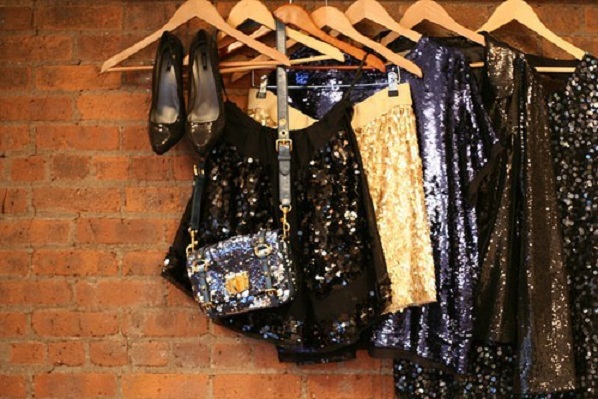 Summer Sequins: They're Not Just For New Year's Eve Anymore!
When we think of sequins, we tend to think of holiday parties and dressing up winter days, so we were pleasantly surprised when we found ourselves loving sequins for summer. Whether they're pastel or neon, on shorts or a dress, sequins look just as a great with a tan and wedges as they do by the Christmas tree. SHOP OUR FAVORITE SUMMER SEQUINS NOW Want  more sequins? Check 'em out on jackets, tanks, and skirts!
Deal Of The Day: Take Up To 40% Off Sparkly New Year's Tops And Dresses At Nordstrom
Nothing says 2011 like a sequin dress or tank top for New Year's. This is the one time of the year where you can get away with your most extravagant look, so be daring! After the night is over, you can still pair your sequin tank or dress with a pair of boyfriend jeans and a cardigan, a la Jenna Lyons, so it won't go to waste, promise. Get this Calvin Klein sequin tank for just $51.90, down from $88 and shop more from the Nordstrom sale here. Check out all of this week's best sales and deals, don't forget to peruse our best find of the day favorites, and online sample sales from this week.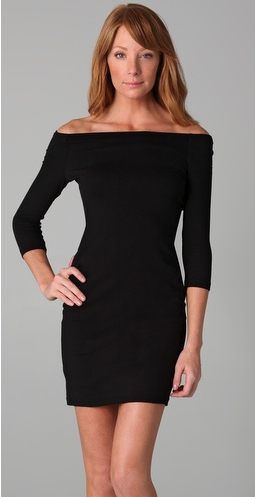 What To Wear If You Think He's Going To Propose (Don't Phone This One In)
'Tis the season for gift-giving, over-eating and... wedding proposals. Engagement season kicks off on Christmas, so if you have a sneaking suspicion that he's about to pop the question, make sure you're ready. Your grandkids will see these photos after all - so you better look damn good. Luckily for you, we have a whole site dedicated to all things bridal:  BRIDEfinds. Here are a few tips editor (and newlywed) Justine had to share for prepping for the big night: The Little Black Dress: This James Perse Off-The-Shoulder Dress ($135) is a classic LBD with a modern twist. You'll want something sophisticated enough so that his mom approves, but hot enough for your man to swoon. Leg-Lengthening Pumps: If your boy is having any doubt about getting hitched, seeing your mile long legs will make him forget all of his fears. Do so with these Pour La Victoire Irina Suede Pumps ($215) in either black or nude. Perfectly Polished Fingers: If you're like me, you'll text everyone in your phone book a photo of the ring that night, so you'll want a well polished finger.  Make sure you're chip-free  and photo-ready with a pretty pale pink like this Essie No Pre Nup ($8) or a fiery red like this Long Stem Roses by Essie ($8). An All-Over Glow: Once again, since you're going to be snapping pics left and right - you and your hands can not be pale. But you don't want a full-blown tan since it's December, and he'll have second thoughts about marrying Snooki. Get healthy glow with this St. Tropez Everyday Gradual Tan Mousse ($30). The Ultimate Marriage Musk: Make sure you mask the nervous sweat smell with a pretty, flirty perfume like Vera Wang Princess ($60). It's never too early to get on board the Vera Wang train. Don't forget to read up on more 'I Do' tips at BRIDEFinds. Shop our guides to the best perfumes for every season and the best black dresses. Join our e-mail list for exclusive SHEFinds updates.
Anne Hathaway Shows Us How To Pull Off Gutsy Sequins (It's All About The Dress)
Sequins can seem daunting, but so awesome if done right. Anne Hathaway demonstrates a few rules for pulling them off. Ready? Look effortless by balancing proportions--go long sleeved if you're wearing a short dress. Choose a sequin dress with a comfortable material like jersey or cotton, so you'll feel at ease. And don't stop at the dress--make sure your shoes are equally as fabulous. Follow the author of this post on Twitter @shefindseileen. Check out all of our favorite party dresses, cocktail rings, and party shoes so you're prepared for all of those impending invitations. Have you got all of your holiday gifts yet? Don't forget about our Sold Out List, filled with the 21 gifts that WILL sell out this year, and all of the best sales and deals and best find of the day picks.
How To Wear Sequins Without Looking Like A Disco Ball
Sequins obviously stand out and turn heads, but it's hard to not to look like a disco ball. However, sequins on tops, dresses, even shoes can actually be super hot and very in style. So follow our simple tricks because we're about to tell you how to make sequins work: Sparkle For A Night Out: This MICHAEL Michael Kors Habiutal Sequin Dress ($150) is great for the skeptical. The straight line of sequins down the front will peek perfectly out of this Max Studio Hand Finished Peacoat ($98, from $398), especially when left open. Break up the monochromatic look with a pair of killer pumps - like these Baker's Victoria Pumps ($80). Top it off with a pair of delicate earrings, such as these Betsey Johnson Pairs Eiffel Drop Earrings ($51). Rock Star Shine: Sticking with black and silver might be a little rock & roll, but that's never stopped us before. Start off with this Rise & Shine Top ($100) and keep all on eyes on you by pairing it with a some black jeggings, like these by Rock Revival ($122). Polish it off with some rockin' studded Report 'Electra' Booties ($92.90, down from $140) and this multi-chain Hive and Honey Necklace ($30). Try out  more styles with all of our how to wear posts. Shop for the best evening tops for jeans, the best platform pumps, and the best party dresses. Sign up to receive exclusive fashion updates.
Drew Barrymore's Sparkles In A Bold, Sequined, And Insanely Cheap Red Carpet Dress
We've noticed that when Drew Barrymore takes a red carpet, she does not play it safe. Sometimes it's a flop (literally, in the case of her bra-less Golden Globes dress) but other times its a great success. Like in the case of this bold sequin dress she wore on the red carpet this week. Normally, we wouldn't recommend mixing patterns with sequins with long sleeves - but Drew nailed it. Plus, the actress revealed that she paid - wait for it - $25 dollars for the dress at a vintage store in Texas. Yee haw. Try the bold look for yourself here: Get Drew's multi-colored sequin dress style with this gorgeous A.B.S. by Allen Schwartz racerback tank dress ($240, down from $400). Wear it over black tights for a cool, modern look or with strappy sandals for a nighttime soiree. Ombre is another great way to go when playing with colorful sequins; try this red carpet-worthy Alice + Olivia Voula Ombre Sequin Dress ($596). If you want to sparkle at night, you cannot go wrong with a gold sequin cocktail dress like this show-stopping A.B.S. by Allen Schwartz Illusion Yoke Sequin Shift dress ($360). Check out more celebrity-approved style, like the best chain strap bags, celebrity denim and celebrity swimwear. Then browse more best find of the day picks and all of this week's sales and deals.
Deal of the Day: Take Up to 70% Off Black Dresses with a Bit of Sparkle at Singer22.com
If you're partial to the little black party dress, ring in 2010 with something a little more special by choosing one with a hint of sparkle. These eye-catching black dresses from Singer22.com are perfectly festive thanks to some strategically placed sequins that have just the right amount of flash. We love that this Whitney Eve sequin dress ($225 was $450) is sexy, but not totally skin baring. This Haute Hippie knit tank dress ($99 was $375) is dressy enough to ring in the New Year, but you can also dress it down and wear it afterward with leggings or tights and a cardigan. If you're worried everyone will be wearing sequins this New Year's Eve, try this Alice + Olivia chain necklace halter dress ($231 was $330) for a different type of sparkle. Find your perfect party dress, plus check out our favorite party shoes and evening bags to wear with them, and don't forget the shapewear to smooth everything out underneath. More Sales and Deals 7forAllMankind.com: Take up to 50% off denim, footwear and handbags in the winter sale DSW.com: Free shipping on all orders over $35 with code SNOWMAN NewportNews.com: Take up 65% off at the winter sale