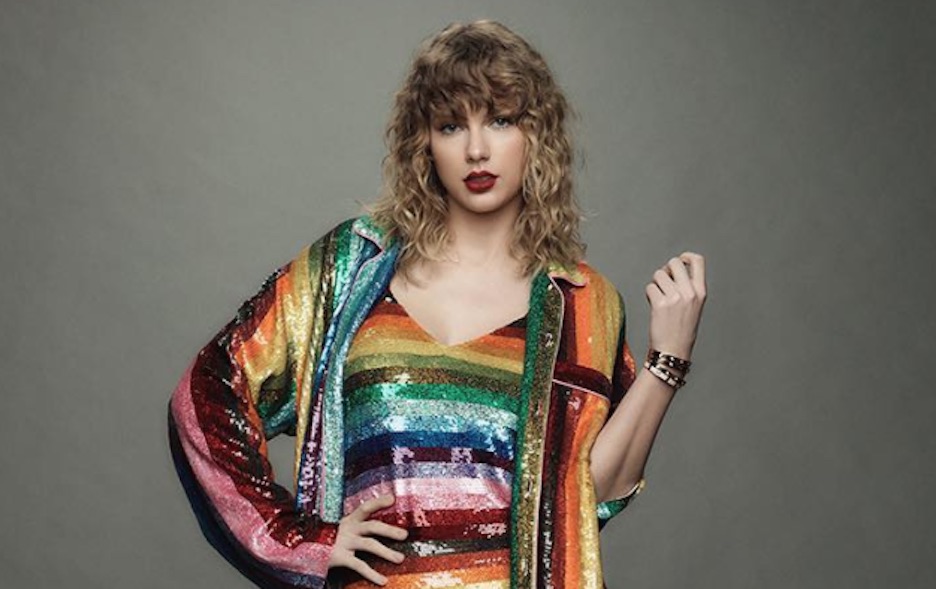 Um, What Do Taylor Swift's Boobs Think They Are Doing?
Taylor Swift's Boobs Have Gotten HUGE, And We Love It!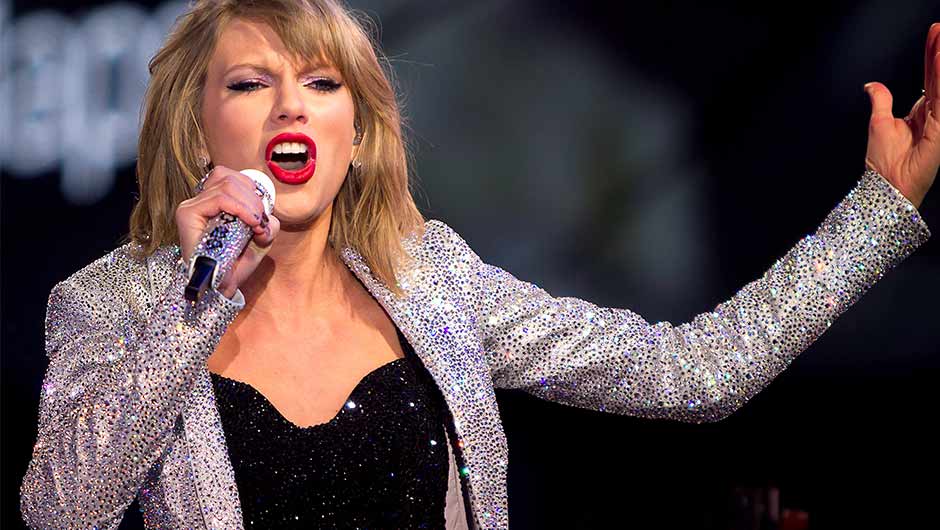 What Is Taylor Swift Wearing? She's Practically Naked!
The Ultimate Guide To The Best Pop Culture Halloween Costumes This Year
It's that time of the year again-- Halloween season is finally here. We've got a ton of costume ideas for you if you're thinking about who you want to dress up as this year. It's no secret that pop culture costumes always make the most iconic Halloween costumes-- especially for 2017. This year's television shows, movies, and music have seriously thrived. You can gain plenty of costume inspiration from hit shows like Hulu's The Handmaid's Tale to docuseries like HBO's Big Little Lies. Other iconic pop culture costume ideas can come from your go-to music videos, ahem Katy Perry's "Swish Swish," or your favorite movie, hello It. Luckily, we have a ton of tips and pointers for how you can create the best pop culture halloween costumes this year. Do you want to know the most amazing part about it all? Every single one of these pop culture costumes you can DIY this year are all super affordable. Score! Offred The Handmaid's Tale Costume   [Photo: Hulu] Hulu's original series The Handmaid's Tale dominated the Emmy's this year and your costume is sure to do the same at any Halloween party you go to. Eleven Stranger Things Costume [Photo: Netflix] Stranger Things will definitely be a hit again after the Netflix show's second season releases on Oct. 27. It's time to get your Eleven costume ready! Pennywise It Costume  [Photo: New Line Cinema] It seems like everyone is dying to create their own It costumes this year. Luckily, you can easily create your own Pennywise costume with just a few simple pieces. Katy Perry "Swish Swish" Costume [Photo: YouTube] Who didn't appear in Katy Perry's "Swish Swish" music video? I mean, let's be honest. Katy's video was honestly hilarious and makes for the perfect DIY costume this year. Big Little Lies Audrey Hepburn Costume [Photo: HBO] We absolutely adored Big Little Lies' Audrey Hepburn costumes on the docuseries' finale. Here, you have two different options for creating both Reese Witherspoon's and Shailene Woodley's Audrey costumes. Amazing! Game of Thrones Daenerys Costume [Photo: HBO] It's no secret that another fan favorite series is HBO's Game of Thrones. You should get to shopping right now so you can effortlessly DIY your own Daenerys costume for Halloween.  Taylor Swift Reputation Costume [Photo: Instagram] Taylor Swift has certainly had everyone talking this year. You can create your own Taylor Swift Reputation inspired look as you anticipate the album's release date. Riverdale Cheerleader Costume [Photo: Instagram] A cheerleader costume always makes for one of the most classic Halloween costumes. And this Riverdale cheerleader costume takes it one step further. This DIY look is also a perfect costume option for any duo or group Halloween looks this year! GLOW Costume [Photo: Netflix] Pay some respect to the 80s by creating your own GLOW Halloween costume. From big hair to neon colors, your look will seriously be amazing. Billie Jean King Battle Of  The Sexes Costume  [Photo: Amazon] Grab your go-to Adidas and become Billie Jean King a.k.a. Emma Stone in Battle Of The Sexes. We love this sporty look! Playboy Bunny And Hugh Hefner Costumes [Photo: Twitter] We expect Playboy-inspired costumes to be a huge hit this year following the news of the late Hugh Hefner. Create your own couple's costume with these Playboy bunny and Hef iconic looks. Baywatch Costume [Photo: Paramount Pictures] Have some fun in the sun this Halloween by creating your own Baywatch costume. You'll catch Zac Efron's attention in no time! Ariana Grande Costume [Photo: Instagram] It seems like Ariana Grande has been everywhere this year. From her hit singles to her world tour, who wouldn't want to dress up as the singer for Halloween this year ? Wonder Woman Costume [Photo: Warner Bros.] Last but not least, Wonder Woman seriously dominated the box office in 2017. Luckily, you can easily create your own girl boss Wonder Woman costume before Oct. 31 hits. [Photo: Hulu, Netflix, YouTube, Instagram, The CW]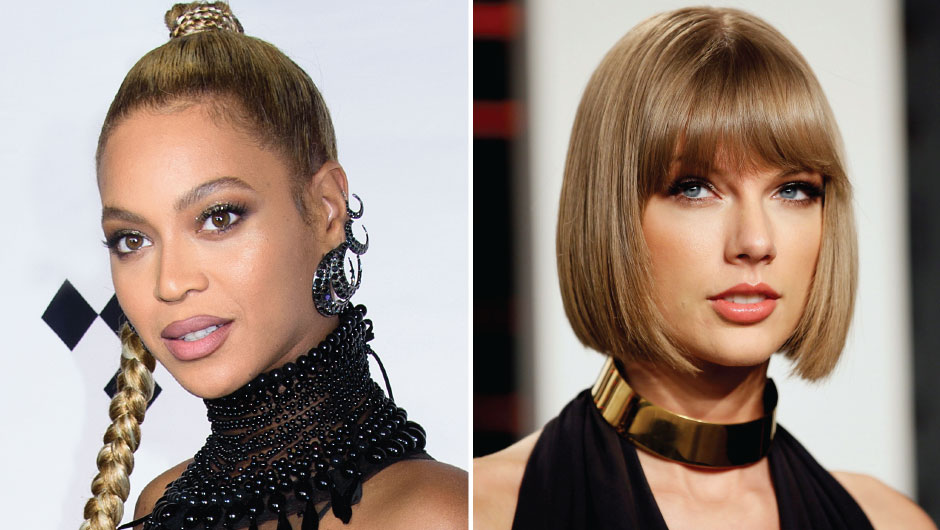 Is There 'Bad Blood' Between Taylor Swift And Beyoncé?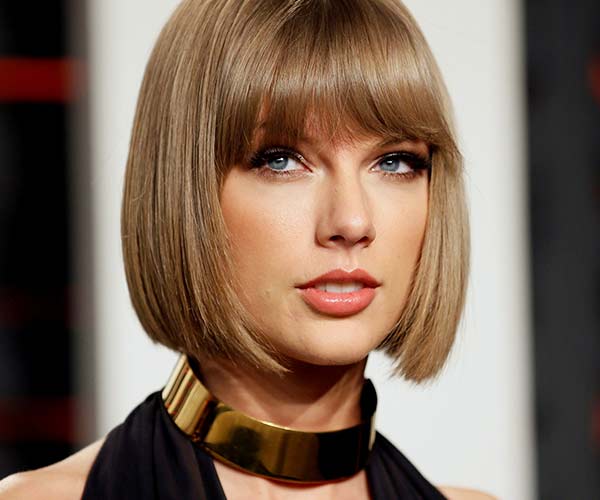 So This Is Who Taylor Swift's Song "…Ready For It?" Is Really About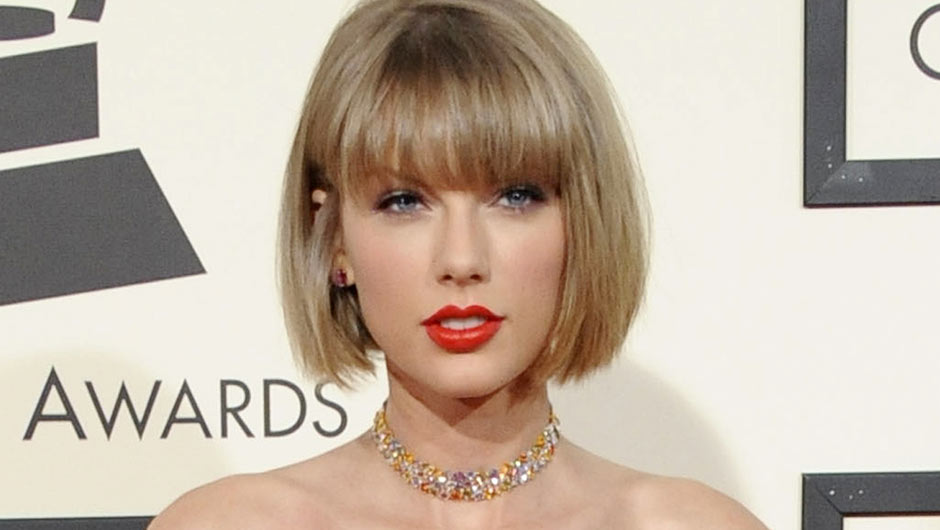 OMG — Why Did Taylor Swift Get Booed At Her Childhood Friend's Wedding?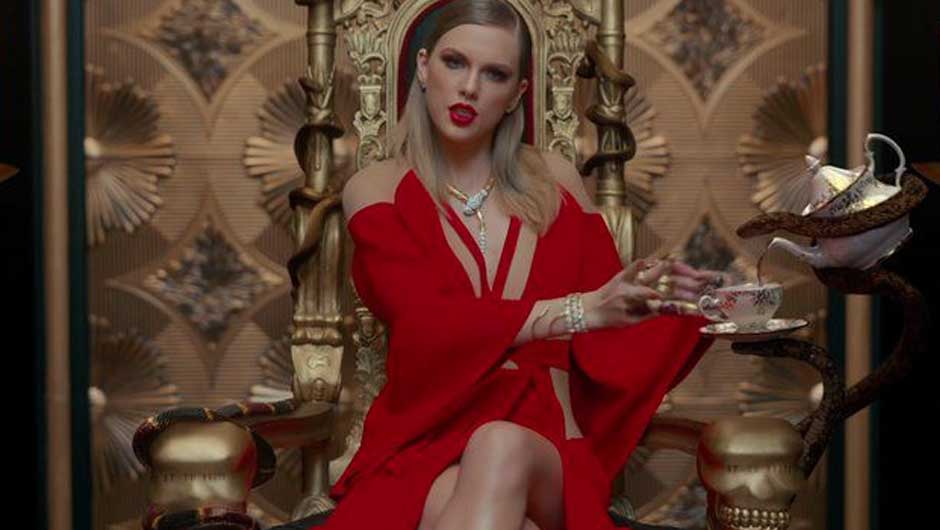 4 Items You Can Buy From Taylor Swift's New 'Look What You Made Me Do' Video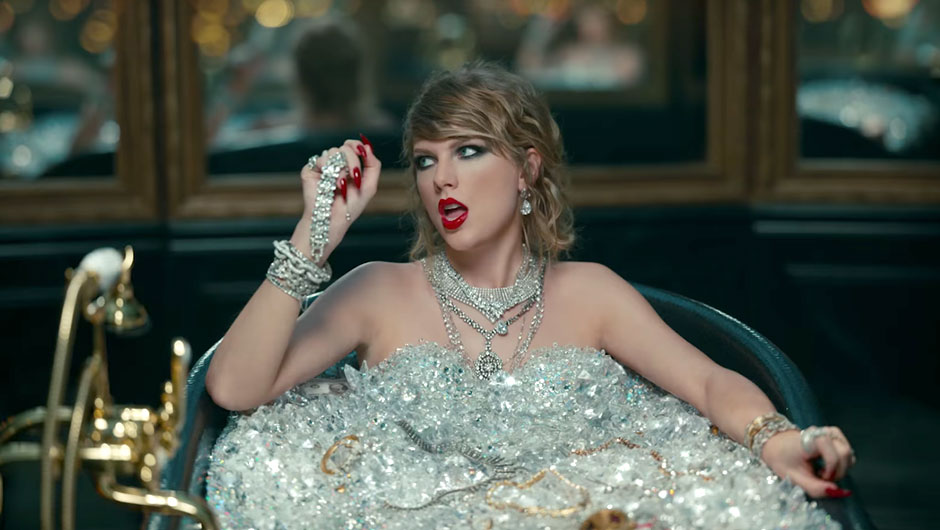 So This Is How Much Taylor Swift's Diamond Bath Really Cost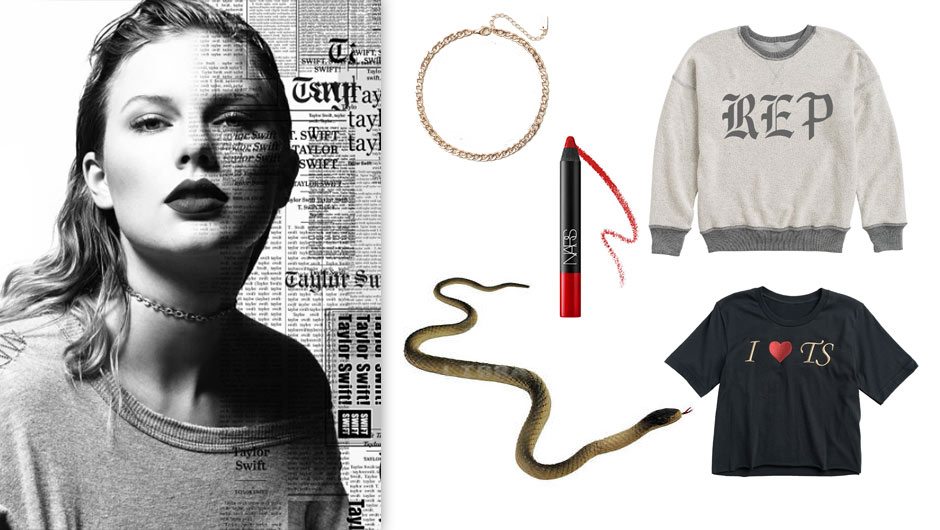 Here's How To DIY A Taylor Swift Halloween Costume, Inspired By Her New "Reputation"
Unless you live in a cave without Internet access, you've probably gotten wind of Taylor Swift's new song, "Look What You Made Me Do," and its corresponding music video. Although we're still not sure exactly what we made Taylor do, the song is annoyingly catchy. The video, on the other hand, takes drama and shade to never-before-seen levels. With disses to Katy Perry, Kim and Kanye, and even music streaming companies, you really just have to see this video to believe it. There's A LOT going on. And, in true T. Swift fashion, she just had to steal the solar eclipse's thunder and announce news of her upcoming album the same day, which is called "Reputation" in honor of her new self-proclaimed "good girl gone bad" identity. We'll see how that pans out. Anyway, we predict this buzz-worthy song and video will spark tons of T.S. Halloween costume variations this year. She has more than 10 different outfits you and your it-girl squad can replicate from the music video, but we rounded up a funnier approach to a DIY T. Swift costume based on her "edgy" new look from her album cover. We've come a long way from T. Swizzle's "Teardrops On My Guitar" days. As she explains in her new song, "the old Taylor can't come to the phone right now." Why? Because "she's dead," duh! I must admit, though, she does look kind of cool with her new "smarter" and "harder" persona that she debuted on the"Reputation" album cover. She wears her curls slicked back with a choker necklace and a ripped sweatshirt. To re-create this look, you can pre-order her new merchandise she just launched for the album. Buy this "Rep" sweatshirt, cut a few holes in it and wear it off your shoulders to copy Taylor's cool-girl look. Repping (get it!?) her merchandise will also probably feed into her ego even more. Reversible Terry Pullover ($65) In the song's music video, Taylor drops it low in scenes that look strikingly similar to Beyoncé's "Formation" video. Coincidence? Probably not. But, her backup dancers all wear black "I <3 T.S." t-shirts. Apparently, this might be a stab at Taylor's ex (shocking!) Tom Hiddleston, who once wore a similar shirt when he dated the melodramatic star. Good news—you can also get your hands on this notorious shirt from her online marketplace as part of her new collection. Wear it under the sweatshirt for the complete T. Swift allure. Or, honestly, just make your own. Embroidered Crop Tee ($50) The country/pop singer also sports a thin, gold choker on the album art. We found a similar one from American Eagle. AEO Gold Linked Chain Choker ($5.97) It wouldn't be a Taylor Swift costume without her signature red lip, but it looks like she might be experimenting with darker shades. Even though she released the "Reputation" album cover in black and white, it appears that the lip color she's wearing screams more of "I'll be the actress starring in your bad dreams." Keep the rest of your makeup to a minimum for the costume. Nars Velvet Matte Lip Pencil ($27) In case you haven't heard, after her drama with Kim and Kanye, Taylor has since been labeled a "snake," which she of course plays on in the music video. So, ssssssslither into all your Halloween parties with this rubber prop draped around your torso. Realistic Manmade Soft Rubber Animal Fake Snake ($2.85) If you want another prop, you can also create her red, underlined "list of names" that she mentions over and over in "Look What You Made Me Do." Include every single one of her exes and anyone she's ever had bad blood with. It might be a long list. And, there you have it, folks—a 2017 Taylor Swift Halloween costume. Maybe once you channel her identity you'll finally solve the mystery of what everyone actually made her do. Keep us updated. For more DIY Halloween costume ideas, make sure to check out this year's best pop culture Halloween costumes. [Photo: Instagram]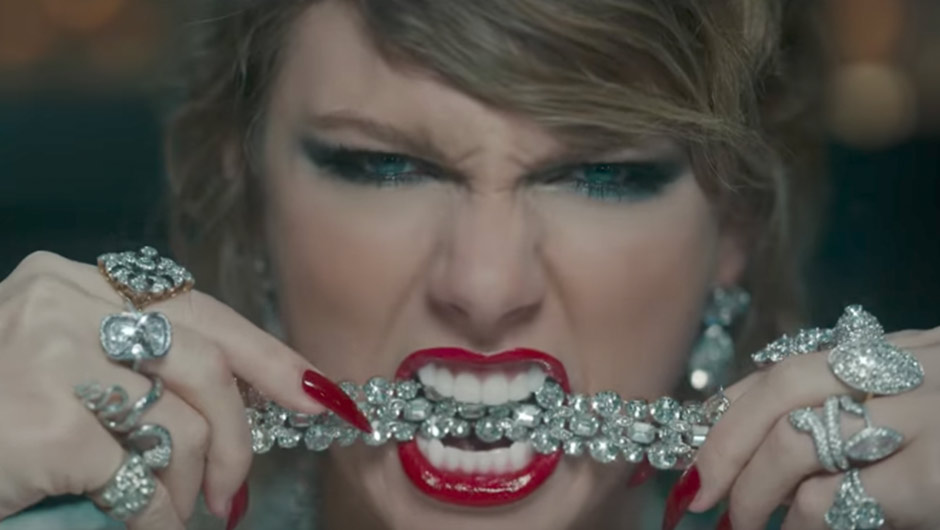 Taylor Swift Just Released A New Music Video, And No One Knows How To Feel About It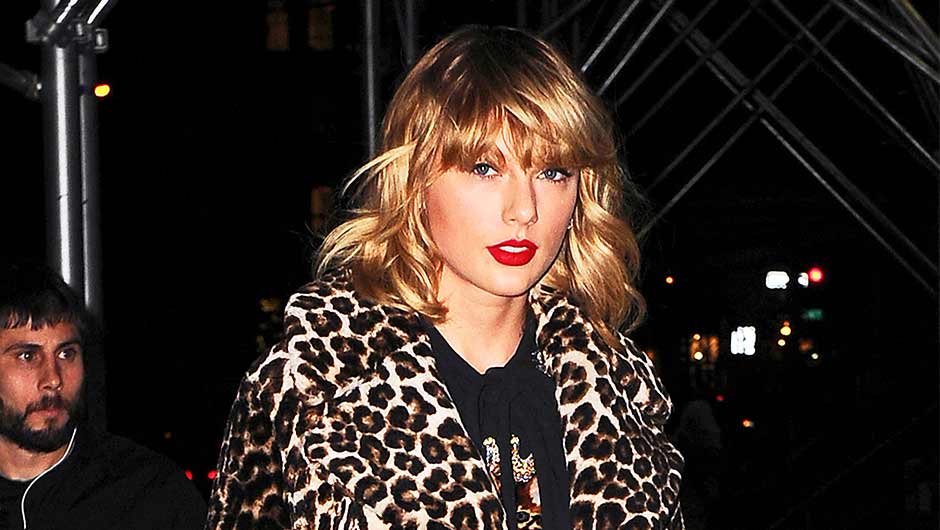 Taylor Swift Just Got Back Together With This Famous Ex
The Internet Is Freaking Out Over This Insane Taylor Swift Lookalike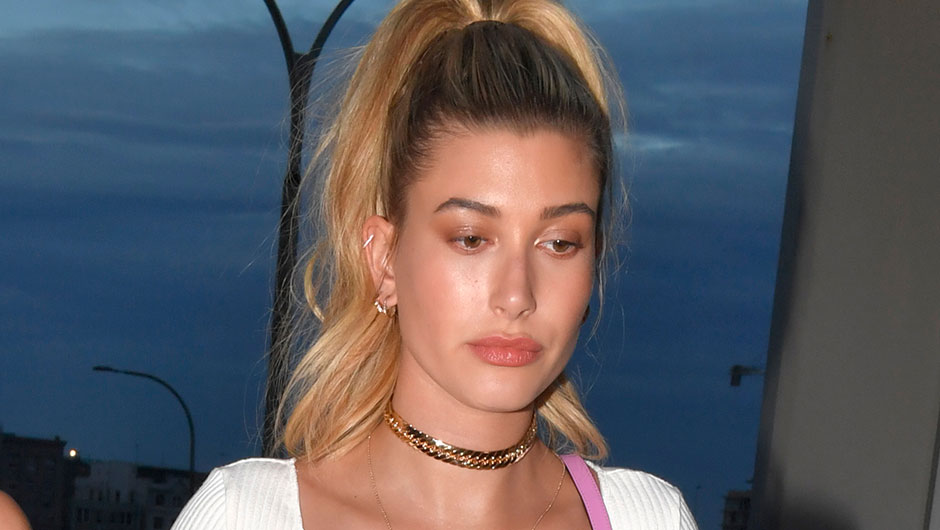 5 Celebrities Who Had Really Nasty Things To Say About Taylor Swift And Her Squad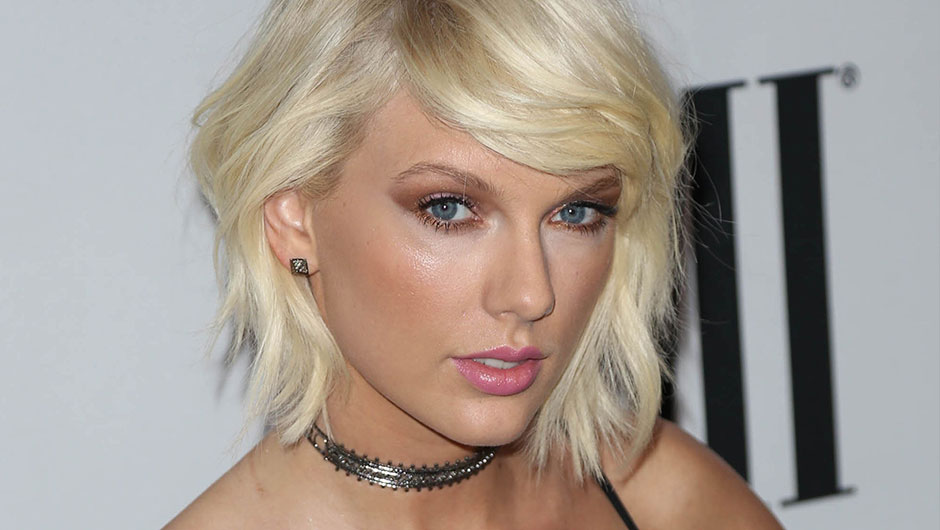 4 Cheap Stores That Taylor Swift Swears By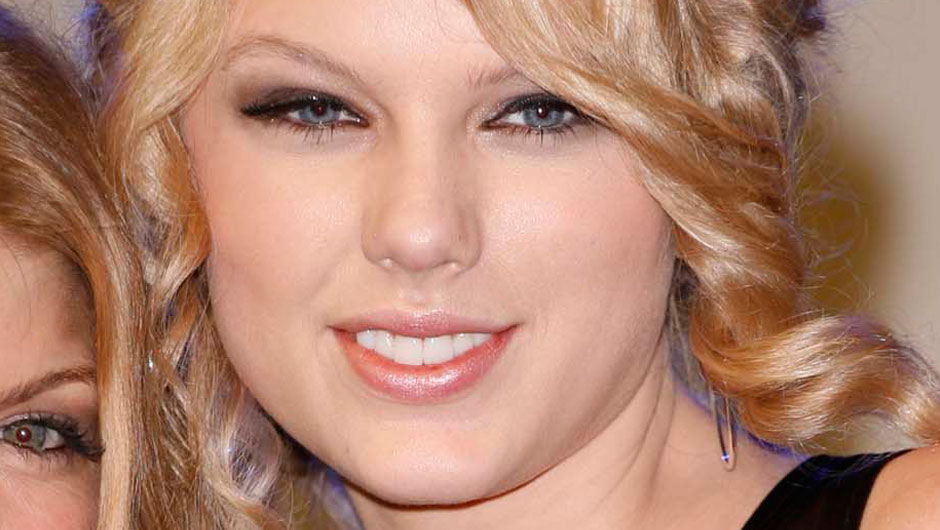 See How Much Taylor Swift's Face Has Changed Over The Years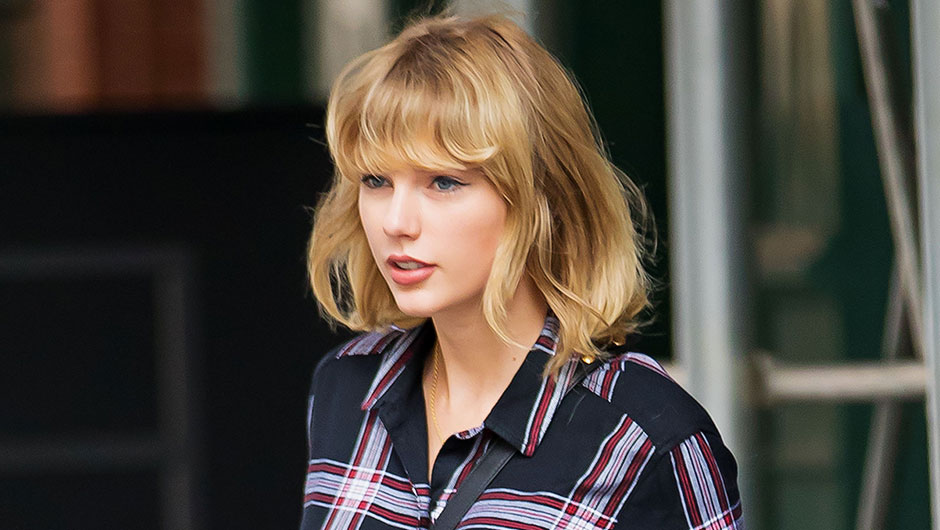 6 Moments That Proved 2016 Wasn't Taylor Swift's Best Year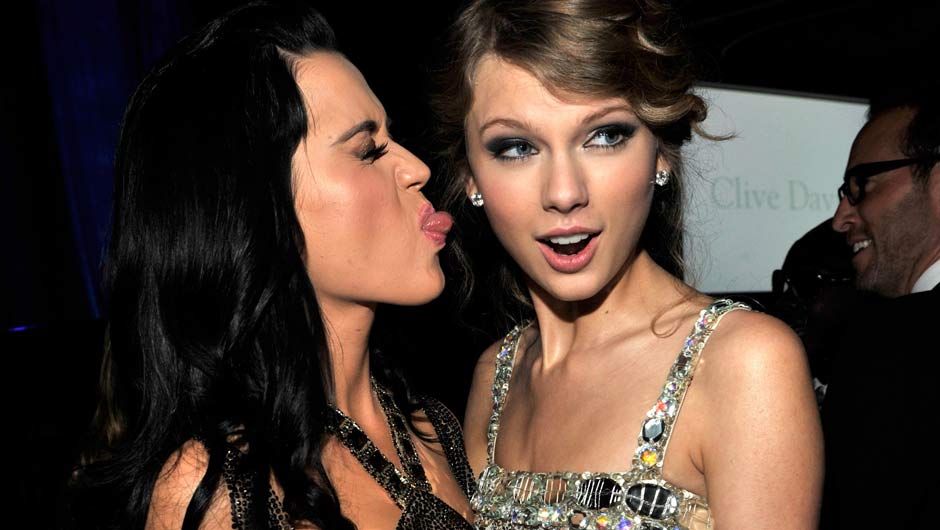 Katy Perry Vs. Taylor Swift: Where Did It All Go Wrong?
UPDATE: Say what? Katy Perry just revealed that she's willing to make music with Taylor Swift, but only under one condition. When asked by a fan on Twitter if she would collab with Swift, Perry responded, "if she says sorry, sure!" Wow! Talk about a change of heart. https://twitter.com/katyperry/status/774720097621454848?ref_src=twsrc%5Etfw Uh oh. Things are really starting to heat up between Katy Perry and Taylor Swift. Before I take you through a speedy version of Katy and Taylor's history, it's important to mention that Katy Perry recently registered a song called "1984" to BMI, a major music publisher. So, what's the big deal? Some are speculating that this could be Perry's comeback to Swift's "Bad Blood" as the song is curiously similar to Taylor's album titled 1989. It's been no secret that the two singers are in the middle of a so-called battle. Taylor doesn't deny that her most recent song is about Katy. The "Bad Blood" singer told Rolling Stone another female pop-star. "It had to do with business. She basically tried to sabotage an entire arena tour. She tried to hire a bunch of people out from under me," she said. Back to the battle. Here's a timeline of Katy and Taylor's history. See where it all went sour. 2008: The start of their friendship happened at the 2008 MTV Movie Awards, where they posed for pictures together. Oh, the good ole days. 2009: The two met up again at the Grammys. Katy revealed she asked Miley Cyrus and Taylor Swift (they shared a dressing room) for locks of their hair. She recalled, "I put little bows on them individually and put them in my purse. And that was my little secret and I'm a freak!" 2010: Katy joined Taylor on stage at her Los Angeles concert. The duo performed "Hot N Cold" together. Watch it below! [youtube]https://youtu.be/jVRdSTYhqmc[/youtube] 2011: Taylor won an award at the AMA's and Katy congratulated her with a cute cuddle sesh. 2012: Katy begins dating Taylor's ex John Mayer. Their relationship would span over the next two years. 2013: Katy attended the Grammys with Mayer and ran into Taylor. The two had a slightly awkward encounter, which makes us think this remark by Taylor could be aimed at Katy. "For years, I was never sure if we were friends or not. She would come up to me at awards shows and say something and walk away, and I would think, 'Are we friends, or did she just give me the harshest insult of my life?'" 2014: Katy sends out a cryptic tweet right after the release of Taylor's Rolling Stone cover story. https://twitter.com/katyperry/status/509247190280065025 2015: In response to the feud, Katy told Billboard before her Super Bowl performance, "If somebody is trying to defame my character, you're going to hear about it." Taylor releases the song "Bad Blood" and recruits all her famous BFF's like Gigi Hadid, Jessica Alba, Lena Dunham and more to be in the video. Katy definitely made the next move in legalizing the song "1984" so we will have to stay tuned to see how it all plays out. For the record, I'm Team Katy. 2016: One year later, we all know the lyrics to "Bad Blood," but here's a refresher because it's important. "Cause baby now we got bad blood, you know it used to be mad love, so take a look what you've done, 'cause baby now we got bad blood." Guess what? Katy Perry just released a fragrance called "Mad Love." As E! News points out, "Mad Potion" was Katy's first fragrance so this is simply a follow-up in the "Mad" collection, but the choice does seem pretty sus. The Katy-Taylor saga continues. Are you team Katy or team Taylor?! Share in the comments. Don't miss Kate Moss escorted off an airplane and can you tell which jumpsuit costs $193 more? [Photo: Getty/WireImage]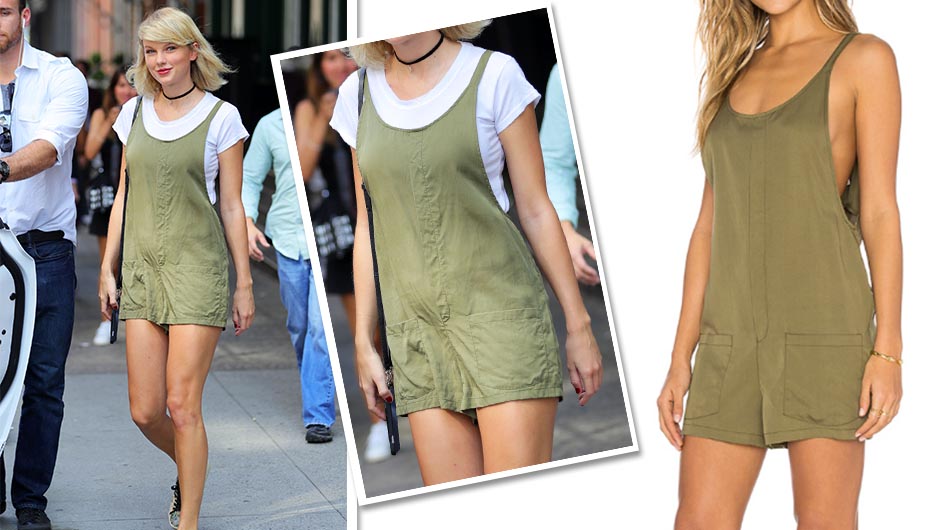 Here's Where To Buy What Taylor Swift Is Wearing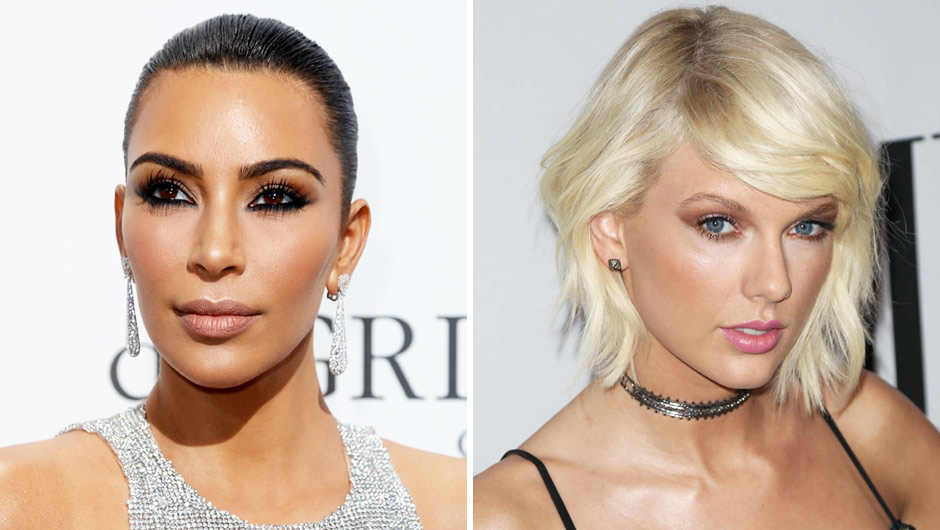 Twitter Has A Meltdown Over Kim Kardashian Exposing Taylor Swift: Best Reactions
Where were you when you heard about the #KimExposedTaylorParty? For those of you who just logged in to Twitter or opened your first email of the day, you probably feel something like this: https://twitter.com/Lyd_lydia1/status/754972044203216896 Here's what's goin on. Kim Kardashian West posted a series of videos to Snapchat last night revealing that Taylor Swift did, in fact, approve of Kanye West's "I feel like me and Taylor might still have sex" lyrics. The video shows Kanye in the studio on the phone with Taylor and he asks for her permission to use the now-famous line. She thinks it's a great idea. Of course, the Internet is having a meltdown over this revelation. People are taking to Twitter to share their reactions--these are some of the best ones. There are hilarious memes about who exactly is at the #KimExposedTaylorParty: https://twitter.com/ddldedication/status/755002448926896128 https://twitter.com/fczks_styles/status/754981948490153984 Informative memes: https://twitter.com/dohhahqiqi/status/754995013050896384 https://twitter.com/twhiddlezton/status/754954929073160193 Support for Taylor's exes who did not get any approval before an entire album was written about them by one of the most popular musicians on the planet: https://twitter.com/PhilipAsolo/status/754969514882850816 https://twitter.com/BiebsNetwork/status/755010422936219648 There's also recognition for Kim's "investigative journalism": https://twitter.com/CurtisBebro/status/754974316228440064 https://twitter.com/jasondanieI/status/754973036403691520 https://twitter.com/KomptonMusic/status/754949551765671936 https://twitter.com/MattBellassai/status/754887930708131844 Even celebrities chimed in, supporting both sides: Those on Team Kimye include Demi Lovato and (former?) squad memeber Zendaya: https://twitter.com/TheShadyFacts/status/754932065796288512 https://www.instagram.com/p/BH_c-rzBAmL/?taken-by=theshaderoom Selena Gomez is, of course, Team Taylor. She sent off a firestorm of Tweets: https://twitter.com/selenagomez/status/754896317369970689 https://twitter.com/selenagomez/status/754897640073166852 https://twitter.com/selenagomez/status/754904787997585408 Then there's the whole Khloe Kardashian vs. Chloe Grace Moretz and Ruby Rose side feud happening! Chloe, who previously went after Kim for her naked selfies, tweeted: https://twitter.com/ChloeGMoretz/status/754915943743053825 https://twitter.com/ChloeGMoretz/status/754916063163273217 Khloe, defending her sister, got a little x-rated with her response to the 19-year-old actress. She posted a photo of a woman who looks like Chloe in a bikini with her butt exposed and the caption, "Is this the a hole you're referring to @ChloeGMoretz ???" Ruby Rose, newly inducted squad member, stepped in to defend the teen: https://twitter.com/RubyRose/status/754939084603322368 Oh, and then there's Justin Bieber being THE VOICE OF REASON with this Instagram video where he simply says, "Less hate, more love." https://www.instagram.com/p/BH_oCbBBcTk/?taken-by=justinbieber I think we all deserve the day off so we can watch the Internet break. Don't forget to check out: this $10 mirror nail polish and facts you didn't know about Benefit [Photos: Splash News]
Here's The Bathing Suit Gigi Hadid, Taylor Swift And Hailee Steinfeld All Wore This Weekend
I won't get into all the details of Taylor Swift's annual 4th of July party because 1) You've probably read all about it at this point and 2) My invite got lost in the mail. So that's what you get, Swift. Anyways, the hostess herself and attendee Gigi Hadid both wore the Anne Marie Swimsuit ($168) by Solid & Striped--the two actually had a twinning moment. https://www.instagram.com/p/BHfV9uODLmv/?taken-by=taylorswift "Bad Blood" video participant Hailee Steinfeld also got the memo (gee, wonder how THAT happened??) and wore the same red-, white- and blue-striped one-piece. https://www.instagram.com/p/BHdt6TMj2YF/ Basically, this is how you get in with the squad if that's still your life #goals. If not, the one-piece is cute regardless and there's still Labor Day so... Anne Marie Swimsuit ($168) Don't forget to check out: how to step up your Instagram game and find out what are the least-used emojis [Photos: Jackson Lee/Splash News]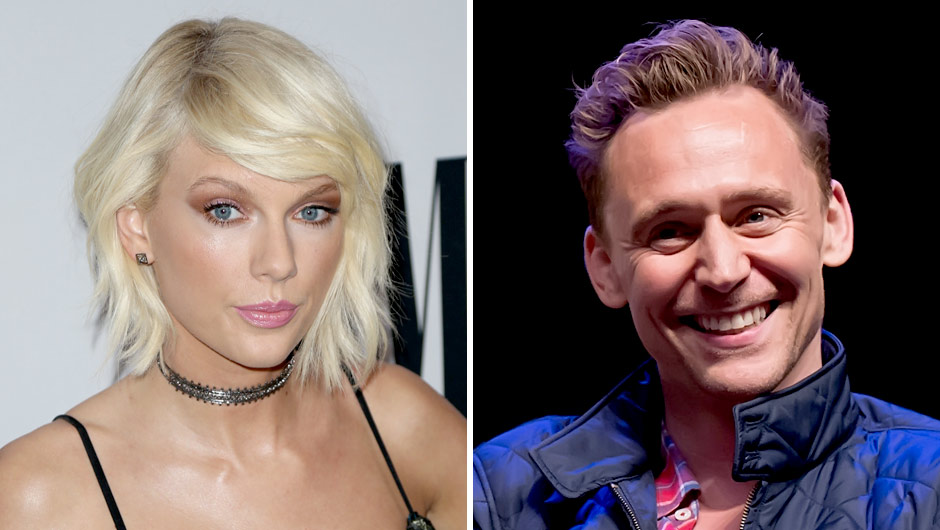 The Internet Is Having A Meltdown Over Taylor Swift And Tom Hiddleston: The Best Reactions
Where were you when you first heard about Taylor Swift and Tom Hiddleston? Perhaps it was on your commute home from work or when you swore you wouldn't check your phone before bed but took just one innocent glance (It's never a good decision to look at your phone if you're "trying to go to sleep early," fyi). Whether you're team Taylor, Tom or Calvin Harris, there's no denying that everyone has a lot of feelings about this recent turn of events. Here are just some of the best reactions from Twitter--we're sure at least one accurately sums up your #Swiddleston thoughts. https://twitter.com/luciaferraramgc/status/743439968291422208 https://twitter.com/JayPacelorette/status/743354892752871427 https://twitter.com/itsmachan10/status/743500736344973313 https://twitter.com/LokiSnax/status/743455970899038208 https://twitter.com/jirene4eva/status/743452144209104898 https://twitter.com/nicedaybucky/status/743351161462218752 https://twitter.com/MccormackEimear/status/743469497105932288?lang=en https://twitter.com/palomedridista/status/743459556341211136?lang=en https://twitter.com/FaolainLuke/status/743338644094652416 https://twitter.com/warriorgirl17/status/743215367384760320 https://twitter.com/kreenichiwa/status/743502302548393984 https://twitter.com/Mayde2189/status/743205243819794432 https://twitter.com/okappachick/status/743386769589215232 Don't forget to check out: Calvin Harris unfollows Taylor on social media and Khloe's favorite $6 beauty product [Photos: Splash News]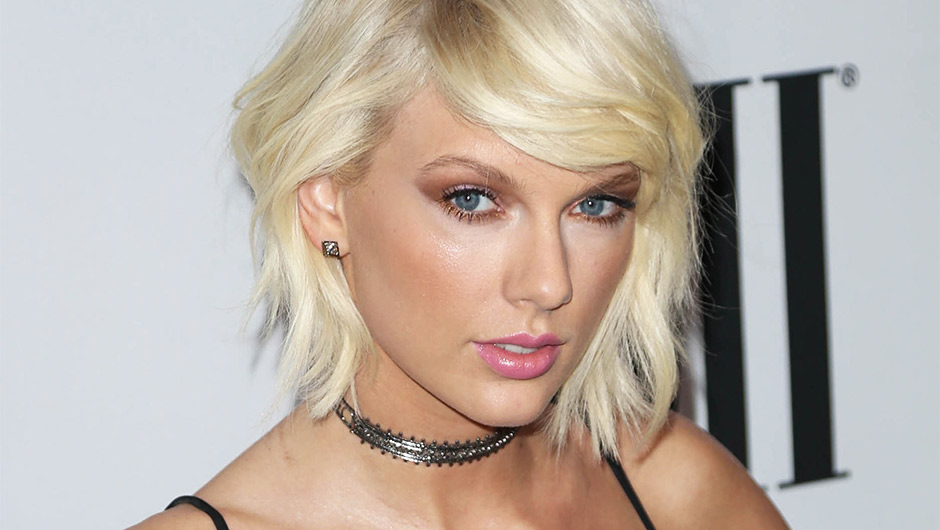 Here's A Look Inside Taylor Swift's New $40,000/Month NYC Home
Instead of dropping a fire album, Taylor Swift is coping with her breakup from Calvin Harris in a different way. The popstar is renting a $40,000/month NYC townhouse while her $20 million TriBeCa penthouse is under construction. I need a moment to process how much money was just in that last sentence. OK, I'm back. Taylor's temporary pad is located on Cornelia Street in the West Village. The five-story carriage home features five bedrooms, six baths, a two-story patio and a private garage. Oh, and there's an indoor pool. We're sure the squad will be photographed on some swan floats any day now. Don't forget to check out: [Photos: Splash News, StreetEasy]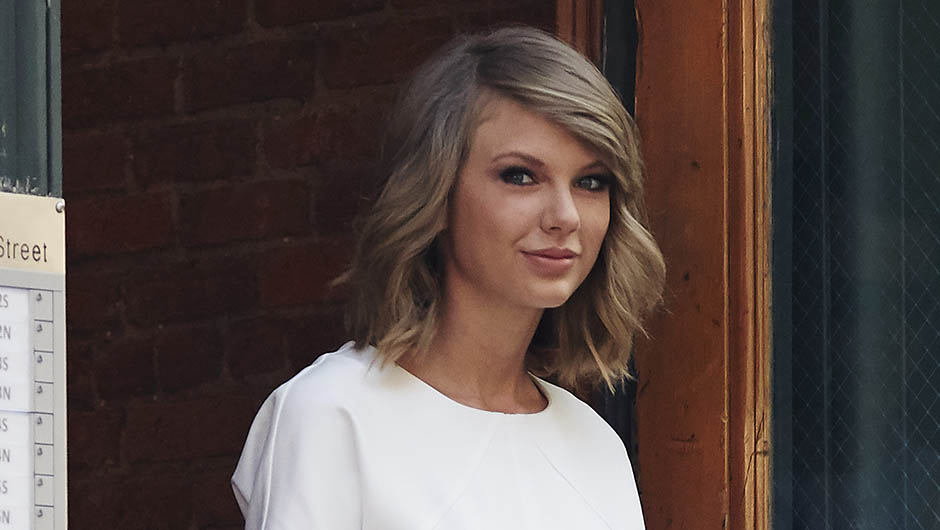 VIDEO: Taylor Swift Wipes Out On A Treadmill In Apple Music's New Ad
I know today is April 1st but this really doesn't seem like a joke. In Apple Music's newest ad, Taylor Swift attempts to run on a treadmill (while rapping to "Jumpman") and totally eats it. Whether you're a fan of hers or not, you will either appreciate this clip for the fact that Tay can laugh at herself, or because she wipes out HARD. Watch below: https://www.instagram.com/p/BDqGp0JDvPa/ Don't forget to check out: Kylie Jenner's new glosses and the best April Fools jokes 2016 [Photo: Splash News]
Taylor Swift & Calvin Harris Share Rare PDA Photos From Their Romantic Vacay
Taylor Swift and Calvin Harris are currently on the most romantic getaway ever. The singer and DJ both shared a few photos on Instagram from their one-year anniversary trip and it's all the #relationshipgoals. There's PDA, multiple bikini outfits and initials written in the sand--the makings of a perfect ~*tRoPiCal VaCay*~. https://www.instagram.com/p/BC_jaOUDvGT/ https://www.instagram.com/p/BC_jm_uDvGk/ Yes, Adam Wiles is Calvin's real name. https://www.instagram.com/p/BC_kJdot3HT/ https://www.instagram.com/p/BC_lkvFt3JV/?taken-by=calvinharris&hl=en Tay's wearing the For Love & Lemons Valencia Lace Bikini Top ($163) and Bottom ($136) https://www.instagram.com/p/BC_jSSmjvGF/ https://www.instagram.com/p/BC_jtBajvGy/ They even took to another social media platform, Snapchat, to basically make us fee like we're on this trip with them. In Calvin's story, they bring back the swan float from their OG #relationshipgoals Insta. And life comes full circle. https://www.instagram.com/p/BC_phFWlfQP/ https://www.instagram.com/p/BC_pq-2lfQg/ https://www.instagram.com/p/BC_pr66FfQj/ Don't forget to check out: what your lip shape says about you and Gwyneth Paltrow's breakfast smoothie is $200 [Photo: Splash News]
PHOTO: Tori Kelly Looked So Annoyed During Taylor Swift's Grammy Speech
The most meme-able, gif-tastic moment from the Grammys went to Tori Kelly. The Best New Artist nominee looked totally unimpressed while Taylor Swift was accepting the award for Album of the Year. The camera cut to the singer in the audience and her expression was priceless. Here are some reactions from Twitter: When you're not feeling #1989 and wanted #ToPimpAButterfly to win #AlbumOfTheYear #GRAMMYs https://t.co/j94W1QjuKh — Capital XTRA (@CapitalXTRA) February 16, 2016 When you're not feeling #1989 and wanted #ToPimpAButterfly to win #AlbumOfTheYear #GRAMMYs https://t.co/j94W1QjuKh — Capital XTRA (@CapitalXTRA) February 16, 2016 Tori Kelly watching Taylor Swift is me watching Taylor Swift pic.twitter.com/jskFytpX08 — Eefa (@aoifebrowne_) February 16, 2016 "TO THE ONLY WOMAN WHO WON ALBUM OF THE YEAR.......TWICE" pic.twitter.com/Zs2k4n1iD1 — SHOPJEEN.com (@SHOPJEEN) February 16, 2016 Perhaps she was rooting for Kendrick Lamar to win the gramophone for To Pimp a Butterfly? Or maybe she's Team Kanye? She certainly won't be joining the T-Swift squad any time soon... Don't forget to check out: Lady Gaga's David Bowie tribute and Demi Lovato slaying her Grammys performance [Photo: Splash News]
Taylor Swift Loves These Booties So Much She Even Convinced Her BFF Kelsea Ballerini To Get A Pair
You might not be able to join Taylor Swift's girl squad but you can totally take a walk in her shoes like bestie Kelsea Ballerini did this week on Insta. Taylor flashed her bootie love with Blake Lively and now she is passing on her Bed Stu Isla Boots in Red Luxe ($245) love to her childhood BFF.  The two adorable gals posted their love of their Bed Stu booties and we think we would like to take a walk in their shoes - literally. Shop the country crooner's favorites below! Bed Stu Isla Boots in Red Luxe ($245) Shop more celeb style finds such as Kate Hudson's flare jeans  and Emma Stone's crossbody bag. [Photo: Instagram]
Hurry! Taylor Swift's $30 Plaid Skort Is Only Available In One More Size
For those of you still waiting for a 2015 miracle (or in need of another one), we have the best present for you. Taylor Swift rocked the school girl look in this AQUA Plaid Skort ($30.60, down from $68) while traveling through LAX. Yes, that's right. You can buy Taylor's adorable plaid skort for $30. That's the unbelievable news. The slightly bad news is that Bloomies only has it left in navy... in one size. Is it your lucky day? Shop below and find out. AQUA Plaid Skirt ($30.60, down from $68) Don't miss Gwen Stefani's color block sweater and Alessandra Ambrosio's fringe bag. [Photo: Splash News]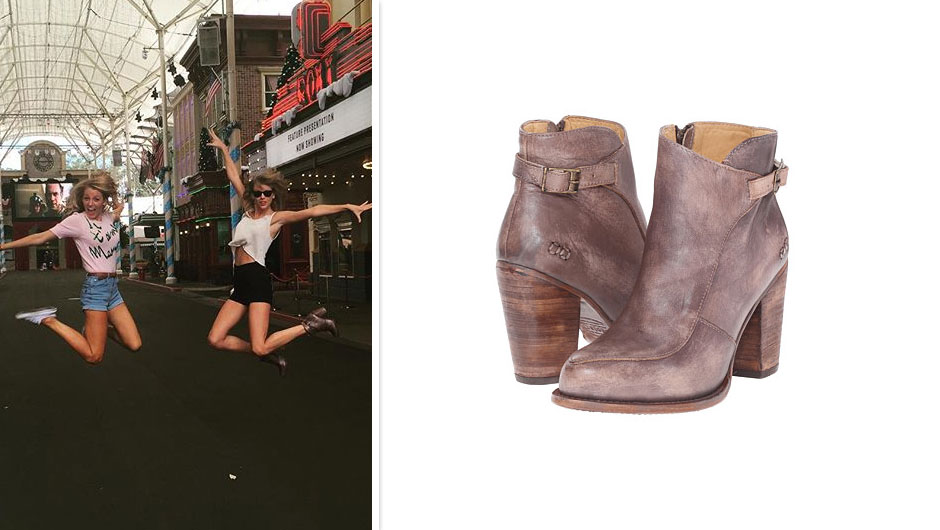 You'll Never Believe Who Makes Those Brown Booties Taylor Swift Modeled On Insta
Taylor Swift added Blake Lively to her roster of BFFs last week when she posted this shot of them air jumping. Two blondes in shorts? Everyone is vying for a spot next to T Swift. We can't get you on the roster, but we can totally hook you up with Taylor's Bed Stu Isla Brown Driftwood Booties ($245). Cute, not too pricey and totally versatile (Taylor wore hers with shorts)? What's not to love? Snag her Insta-worthy booties below! Bed Stu Isla Brown Driftwood Booties ($245) Shop more celeb style finds such as Kate Hudson's flare jeans  and Emma Stone's crossbody bag. [Photo Credit: Instagram]
Treat Yourself To Taylor Swift's Under-$100 Pendant Necklace
Taylor Swift is having a great time down under hanging with Blake Lively and taking selfies with kangaroos. She was spotted wearing the Kendra Scott Elisa Pendant Necklace in Platinum Drusy ($65) while doing the latter. The platinum gold necklace is dainty and feminine, something T.Swift proves time and time again is a look that never goes out of style.  Lucky for us, this is one Taylor-approved item that we can all afford. No bad blood with that! Kendra Scott Elisa Pendant Necklace ($65) Shop more celebrity style like Heidi Klum's cool girl sneakers and Cindy Crawford's perfect chambray shirt. [Photo: Instagram]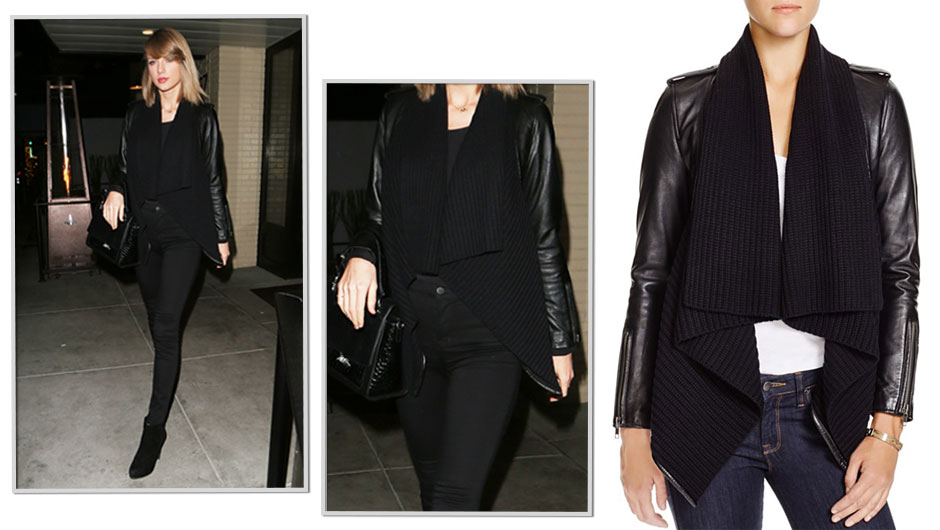 Taylor's Swift's Cool Leather-Sleeve Cardigan Is 40% Off–Go!
If you're looking for a major pre-Black Friday score, we've got you covered. Well, we can't take all the credit. Taylor Swift recently rocked this amazing 525 America Leather Envelope Cardigan ($376.20, down from $627) for a night out at The Palm restaurant and we found it on sale for 40% off. But you have to be quick. The cardigan is only available in three more sizes so don't wait to get yours! 525 America Leather Envelope Cardigan ($376.20, down from $627) Shop more great A-list finds such as Sienna Miller's fur slippers and Bridget Moynahan's under $100 blouse. [Photo: Splash News]
Taylor Swift's Initial Ring Just Shot To The Top Of Our Holiday Wishlist
Remember way back when (last year) when we told you about Dana Rebecca Designs Initial Ring? Well, Taylor Swift just posted a photo to Instagram wearing a "T S" version and now we want one more than ever. https://instagram.com/p/89HO_yDvHk/ She captioned the photo, "Band aids don't fix kitchen knife-related injuries." Yeah, you're right on that T.Swift, but a gorgeous personalized ring on your unscathed finger sure does help! Check it out below and buy one for yourself. Did we mention it's great for gifting too? Dana Rebecca Designs Initial Ring ($660) For more celebrity style, check out: Gabrielle Union's Memo Box Bag and Jennifer Lawrence's loafers. [Photo: Instagram]
Taylor Swift's Post-1989 Plans: 'I Think People Might Need A Break From Me'
How does Taylor Swift plan on following up the incredible success of 1989? By stepping out of the spotlight and taking a break. Swift shared with NME magazine, "I think I should take some time off. I think people might need a break from me. I'm going to ... I don't know. Hang out with my friends. Write new music. Maybe not write new music. I don't know." She goes on to acknowledge that she's aware of how successful her 1989 album is and that it's not about being scared of topping the album with the next, but accepting that her work to come will not even be able to compare. It will be more of a transitional state for Swift if anything else as she says, "How could the next one be as big? Maybe the next album will be a bridge to somewhere else. Or maybe I'll just go ahead and change everything." Whatever she plans on doing post-1989, it's refreshing how realistic she's handling her future endeavors. She's aware that 1989 could be a peak for her, and while she's not giving up her career entirely, she's considering taking a break for herself because she's human. And who doesn't deserve a break every now and then? And don't forget to check out: Don't Miss Your Chance To Win A Free Trip To NYC, 50+ Columbus Day Sales That You Need To Shop NOW, and Can You Tell Which Colorblock Poncho Costs $997 More Than The Other? [Photo: Splash News]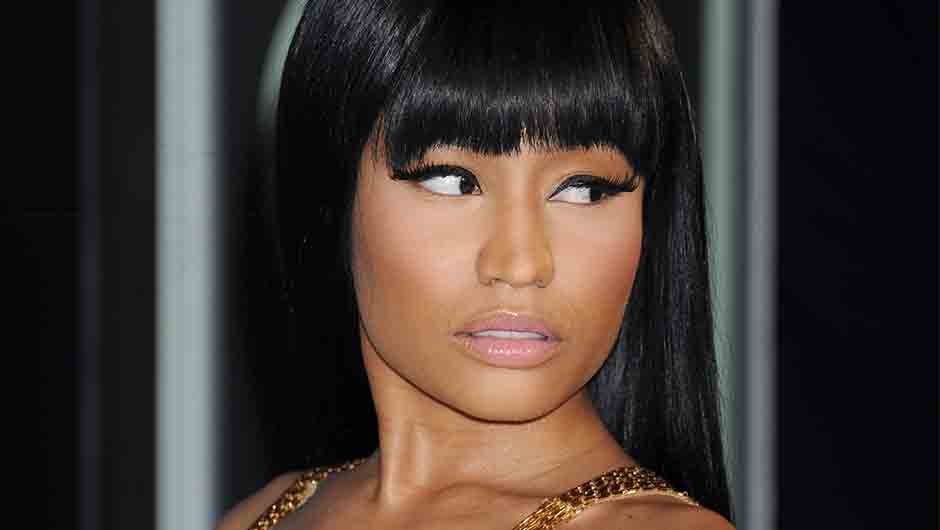 Nicki Minaj Explains Why She Called Miley Cyrus Out At The VMAs
Remember when Nicki Minaj called out Miley Cyrus at the MTV VMAs? Well, during her interview with The New York Times Magazine, Minaj explains her actions and it actually makes a lot of sense. "I saw [Cyrus] just looking at me, with her face screwed up, and I thought, What the!" she explained to the magazine. "The fact that you feel upset about me speaking on something that affects black women makes me feel like you have some big balls," Minaj said about Cyrus. "You're in videos with black men, and you're bringing out black women on your stages, but you don't want to know how black women feel about something that's so important? Come on, you can't want the good without the bad." She continued, "If you want to enjoy our culture and our lifestyle, bond with us, dance with us, have fun with us, twerk with us, rap with us, then you should also want to know what affects us, what is bothering us, what we feel is unfair to us. You shouldn't not want to know that." Touche. In case you forgot, this is what Cyrus said to start this whole feud: "What I read sounded very Nicki Minaj, which, if you know Nicki Minaj is not too kind. It's not very polite. I think there's a way you speak to people with openness and love. You don't have to start this pop star against pop star war. It became Nicki Minaj and Taylor in a fight, so now the story isn't even on what you wanted it to be about… I know you can make it seem like, 'Oh I just don't understand because I'm a white pop star.' I know the statistics. I know what's going on in the world. But to be honest, I don't think MTV did that on purpose." Don't miss Ashley Benson upsets fans with her controversial Halloween costume and find out why Lady Gaga feels isolated because of fame! [Photo: Splash News]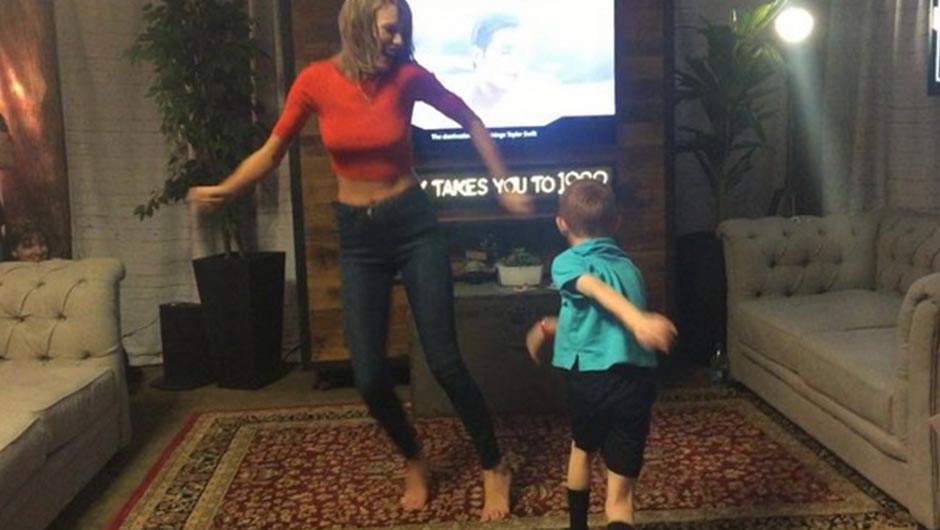 VIDEO: Taylor Swift And 7-Year-Old Dylan Barnes Dance To 'Shake It Off' Together
Last week 7-year-old dancer Dylan Barnes appeared on The Ellen DeGeneres Show where he danced his heart out to Taylor Swift's "Shake It Off." Well, Taylor and Dylan finally met and the result was adorable. Taylor posted this video to her Instagram account of the two shaking it off together. https://instagram.com/p/76-loRDvL-/?taken-by=taylorswift Taylor captioned the video, "Finally got to meet Dylan, the 7-year-old who passionately danced to Shake It Off on Ellen--- and this happened." If you happened to miss Dylan's amazing performance on Ellen, check it out below! [youtube]https://www.youtube.com/watch?v=2tJYoiFl6FI[/youtube] Don't miss this 6-year-old telling her divorced parents to just get along and you need to watch this incredible audition from The Voice! [Photo: Instagram]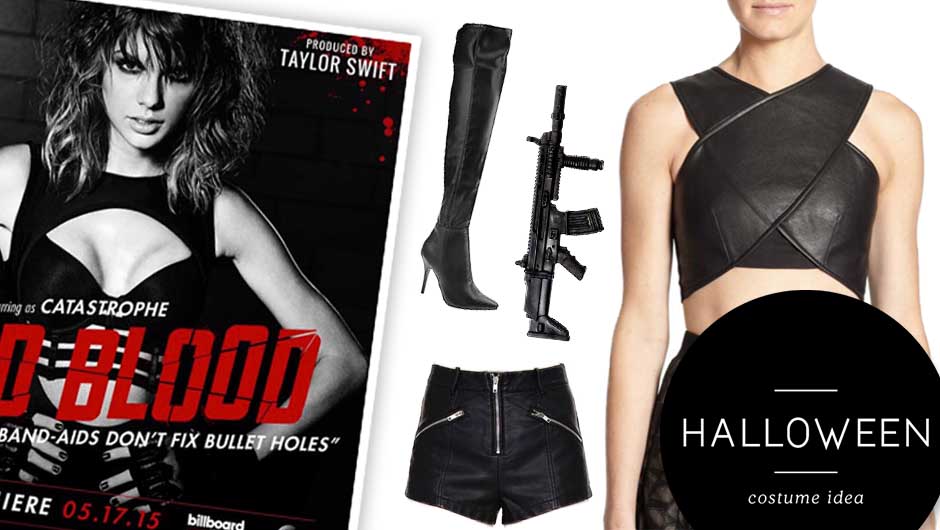 Mad Love For This 'Bad Blood' Halloween Costume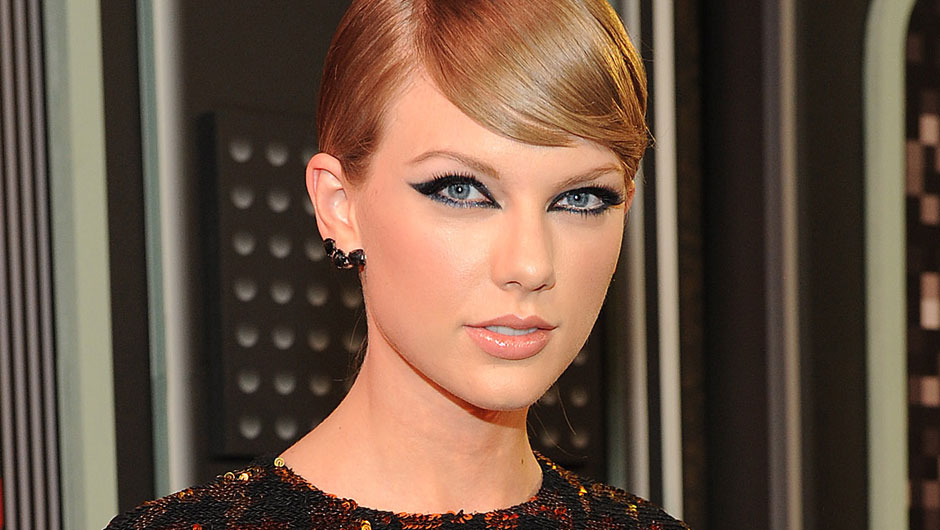 Taylor Swift Won An Emmy Award And Can't Stop Taking Pictures With It
Taylor Swift adds another award to her repertoire and, as per usual, acted so surprised. She took home her first-ever Emmy award in the Original Interactive Program category for her AMEX Unstaged: Taylor Swift Experience. Taylor was not able to accept her award at the 2015 Creative Arts Emmy Awards on September 12 because she's currently on tour. On that note, the award was overnighted to her and in typical Taylor Swift fashion, this is how she reacted: https://instagram.com/p/7jHXuSjvGL/?taken-by=taylorswift https://instagram.com/p/7jH-_ijvHP/?taken-by=taylorswift https://instagram.com/p/7jIedBjvIR/?taken-by=taylorswift https://instagram.com/p/7jJe1BjvKN/?taken-by=taylorswift Don't miss how to dress up like North West and Penelope Disick for Halloween and 11 celebrity couples with huge height differences! [Photo: Splash News]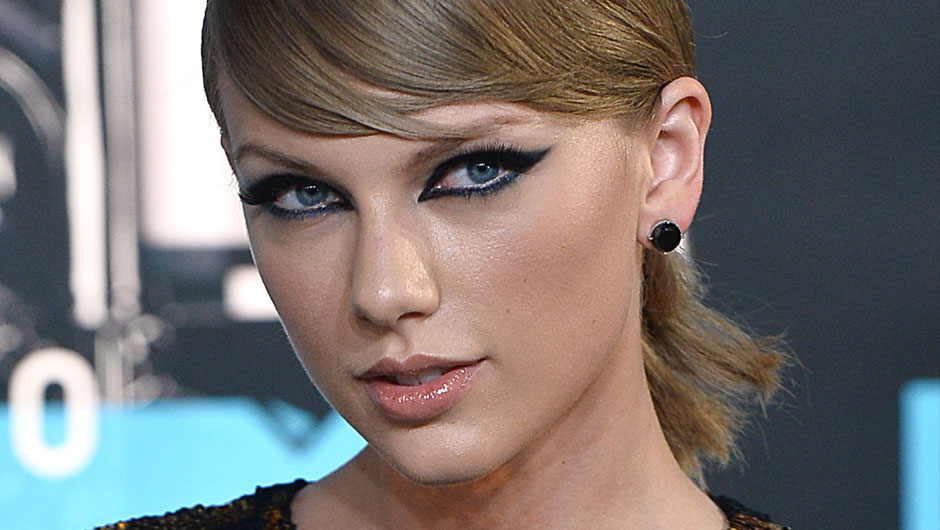 VIDEO: Watch Taylor Swift's New Music Video For 'Wildest Dreams'
Taylor Swift premiered her newest music video for Wildest Dreams" during the VMA'a pre-show and it already has just under 5 million views. She dons a darker 'do and is shooting a movie in Africa with the gorgeous Scott Eastwood. The video shows the two seemingly in love until they get back to America and Taylor sees him flirting with another girl. All of her proceeds from the video will be donated to wild animal conservation efforts through the African Parks Foundation of America. Watch below! [youtube]https://www.youtube.com/watch?v=IdneKLhsWOQ[/youtube] Don't miss Taylor Swift performing with Nicki Minaj at the VMA's and watch Justin Bieber's music video for his new song "What Do You Mean"! [Photo: Splash News]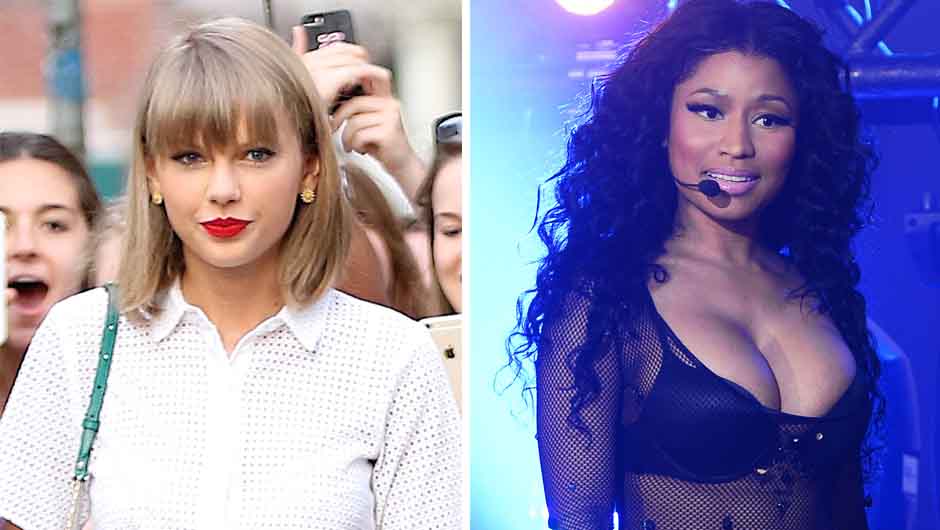 Taylor Swift Inserts Herself In Nicki Minaj's VMA Drama. But Why?
This morning Nicki Minaj took to Twitter to let out some frustration after being snubbed in nominations for MTV's Video Music Awards. Nicki's video for "Anaconda" didn't get nominated for video of the year and she's upset about it and, quite frankly, she's entitled to her opinion considering "Anaconda" has over 488 million views. She sent out these tweets in response to hearing the news: https://twitter.com/NICKIMINAJ/status/623564844776566784 https://twitter.com/NICKIMINAJ/status/623571674076614656 https://twitter.com/NICKIMINAJ/status/623574103757209600 https://twitter.com/NICKIMINAJ/status/623608271774072832 https://twitter.com/NICKIMINAJ/status/623609327430017024 And...cue Taylor Swift. For some reason, Taylor feels the need to interject and assume Nicki's statements are aimed at her because "Bad Blood" is nominated for video of the year. Personally, I don't understand why she feels the need to get in everyone's business. For someone who says she hates drama, she always seems to be at the center of it. https://twitter.com/taylorswift13/status/623616796277506048 To which Nicki simply responded: https://twitter.com/NICKIMINAJ/status/623618047673106433 Media outlets then start posting headlines making Nicki out to be the crazy one and Taylor as her usual "wonderful" self. Fans were having none of it. https://twitter.com/_hudahassan/status/623642241710575620 https://twitter.com/janetmock/status/623642275281809412 https://twitter.com/HollywoodLife/status/623606824403472384 Kim Kardashian got in the mix as she tweeted out a picture with the caption "Imma let you finish but..." She followed up with a couple more tweets claiming she has no idea what's going on in the music world because she's busy posting pictures from her Vogue Spain shoot. https://twitter.com/nASHtygal/status/623637080355270656 https://twitter.com/KimKardashian/status/623641236122017792 Katy Perry jumped into the debate on Wednesday with this cryptic Tweet: https://twitter.com/katyperry/status/623965129290289152 Without naming names, Katy suggested that it is "ironic" of Taylor to call out Nicki for pitting two women against one another, when she does the exact same thing in "Bad Blood" (which is supposedly about Taylor and Katy's feud). Is the feud over? Taylor just apologized to Nicki over, what else, Twitter. Here's what she said: https://twitter.com/taylorswift13/status/624240681750536192 Phew...that was a lot to take in. All I can say is #TeamNicki all the way! UPDATE: Taylor just crashed Nicki's performance at the VMAs! Looks like all is good between these two ladies: Didn't see this coming. #VMAs pic.twitter.com/D4uI0HacAO — The FADER (@thefader) August 31, 2015 Don't miss Beyoncé's classic Ray-Ban sunglasses and Kim Kardashian's baby bump made its first debut! [Photo: Splash News]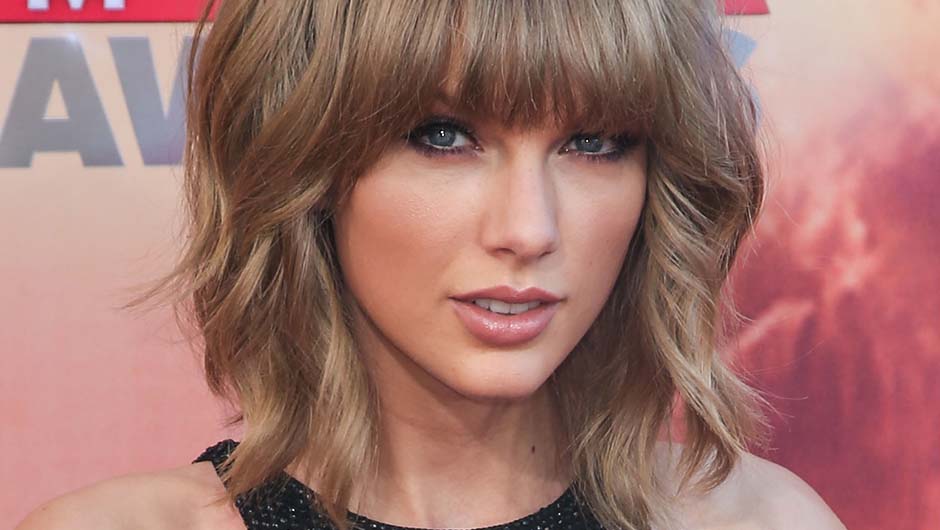 Taylor Swift Closes Out The Staples Center With Selena Gomez, Justin Timberlake And Lisa Kudrow
Last night was Taylor Swift's final concert at the Staples Center in Los Angeles for her 1989 tour and she celebrated in an epic way. She invited her BFF Selena Gomez to the stage along with Justin Timberlake and Lisa Kudrow. Fans naturally went crazy and it seemed like it was a great ending to her LA stop. First up was Selena Gomez, who strutted her stuff on stage in a fitted black and gold ensemble. The duo sang Selena's summer hit "Good For You" and the crowd absolutely loved it. https://instagram.com/p/64doN5ujHa/?taken-by=selenagomez https://twitter.com/STAPLESCenter/status/636768994553257984 Following Selena's performance was Friends alum and coffee shop performer, Lisa Kudrow. Taylor and Lisa sang "Smelly Cat" and afterward Lisa tweeted out how fun it was to be on stage. https://twitter.com/LisaKudrow/status/636775763635662849 https://twitter.com/STAPLESCenter/status/636782552095682560 While the first two special guests were amazing, nothing prepared the crowd for Taylor's final special guest. Justin Timberlake "literally made the ground shake" according to Us Weekly when he came out on stage. They sang a rendition of "Mirrors" and everyone loved it, including Jessica Biel who was watching the entire performance from the crowd. This was Justin's first live performance since the birth of his son. https://instagram.com/p/64Wr_LDvDH/?taken-by=taylorswift https://twitter.com/STAPLESCenter/status/636780083802324992 What a lineup! Don't miss Amy Schumer and Jennifer Lawrence are writing a screenplay together and shop Taylor Swift's $49 skirt from Urban Outfitters! [Photo: Splash News]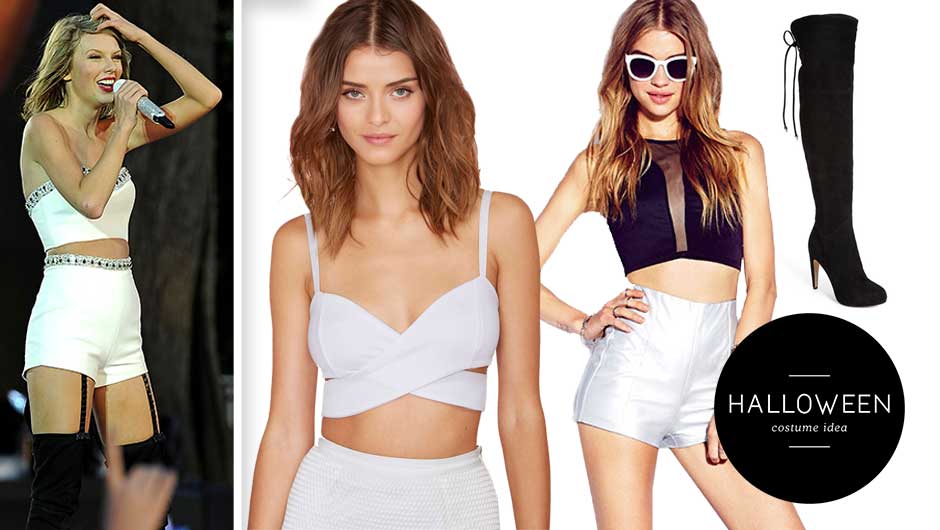 This Taylor Swift Halloween Costume Will Never Go Out Of Style!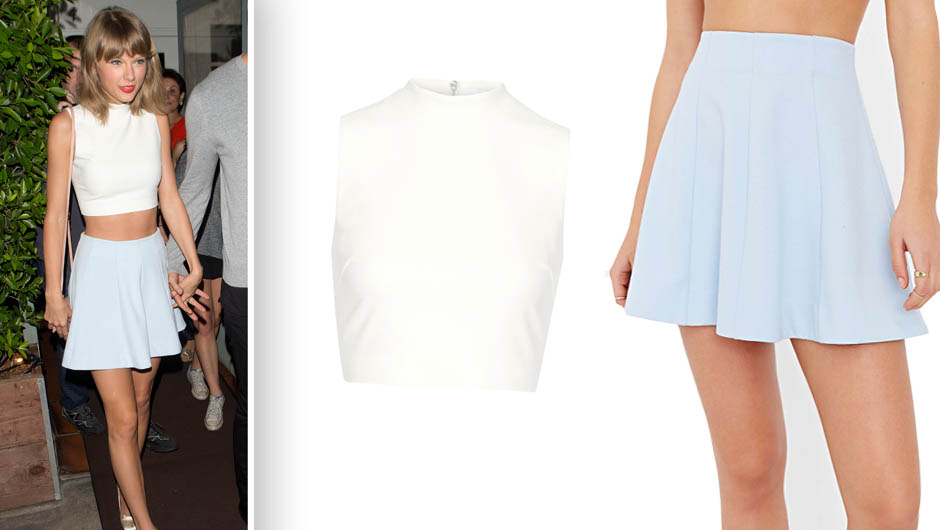 Taylor Swift Really Loves This $49 Urban Outfitters Skirt
You know a celebrity really loves something if they wear it more than once. Which is exactly how we know Taylor Swift is obsessed with this Kimchi Blue Flirt With Me Seamed Skirt ($49). Not only did she recently wear it during a NYC date night with Calvin Harris, but she also wore the exact same skirt in a different color back in June. And at $49, you don't even have to be a millionaire like T Swift to snatch up this closet essential in every color. Get it now before they're all gone! PS: Love Taylor's white crop top, too? It's the Elizabeth & James Aisling Crepe Top ($110, down from $245), but hurry. It's only available in one more size. Kimchi Blue Flirt With Me Skirt ($49) Don't miss Gigi Hadid's cheap Guess heels, Jessica Alba's sunglasses and JLo's Crush It tee. [Photo: Splash News]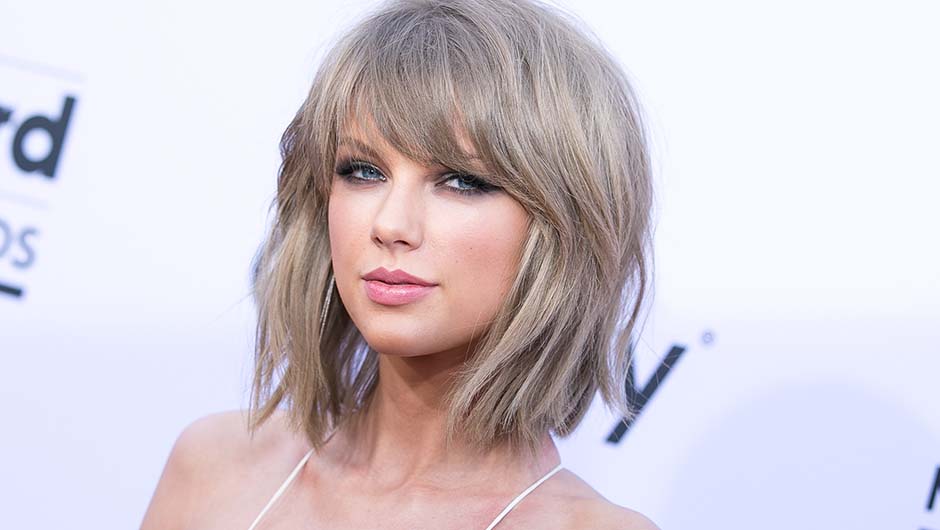 Taylor Swift Talks Kanye West, Friendship & More In The Latest Issue Of Vanity Fair
Taylor Swift is slaying on the September issue cover of Vanity Fair. She traded in her usual crop top and high waisted skirt for a more mature Hollywood look, and it really suits her (see what I did there??). https://instagram.com/p/58l2VCED3n/?taken-by=vanityfair Inside the issue, Taylor talks about her many friendships and how her girl squad is "so much more important than some guy that it didn't work out with." "We even have girls in our group who have dated the same people," Taylor told Vanity Fair in the interview. "It's almost like the sisterhood has such a higher place on the list of priorities for us." We might even be able to take some friendship advice from Tay as she says, "If you betray your friend, if you will talk about them badly behind their back, if you will try to humiliate them or talk down to them, I have no interest in having a person like that in my life.' Clearly, Taylor Swift is someone you want on your #squad as she has even made amends with Kanye West. She reveals details of her newly found friendship: "I feel like I wasn't ready to be friends with [West] until I felt like he had some sort of respect for me, and he wasn't ready to be friends with me until he had some sort of respect for me—so it was the same issue, and we both reached the same place at the same time," Swift says. "I became friends with Jay Z, and I think it was important, for Jay Z, for Kanye and I to get along. . . . And then Kanye and I both reached a place where he would say really nice things about my music and what I've accomplished, and I could ask him how his kid's doing." Taylor also talks about how she stopped Apple from giving zero percent compensation to rights holder by writing a letter at 4 am. "I wrote the letter at around four A.M.," Swift says. "The contracts had just gone out to my friends, and one of them sent me a screenshot of one of them. I read the term 'zero percent compensation to rights holders.' Sometimes I'll wake up in the middle of the night and I'll write a song and I can't sleep until I finish it, and it was like that with the letter." And I know you are all dying to hear her dish about her BF, Calvin Harris. Unfortunately, she doesn't mention him directly but she did tell Vanity Fair this, "I swore I would never ever get in another relationship if it meant changing who I was, or taking me out of that mode where my friends are everything to me." So clearly Calvin is doing something right!  Don't miss 8 celebs who have feuded with Taylor Swift and shop Lena Dunham's Mara Hoffman bikini! [Photo: Splash News ]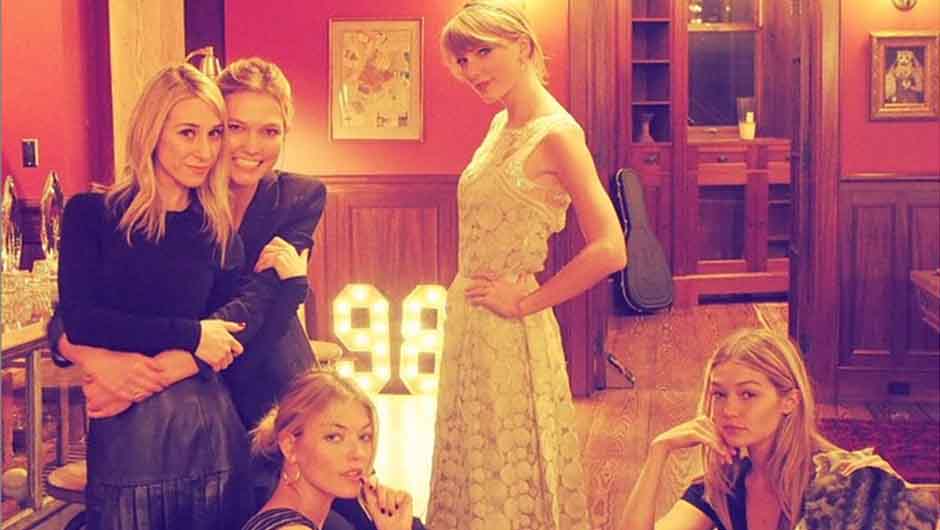 Here's a Peek Inside Taylor Swift's $20 Million NYC Penthouse
Up until recently, Taylor Swift's Tribeca penthouse has only surfaced in snippets on her Instagram page. Zillow posted pictures of inside Swift's penthouse to their blog. Her $20 million penthouse is 8,300 square feet and hosts a whopping 7 bedrooms and 5.5 bathrooms. It's complete with exposed brick, hardwood floors, beam ceilings and more. She also owns the 3-bedroom unit across the hall to house her security staff, reportedly. Take a look below! https://instagram.com/p/577o6DDvJM/?taken-by=taylorswift https://instagram.com/p/x-iIJLjvKh/ Don't miss 8 celebs who have feuded with Taylor Swift and shop Lena Dunham's Mara Hoffman bikini! [Photos: Instagram, Zillow Blog]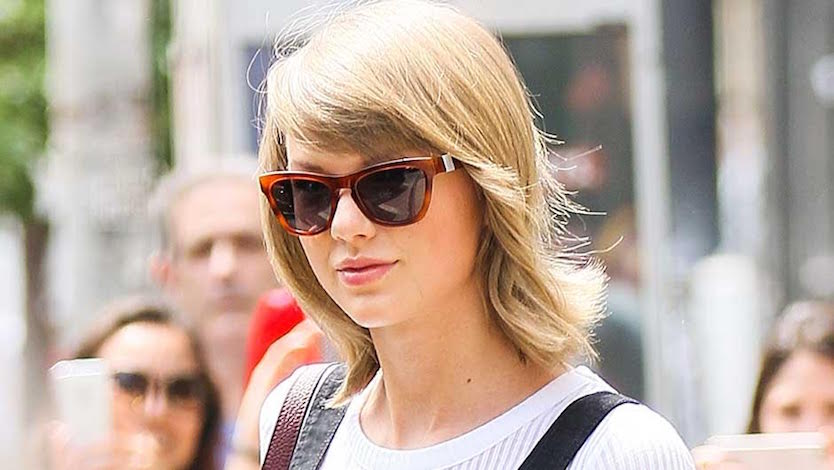 8 Celebrities Who Have Duked It Out With Taylor Swift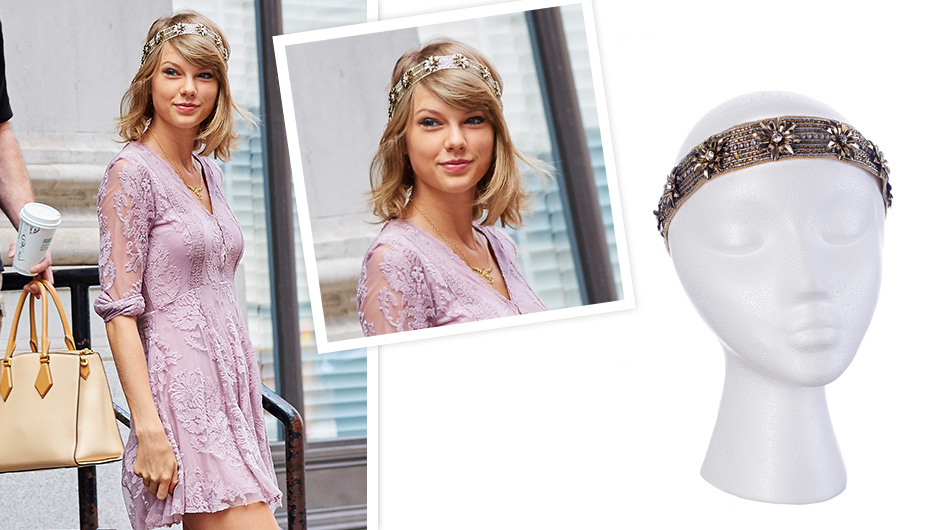 Here's Everything You Need To Know About Taylor Swift's Bohemian Headband
Taylor Swift was recently pictured in Washington D.C. wearing a bohemian style headband and we've got the inside scoop on the brand who makes it! The brand behind these gorgeous headpieces that many celebrities flaunt is Dauphines of New York, founded by Summer Rej. We chatted with Summer about Taylor's headband and how thrilled she was to see this pop princess wearing one of her designs. "You can only imagine how surprised and thrilled I was to see Taylor was wearing one of our pieces. Taylor is truly one of today's 'modern style icons.' I, along with the rest of the world, personally look to her for fashion inspiration," Summer said. Taylor is wearing the "Sun Goddess" headband, which is completely hand-embroidered. The headband has gold and metallic tones, with oversize gold flowers featuring a crystal centerpiece. An adjustable elastic band provides a customizable and comfortable fit for the person wearing it, and that's what makes this brand stand out from all the others. She added, "We always reference Dauphines of New York to "modern tiaras," so to see America's princess of fashion and music wearing one of our designs was the ultimate thrill." Sun Goddess ($108) You can also shop Dauphines of New York at Shopbop, BeautyBar, and Saks OFF 5th. Don't miss the latest on Ariana Grande's donut scandal and shop Jennifer Lopez's semi-sheer maxi dress! [Photo: Splash News]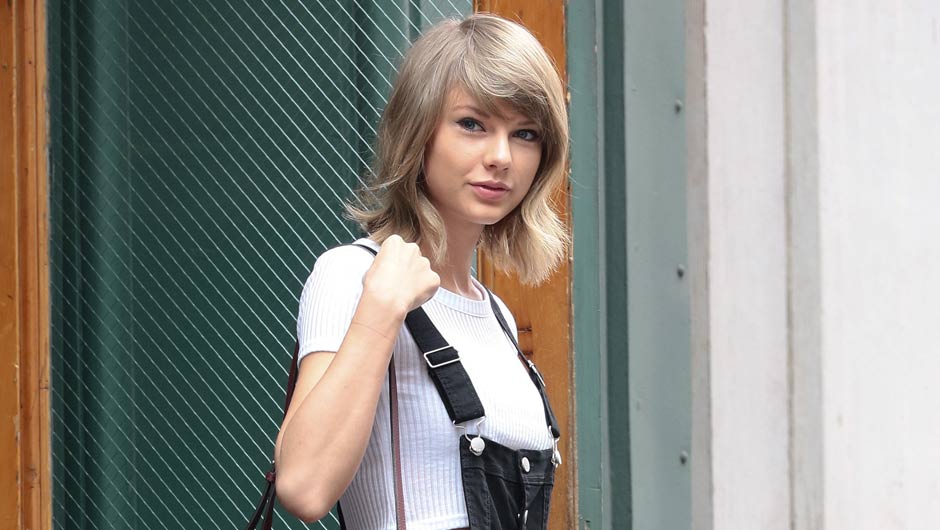 Taylor Swift Is Finally Putting Her Music On A Streaming Service
Taylor Swift will now be streaming her music on Apple Music. Will Spotify be next?! [9to5Mac] People are upset with Vouge because writer Rob Haskell, suggested that Cara Delevingne's interest in women is just a phase. [FoxNews] Jen Glatz started her company Bridesmaid for Hire on Craigslist and she already has 30 clients! [HerCampus] The royal family makes $31.1 million a year, and $4.6 million of that goes to Kate Middleton and Prince William's travel and wardrobes. Woah! [TheCelebrityAuction] Former Playboy bunny Josie Goldberg called out Holly Madison for lying about what really went on at the Playboy Mansion. [Perez Hilton] Clueless is becoming a musical! They are currently casting, but the director says they have big shoes to fill from the movie! [Us Weekly] Arnold Schwarzenegger and Jimmy Fallon collaborated on a hysterical skit called "Brain Storming." [E! Online] And don't forget to sign up for our newsletter! [Photo: Splash News]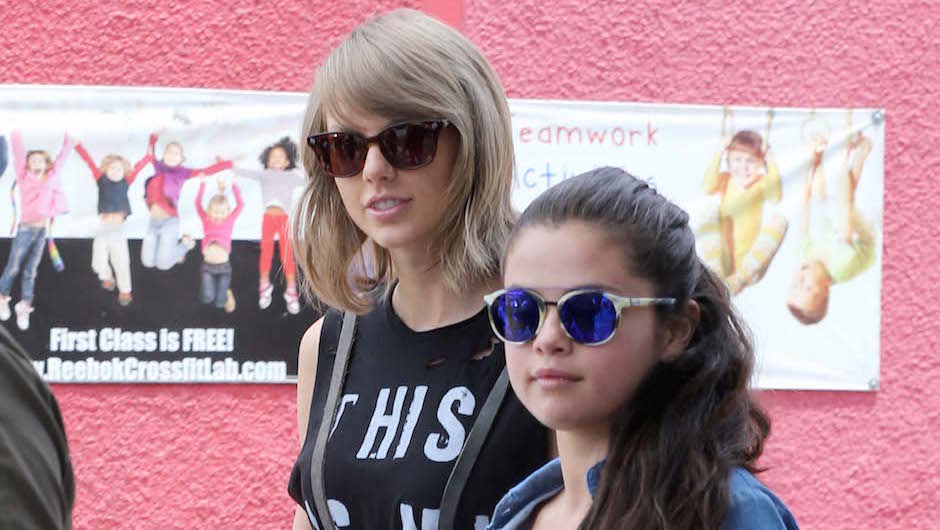 VIDEO: Selena Gomez Perfectly Impersonates Her BFF Taylor Swift
During an interview with iHeartRadio this week, Selena Gomez did a spot-on impersonation of her bestie Taylor Swift. She did Taylor's signature moves: hair flip, point to the crowd, hip shift and facial expression. Selena followed her imitation with, "Love you, Tay!" Watch the video below. [youtube]https://www.youtube.com/watch?v=NO8L1VvOGoc[/youtube] Don't miss the new food app celebrities are obsessed with and strobing is the new contouring! [Photo: Splash News]
Taylor Swift's Burgundy Skater Skirt Is Only $49 #DoneAndDone
Taylor Swift is actually no stranger to shockingly affordable clothes. Not only does she wear Free People and ASOS on the reg, but she loves Urban Outfitters, too. Need proof? This burgundy skater skirt she was snapped wearing last week is Urban's Kimchi Blue Flirt With Me Seamed Skirt ($49) and yes, it really is less than $50. That's cheap enough to get one in every color--there are four, BTW--so follow in Tay's footsteps and snatch this one up ASAP. Kimchi Blue Flirt With Me Seamed Skirt ($49) Don't miss Kate Middleton's Sebago flats, Vanessa Hudgens' ankle wrap sandals and Olivia Palermo's affordable heels. [Photo: Splash News]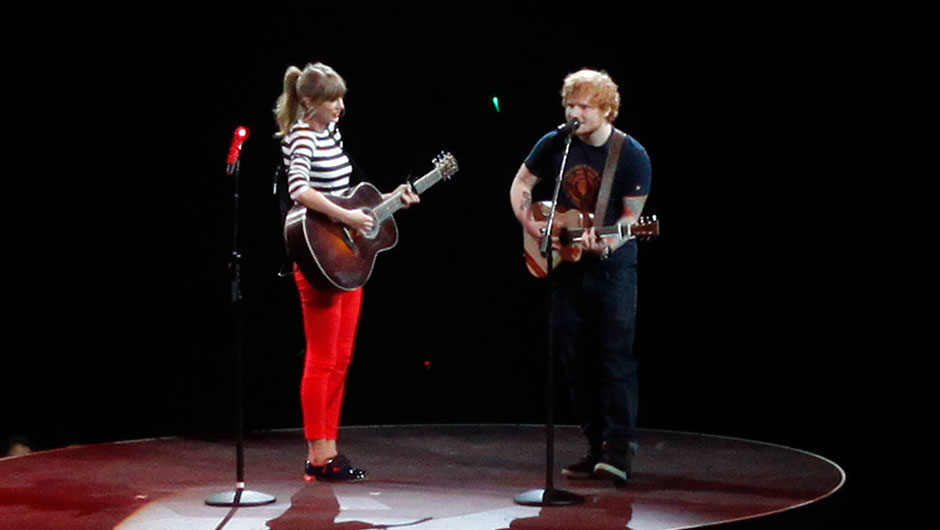 5 Ways Ed Sheeran Is The Male Version Of Taylor Swift