Netflix's Stranger Things was a huge hit this season, so it's not all that surprising that retail mecca Target decided to cash in on the cult bandwagon. And now, the long-awaited collaboration is finally here! Featuring everything from printed tees and sweatpants to character figurines and board games, Target's new Stranger Things collection is truly out of this world. Here, we've rounded up our favorite items from the new launch to further indulge your inner nerd.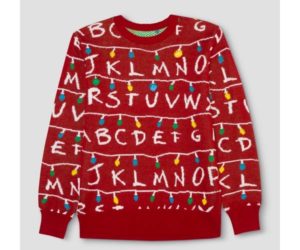 Men's Stranger Things Ugly Holiday Light-Up Sweater ($32.99)
Remember the episode where Joyce Byers hangs up letters under Christmas lights so she can receive messages from her son (who is able to manipulate those Christmas lights)? Well, now you can relive that iconic scene over and over again with this amazing sweater. Not only will it be hit among Stranger Things fans, but it's sure to strike up some great conversation with practically anyone you meet at your next holiday party. Think it of this as an opportunity to convert all those who haven't fully endorsed the show yet. (Note: It is a men's sweater, so sizes will run slightly larger!)
Women's Plus Size Stranger Things Embroidered Friends Raglan Graphic T-Shirt ($21.99)
If you prefer a more understated look, you can't go wrong with this graphic tee. You'll find tiny versions of Dustin Henderson, Lucas Sinclair, Mike Wheeler, and Will Byers on the front of the shirt for a super cute touch. Meanwhile, the baseball style cut of the top will earn you some major style points among fashion aficionados. Yes, please!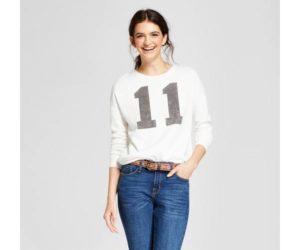 Women's Stranger Things 11 Graphic Sweatshirt (Juniors') ($19.99)
It's no secret that everybody loves the character Eleven. While she doesn't talk much, her psychokinetic abilities totally make up for her lack of speech. Channel the child wonder with this simple "11" top. You can wear it on the daily for a casual look, or use it to portray her on Halloween! It'll definitely help you stand out among a sea of pink dresses.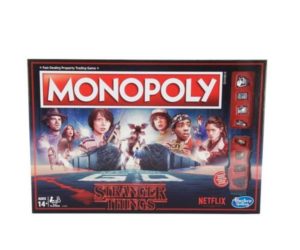 Monopoly Stranger Things Game ($24.99)
And when you're not binge watching the series on Netflix (let's be real, you've probably seen every episode at least five times) you can get your fix with this Stranger Things Monopoly game! Players will chose from 80s-inspired tokens or those "ripped from the upside Down" to move around the board. Then, as they search the town of Hawkins, they can buy, sell, and trade locations and vehicles from the show. Walkie-Talkie and Blinking Lights cards replace the Community Chest and Chance, while Forts and Hideouts take the place of houses and hotels.
We know, you're probably dying to get your hands on all the goodies. But even if you're not a Stranger Things superfan, you probably know one – and these options make perfect gifts for the holidays! Consider all your shopping made easy this year.
For even more amazing collaborations we're lusting over right now, check out the Super Nintendo x Forever 21 line and the Something Navy x Nordstrom collection. Both of these are now available online and in select stores!