Don't get me wrong–we at SHEfinds love a good pair of warm, super-soft classic UGG boots. Each of us owns at least one pair, including myself–I've got the knit Cardy boots, the classic tall and the classic shorts in my closet. But even though we love to wear them on the weekends or in the privacy of our own homes, you'll rarely see the classic shearling-lined UGGs in our office. For some reason, we all have our own biases about why we can't get away with them between the hours of 9 and 5, or in any setting where lipstick and/or accessories are required (the bar, brunch, shopping in Soho…). Sometimes, I'd have a very strong urge to wear them to work (aka, when it was really cold or I just felt like my feet needed a break from heels), but I just couldn't muster up the confidence–or figure out the styling tricks–to do it.
Until now. Last week, while searching for celebrity outfits to cover in our Celebrity Style column, I found this photo of model Adriana Lima: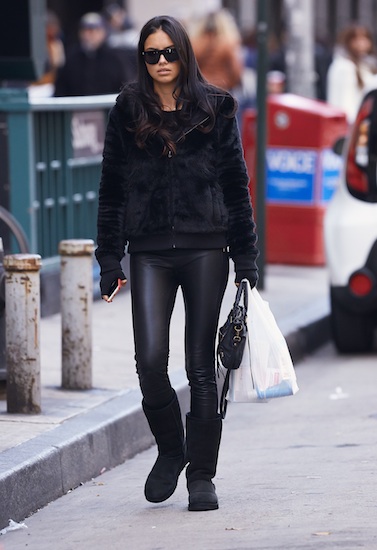 Okay, so here was a supermodel/very pretty international celebrity wearing UGGs in public, not to the gym–and in an otherwise fly outfit including leather leggings, sunglasses and a fur coat. Yes, she was running errands and not on a red carpet, but if an outfit is acceptable for an off-duty model who gets snapped by the paparazzi constantly, it's acceptable for me. Right?
As the proud owner of the classic tall UGGs that Adriana was wearing, I had to try the look myself. Here's how I put it together:
1. Start with black UGGs. The boots must be black to pull off Adriana's look. The classic chestnut, grey or pretty much any other color will not work. Here is a link to buy them if you don't already own a pair: UGG Australia 'Classic Tall' Boot in Black ($194.95) and 'Classic Short' Boot in Black ($164.95).
2. Wear leather or coated leggings or jeans. Leather makes any look instantly cool and more serious–including UGGs. Wear whatever you have in your closet–whether that's a coated denim pair, a real or faux leather pair or one of the paneled leather leggings. (I wore J Brand coated black jeans. Shop similar.)
3. Wear your favorite fur coat: fur, faux, shearling, teddy fur–whatever you've got. It's got to have some texture to it. I wore a fur coat I bought recently at Nordstrom for 40% (sorry, it's no longer in stock, but here's the brown).
4. Accessorize. We went with the street style-loved Ray-Ban's matte gold and green mirrored aviators ($155, at right above), a Forever 21 Classic Faux Leather Tote ($27.90) and a black pom pom beanie (shop similar).
5. Voila! You are not only office-ready–but street style gold: