New York magazine just saved my life. Okay, that's a bit dramatic–but their story about neatness expert Marie Kondo and her 2-second folding trick could seriously not have come at a better time.
As it just so happens, I'm in the middle of re-doing my closets, and while freeing up hanging space has been relatively easy, I've been stuck on how to clear my drawers. No matter how neatly I tried to fold things like t-shirts and workout leggings, my drawers just seemed overstuffed. I even had a mini meltdown about it (mock me if you will), before coming across Wendy Goodman's interview with Kondo, who's a Japanese tidying guru with 4 best-selling books on the topic already under her belt. Kondo's career as a neat freak started at age 5 with a study of feng shui (so you know she's legit), and one of her commandments about closet organization is that anything that can be folded should be folded–and that includes everything from socks and underwear to jeans and sweaters. (No, your jeans don't have to be hung! #MindBlown)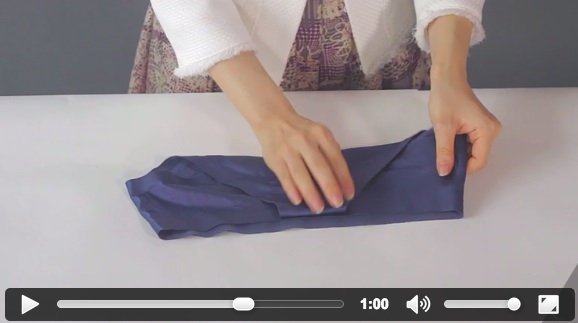 (Click through to NYMag for the vid.)
Naturally, I had to test this out. I was pretty desperate to get my t-shirt drawer neatened up, so I started with that. In the article, jeans are used for the folding example, but the same method applies to all foldable clothing. First, you fold the long side of the garment towards the center. You then tuck in any sleeves to create a long, rectangular shape. Next, you fold one of the short sides of the rectangle towards the other short side. You continue to fold in that same manner, until the garment is folded so that it can stand upright in a drawer and be "stacked on edge, side by side, so that when you pull open your drawer, you can see the edge of every item inside," explains Kondo to NYMag.
Once I completed re-folding and stacking my t-shirts, I noticed that my once overflowing drawer now had a good amount of empty space. That's probably the best part about the folding technique—space that you never thought existed suddenly appears. Never in a million years would I have believed that all of the t-shirts I've accumulated would have fit into one single drawer, but when folded using Marie Kondo's trick, everything fit, and with some room to spare.
I'm telling you, give this a shot and see how much extra space your drawers end up with, it's incredible. And once you've finished redoing your closets and dressers, give the entire article a read, it's undoubtedly worth your time.
Also check out how to fall asleep in under a minute and how to style your rings like a blogger