As soon as it hits December 1st, it is goodbye pumpkin spice and hello to everything peppermint, gingerbread, eggnog…you get the point. And every year around this time, brands launch their new festive treats that you can only get during the holiday season, and honestly, it's the best early present you can ask for.
From coffee to candy and everything in between, these are the items you are going to want to keep an eye out for at the grocery store or order online before they are gone! Not only do some of them make perfect stocking stuffers, but they can also be great to bring to holiday parties or as a gift to the hostess. Check them out below!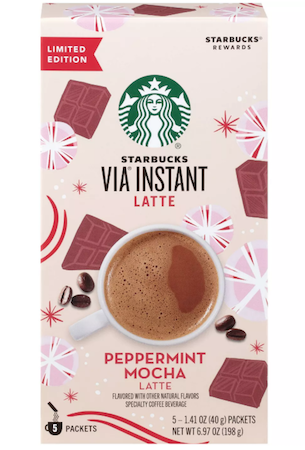 Starbucks VIA Instant Peppermint Mocha Latte
Get a rich and creamy latte in seconds! Just mix a packet with hot water and you are good to go!
Baked by Melissa WINTER WONDERFUL CUPCAKES 25-PACK BOX
These bite-sized treats are sure to be a crowd-pleaser. And this year flavors include Hot Cocoa, Vanilla & Sprinkles, Cookie Blizzard, and Holiday Swirl. But the best part? They are available in gluten-free, nut-free and vegan assortments so everyone can enjoy!
Red Bull The Winter Edition – Plum Twist
There is no doubt that the holidays are a stressful time of year, and luckily, this new Red Bull flavor will give you that extra needed boost of energy while tasting great!
Talenti OLD WORLD EGGNOG GELATO
Eggnog is the gelato flavor you didn't know you needed until now.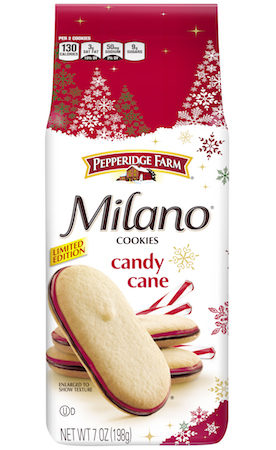 Milano is putting a holiday twist on their classic cookies with their new candy cane flavor. Peppermint and rich chocolate in between crisp cookies..what's not to love?!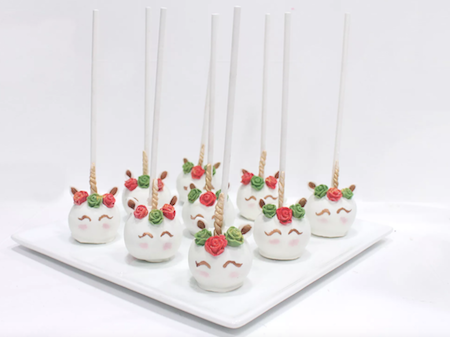 12 Oaks Desserts CHRISTMAS UNICORN CAKE POPS
Unicorn Christmas cake pops that come in ten different flavors? Yup, you'll be the hostess with the mostess.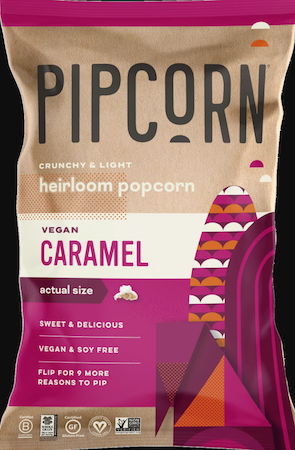 We all know how dangerous those giant popcorn tins can be. So this year, swap it out for this caramel popcorn instead that still tastes great but is vegan and soy-free.
Reese's Peanut Butter Holiday Lights
The milk chocolate and peanut butter treats we love aren't going anywhere, you can just now enjoy them in a new lightbulb shape that you can actually hang on your tree!
HelloFresh is making hosting easier than ever with their curated boxes that come with an appetizer, entree, and sides. You'll get everything you need for a holiday meal up to 10 sent right to your door and you don't need a subscription either!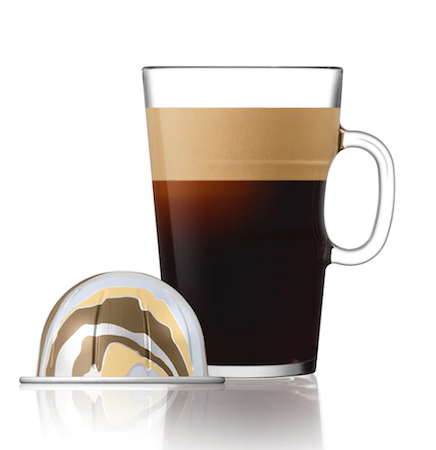 Nespresso Nordic Cinnamon Swirl – Limited Edition
Start off each morning with a cup of this smooth and creamy espresso that has notes of brioche dough and cinnamon.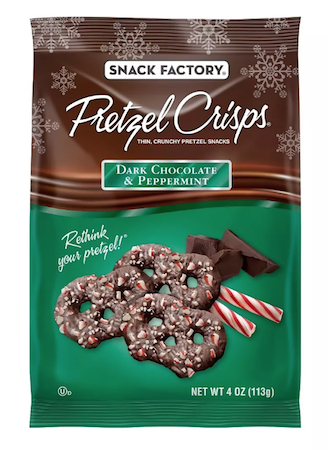 Pretzel Crisps Dark Chocolate Peppermint Pretzels
Pretzels dipped in dark or white chocolate flavored coating and sprinkled with a burst of refreshing peppermint candy pieces..sign us up!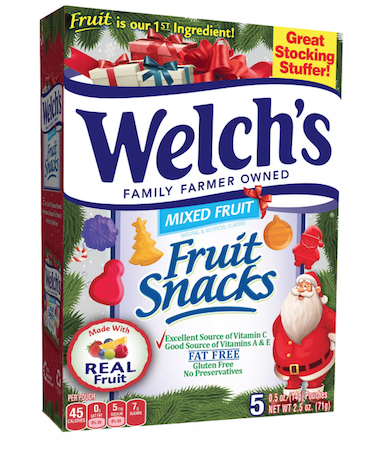 Welch's Christmas Mixed Fruit Snacks
Enjoy the fruit snacks we all know and love but now, in festive shapes and in a Christmas-themed box.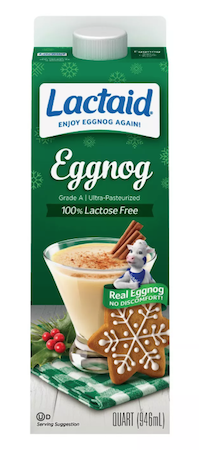 Lactaid is making it possible for those who are lactose intolerant or sensitive to still enjoy this creamy and classic beverage but without the discomfort.
Making a return again this year, the holiday mix of chocolate graham crackers and marshmallow bits is a must-try.
Hershey's Holiday Mix & Mingle Tin
No matter the occasion, bring this tin filled with candy-coated milk chocolates, pretzels, cookies and cream drops, and whoppers and you'll be the favorite guest.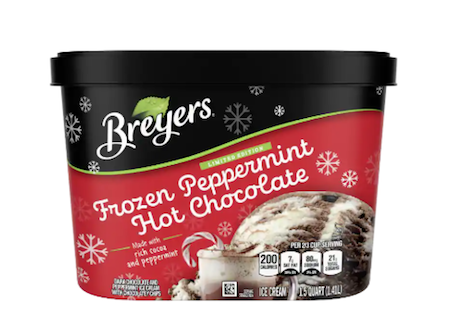 Breyers Frozen Peppermint Hot Chocolate  
This rich cocoa ice cream with chocolate chips and peppermint swirls will be hard to resist.
Loacker Quadratini Cappuccino Wafer Cookies
It's a no-brainer that the  #1 global wafer cookie brand, Loacker, will make for the perfect treat for your guests. Seasonal flavor varieties for the Italian Blends Quadratini Collection include cappuccino, espresso, and tiramisu.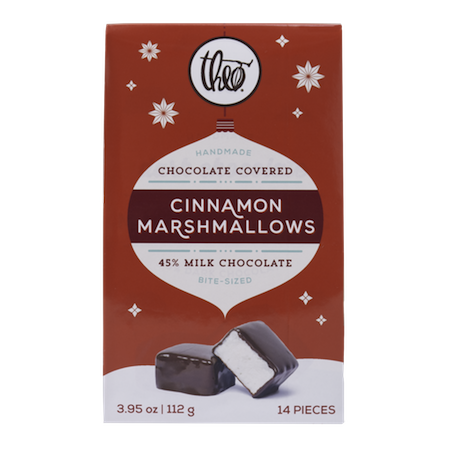 Theo's Milk Chocolate Cinnamon Marshmallows
Chocolate covered marshmallows? Yes, it's a thing. And also comes in other flavors like peppermint and vanilla-bean.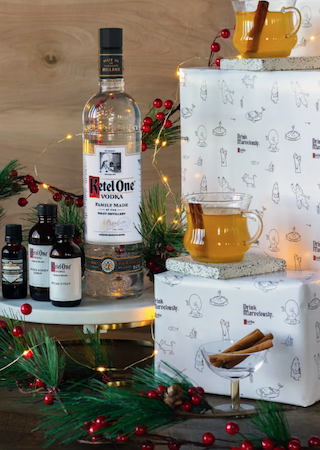 Make everyone think you're a professional mixologist with this kit that comes with everything you need to make a twist to the classic hot toddy.
My/Mo Mochi Ice Cream: Cool Peppermint
These peppermint flavored ice cream bites sprinkled with minty bits and wrapped in chewy, pillowy mochi dough, are the perfect sized treat that pack a lot of flavor.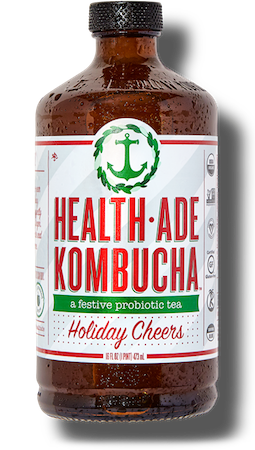 Health-Ade Kombucha Holiday Cheers
Stay balanced this season by having this healthy and festive probiotic tea.
Pepperidge Farm Toy Soldier Shortbread Cookies
Inspired by the iconic Rockettes number, "Parade of the Wooden Soldiers", these spiced shortbread cookies feature the perfect blend of cinnamon and brown sugar.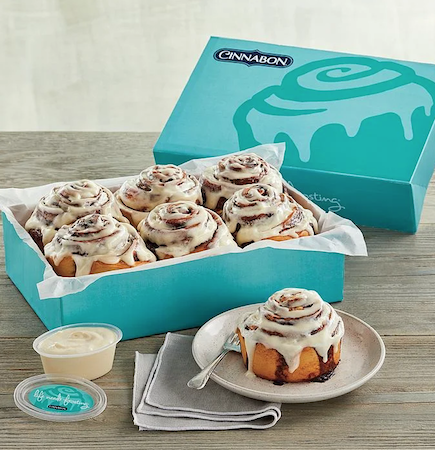 This year, Cinnabon has partnered with Harry + David to bring this delicious gift right to your front door, making it a perfect breakfast for Christmas morning.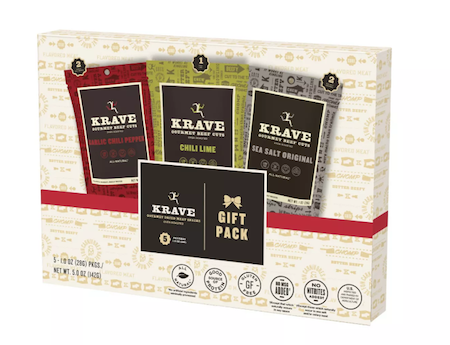 For those that aren't into sweets or chocolate, enjoy this gift pack of savory beef jerky instead.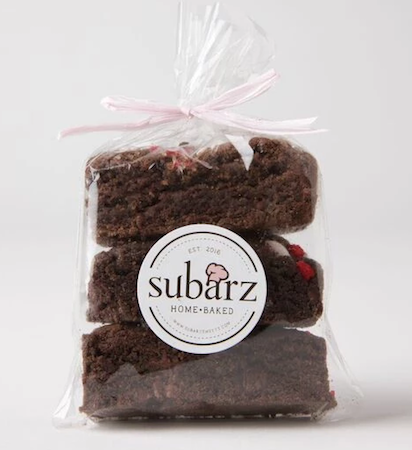 These pre-baked goods are a unique combination of mandelbread, biscotti, and cookie. Not only are they super yummy but also easy to gift and bring to a gathering.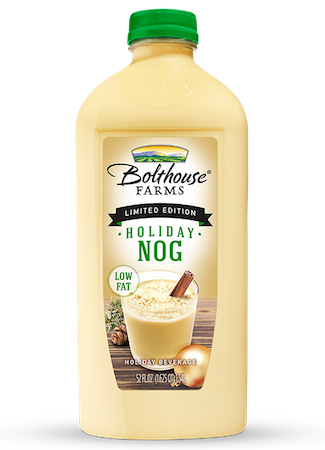 Get the same creamy taste of egg nog but with 55% fewer calories and 80% less fat.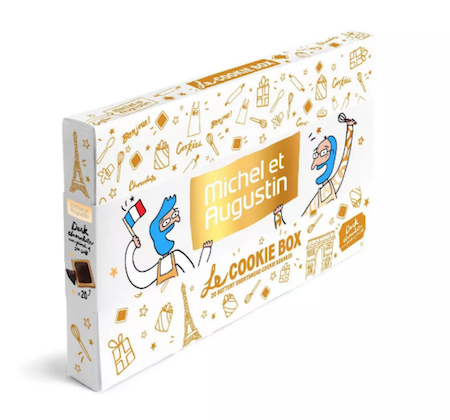 Michel et Augustin Holiday Cookie Gift Box Dark Chocolate Sea Salt 
Shortbread cookies filled with creamy dark chocolate and a pinch of sea salt sounds like something that would be right up everyone's alley.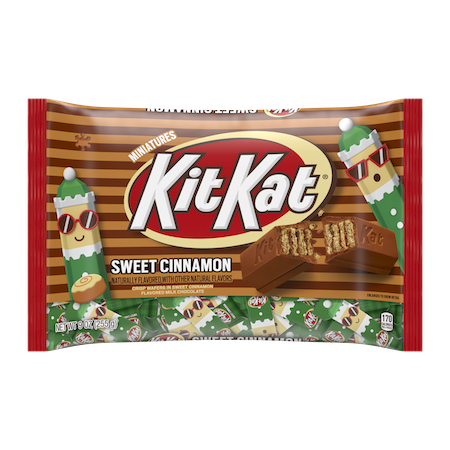 Kit Kat Sweet Cinnamon Holiday Miniatures
Putting a seasonal spin on the iconic KIT KAT® taste, each wafer delivers smooth, rich milk chocolate coating and sweet cinnamon flavor.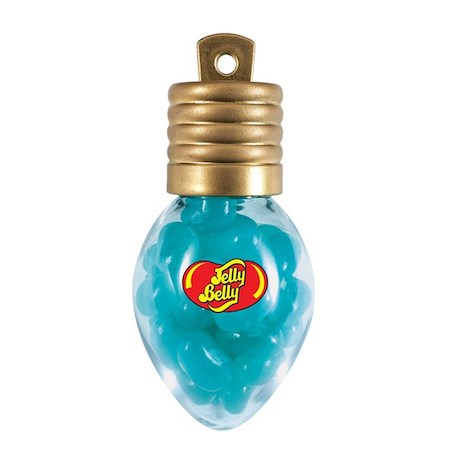 Jelly Bean Filled Christmas Light
A classic treat now comes in fun holiday packaging.
Uncommon Goods Holiday Sugar Cookie Tree Baking Kit
This DIY baking kit has everything you need to create a festive tree from 36 sugar cookies.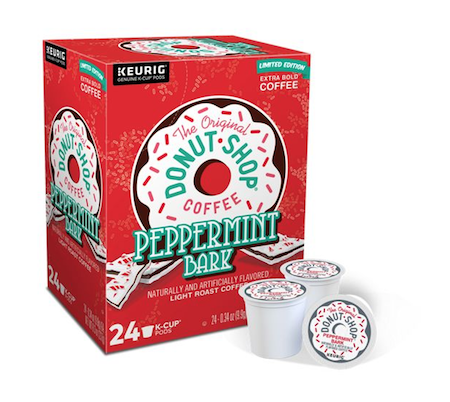 THE ORIGINAL DONUT SHOP® Peppermint Bark Coffee
Spice up your morning cup of joe with one of Keurig's seasonal K-CUPs including Peppermint Bark, Holiday Blend, Cinamon Sugar Cookie and Holiday Buzz.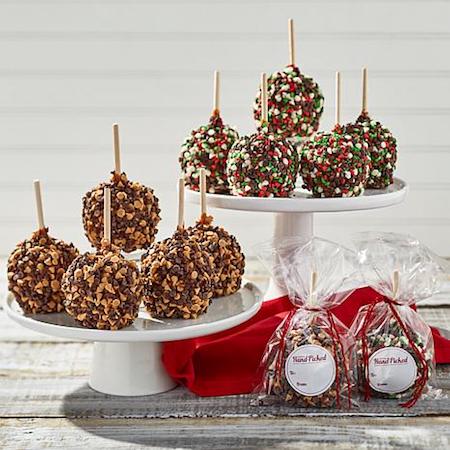 Affy Tapple 12-piece Chocolate & Peanut Butter Caramel Apples from HSN
Who says caramel apples are just for Fall? These mini ones are great for guests to enjoy and make prepping a lot easier.
La Brea Bakery Take and Bake Cranberry Walnut Bread Loaf
If you're in a hurry to get to a gathering, no worries, just pick up one of these sweet loaves of bread and everyone will think you are Martha Stewart.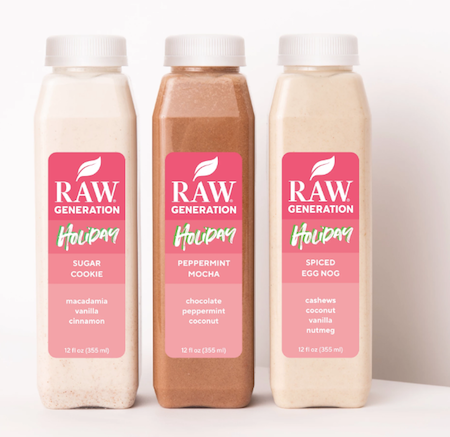 Raw Generation Holiday Flavors Variety Pack
These guilt-free smoothies will give you the same great taste of classic desserts but without the sugar, dairy or gluten!
Pillsbury™ Shape™ Elf Sugar Cookies
Returning again this holiday season, these ready to bake and pre-cut cookies are hassle-free and delicious.
Blue Diamond Almond Breeze Mexican Hot Chocolate
With hints of cinnamon and allspice, this beverage can be enjoyed hot or cold and is dairy-free.
Smashmallow SMASHCRISPY® CANDY CANE
A guilt-free marshmallow snack with hints of peppermint…it doesn't get much better than this.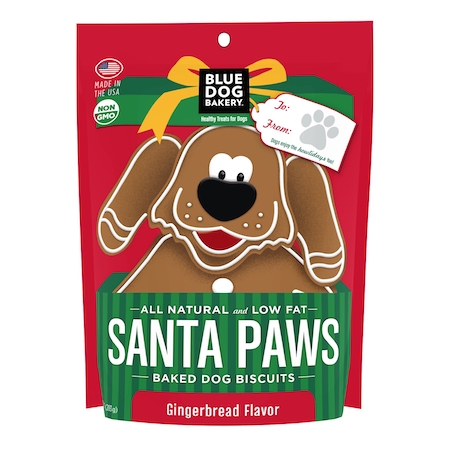 And you can't forget about the pups! Let them enjoy a festive gingerbread flavored treat of their own with these natural and low-fat biscuits.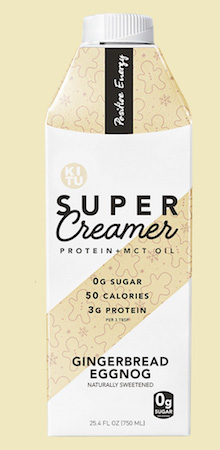 Gingerbread Eggnog Super Creamer
Add this to your coffee to get hints of ginger, maple, and eggnog while also adding protein.
SheFinds receives commissions for purchases made through the links in this post.