Having big boobs may seem like a blessing, but many busty women will tell you that it also comes with its cons. Most people think that finding a proper-fitting bra is the only challenge us busty women face, but it's actually ALL clothes–especially tops and blouses! Not only do they have to worry about their tops fitting, but they also have to make sure that they'll keep their boobs in place and secure throughout the day, and, not be totally revealing. Here are a few tips women with big boobs should keep in mind when shopping, along with the best tops that offer a comfortable and flattering fit:
Black Is Always Flattering
Forever 21 Plus Size Ruched Top ($25.00)
We've all heard the saying that black looks good on everyone and every body type, and it's especially true for women with big boobs. Black not only pairs well with almost anything, but it's also slimming, too! We love this A-line, three-quarter-sleeve Forever 21 top! The ruched detailing in the middle gives the illusion of a smaller bust. This shirt works well with women bust sizes 42 through 50 inches.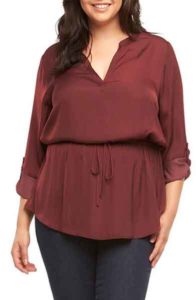 Nordstrom Tart Enna Drawstring Waist Tunic ($138.00)
Similar to shift dresses, tunics have a shape that is universally flattering and may also give the illusion of a smaller bust. This wine-colored, flowy tunic features a billowed top and drawstring waist that shapes and defines.
Who What Wear x Target Plus Size Long Sleeve Tie Waist Blouse ($29.99)
A shirt with a wrap bodice is one of the most flattering tops a busty woman could wear. "These will create diagonal lines thus drawing attention away from the bust," personal shopper Mona Sharaf says. "Also, you can adjust the fit and define the waist." We love this long sleeve, tie waist blouse by Who What Wear x Target.
Forever 21 Plus Size Polka Dot Wrap Top ($17.90)
For busty women, accentuating the waist with a cinched, A-line structured top helps to create a balanced look up top. This green Forever 21 blouse with polka dots features a self-tie waist that does just that! This shirt works well with women bust sizes 42 through 50 inches, and can be worn to the office or out for a night on the town!
Choose A Classic Button-Down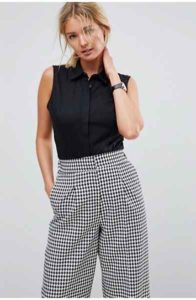 ASOS Fuller Bust Sleeveless Shirt in Stretch Cotton ($26.00)
A button-down shirt on women with big boobs leaves a little room so your breasts aren't spilling out the shirt while creating a streamlined, fitted look. This stretch cotton, sleeveless shirt by ASOS still shows a little bit of skin by showing off your arms. This shirt is designed to fit cup sizes DD through G.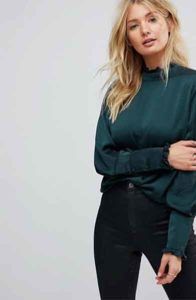 ASOS Fuller Bust Luxe High Neck Blouse ($48.00)
Top-heavy women can minimize their big boobs by opting for a high-neck shirt. That way, the attention is on the neck and not the bust area. We love this Luxe High Neck Blouse by ASOS that features a ruffle trim neck and an open back. This shirt is designed to fit cup sizes DD through G.
Keep these tips in mind the next time you're shopping for fuller bust shirts and blouse! And while we've got you in the shopping mood, check out the best bras for women with big boobs at SheFinds.com!
[Photo: Reformation]
SheFinds receives commissions for purchases made through the links in this post.