If you're a book nerd and fashion obsessed (the two are not mutually exclusive) the following news may make your day: Twilight Eclipse Fashion Line for Nordstrom has hit stores and online and the verdict is in: the cool tees, sweet dresses – and yes, cardboard cut-outs make this collection not your average movie paraphernalia.
If you're team Jacob and want the world to know, this 'I Heart Jacob' Burnout tee ($30)  is perfect. The v-neck style is flattering – no need to show your love with a homemade one again.
If you're less vocal about your Team Jacob/Edward status, go with this pretty, understated Floral Print Babydoll dress ($52). It looks like something Bella would totally wear.
If you haven't got enough of these two in the tabloids, take them home with Edward and Bella Life Size Cutouts ($33 each). We don't need to know what you do with them.
We already love lip venom, and this collaboration is just too perfect: the Luna Twilight DuWop 'Blush' Lip Venom ($16) has the lip-plumping magic we love, plus cool Twilight packaging.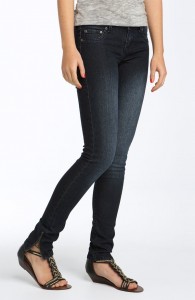 If you're already in the market for jeggings, why not go for these The Twilight Saga- Eclipse for BP Stretch Denim leggings ($58)
Shop our 5 best summer hats as well as our guide to summer hats, summer dresses plus the best style news, and celebrity style. Subscribe to our newsletter for more updates.