Chub rub is that thing when you don't have a thigh gap (me!) and your thighs rub together in dresses and on really hot days they start to chafe. It's as unfortunate as it sounds, and the bad news just got worse: it happens to your boobs and underarms, too. There's not a cute name for it yet (brub, armcicles, bafing) but it's definitely an established medical problem, and now's the time of year when we get it the worst.
READ MORE: 5 Simple Ways To Prevent Inner Thigh Chafing
There is a product on the market that cures it, though–the only problem is you might be sleeping on it. Why? Because it comes from a brand known for dealing with other, um, intimate women's problems.
READ MORE: How To Wear Shorts If You Don't Have A Thigh Gap
Monistat's Chafing Relief Powder Gel is actually the undercover cure for this problem. It's only $6 and its exactly what you need for chub rub and its sisters boob rub and arm arm.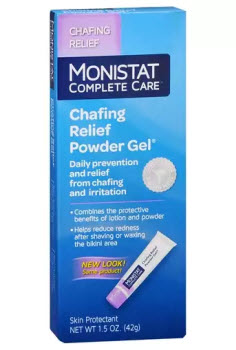 Monistat Complete Care Chafing Relief Powder Gel ($5.99)
We wrote an extensive review of Monistat for chub rub last year–and the effectiveness for side boob, underboob and underarm rub is the same. The gel is super lightweight on the skin and is hardly noticeable when you're wearing it. The smell is not noticeable, either, so you can definitely get away with wearing it. Most importantly, though, it totally works in keeping skin from getting irritated–even for meaty girls like myself whose skin loves to touch itself in different places. It worked for me last week when it was 95 degrees in New York City. I'm a commuter, so I do a lot of straight-arm-going-back-and-forth-fast-walking , and I legit had no chafing. I was wearing a spaghetti strap dress, too, so there was lots of skin exposed.
So–will you try it? Let us know if it works for you–and what other summer problems you're dealing with rn.