These Rubber Wristbands Are Giving Us Serious Deja Vu Of Cartier Love Bracelets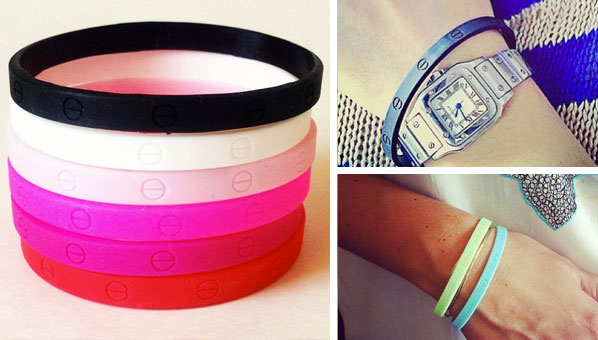 These Eternity Wristbands ($10) by Luka Lika look like a mix between Cartier Love bracelets and Livestrong wristbands…but they're probably closer in price to the Livestrongs. According to the designer, the rubber bracelets are a light-hearted take on fashion accessories. So I guess they're supposed to remind us of other jewelry. They come in LITERALLY every color, including neon, metallic and even glow-in-the-dark. That's one thing we can't say about Cartier, am I right?
We're sure no one is confusing the Luka Lika's for Cartier, but we're still surprised that the two bracelets have so many similarities (minus, the rubber duh). Maybe Luka Lika is on to something though. I mean, Marc by Marc Jacobs does make rubber bracelets too. Do you think Cartier will be next? Is this the next big jewelry trend? Let us know what you think in the comments below!
SHOP LUKA LIKA ETERNITY WRISTBANDS
For more accessories we love, check out: the fall beanie trend, Westward Leaning sunglasses and back to school accessories