Have you ever ordered the hottest bra online, only to find out it can barely fit even one of your boobs? Yeah, it happens to all of us. One of the trickiest parts of shopping online is finding the perfect fit for your bras. Each bra is completely unique in it's fit, and a 34C from one online shop can fit completely differently from another lingerie e-store.
Well, now you don't need to sweat it anymore, because ThirdLove is here to help you find your perfect bra! This revolutionary brand just created a way to find the perfect bra fit every time you shop their amazing bras. Ladies, say hello to the life-changing Fit Finder.
Gone are the days of awkward bra fittings at the lingerie department, because the Fit Finder will find your perfect size at total ease. With just a few clicks of your mouse, you can get your perfect size and then have an array of bras matched perfectly for your cup size.
This online quiz is so simple, every woman can do it! First asks about your breast shape, which is such an important part of finding your perfect fit. Many women don't realize that one bra that will fit perfectly for a woman with teardrop-shaped boobs might not fit right for a woman with a more athletic build, so it's great to be reminded of that while taking this quiz.
Then, it asks basically every detail of your current bras: what size you buy, which brand its from, how old your bras are (don't worry, we all have some pretty old bras), and how they fit are just a few of the questions. These are VITAL to think about when you're trying to find your size, so don't get too shy and lie!
After the quiz is over, you get your sizing and then a whole array of bras to choose from! Yeah, it's really that simple.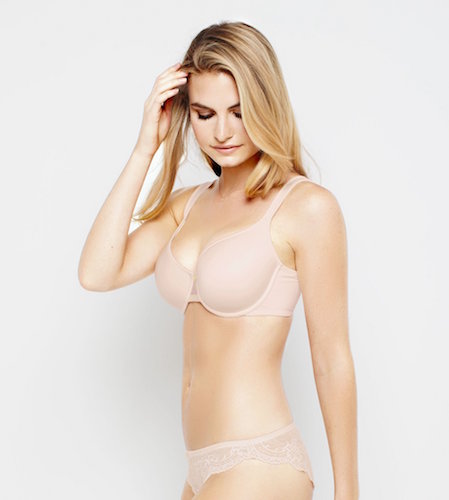 The best part about ThirdLove is that they provide so much more service than just a fit. On top of finding your perfect size, you get to try it before you buy it! The brand gives you 30 days t try it, wash it, do whatever you want with your bra. If you love it, you get to keep it for $68 (the usual price for a bra at any other department store). If it's not really your thing, simply put it back in the box and return it for absolutely free. Now, you don't have to worry about getting charged for anything you can't even wear!
Those returned bras don't get put back on the shelf, either. This ethical company donates the bras to their Bras For All program, which gives bras to women in need for no price at all. So far, they've already donated $1 million worth of bras to women who need them!
So, if you want to try out ThirdLove's Fit Finder, shop their amazing bras here. And, don't forget to try one of their amazing bras (you've got nothing to lose, it's free)!