Coco Chanel was fond of saying, "Before you leave the house, take one thing off." There are, however, women out there who love their jewelry so much, they dare disregard her sage advice. Know one of them? Gift them with one of these stunning statement pieces this holiday season that are sure to set them straight-for at least a day, that is.
Cuff bracelets are usually tough, but this cuff has a gorgeous applique detail that makes it quite delicate and elegant.
There's a reason J. Crew named this necklace "supernova." The sparkle factor is really out of this world.
Tempted by the snake jewelry trend? Try this knottted snake ring on for size.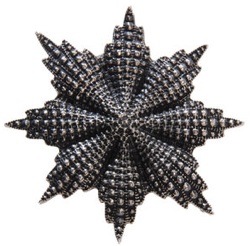 Brooches can sometimes be a little matronly, but this edgy, vintage-looking brooch is just the opposite.
These dainty teardrop earrings are the perfect party accessory. They will look just as beautiful with an evening gown as they do with a dressy top and trousers.
Check out eBay's Inside Source blog for even more affordable jewelry gifts – we love the pieces they found for under $25 (and your thankful recipient won't be wearing the same baubles as everyone else).