Call it the Kate Middleton effect, but more and more brides are opting to cover up for their big day (or at least during the ceremony portion). But wedding dresses with sleeves can be hit or miss; they're usually lace or hideous — or both. The second option is to go with a stylish shrug or bolero (another Kate-inspired trend) — though those can be fugly, too. According to the latest issue of New York Weddings, there's a third option on the table: cozy knit sweaters to throw over your gown for outdoor photos.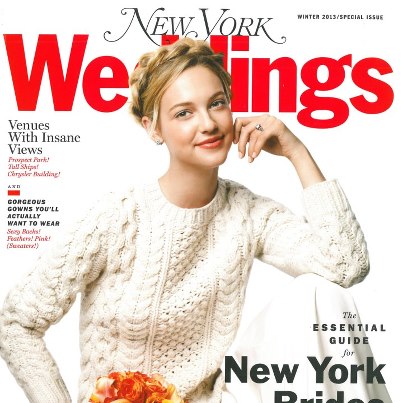 On the cover of their Winter 2013 issue, the magazine featured this Joseph cable-knit sweater (which goes perfectly with that nordic top-braid!). We love the idea of a cozy, fisherman-style cable knit for rain, snow or shine. So, is this a trend reserved for magazine covers — or is it something real brides will actually wear?
If you love the trend, we found 10 soft knits in white, ivory and pale pink that are perfect for brides. Think romantic bow-detail cardigans and angora boat-neck styles. Shop now.
More daring bride styles: Would you use a non-floral bouquet, let your bridesmaids look as good as you do, or get married at one of these terrible non-venues?