Sadly, I didn't make it to Coachella this year. But thanks to Instagram, I felt like I was in the middle of the action–and thanks to my friend Michelle (2nd to right, pictured below) that action included spotting a may-jah eyewear trend at the outdoor festival: Sweet On The Eyes sunnies. They're legit the most fun sunglasses I've ever seen (and on-trend with spring's embellished sunnies), and were all over Palm Springs this year: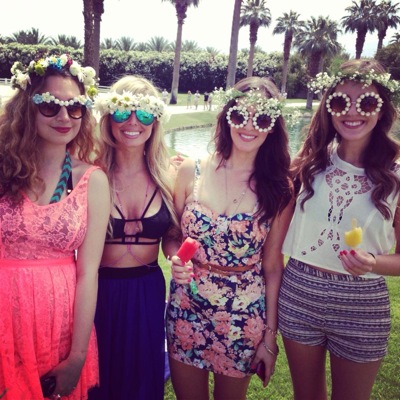 The line was developed Joey Amron, who started out embellishing sunglasses for her friends and family to wear to special events and parties. When strangers on the streets of LA started offering to buy the sunglasses off her face, she knew she was on to something and launched an Etsy shop. And the rest is history.
Her goal is to offer glasses that you wouldn't necessarily wear everyday, but statement pieces that are an integral part of your outfit (aka, every music festival-goers dream!). The Sweet On The Eyes Sunglasses Collection ($50 each) are all handmade and named after Joey's BFFs. Loves it!
Check out other shoes we're loving for spring: perforated flats, low heel sandals, and lace-up sandals!