When the super cute Ali Fedotowsky wore this pretty, turquoise teardrop necklace on the last episode of The Bachelorette, the blogs went crazy. Everybody wanted to find the actual piece. After a little aggressive research (okay, I wanted it for myself), I found LA jewelry designer Susanne Elizabeth who makes a ton of the jewelry that Ali wears on the show. The Susanne Elizabeth necklace is available, but on back-order.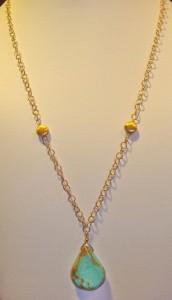 If you have a little patience, go for the actual necklace Ali wore: this Susanne Elizabeth Turquoise Teardrop with Gold Accents ($65). It's back-ordered, but the designer is working to get more out by June 30th. Totally worth the wait.
If you can't wait, check out similar necklaces we found online:
If you are more of an instant gratification kind of girl, go for this Fossil Large Pendant Necklace($38). It's half the price and an even larger stone.
If you prefer a silver chain, you will love this cool Navajo-inspired Citrine by the Stones Dulce Garden Necklace ($81.00, down from $162.00). The feather detail and long chain make this an eye-catching, hippie-meets-chic piece.
If you're heart is set on the gold chain, you will love this delicate Dogeared turquoise healing gem reminder necklace ($42). It's an everyday piece that can be worn with everything.
To dress like a TV star, check out our guides to clogs, summer dresses, cheap swimwear and rompers.