After a summer filled with ice cream and fried foods, our jeans feel a bit snugger. Ok… let's call it really friggin' tight. There's just something about hanging out and laughing with good friends that makes it super easy to eat beyond our limits. In an ideal world a woman would be able to enjoy food and not gain weight. Or even better, she could lose weight and not be penalized for wanting French fries.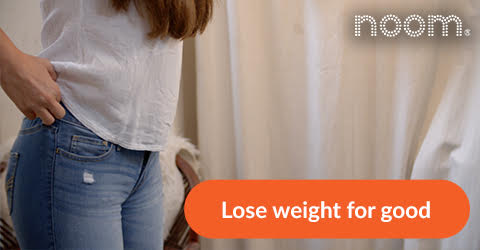 Weight Loss Meal Plans for Beginners
We've realized that the only way to truly commit to a healthy meal plan is with the help of a program. Using an app to organize and account for caloric intake puts us in total control of what we eat and how that impacts our bodies. "People often think they are eating less until they start tracking everything they actually eat and the awareness is surprising," says Dr. Oksana Aron, MD, director of WeightLossNYC. An average woman needs to eat about 2,000 calories per day to maintain her weight, but 1,500 calories to lose 1 pound each week. Meal plans make us think we can slim down only temporarily and achieve our goal weight by eating unsatisfying foods.
If we could create a log-on-and-lose, weight-loss meal plan, it would be intuitive, delicious, encouraging and one that initiates a lasting change. Weight loss for beginners should be body and mind positive. That's why we love Noom. It's the first weight loss meal plan for beginners we've found that guides users into making healthy, sustainable lifestyle choices.
It's a personalized behavior change program that is all about empowering you to change your thinking and behaviors for long-term, sustained benefits. Instead of simply telling weight loss beginners what and when to eat, or how often to exercise, Noom focuses on changing patterns of thinking, habits and behavior so you see results for the rest of your life, not just for a month or two. And not be eating rice cakes and kale.
The experts behind the app will create a meal plan for beginners to help them achieve their food and weight goals. There's no counting calories or weighing ingredients on a food scale. The cues are easy: traffic lights to keep you on track. Food is categorized as green, yellow or red based on calorie density. Red doesn't mean, "Danger!", instead it means, "Be mindful!" and points out foods you can def still eat but just in smaller quantities. Log your meals and see what "color" food you need to eat more or less of that day. Grabbing a bag of quinoa chips for snack? Scan the barcode into the app. Tired of take-out and want to make a homecooked meal? Use a recipe from the Noom database with color-coded ingredients and it will log directly into your meal plan.
You're thinking, "Seems really easy but how will I follow through?" The answer is in your Noom community. With the help of a dedicated coaching team, a group of weight loss, meal plan peers and your own inner grit, you can train your brain to push through distractions and stay the course.
The editors at SheFinds wrote this article in partnership with Noom.