The haul video trend, also known as haul vlogging, started back in 2010 with teenage girls showing off their abundance of purchases from shopping sprees with their mom's credit card. Today, the trend is still around and has been taken to a whole new level. Vloggers are playing a bigger role in fashion and they are truly influencing what their fans are buying. One of our favorite vloggers, Sarahbelle93x, has been featured in Seventeen magazine, while missglamorazzi was given the opportunity to style her own outfits for the Daily Look.
Since there are so many trends out there for spring and summer, shopping can be overwhelming and deciding what to buy can be very difficult. That's where vloggers come in. They show off what they bought and tell us how it fits and where to buy it. Watching haul vloggers is great because you can actually see the clothes on an human, instead of a photoshopped model, before you buy them online. Another awesome thing is that "haul girls" are usually pretty honest. When they think that something has a weird fit or just doesn't look right, they will tell you and even admit to wanting to return the item.
So, if you're as crazed as we are with picking out the perfect spring and summer wardrobe. Take a look at what our five favorite haul vloggers bought. There might be something you like!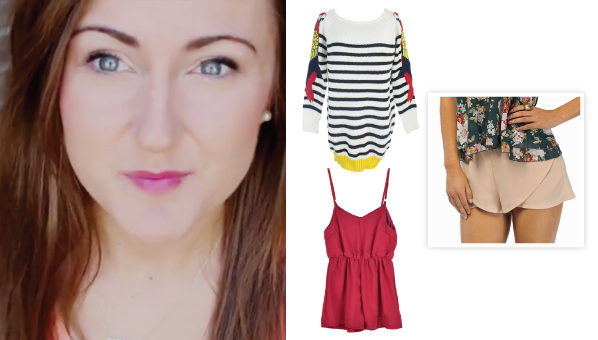 1. Sarahbelle93x is buying shorts, dresses, sweaters and rompers for spring. Some of our favorite pieces from her spring haul are Sunshine Blvd Shorts ($46), Striped Sweater With Embroidery Parrot ($35.99), and Red Playsuit With Adjustable Spaghetti Strap ($24.99).
2. Ingrid Nilsen of missglamorazzi styled her own spring outfit for the Daily Look with the JOA Buttoned Back Stripe Crop Top ($29.99) and this awesome House of Harlow 1960 Five Station Necklace ($75). In another one of her vlogs, she also showed off her beautiful Céline Black Leather Tote Bag ($3,499). Watch  her video to find out what's in it!
3. Dulce Candy is a huge fan of Zara, and that's where she bought this bold Printed Top ($49.90) from her summer haul. She also bought this Little White Lies Primrose Floral-Trim Romper ($159) from Urban Outfitters for her trip to Coachella and these color pop Cezarine ($100) lace-up heels.
4. Alisha Marie bought a Demure Floral Crop Top ($12.80) from Forever 21 and Urban Outfitter's Ecote Gauze Off-The-Shoulder Dress ($79) for the spring and summer months. She also admitted she can't resist buying new purses, so she splurged on her Michael Kors Weston Medium Satchel ($260.99 down from $348).
5. Tesschristine123 shopped at Topshop this spring and she bought this Knitted Curve Jumper sweater ($70) and a tropical Palm Tree Jacquard Crop Top ($68). And since every girl needs a good pair of sunnies she also bought Ray-Ban Clubmasters ($150).
For more blogger fashion, don't forget to check out: how to wear shortalls, how to wear boots after winter, 3 grown-up ways to wear a backpack.
[Photos: Sarahbelle93x, missglamorazzi, Dulce Candy, Alisha Marie, and Tesschristine123]