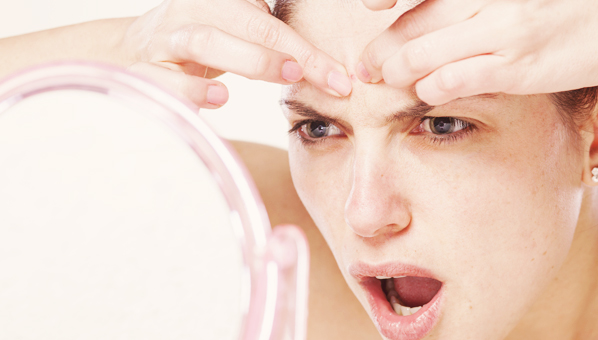 10 At-Home Remedies To Try When Zits Pop Up Out Of Nowhere
I'm going to start by being honest. I've struggled with zits and blackheads since I was eleven, and though acne is supposed to clear up in your twenties, it hasn't for me. Everyday I wake up and there's another volcano growing somewhere on my face. Yeah, I know its gross, but don't act like you've never had a zit. Eveyone has.  And since I've suffered from acne for over a decade, when I tell you I've tried every trick in the book. I promise I'm not kidding. I can say "been there, done that" to everything you can think of from prescription medications to at-home remedies. I think I even tried the "put some Windex on it" trick from My Big Fat Greek Wedding several years ago. (P.S. it didn't work). While some medications worked better than others, I was constantly in my dermatologist's chair begging for a solution, yet I never found one. But, what I did find during this never-ending struggle, were quite a few at-home remedies that ACTUALLY work, and you probably don't even have to buy anything to try them. Most of the products used for these zit hacks are probably already laying around your house. So if you suffer from acne or just get a zit on occasion, check out our slideshow. If you don't, you'll be sorry next time a zit creeps up on you. For more beauty tips, check out: nail art hacks, how to style a headband, and beach waves. [Photo: Shutterstock]
Look No Further, We Have The Best Holiday Nail Polish Sets Right Here
It's never too early to start thinking about the upcoming holiday season, especially when it comes to shopping for gifts for all of the special people in your life. Luckily, you can avoid the malls and all of the dreadful lines this year by doing all of your shopping through the SHEfinds holiday gift guides. Shopping this year will be easier than ever, as long as you're doing it with us. First up, we have our holiday nail polish guide for the beauty-lover in your life. If you have a bestie, mother, sister, co-worker or cousin who's in love with having pretty painted fingers and toes, look no further. We did the work for you and found the best holiday polish sets that are out there this year from Essie, OPI, Ciate and more. And don't forget to check out these other things you might need this holiday season: Stila x BaubleBar holiday gift sets, blanket coats and The Outnet's holiday jewelry collaboration.
Stop What You're Doing & Shop The Banana Republic 30% Off Sale Right Now
Having a bad day at work? Bored in class? We know what will cheer you up. A good sale. Today, Banana Republic is hosting an epic sale that is sure to clear up your mid-week blues. When you shop at bananarepublic.com today, everything will be 30% off, even their new arrivals, with the code BRYOU. So be a little mischievous today, and go on a shopping spree. After all, it is the day before Halloween, so why not treat yourself. Just call it a Halloween present if 30% off isn't a good enough excuse to shop. And don't forget to check out: blanket coats, stretch-back boots, and the top 5 jackets you need right now.
These Stila x BaubleBar Holiday Gift Sets Have Makeup & Jewelry All In One Place
This year, Stila decided to do something a little different for their holiday gift sets. Instead of the typical zip-up pouch with makeup inside that all of the other makeup companies release for the holidays, Stila decided to change it up a little. The makeup brand partnered with one of our favorite jewelry brands, BaubleBar, to bring you some of the best holiday gift sets we've seen this season, and trust me, we've seen a lot. While you were busy at work, we were running around NYC going to holiday previews, so we know a good gift set when we see one. What is so special about the Stila x BaubleBar holiday collaboration, is that each gift set includes a Baublebar gift and some of Stila's most popular products like their Stay All Day Waterproof Liquid Eyeliner or their extremely popular Lip Glaze. No matter which set you choose to give to your bestie, mom, aunt or Secret Santa, you can be assured that they'll receive makeup and a piece of jewelry in their gift. And what girl doesn't love makeup and jewelry? Put 'em together and you've got the best gift you could've asked for. So stop searching, and click through our slideshow to buy one of these limited-edition gift sets today. Finding the perfect gift for your gal pal just got a whole lot easier. GET A STILA x BAUBLEBAR HOLIDAY GIFTSET NOW And don't forget to check out: Marc Jacobs headphones, Zara faux-leather jackets and Kate Spade's Monogram shop.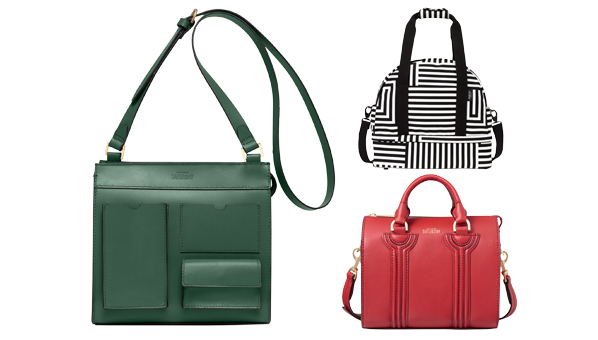 The Secret Is Out–Kate Spade Saturday His Having A 'Secret' 75% Off Sale
The first thing that comes to mind when I think of Kate Spade is handbags. The second thing that comes to mind is great sales. But today, you can start thinking about both, because from now until Halloween (October 31, duh), Kate Spade Saturday is hosting a secret sale and everything is 75% off! From handbags, totes and cross-body bags to wallets, shoes and accessories, this sale has everything the Kate Spade lover could ever need at a fraction of the cost. All you have to do is head on over to the secret sale and shop. This sale (and the free shipping that comes with it) is just too good to pass up. GET 75% OFF AT THE KATE SPADE SATURDAY SECRET SALE NOW And don't forget to check out: Zara faux-leather jackets, Kate Spade Saturday's monogram shop and 25% off at Old Navy.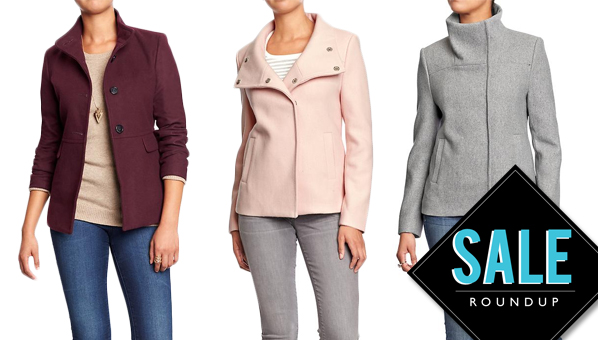 Old Navy's New Coats Are Sooo Cute & They're 25% Off With Code SAVE
It's getting a bit chilly outside, so now is the perfect time to stock up on coats and warm wooly jackets. Usually, I try to stick to blacks and browns when it comes to winter coats, because they're neutral and match with everything, but that's so basic. I've always wanted a fun colored coat, but I never wanted to drop hundreds on a coat that I wouldn't wear everyday. Do you have this problem too? Well, we're in luck, because Old Navy just solved it. When I think of Old Navy, fall and winter coats aren't what usually come to mind, but right now, they have some great ones in fun colors like deep green, burgundy, pastels and even plaid. And the best part is that they're so cheap! With Old Navy's 25% off coupon code (SAVE), everything on the store's site, including coats, is on sale today. So if you need a new coat, head on over to oldnavy.com to shop! Didn't find what you were looking for? Don't stress. We have five other great sales for you to shop in our slideshow too. It's go time. And don't forget to check out: Beyonce's activewear line, plaid scarves and J.Crew's sale.
Treat Yourself To Some New Clothes At J.Crew & Get Over 30% Off
Tis the season to start shopping, and what could be better than spending your entire pay check on gifts for you (or your friends...I guess) at J.Crew? Right now, the store is hosting a 25% off sale with the code STYLETREAT, but this code doesn't only apply to items that are already on sale. It applies to everything! With this coupon code, you can get anything you could ever want at J.Crew at a fraction of the cost. Now you can get that wool sweater, cashmere cardigan or warm jacket you've been looking for without spending your entire pay check on it. Sounds good, right? Well, head over to jcrew.com to browse the sale yourself. We also have some great store discounts in our slideshow, so be sure to check those out too.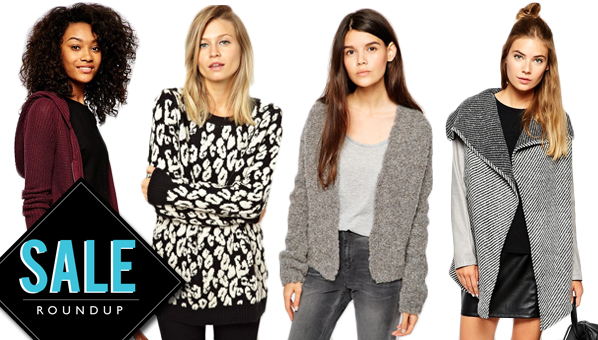 Need An Excuse To Shop Today? ASOS Is Having A 70% Off Clearance Sale
Need to stock up on jackets, sweaters, boots and coats? Well, don't worry. You've come to the right place. When I logged onto my computer to search for the best sales of the day this morning, I was pretty excited to find that ASOS was having an epic 70% off sale. While some items at ASOS.com are typically pretty inexpensive, others aren't too budget friendly. But, this won't be a problem today, because almost all of their merchandise is marked down. If you needed an excuse to shop today, here it is. If you don't find what you're looking for at ASOS, we have five other sales for you to shop in our slideshow. Start shopping now! And don't forget to check out: 25% off at J.Crew, Forever 21 mid season sale and faux fur under $200.
Everything At The Forever 21 Mid-Season Sale Is So Stinkin' Cheap–Under $20
If you're looking for some new fall or winter clothes, Forever 21 is where it's at. Starting today, F21 is hosting an epic mid-season sale on their site and everything is under $20. Since everything is so stinkin' cheap (and cute), you don't even have to feel bad about dropping a bunch of cash at Forever 21 today, because you'll get so much for your money. From long sleeve tees to warm winter coats, this sale has everything you could ever want (or need) to stay stylish and warm this season. And if Forever 21 doesn't have what you're looking for, we found Loeffler Randall bags and boots, rag + bone jeans and Topshop sweaters at a discount too! Be sure to take a look at them in our slideshow. Don't forget to check out: SJP's jeans, shearling boots and the J.Crew sale.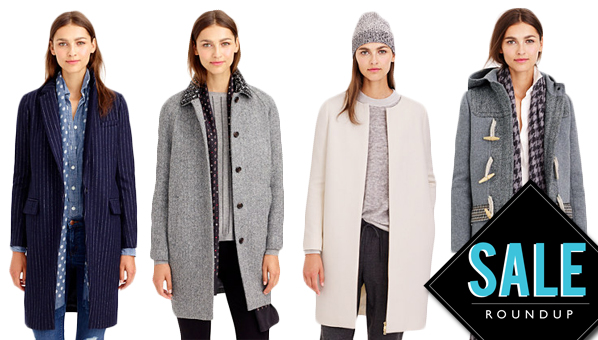 It's Getting Chilly Outside–Get Jackets & Coats For 25% Off At J.Crew Today
Temperatures dropped all over the country last night, especially here in New York (brrrr...). So, it's that time of the year when sweaters just won't cut it anymore. You're going to need more than that to keep your body warm, but don't worry, J.Crew has got you covered...literally. Right now, there are dozens of great coats on sale for 25% off in stores and at jcrew.com with the code TGIFALL. And if coats aren't your thing, you can also get jackets, sweaters and jeans at a discount. Just click through our slideshow to find out how. And don't forget to check out: 11 great sales, 20% off  at Loeffler Randall and 25% off at Rebecca Taylor.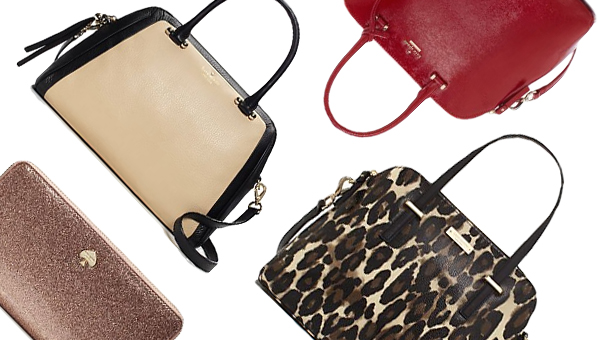 Start Your Weekend Off Right By Shopping The Kate Spade Friends & Family Sale
From now until October 20th, Kate Spade is hosting a friends and family sale and you'll save 30% on your order with code F14FFUS at checkout at katespade.com. Looking to treat yourself to a new handbag? This is the place to do it. But don't leave without checking out the shoe selection. We're seriously considering these killer boots: Kate Spade Lanise Boots ($350) Kate Spade Sabina Boots ($398) Click through the slideshow for our fave Kate Sapde bags, or just get straight to the sale below.  SHOP THE KATE SPADE FRIENDS & FAMILY SALE NOW For more deals, check out: 30% at 7 For All Mankind, Coach shoes for 40% off and 25% off at Scoop NYC.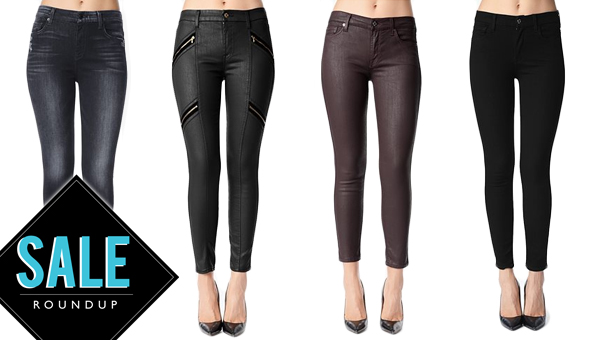 Get 30% Off Sitewide At The 7 For All Mankind Friends & Family Sale Now
Now is the best time to stock up on jeans, since you'll probably be wearing them for the next 6 months. And thanks to the 7 For All Mankind friends and family sale, you can score a nice pair for 30% off with the code FF2014. 7 has a great selection of skinny, boyfriend, high waisted and low rise jeans in dark, indigo and light wash or even black. In addition to all of the great jeans you can get on sale at 7, they have other things you need for the upcoming season too, like tops, sweaters, jackets and blazers. So, click on over to 7 For All Mankind now and make your jean collection grow. Or, if you can't find anything you like there, we have five other sales for you to shop in our slideshow. Check them out! And don't forget to check out: 25% off at Scoop NYC, Shopbop 25% off sale and Emma Stone's $68 ring.
25% Off At Scoop NYC's Friends & Family Sale, Plus 5 More Major Fall Sales
For the next five days, Scoop NYC is hosting a friends and family sale where you'll be able to get 25% off brands like IRO, Alice + Olivia, Free City, Scoop, AG, Current/Elliott, Helmut Lang and more.  So whether you're shopping for some new fall finds for yourself or you're hoping to beat the holiday rush (it's coming soon), now is a great time to shop designer. In addition to Scoop's sale, we also found quite a few other stores with major discounts today, too. Just click through our slideshow--it has all of the links and codes you need to save. And don't forget to check out: Shopbop 25% off sale, Emma Stone's $68 ring and cashmere sweaters under $100.
It's Friday And All Sale Items At Forever 21 Are An Extra 30% Off, Baby!
We couldn't think of a better way to start the weekend than with a little (or big) Forever 21 shopping spree. And that's just what we're about to do considering they recently added over 500 fall-appropriate items to their sale section and with the code TAKE30 you'll get an extra 30% off those already-reduced prices. I'm not quite sure what they're thinking over at F21 headquarters since this stuff is so cheap, but I know what I'm thinking. I'm about to go H.A.M. Click through the slideshow for five other sales that are going on right now, so you can save big time this weekend. And don't forget to check out: Theory friends & family sale, J.Brand jeans on sale and $1000 to Sam Edelman.
Theory Is Having A 25% Off Friends & Family Sale And You're Invited
Theory, one of our favorite brands, is hosting a Friends & Family sale. Right now, you can save big time (25% that is) on everything in their online store. All you need to do is use the code THEORYFF2014 at check out, and your wallet and bank account will be thanking you. I've been eyeing Theory's Café Coat in Lithe ($596.05, down from $795) in their store window on Madison Ave. in NYC for weeks, so I'm hoping to get it with this coupon code. But the code applies to anything, so you can get whatever you've had your eye on. No need to copy me. In addition to Theory's sale, there are five other ways to save today with 60% off at Nordstrom, 30% at J.Brand, Madewell and Forever 21, and 20% at Piperlime. All you have to do is copy the coupon codes from our slideshow and type them in at checkout. Saving today is so easy. Happy shopping! For more great deals, check out: Ted Baker sale, Forever 21 jeans on sale and 20% off at Amazon.
The Ted Baker Customer Event Sale Is Even Better Than We Imagined
Thanks to our friends across the ocean at Ted Baker US, your week is about to get a whole lot better. Starting today until October 9 at 11:59 PM, Ted Baker is having an epic sale on their entire site, and now that everything is discounted, you have no excuse not to stock up on some of TB's best items like the Brienah Pointed Ankle Boots ($230), Ferne Exotic Base Trapeze Bag ($510) or the Riza Leather Biker Jacket ($675). With the code 20DAY, you can save on anything you want, including these three items. All you have to do is click over to tedbaker.com/us, pick out what you want and type in the code when you check out. It's simple as that. So what are you waiting for? Shop the sale now! But you better hurry. It only lasts until tomorrow. SHOP THE TED BAKER SALE NOW
Change Your Hair As Often As Kylie Jenner Does With Her New Line Of Extensions
While Kendall Jenner was walking runways during Fashion Month, her little sister Kylie was working on a project of her own. On her Instagram (which has an insane amount of selfies), the youngest of the Kardashian-Jenner fam announced that she will be collaborating with Bellami Hair on a line of hair extensions called Kylie Hair Kouture. This collab totally makes sense considering Kylie is always changing her hair. She's dyed it blue, shaved it and cut it numerous times. Now, she doesn't have to do anything permanent and neither do we. We can all just clip in some of Kylie's extensions and change our look. (I'm sort of secretly hoping that there are some Kylie-inspired teal extensions on the line. One can only hope.) Check back to our celebrity section. We'll let you know when her line makes its debut. For more celebrity news, check out: Jennifer Lawrence's nude photo leak, celebrities leaving the gym and Gwyneth Paltrow's clothing line [Photo: Splash News]
Are These Shearling-Lined Birkenstocks The New Ugg?
There are a few things in this world that just make sense like late-night $1 pizza, great finds at sample sales and Ugg boots in the winter, but these shearling lined Birkenstocks do not. For years, girls around the country (even in Florida) have been slipping their feet into Uggs when the temperatures drop in the winter. These furry hot boxes are the epitome of warmth, comfort and basic b***h-ness. They may be Ugg-ly, but one thing is for sure--they keep your feet warm and toasty. These Birkenstocks, on the other hand, will not. While they may be lined with shearling, these shoes will not keep your feet warm in the seasons to come. Whether they're covered in fur or not your toes will still be exposed to the harsh winter weather. So why is Birkenstock doing this? Well, I think its their last attempt to keep the ugly sandal trend going. They probably thought "Why not make our Arizona Sandal and the shearling trend have a baby? Maybe people will be dumb enough to think these will keep there feet warm (and dry) in the winter." If this is in fact what our friends over at Birkenstock thought, then they were right. There are already reviews on Nordstrom.com about how great theses sandals are for fall and winter. Ha! Give us a break. We'll be sticking to our Ugg BOOTS this season. Birkenstock 'Arizona' Genuine Shearling Lined Sandal ($139.95) What do you think of these new shearling lined sandals? Let us know in the comments below. And don't forget to check out: Urban Outfitters Halloween, Forever 21 denim and Kate Spade's new bag. [Photo: Free People]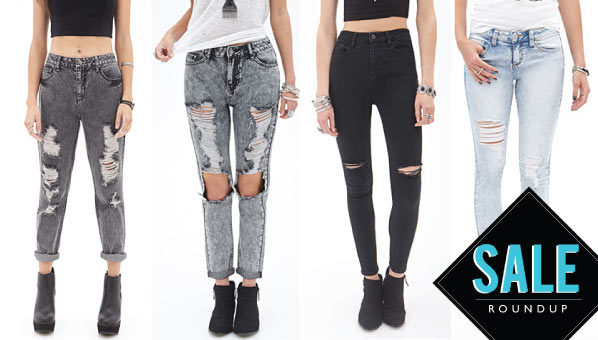 Forever 21 Jeans Are So Freakin' Cheap Today With This 20% Off Code
From now until October 11th, we have a secret code that will get you 20% off on denim at Forever 21. With the code F21DNM20, you'll be able to get some great jeans (their distressed jeans are my favorite) for $30 or less. In addition to F21's ridiculous denim sale, we found five other stores that are practically giving their fall merchandise away. Get all of the coupon codes you need to save today right here in our slideshow. And don't forget to check out: the Wildfox sample sale, 20% off at Amazon and Blake Lively's baby news.
Don't Miss Wildfox's First-Ever Online Sample Sale Going Down Right Now
For the first time ever, Wildfox is hosting a sample sale on their e-comm site and I'm pretty pumped about it. Today and tomorrow, you can get up to 75% off on jeans, sweaters, pajama sets, bags, tees and swimwear at Wildfox. Which means that $250 Wildfox sweater you've been wanting forever is $40 now. In addition to the epic WF sample sale that's going on, we have links and coupon codes for five other great sales that are going on online today. Check 'em all out in our slideshow. And don't forget to check out: 20% off at Amazon, Blake Lively's baby news and October collabs you should know about.
It's Official–Blake Lively & Ryan Reynolds Are Having A Baby!
Early this morning, US Weekly broke the news that baby Reynolds is coming to Hollywood. Yep, Blake Lively and Ryan Reynolds are having a baby! The couple announced Blake's pregnancy on the Preserve, the actress' new website, by posting a picture of Blake's baby bump. I guess she just couldn't hide it anymore. A pregnancy has actually been in the couple's plans for a while now. Back in September of 2012, Blake told Marie Claire, "I gotta get started,"and we've been waiting for a beautiful Reynolds baby ever since. But, it looks like we won't have to wait much longer, because judging by the picture, Blake is already into her second trimester. Keep checking in on our celebrity news section. We'll let you know when baby Reynolds makes his or her debut. UPDATE: Looks like Blake's site is currently down because of everyone wanting to see pics of her pregnant. Click through the slideshow to see Blake's baby bump, plus to shop her outfit from her announcement photo! And don't forget to check out: Kate Spade, Kim Kardashian and pumpkin spice everything.
Save 25% At The Tory Burch Friends & Family Sale And Shop 5 Other Sales
Today is October 3, and aside from it being Mean Girl's day ("I asked him what day it was. He said October 3rd."), it's also the start of the first weekend of the month, which means there are some epic sales going on. Not only is Tory Burch hosting their 25% off Friends and Family Sale, you can also score huge savings at Nordstrom, Shopbop, Steve Madden, Loeffler Randall and Gap. So if you want to treat yourself some new jackets, booties, sweaters and handbags before the weekend starts, you're on the right site. We have all the coupon codes and links you need to save at all of today's sales. And don't forget to check out: riding boots, 70% off designer sale and graphic tees.
Looking For A Classy Halloween Costume? Dress Up As Olivia Pope From Scandal
While this may not be the scariest costume out there, it's definitely the classiest. With this Olivia Pope costume, you can kiss your college "I can dress like skank for Halloween" days goodbye. Olivia Pope, crisis manager extraordinare, is dedicated to protecting and guarding public images and reputations, so this is the year to protect yours.  You don't want to go out dressed like a bunny or a nurse anyways. That's too basic. Plus, with this costume, you can wear it to trick or treat and then ditch the gloves and wig and wear it to work the week after. It's a two for one special straight from The Limited's Scandal collection. And why wouldn't you want to look like the alter ego of the one and only Kerry Washington. She's perfect and so is this costume. So get all of the outfit pieces in our slideshow so you'll look just like you're on Scandal this Halloween. And don't forget to check out: designer jeans on sale, graphic tees and Isabel Marant.
Have You Seen Reese Witherspoon's Latest Vogue Cover?
Not only is Reese Witherspoon making waves in the film industry by producing the movie version of Gone Girl, and starring in more than one new film this year--Wild, The Good Lie, Inherent Vice, and Don't Mess With Texas--she's also covering the October issue of Vogue. In her Vogue feature, on newsstands now, Witherspoon discusses her upcoming roles, including Wild, her "raw" sex scene for the film, and Sofia Vergara's nickname for her--"My Little Pony" (Reese is 5'2"). In the acompanying photos shot by Mikael Jansson and styled by Tonne Goodman, Witherpoon shows off her "country glam" look, wearing couture gowns on what appears to be the streets of Nashville, TN. Beyond the content of the story, there is online chatter about the heavy use of Photoshop editing on her cover. While Reese is a beautiful woman and from her countless paparazzi photos there is no arguing that, she doesn't quite look like herself on the October cover. There is something about her appearance that just doesn't seem right. If you take a closer look, it appears as though her rib cage has been removed; on the right side of the image behind her arm it looks like something is missing. Many people, including the editors of this site, have embraced Photoshopping as a way to clean up and enhance photos for Instagram and other social media, but magazines seem to be at the forefront of taking the practice too far. What do you think? To read Reese Witherspoon's cover story, head over to vogue.com or grab a copy on newsstands now. And don't forget to check out: fall sales, Gwen Stefani and Jessica Simpson. [Photo: Mario Testino/Vogue]
Save Up To 70% Off On Designer Clothes, Bags & Shoes At Today's Best Sales
Everyday, we're updating you on the best sales, because we care about your fall wardrobe. We want you to put your best self out there this season without dropping a huge wad of cash, and there's no better way to do that than with new discounted shoes, bags, jackets and sweaters. You can get everything you need for fall at all of today's sales no matter what your budget is. So, click through our slideshow to get all of the links and coupon codes you need to shop the day away. And don't forget to check out: these six other fall sales, Net-A-Porter finds and designer jeans on sale.
Get 25% Off At The DVF Friends And Family Sale & Save Up To 70% At 5 Other Stores
Today is the first day of the Diane Von Furstenberg friends and family sale and we're giving you the access code for major savings. With the code FALL25, you'll receive 25% off on full-price and sale items at dvf.com. Though I'm in love with the Mini Rail Quilted Leather Crossbody Bag, which is marked down to $261 (What a steal!), DVF also has plenty of dresses, shoes and outfits that you can get at a discount. Not a Diane kind of gal? Don't worry, there are five other great sales today including: 25% off on fall jackets, shoes and boots at J.Crew, up to 60% off at Nordstrom, up to 70% off designer items at Shopbop, 30% off dressy shoes at Steve Madden and and extra 15% off on sale items at Piperlime. Check out our finds from today's sales in the slideshow. It also has all of the coupon codes and links that will lead you to huge savings. For more deals, check out: 70% off at ASOS, 6 fall sales and $20 graphic tees.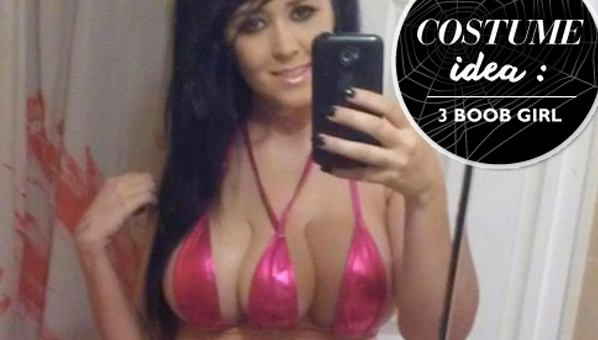 Need A Horrifying Halloween Costume? Dress Up As The Three-Boobed Woman
When something, like the Ice Bucket Challenge, hits viral status on social media, it always turns into a Halloween costume come October. So far this year we've seen the ice bucket, the Solange/Jay Z elevator scene and even the basic b****  turn into a Halloween costume, but we knew this one was coming the minute we saw it. Twenty-one year old, Jenna Tridevil recently became Facebook famous for having three breasts, but soon after it hit Fbook, her story was featured on TV news and news websites nationwide. Even though it was revealed that she didn't actually have surgery to add a boob and the whole phenomena was just a hoax (bummer!), that doesn't mean her appearance won't make a great Halloween costume. After all, Halloween is all about scaring people and her look is quite horrifying. Haven't heard about Tridevil yet? Check out the news story here. For more Halloween costume ideas, check out: Kendall and Kylie, Cara Delevingne, and Pharrell. [Credit: NY Mag, halloweencostumes.com, Instagram]
Save Up To 70% At ASOS & 5 Other Sales Happening Today
When I was browsing through the ASOS site last night, I was pleased to find out that some of their sale items were up to 70% off. And don't let that discount fool you, the items weren't just left-overs from summer. They had jackets, boots, handbags and sweaters that are perfect for fall. If you can't find anything you like at ASOS, don't worry. J.Crew has a coupon code for 25% off on jackets and fall footwear, Nordstrom adds new booties to their sale section everyday and Nasty Gal is practically giving jackets and blazers away for 60% off. With sales like these, shopping today is basically unavoidable. These discounts won't be around for long. So check out our favorite picks from six of today's best sales and get all of the codes and links you need in our slideshow. Go crazy! You deserve it. Don't forget to check out: more Chelsea boots, Buffalo plaid and 6 other sales.
Tory Burch's Debut Watch Collection Is Now Available For Pre-Order
We've been waiting for quite a while for Tory Burch watches to hit stores, but the day has finally come...sort of. Starting today, you can shop and pre-order from the entire watch collection on toryburch.com. Though this doesn't ensure that you'll get your watch earlier than everyone else, it will ensure that you'll get one at all. There are plenty of gals that have been waiting anxiously to get their hands on a Tory timepiece, so they're bound to sell out (or at least be on backorder) really quickly. You wouldn't want to miss out. And with the holiday season just around the corner, one of these watches just might make the perfect gift. You can choose from six different styles: Tory, Reva, Buddy, Izzie, Sawyer and the limited edition Robinson in multiple different colors and metals. This collection has a watch for any girl's taste. So be sure to check them all out in our slideshow. Tory Burch has really been expanding in the recent months. With the introduction of Fitbit accessories and now watches to her line, it's only a matter of time before we see men's accessories and women's activewear hit Tory Burch stores (expected fall 2015). But while you're waiting for that to happen, get a watch. It'll help you count down the days. PRE-ORDER A TORY BURCH WATCH HERE And don't forget to check out: Net-A-Porter, Kendall Jenner and moto jackets.
Stop What You're Doing & Shop Now–Today's Sales Are Too Good To Pass Up
If you were too busy to go shopping this weekend, then now is the time to do it. Today, everything in J.Crew's sale section is an extra 40% off and Old Navy is practically giving their merchandise away by giving you 15% off on everything in the entire store. In addition, Madewell and Anthropologie still have sales going on, and you can save up to 60% at Nordstrom and 70% at Shopbop! You can get anything you need at a discounted price today. All you have to do is click through our slideshow to get the coupon codes and information you need to save all day long. Enjoy! For more deals, check out: last week's sales, $1000 giveaway and Piperlime sale.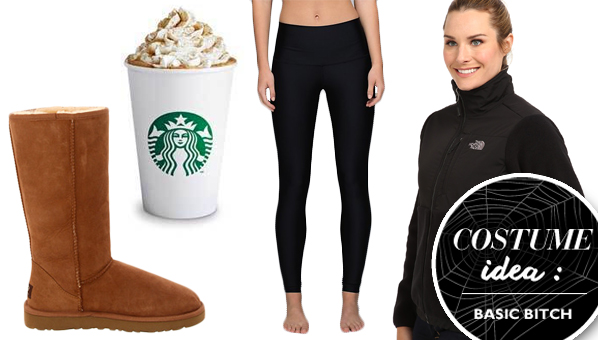 Grab Your #PSL And Dress Up As A Basic B***h For Halloween
According to Urban Dictionary, a basic bitch is "a girl who wears Uggs, leggings, oversized sweaters and posts pictures of her iced Starbucks White Chocolate Caramel Soy Latte on Instagram and constantly makes fun of other 'basic bitches' because she believes she isn't like them." By definition, I am a basic bitch. Therfore, I know exactly what you should wear if you want to be a basic bitch for Halloween. First off, it's fall, and everyone knows that basic chicks love fall and the abundance of pumpkin flavored things that come with it. Ditch the White Chocolate Caramel Soy Latte and get a PSL (Pumpkin Spice Latte, duh). But, it has to be with skim or soy milk, basic bitches are constantly worried about carbs and calories, even on Halloween. That'll cost you approximately $4.95--the cheapest part of your costume. Next, you'll need to get yourself a North Face Denali Jacket ($179), lululemon leggings ($92) and Ugg Boots ($195). What? Did you think this costume would be cheap? Basic bitches don't do cheap. Chances are, if you're reading this, you're probably basic and you already have these items. So just throw them on and be YOU for Halloween. Why would you want to be anyone else but yourself? #Yourebasic We have all of the items you need for this costume in our slideshow, but if you want to be something even more basic than yourself for Halloween, try one of these totally cliché costumes. Note: Add an extra large T-shirt to turn the basic bitch costume into a sorority girl costume. For more costume ideas, check out: Katniss Everdeen, Cara Delevingne and Frozen. [Credit: Buzzfeed]
I Must Be Dreaming–All Of My Favorite Stores Are Having Sales This Weekend
I'm not quite sure if this is a good thing or a bad thing, but six of my favorite retailers are having sales this weekend. When I woke up this morning to the news of these sales, I thought "PINCHME (that's Madewell's coupon code), I must be dreaming," but I wasn't. Today, Madewell, Anthropologie, J.Crew, Piperlime, Gap and Shopbop, put there merchandise on sale for our shopping pleasure. And there's no need to worry, these sales don't just include last season's styles. There are plenty of booties, jackets, sweaters, jeans and accessories for you to buy now and wear now. If you want to shop these great sales, you're going to have to click through our slideshow. It has all of the links and coupon codes you need to shop the sales. For more great deals, check out: Alice + Olivia's 40% off sale, Nordstrom's sale and $25 tops at Old Navy.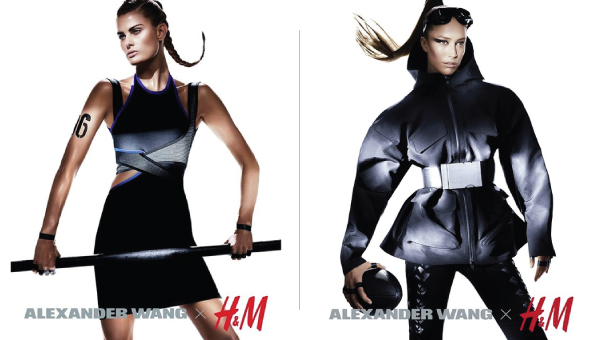 Alexander Wang Revealed More Photos Of His H&M Collection
Today, Alexander Wang revealed more photos of his H&M collaboration. In the ad campaign, featuring models Joan Smalls, Raquel Zimmermann, Isabeli Fontana and Natasha Poly, and soccer player Andy Carroll (such a hottie) and kickboxer Rivaldino dos Santos, it is clear that our guess was right. The collection is definitely based on sports. According to WWD, Wang "wanted to take certain elements of each sport and portray the ultimate warrior." In the photos, the models and athletes are pictured with black hockey sticks, soccer balls and boxing gloves, but don't let this fool you. You don't have to be extremely athletic to wear the pieces in this collab, just ask Rihanna. She's already been spotted wearing an outfit from Wang's collection. (Lucky celebs! They get everything first.) Unfortunately, you can't be the first to wear it since Ri Ri has already done it, but you can be the first to lay eyes on Wang's ads. Check them out in our slideshow and head back to our site on November 6, when the entire collection hits stores. And don't forget to check out: fall boots, Alice + Olivia 40% off sale and jackets. [Photo: Instagram, H&M, Mikael Jansson]
Alice + Olivia, Kate Spade & 4 Other Stores Are Having Epic Sales Today
Everyday this week, we're featuring the six best sales of the day on our site. When I logged onto the web this morning to search for great deals, I was pleasantly surprised to find that Alice + Oliva was having a 40% off sale. If you're an A+O lover like me, you know that savings like this rarely happen, so when it does, you MUST take advantage. In addition to Alice + Oliva, Kate Spade Saturday is having a 20% off sale on handbags and you can save a ton of cash at Nordstrom, Shopbop, Old Navy and Gap too. Need to stock up on fall sweaters, jackets, booties and bags? Now is the time. Check out my favorite item from each sale in the slideshow, where you will also find links and coupon codes that will lead you to the best discounts. Happy shopping! For 6 more sales, click here. And don't forget to check out: the best fall boots, coats and hats.
The Next Kohl's DesigNation Collaboration Will Be With Milly By Michelle Smith
Today, Kohl's revealed its next designer for DesiNation--Milly by Michelle Smith, and it gave us something to look forward to this spring. The collaboration, which will make its debut in the spring of 2015, will include dresses, skirts and tops. Usually, Michelle Smith's designs feature bright colors and custom patterns, and this collection is no exception since it was inspired by her travels in Capri. The picturesque, ancient resort island of Capri influenced my DesigNation collaboration with Kohl's," said Michelle Smith. "Capri's technicolor vistas, dynamic Mediterranean culture and signature Caprese style of effortlessly chic dressing (the Italians call it 'sprezzatura'!) were the perfect inspiration for this collection. Every collection I design is a personal extension of myself and my experiences. As the MILLY by Michelle Smith collection defines luxurious, bold, feminine style, I'm thrilled to partner with Kohl's to offer an exclusive taste of 'La Dolce Vita' to women across the country. The prices for this collection will start at $38 and go up from there, but even if you purchase the most expensive piece in Smith's line, you'll still be getting Milly at an awesome price. Unfortunatly, you'll have to wait until next year to get get your hands on a Milly dress at Kohl's. But while you wait, shop the most recent collab DesigNation collab with Elie Tahari? You won't be disappointed. And don't forget to check out: the fall trend report, fall denim and coats.
Happy Wednesday! 6 Fall Sales To Get You Over The Hump Day Blues
Alright people, fall is officially here and it's time to shop. But, if you're afraid that fall shopping is going to put a cramp on your bank account, there's no need to worry. Everyday, we'll be updating you on the best sales of the day and giving you the inside scoop on what the best thing to buy from each sale is. While some retailers have great deals on sweaters and jackets, others have better markdowns on accessories and boots. No matter what you need for the season, we've got you covered. Here at SHEfinds, we love a good sale and we know you do too. So check out today's sales in our slideshow. If you don't find anything you like today (which is probably impossible), come back to the site tomorrow. We'll be keeping you informed all season long. Shop 6 more fall sales here. For more deals, check out: 40% off at Urban Outfitters, $25 tops at Old Navy and Target's BOGO.
Louis Vuitton Just Took The Distressed Trend Way Too Far With This Bag
When Louis Vuitton tapped Rei Kawakubo of Comme des Garçon to design her own LV bag, this probably wasn't what the brand had in mind. Yes, both the brand and Kawakubo wanted to do something unique that "noone had done before." But this, this is just awful. All Kawakubo really did was slash three large gaping holes into a beautiful, perfectly good Louis bag. While some might see it as art, we see it as a huge disappointment. As someone who has dreamed of owning a Louis since middle school, this just down right saddens me. The Sac bag retails for $2,790 even though it has giant gashes in the side. Despite the missing fabric, the LV website assures that even though the bag is full of holes, your stuff won't fall out; thanks to a pouch that will keep your belongings secure. This bag is part of a series of Louis Vuitton iconoclast collaborations. Next, Rei Kawakubo will be joined by Karl Lagerfield, Christian Louboutin, Frank Gehry, product designer Marc Newson and artist Cindy Sherman, who will all put their own twist on the classic LV monogram print. Let's hope that the next bag is just a little bit more practical. And don't forget to check out: Frye boots, fall jackets and the Paris Fashion Week live stream. [Credit: Racked]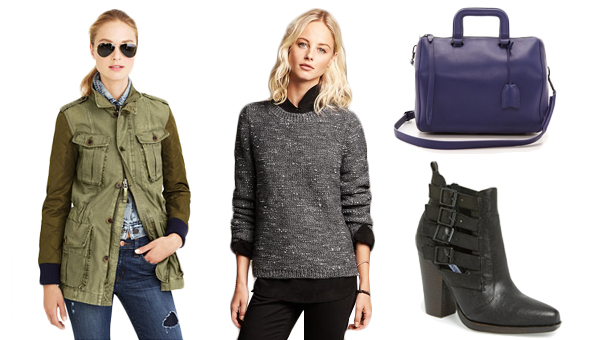 Celebrate The First Day Of Fall By Shopping These 6 Can't-Miss Sales
Fall is finally here! Today in NYC, the first day of the season hit us pretty hard with crisp 50-degree weather, and it had me reaching for a sweater for the first time in quite a while. But before I slipped into my favorite fall outfit and headed to the office (Pumpkin Spice Latté in hand), I searched the web for the best sales of the day. I have totally been procrastinating on shopping for fall, and I got a rude awakening this morning when I reached into the back of my closet. I was less than thrilled with my sweater collection, so I knew I had to find a good sale to buy some replacements. Luckily, I found six and decided to share them with you. So check out the awesome markdowns that I discovered at J.Crew, Nordstrom, Shopbop, Urban Outfitters, Banana Republic and the Gap today and get yourself ready for the beautiful season ahead. For more deals, check out: $29 Gap sweaters, Katie Holmes' $25 Old Navy shirt and Target's BOGO sale.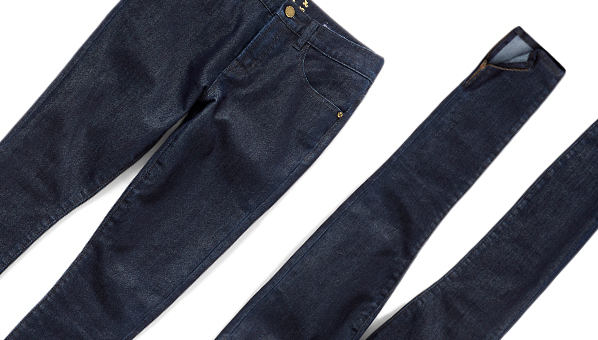 C. Wonder Launched A New Line Of Denim With Stretch Technology
Yesterday, C. Wonder launched their first ever premium denim line, and their jeans may be the most comfortable on the planet. Designed with C.WonderStretch Technology, a 4-way stetch fabric, the jeans are meant to provide maximum comfort with a flattering contoured fit. C. Wonder promises that even though these jeans are stretchy and easy to wear, style was not compromised. Basically, the store assured us that these aren't pajama jeans (Thank goodness!). The new C. Denim line comes in three styles: skinny, curvy and skinny ankle with a really cute zip detail (see the photo below), and they are available in indigo or black. These jeans are so comfy that C. Wonder may have just become our favorite place to shop for denim. Will you try a pair? Indigo Rinse Stretch Skinny Zip Ankle C. Denim ($128) And don't forget to check out: Jessica Alba's jean jacket, sweatpant jeans and normcore jeans.
Don't Buy Elie Tahari x DesigNation Without Using This 15% Off Promo Code
You may have pre-shopped last week, but if you didn't and you were patient enough to wait to shop the entire collection, the time has come. Today, the Elie Tahari x DesigNation collection hit Kohl's online store with 41 NYC-inspired pieces. Everything in the collection is priced between $48 for a graphic tee and $175 for a faux-fur jacket (perfect for fall). Our favorite Elie Tahari picks, like the Taxi Georgette Top ($54), are in the slideshow, but if you want to ball out and shop the whole collab, click the link below. And be sure to use code THANKS7427 at checkout to save an extra 15%! SHOP ELIE TAHARI x DESIGNATION NOW PS: Click here to find out who the next Kohl's desinger collaborator is! And don't forget to check out: sweaters on sale, Sole Society hats and stretch back boots.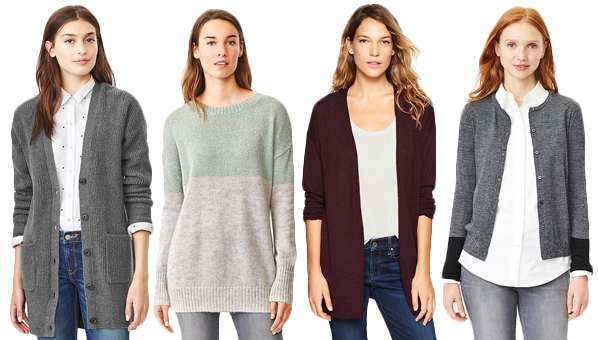 Sweater Weather Is Heading Our Way, Prepare Yourself At The Gap's Fall Sale
Tomorrow is the first day of fall and that means sweater weather is coming our way. It's time to take your sweaters out of the back of your closet and replenish your wardrobe by treating yourself to some new ones. So why not do that today by shopping at the Gap? Whether you're gearing up for the first snow fall or just a crisp autumn night, the Gap has everything you could possibly need to "layer up" for any weather the season might throw at us. Pants, jeans, jackets, dresses and tees, are on marked down now, but we we're most excited about is the great sweater selection. Check out our favorites in the slideshow or head over to Gap.com to shop the entire sale.  LAYER UP AT THE GAP SALE NOW For more sales check out: 40% off at Banana Republic, J.Crew's 25% off sale and up to 70% off at Shopbop.
We Identified The Best Nail Polishes From London Fashion Week
Fashion week kicked off in London on September 12th, and incase you missed it, we saw a lot of great things. From Burberry ponchos to Mulberry bags, we are certainly excited for spring and summer of 2015. But while all of these are really great, there's a part of Fashion Week that sometimes goes unnoticed, and that's beauty. This year at New York Fashion Week, we saw some impressive hair and makeup. But, it was the manicures that really caught our eye. We knew that if they were good in the Big Apple, that they would definitely be impressive the UK's capital city. After all, it is the home of Butter London. Not only do we have some awesome nail pics for your mani inspiration, but we've also identified the polishes from the Michael Van Der Ham, Temperly, Sibling, Marios Schwab and Meadham Kirschoff shows. And don't forget to check out: Burberry ponchos, Milan Fashion Week and Moschino's Barbie-inspired spring collection.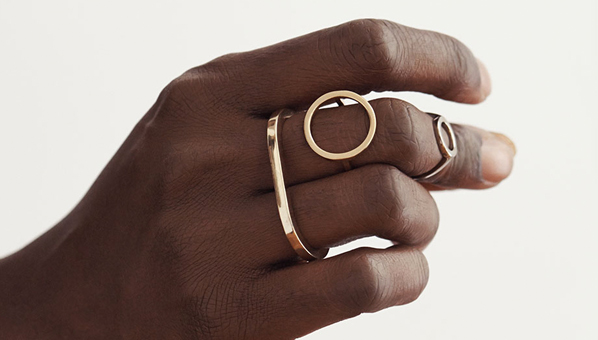 Club Monaco & Six Different Designers Came Together For 'The Pieces' Collection
J.Crew might as well just call Club Monaco a "copy-cat." Just recently J.Crew unleashed a fine jewelry collection featuring collaborations by 9 different indie designers, and today, Club Monaco did the same thing. CM's designers  took to their own closets to see which jewelry and bag designers they wanted to collaborate with and they chose Bing Bang by Anna Sheffield, Mackage, Seaworthy, Wouters & Hendrix, Pascale Monvoisin and Jane Mayle. The 50-piece collection ranges in price from $30 to $500 and it is available now on ClubMonaco.com. Check out some of our favorites from The Pieces collection in the slideshow or click the link below to check out all 50. GET CLUB MONACO JEWELRY NOW For more accessories, check out: ear jackets, wool fedoras and vintage Chanel bags.
We Saw All The 'It' Girls Wearing Wool Fedoras, So We Want Wool Fedoras
I never thought I would say this, but I am seriously considering buying a hat this fall. We spotted quite a few models and street style bloggers wearing rag and bone's Wide Brim Fedora ($195) at New York Fashion Week, so naturally a few of the SHEfinds staffers followed suit and got their own headgear for fall. Just because some of the best hats, or as I like to call them "head warmers," are made by designers like Lanvin, Gucci and Eugenia Kim, you don't have to spend a fortune to pull of this trend. Nasty Gal and Urban Outfitters make great knock-offs of the rag and bone "it" girl hat. So whether you're on a big 'ole budget or you're just looking for something simple to cover that pretty head of yours, we've got a wooly fedora for you in our slideshow. Be sure to check out: Burberry ponchos, Nicole Richie's jewelry line and shop the fall runway.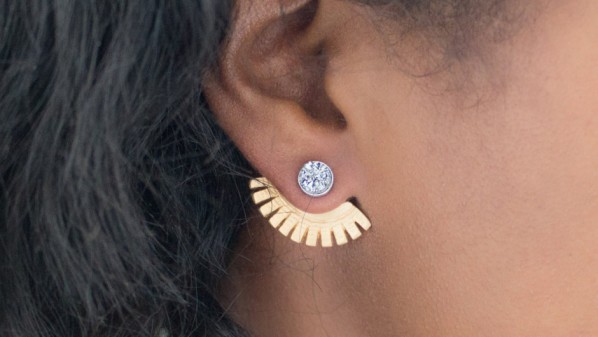 Ear Jackets Won't Keep Your Ears Warm, But They Will Make Them Look Cool
Between ear crawlers, front-back earrings and letter studs, there are definitely a bunch of earring trends going on these days, but there is one that has recently caught our eye--the ear jacket or what Rebecca Minkoff likes to call the Fan Stud ($28). Although it might look like an ear cuff for your lobe from afar, this earring is much more than that. You put it in your ear just like you would put on a regular stud earring, but ear jackets have a little extra piece that hangs below your ear lobe. (See above.) Whether you prefer to wear your jackets as a set or one at a time there is a pair for you. We have pearls, rhinestones, spikes and more, so check out all of the ear jackets in our slideshow. And don't forget to check out Smashbox lipstick, Taylor Swift's H&M outfit and the fall runway. [Photo: Etsy]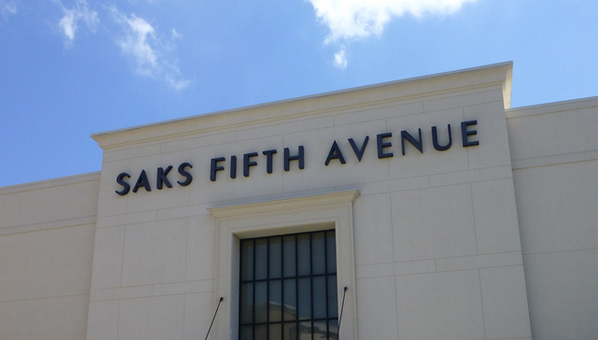 Saks Fifth Avenue Employees Stole $400,000 From 22 Unsuspecting Shoppers
Credit card fraud has become a serious and frighteningly common issue. Whether it's stealing your information at the gas pump, or taking it straight from a department store's card reader, credit and debit card fraud is all around us. Recently, five department store employees at Saks Fifth Avenue in New York City stole $400,000 from 22 different shoppers' credit card accounts and used the money to buy designer handbags, shoes, clothes and beauty products. The group of employees was caught by security cameras and the police were alerted. A thorough search was conducted and over 100 boxes of shoes and many more boxes of handbags and merchandise were found in one guilty employee's apartment. All five were charged with grand larceny and identity theft. Shortly after, all of the stolen merchandise was returned to the store and the unsuspecting customers' accounts were restored. Let's hope that Saks can resolve this issue and hire more trustworthy employees in the future. For more news check out: vintage Chanel bags are now sold online, new garment care products and DVF x Goop. [Photos: Flickr]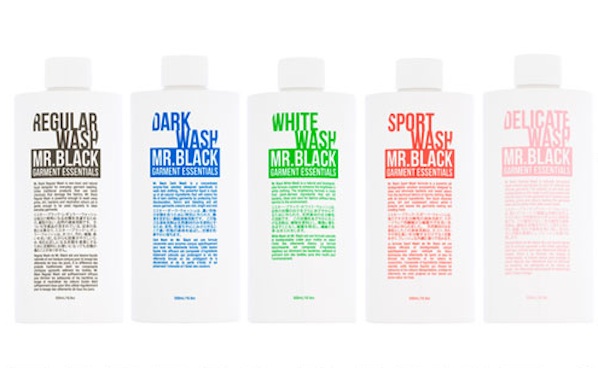 Wash Your Clothes Less Without Being The Smelly Girl At Work, Thanks To Mr. Black
If you've ever ruined your favorite shirt or pair of pants because you washed them wrong or you just hate doing your laundry (who doesn't?) then these products are for you. Mr. Black, the Australian brand responsible for Denim Refresh Spray (so you can wear your jeans multiple times without washing them), just released more washes and sprays for other types of fabric, which totally makes sense. Wool coats, gym clothes and cashmere sweaters should not be treated equally. They all deserve separate attention, and that's where Mr. Black comes in. Each type of fabric including cotton, linen, wool, cashmere, leather and lycra has its own spray for neutralizing odors and killing bacteria and a detergent that is extremely delicate on your clothes. The spray allows you to extend the time between washes so that you can wash your clothes less and wear them more. Sounds like a win, win to me. I hate laundry almost as much as I hate ruining my clothes with expensive products. Luckily, all of Mr. Black's products are moderately priced between $12 and $20. Be sure to check them out! SHOP FOR MR. BLACK GARMENT CARE PRODUCTS And don't forget to check out: Altuzarra x Target, June Ambrose's new clothing line and the Kate Spade surprise sale.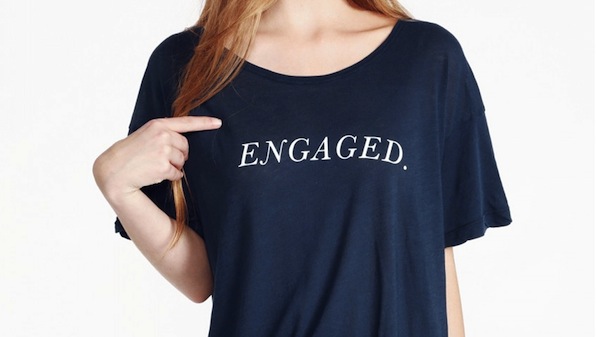 The First Thing You MUST Do When You Get Engaged: Buy This Shirt
Usually, newly engaged gals call their family and friends and post on social media right after he "puts a ring on it," but that's not what Wildfox wants them to do. Wildfox wants all of the new fiancés out there (both male and female) to get online and order the Engaged Unisex Tee ($77). Personally, I like the idea. Why should women be the only ones that have to advertise the fact that they're engaged (even if it is with a big 'ole diamond ring)? Now, it's the guys' turn to flash their engagements to the world with the word ENGAGED plastered across their chest. So ladies, as soon as you get a rock, click over to Wildfox to get your future hubby one of these shirts. It also makes a great engagement party gag gift for your bride-to-be besties. For more on weddings, check out things to do at your wedding reception, rehearsal dinner and photo shoot.
Everything In The Diane Von Furstenberg x Goop Collab Is Black, White & Basic
This week, Gwyneth Paltrow and Diane von Furstenberg released their first collaboration on Goop.com. While the DVF capsule collection is supposed to "celebrate strong iconic and American women," according to the site, we think it does the exact opposite. First off, everything in the collection is black or white, which is so un-DVF of Ms. von Furstenberg. Usually, her pieces are loud and colorful, but the pieces in this collection are the complete opposite. Yes, black is a strong color, but what "iconic" woman hides behind black wrap dresses, black long-sleeved jumpsuits and dark sunglasses? Not Diane, that's for sure. What has Gwyneth done to her? The collab must've involved some serious compromise between the two, because the only thing even slightly DVF about it is the python-print scarf and hints of black leopard print. It almost seems like Gwyneth stripped Diane of her artistic freedom and made her basic. (Let's hope this phase doesn't last.) But regardless of the drabness of the collection, women are buying it. The Black Wrap Dress ($498) is already sold out, and it's only a matter of time before the rest of the pieces do too. After all, having both of these big names on your clothing is pretty cool. So, if you're in need of something black, check it all out with the link below. But if you're looking for something more DVF inspired, you can shop for more of her pieces here. SHOP DIANE VON FURSTENBERG X GOOP NOW
Piperlime Now Sells Vintage Chanel, Hermes And Louis Vuitton
If you haven't logged onto Piperlime lately, it's time to go take a peek. Recently, the e-retailer announced the exciting news of their first in-house clothing collection, but now there's something even better to celebrate--the luxe vintage shop. Now, you can purchase vintage Hermes, Chanel and Louis Vuitton bags and jewelry right on Piperlime.com. Shopping their vintage "finds" is totally worth it because Piperlime regularly has coupon codes (which we always keep you updated on) and if you shop right now, you'll receive free shipping in 3-5 business days by clicking the APPLY CODE button on the site. That means that if you order right now, your dreams of owning a vintage Chanel bag might come true by the weekend. My personal favorite is the Louis Vuitton Ebene Damier Soho Backpack ($1150), but it's so hard to choose since all of their vintage offerings are so beautiful. Check them all out in our slideshow or head straight over to Piperlime to get the bag of your dreams.  SHOP PIPERLIME LUXE VINTAGE NOW