Whether its a "game-changing" foundation or exotic facial, a new beauty trend seems to crop up faster than we can blink. The latest fad? Jade rolling. As part of the facial rolling phenomenon, jade rolling swaps mirconeedles for a smooth jade stone to reportedly help you reap countless skincare benefits. But is this tool more than just a pretty trinket to add to your beauty repertoire? Below, we've uncovered everything you need to know about the popular practice.
What is jade rolling?
Jade rolling isn't a new idea. It was performed in the seventh century by wealthy Chinese women, who believed jade had healing and protective powers. Fast forward to current times, and the tradition has made its way into many holistic spas and DIY remedies. In fact, it remains well-loved by beauty mavens for its simplicity. The tool features an oblong stone of jade attached to a metal handle – sort of like a mini paint roller – to help relax facial muscles and soothe wrinkles when rolled over the skin. Some versions also feature a smaller jade stone on the opposite end to target smaller areas, like under the eyes.
"Our facial muscles store a lot of tension," New York-based esthetician Ling Chan told Fashionsita.com." This tension can cause wrinkles and fine lines, especially around our forehead and eyes. Using a jade roller often can help to release tension in these spots." Gentle pressure and motion is also believed to improve circulation, boost skin elasticity, and trigger the lymphatic system to detoxify the skin and clear breakouts. Even while some experts aren't entirely convinced of its detoxifying properties, some say that the mere relaxing effects of jade rolling can, on some level, temper the stress levels that contribute to acne.
How do you use a jade roller?
Of course, the only way to determine if jade rolling actually works is by testing it out for yourself! First, you'll want prep your skin. Start by cleansing your face thoroughly and following with exfoliation. Next, apply a serum, moisturizer, or mask depending on the skincare problem you are targeting (the jade roller will help your skin better absorb each ingredient for more a vibrant, nourished, or clear complexion). Now for the fun part: begin rolling! Start at the chest or forehead, making outward and upward strokes about three to four times in each direction. Continue this process for about two minutes. If you applied a serum or moisturizer, your face may begin to flush, but that's actually a good sign – according to Chan, it means that you're increasing the circulation to your face and helping boost cell growth, collagen, and lymphatic drainage. Finally, wipe your face clean and lather on some serum or moisturizer (even if you applied some initially, extra hydration is key in these dry winter months). As far as how frequently you can use your jade roller, every day won't do you any harm, but three to four times per week is typically the norm.
How much do jade rollers cost?
Jade rollers can cost anywhere between $8 and upwards of $60, depending on how luxe you want to get with your choice. Below, we've uncovered our four favorite options for every budget to shop right now.
Herbivore Jade Facial Roller ($25)
"I saw results fairly quickly and I can't explain how happy I am!" one customer wrote. "My skin is softer, more glowy, I have smaller pores, and less redness and I'm in love with this beautiful little roller!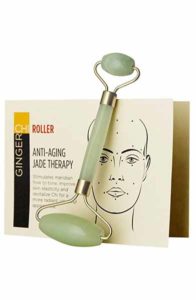 GingerChi Jade Roller ($26)
This version is made of 100 percent jade for a super smooth effect.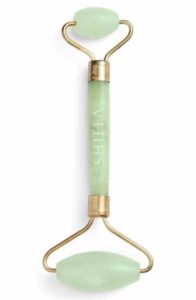 As part of Dr. Lamees Hamdan's leading skincare line, Shiffa, this jade roller expertly de-puffs, de-wrinkles, and brightens the complexion.
Genuine Jade Roller ($19)
This handmade option will deliver everything you want out of a jade roller at an affordable price.