Heading to Vegas? Lucky you! Your to-do list is probably bursting — I mean, what can't you do in Vegas? Okay, so your schedule is down pat, great! But there are some other planning deets you need to iron out (no pun intended…): What are you wearing!?
The world of Las Vegas fashion is tricky to conquer alone. Don't lose yourself in a tangle of fanny packs and sequined stilettos; set yourself apart in style. You may be a fun-hungry tourist; but these six pro-tips will have you lookin' like you're fresh off the runway. Paris… Milan… All in a day's work.
THIS IS VEGAS, BABY!
1. FLASH doesn't have to read as: PAIN
You may be on your way to destroying your liver, but you don't need to bring the rest of your body down with you. Yes, Vegas is a glitzy place, so maybe skip the sweats and UGG boots, but that doesn't mean you have to compromise on comfort! Going BOLD can be as simple as trying out a bright color or eye-catching pattern.
Free People Night Shimmers Mini Dress ($108)
2. Boots and flats can be SUPER glam
You're going to want to be able to move about freely throughout your trip — heels are not conducive to this. Again, comfort doesn't have to be drab! There are TONS of unique pairs of flats and boots that will add that needed bit of pizzazz to your Veg-cation (I'm trying). If you absolutely insist on wearing some form of heels, go for wedges.
DSW Fiona Ballet Flat ($29.99)
TopShop MIMOSA Metallic Ankle Boots ($125)
3. Day Vegas (Daygas?) is real — dress appropriately
Walking the Vegas strip in the middle of the afternoon? Put away the chandelier earrings and false eyelashes — you can save those for the evening. It's important that you don't confine yourself to a single look per day. Go bold in the daylight, sure — patterns, brights, bling  — but don't overdo it. Vegas is the land of excess, but there is a line. Make sure you can head back to your hotel room before the ruckus begins.
STATE Tie Sleeve Dress ($69.50)
4. It's all in the details — ACCESSORIZE!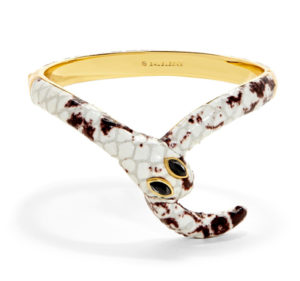 BAUBLEBAR Python Snake Cuff ($52)
5. Don't underestimate the power of a kick-ass romper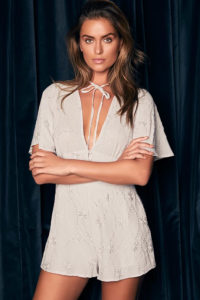 Lulu's Lost + Wonder Willow Light Grey Embroidered Romper ($80)
Lulu's Seaside Gale Blue Tie-Dye Romper ($52)
6. This is important – swimsuit game: STRONG
Same rules apply for swimwear: go big, but not too big. Either rock a bold print and stick to a modest cut OR go for a daring cutout or plunge in a classic color — DO NOT TRY TO DO BOTH.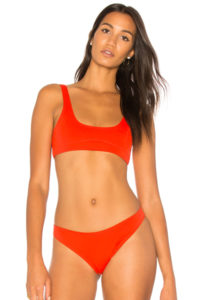 Kendall + Kylie X Revolve 90s Low Scoop Bralette Top ($67)
Kendall + Kylie X Revolve 90s High Cut Bottom ($58)
Target Women's Cut Out Halter One Piece Swimsuit ($39.99)
Don't forget to check out: What To Wear To Brunch With Your Girls and 5 Ways To Wear A Plaid Shirt (You Can't Go Wrong No Matter How You Do It)
[Photo: Urban Outfitters]